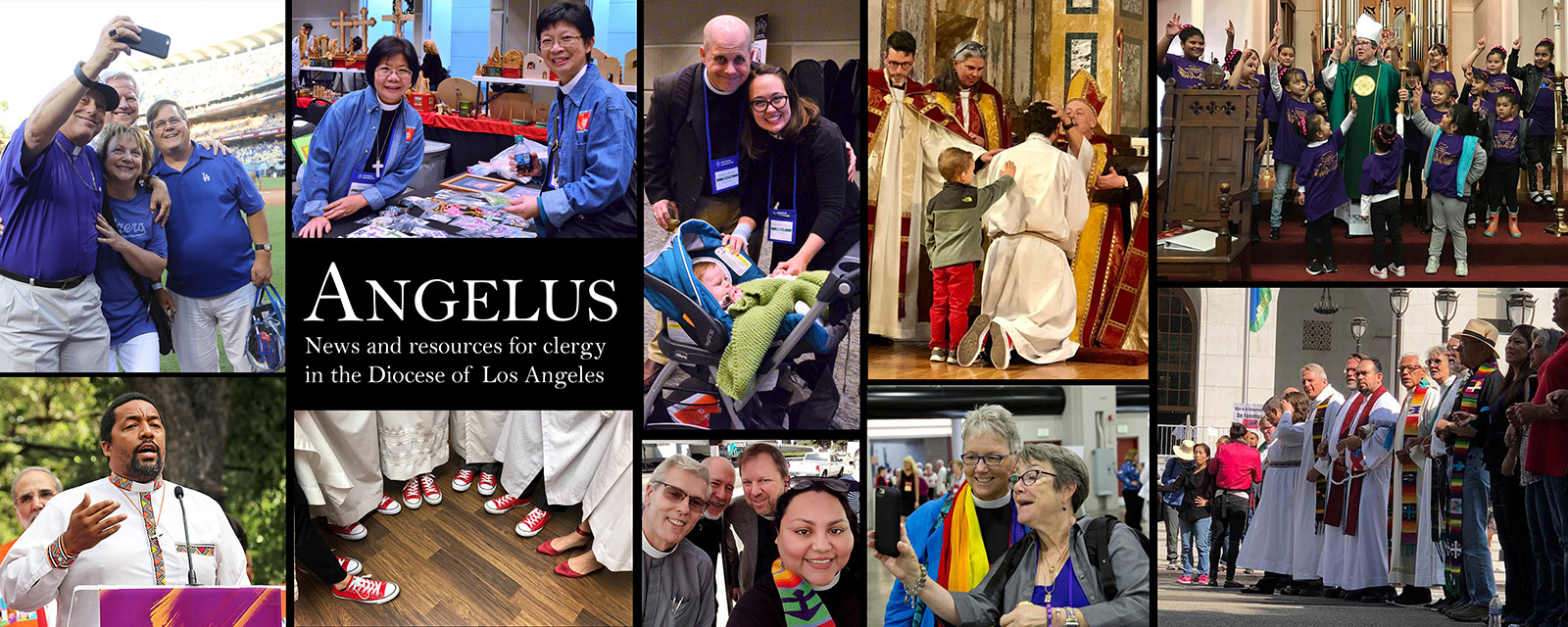 May 2019
From Bishop Diocesan John Harvey Taylor

May 2, 2019 – Feast of St. Athanasius
St. Paul's Commons
is the new name for
our diocesan HQ in Echo Park
 My dear colleagues:
We all have something in common – the risen Christ, of course, and also the Cathedral Center of St. Paul in Echo Park. I know most of you love it as much as I do. I remember my first visit, for a meeting during the early stages of my discernment for ordained ministry. I was surprised that it was in the heart of the city, not downtown but in a neighborhood, not built skyward but spread like open arms across a long block facing Echo Park Lake.
When I get to work and head up the stairs, I sometimes remember my excited, unsettled feeling that day. The building was just a few years old back then – and as a matter of fact, I was in my infancy as well, at least spiritually speaking.
 The Cathedral Center still feels just right to me. As my vocation matures, I've come to care for this building (and its devoted occupants, my beloved fellow ministers) more and more.
 Built and completed during Fred Borsch's episcopate, inspired and nurtured into bricks and mortar by its first provost, Jon Bruno, the church in the Cathedral Center stands for two historic institutions. One is St. Paul's Cathedral downtown, which was damaged in a 1971 earthquake and eventually torn down. The other is St. Athanasius Church, founded in 1864, the oldest continually operating Protestant congregation in southern California, which provided the land in Echo Park. Not that Bishop Bruce and I sit in them much, but our cathedrae are there, signifying that it is a cathedral church, as during chrism masses and other diocesan services. The rest of the time, our lively, multicultural congregation of St. Athanasius calls the same space home.
Meanwhile, ten years ago, Bishop Bruno designated St. John's as a pro-cathedral, which is a cathedral that begins its life as a parish. Research amply demonstrates that this is the case with many historic cathedrals. Accordingly, we removed the "Pro-" – and bingo, we now had two cathedrals, one in Echo Park on the brink of its second quarter-century, the other on Adams Blvd. beginning its second decade.
 As you know, we've been in conversation and discernment about this ecclesiastical dichotomy for over a year. The upshot is that later this year, on a date still to be determined and announced, we will rename your Echo Park headquarters. The new logo will contain this information:
ST. PAUL'S COMMONS
Diocesan Center
Ministry Center
Retreat and Conference Center
The new name will preserve the building's historic connection to the downtown cathedral. It will make clear that the bishops and all our colleagues are still at work there. It will highlight our continuing and new ministries to our Echo Park neighbors, especially those grappling with food and housing insecurity. And it will draw more attention to our beautiful, underutilized retreat center and all our public spaces, which are available to community organizations for lease (in the name of sustainability) and sometimes for free (as at the neighborhood-minded institutions you serve).
The change to St. Paul's Commons will, we trust, further energize two other beloved institutions.
St. Athanasius Church will again have a space that is entirely its own. As we spruce up the whole complex with new carpet, paint, and signage, we plan a concerted effort to draw attention to the congregation's presence so that more people have the opportunity to enjoy its abundant ministries.
St. John's Cathedral also enters an exciting time of visioning about its role as a diocesan and civic institution in the heart of one of the greatest cities on earth. St. John's' neighborhood, which actually is our whole diocese, is a harbinger of Christ's church's multicultural, pluralistic, socially progressive destiny — if the church is to survive and thrive, that is. Though many of our neighbors are skeptical about faith institutions, their hearts are still hungry for purpose, meaning, justice, hope, mystery, and love. These challenges and opportunities engird our cathedral's future. Its vision, as well as its more pressing needs such as a seismic retrofit, will be centerpieces of our diocesan capital campaign.
And while our offices, I stress again, won't move to St. John's, those cathedrae soon will.
With clergy conference coming up next week, Bishop Bruce, Canon McCarthy, Canon Williams (who has played a vital role in this transition), and I look forward to answering your questions about all that's in store for St. Paul's Commons. See you in Riverside.
Yours in Christ's Eastertide love,
+John
Angelus Links
The next issue of Angelus will be electronically transmitted and published in June. News items should be emailed to: revpatmccaughan@aol.com by May 21.
Angelus is a joint project of the Office of Clergy Formation and Deployment and the Office of Community Relations of the Diocese of Los Angeles

213.482.2040, ext. 251
The Rev. Canon Pat McCaughan, editor
revpatmccaughan@aol.com
949.892.0525
New TENS log-in announced for stewardship resources
TENS (The Episcopal Network for Stewardship) has announced that 2019 stewardship materials for congregations, with the theme "Shining Our Light," will be posted on the organization's website
here
. The Diocese of Los Angeles has a membership in TENS, which means that any congregation in the diocese may use these materials without charge. The TENS website is
here
: log in with the username "Matthew" and the password "five:16."
BRAINERD DHARMARAJ, CARLOS RUVALCABA, JON FEUSS,
JAMIE BARNETT, BRITTANY BJURSTROM, SHAWN EVELYN, BILL KNUTSON, JUDITH LYONS, KRISTIN CLAIRE ROBERTSON and SARAH THOMAS will be ordained to the transitional diaconate at 10AM, Saturday, June 8, at St. John's Cathedral.
JUDY BALDWIN has been called as interim priest at Church of the Holy Nativity, Westchester.
JANET BRODERICK  has been called as rector of All Saints, Beverly Hills. She had served most recently as rector of St. Peter's, Morristown, New Jersey.
NANCY BROWN has announced her intention to retire as rector of St. Paul's, Lancaster, this summer.
HOLLY CARDONE has been called as rector of Emmanuel Church in Fullerton.
CHUCK COLLIER has been called as priest-in-charge of St. Simon's, San Fernando.
FRANCISCO GARCIA has been called to pursue a doctoral degree in theology and ethics, beginning August 2019.
KELLI GRACE KURTZ has been called as rector of All Saints Church in Riverside.
JOHN E. LIMO was installed as 14th rector of St. Timothy's, Apple Valley on April 6 by Bishop John Harvey Taylor. He  was ordained in the Diocese of Maseno South, Kenya, in 1994. He served in Kenya, Zambia and South Africa in various capacities, including bishop's chaplain and assistant; curate at the cathedral, vicar, election coordinator, director of the Kenya Film Censorship Board and commissioner to the Africa Institute, among other positions. 
HARTSHORN MURPHY has been called as interim rector at St. Alban's, Westwood.
CHRISTOPHER MONTELLA has been called as priest-in-charge of St. Stephen's Church in Santa Clarita.
HARRIET TAYLOR PASSARELLA  was born May 1 to Valerie Passarella, daughter of Bishop John Harvey Taylor and Canon Kathy O'Connor,  and her husband  Mark. Mother, father and baby are all well. #harrietishere
FAIRBAIRN POWERS has concluded her ministry at St. Hilary's Mission, Hesperia.
PETER ROOD has been called as rector of St. Stephen's Church in Oak Harbor, Oregon.
BARRETT VAN BUREN has been called as rector of Church of the Blessed Sacrament, Placentia.
Congregational Openings
May 2019
Clergy are encouraged to request that their name be placed on an "interest list" if they would like to be considered for:
a) positions, regardless of the progress of the congregation in determining their process, or their readiness to receive names;
b) placement by the bishop in mission congregations or where an appointment is otherwise applicable.
Contact the Rev. Canon Joanna Satorius at jsatorius@ladiocese.org or via phone at: 213.482.2040, ext 263.
Open positions:
ACTIVE: Receiving Names
Inglewood, Holy Faith Church
Lancaster, St. Paul's Church
Los Angeles, Westchester, Church of the Holy Nativity
Los Angeles, Westwood, St. Alban's
San Marino, St. Edmund's Church
Santa Clarita, St. Stephen's Church
ACTIVE: No Longer Receiving Names
Claremont, St. Ambrose Church
Goleta, Christ the King Church
San Gabriel, Church of Our Saviour
NON-ACTIVE
Congregations that will at some point be searching for clergy leadership, but are now working with supply clergy, a long-term interim or priest in charge:
Buena Park, St. Joseph's Church
Downey, St. Mark's Church
Huntington Beach, St. Wilfrid's Church
Ontario, Christ Church
Santa Maria, St. Peter's Church
San Fernando, St. Simon's Church
Other positions
LOS ANGELES: Executive Director, CLUE (Clergy & Laity United for Economic Justice). Responsible for overseeing the administration, programs and strategic plan of the organization. Other key duties include fundraising, marketing, partner/community outreach and program development. Full job description/contact information here.
PASADENA: Two Associate Rector positions at All Saints Church. Position A: Pastoral and liturgical responsibility for the parish's Latino-Hispanic community (Spanish fluency and Latino-Hispanic cultural competencies required). Position B: Peace & Justice; Children, Youth and Families; and Adult Formation (multicultural, anti-racist competencies required). Salary range – $60,000 – $80,000 (commensurate with experience). A full job description with contact information is here.