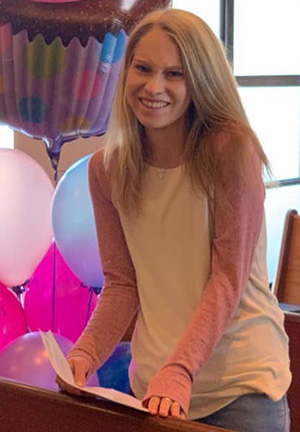 Alexis Turnbull of St. Mark's Church, Upland, is one of six people named to the planning team for Oasis 2020, a conference for young adult and campus ministers, by the Episcopal Church's Office of Young Adult and Campus Ministries (YACM). The conference will take place June 23 – 26, 2020 in Tucson, Arizona.
"This planning team represents a wonderful mixture of experience in ministry, innovative and creative practices, and conference planning." said the Rev. Shannon Kelly, officer for Young Adult and Campus Ministries. "I look forward to working with them and with the local planning team to create an oasis for ministers in which they can learn, play and pray together."
Turnbull, 20, an elementary school teacher, is a lifelong member of St. Mark's and has taken leadership roles in the past two years. She applied for a position on the Oasis team after seeing a listing in the YACM newsletter. "I willingly admitted I've never even been to this conference before," she told The Episcopal News, "but I have experience in event planning; they contacted my rector for a reference, and within a month I was on the team!"
Also serving on the planning team are:
Katie Ernst, Episcopal Dioceses of Massachusetts and Minnesota
Emily Hyberg, Episcopal Diocese of Northern California
Matthew Lukens, Episcopal Diocese of Michigan
Isaac Martinez, Episcopal Diocese of Massachusetts
Demarius Walker, Episcopal Diocese of Atlanta
Taylor Divine, Brad Eubanks, and Ben Garren are on the local planning team.
This annual conference, hosted by the Office of Young Adult and Campus Ministries (YACM), is an opportunity for Episcopal leaders in ministry with young adults on and off college campuses to meet and connect with one another and to be nourished and nurtured in their ministry.
According to a release from the Episcopal Church's Office of Public Affairs, participants will:
"connect and reconnect with others involved in this ministry
be better equipped to engage young adults where they live, work and study
learn from one another and share resources
build upon their skills and networks to assist them in ministry
leave feeling that they have feasted at the table and are ready to do the work God has called them to do."
Turnbull recently participated in the planning team's first online meeting. "It's definitely an interesting group of people on the planning team, which will create a diverse variety of breakout sessions during the conference," she said.
Based on that meeting, she said, "I think the whole conference will be a huge cloud of synergy, like-minded people concerned about the same issues in the world and the church bringing in different approaches and ideas to better ourselves, our neighbors, and serve God."
Conference participants will hear from speakers, focus on intentional conversations, build relationships, and learn from one another.
 
Speakers Becky Zartman and James Franklin will discuss their new book Belovedness: Finding God (and Self) on Campus. This book asks a single question that gets refracted through different topics: How would you [fill in the blank] if you knew you were loved beyond all measure? How are you going to choose to live into your belovedness? While this is a book written by a group of people doing campus ministry, its central message is something to sit with and embrace in ministry.
Turnbull hopes that the conference will result in "a better understanding of how to expand our local churches while still preserving the integrity of the traditions of the Episcopal church, more tools to help young adults connect to each other, along with the rest of the church community.
"In addition, I would not be going without [the Rev.] Keith Yamamoto and [the Rev.] Sally Monastiere from St. Mark's, Upland (rector and assisting priest, respectively). It's crazy to think that two years ago I did nothing but attend the Sunday services, but with their encouragement I'm finding myself in so many opportunities to serve God and the church."
The conference fee is $60. It includes programming, space rental and some meals. Housing is not included in the registration fee. Participants may choose to stay at one of the hotels that have been reserved at a reduced group rate or find alternative housing in the area. There may be an added field trip day at the end of the conference which would have its own registration fee and sign up.
Participant registration will open in January.
  
More information will be released as it becomes available. The YACM Facebook page will post updates; those interested may also sign up for the YACM Newsletter here. For more information contact the Rev. Shannon Kelly, officer for Young Adult and Campus Ministries at skelly@episcopalchurch.org.
Conference information is from a release from the Episcopal Church's Office of Public Affairs.