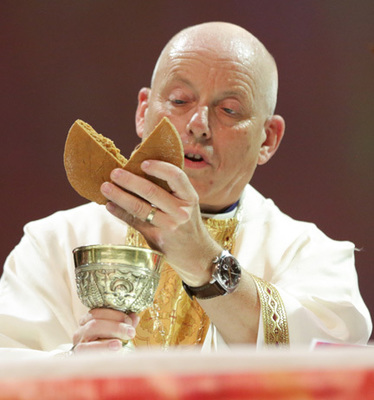 Bishop Diocesan
John H. Taylor
Cathedral Center of St. Paul
840 Echo Park Avenue
Los Angeles, California 90026
213.482.2040, ext. 270
jtaylor@ladiocese.org
The Rt. Rev. John H. Taylor began ministry as seventh bishop of the six-county Episcopal Diocese of Los Angeles on Dec. 1, 2017. He was elected bishop coadjutor on the eighth ballot on Dec. 3, 2016 at the 121st annual meeting of the diocese at the Ontario Convention Center. He was ordained to the episcopate on July 8, 2017 at a service at the Dorothy Chandler Pavilion of the Los Angeles County Music Center, with Presiding Bishop Michael Curry as chief consecrator.
Before his election, Taylor served as vicar of St. John Chrysostom Church and School in Rancho Santa Margarita, California, beginning in 2004.
"To our divided nation, to those living in fear and uncertainty, to anyone yearning for a rich relationship with the God in Christ who loves everyone without reservation, The Episcopal Church throws its arms open," Taylor said after the election was announced. "In our diverse, far-flung diocese, we are united in our baptismal pledge to strive for justice and peace among all people and to respect the dignity of every human being, especially those who are most vulnerable. I look forward with joy to serving alongside my fellow ministers — laypeople, deacons, priests and bishops — as we continue to proclaim the gospel in word and deed."
A lifelong Episcopalian, Taylor was born in Detroit, Michigan in 1954, the son of journalists and formerly served as chief of staff to former President Richard M. Nixon and later as the executive director of the Nixon Library in Yorba Linda, Calif.
He received a bachelor's degree in political science at the University of California, San Diego, and a master of divinity at the Claremont School of Theology and Bloy House. He is a graduate of Phillips Academy, Andover, Massachusetts. He was ordained a priest in January 2004 and served as curate at the Church of St. Andrew the Apostle in Fullerton.
The Diocese of Los Angeles "groans with the potential for growth through mission and ministry to those in our communities who do not know our church but whom our God in Christ commands us to reach, embrace, empower and serve," Taylor has said.
His is a "via media" leadership style — listening to his own instincts in consultation with others. "I listen to all stakeholders to learn from them," he has said. "If they've been heard, they'll be more likely to affirm my decision even if they don't agree with it."
Taylor has written two novels, Patterns of Abuse and Jackson Place, in addition to numerous newspaper and magazine articles and a blog, "The Episconixonian."
Taylor married Kathleen Hannigan O'Connor in 2002. He has two daughters, Valerie and Lindsay; two stepchildren, Daniel and Meaghan; and two granddaughters.
A profile of Taylor from the Winter 2017 issue of The Episcopal News is here.
The Episcopal Church in the Diocese of Los Angeles today encompasses 65,000 Episcopalians in some 135 congregations and ministry centers located in Los Angeles, Orange, Riverside, San Bernardino, Santa Barbara and Ventura counties. Served by some 400 clergy, the Diocese also includes some 40 Episcopal schools and 10 social service and chaplaincy institutions.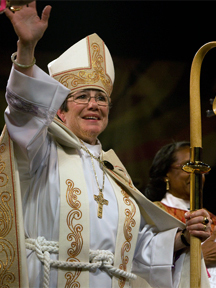 Bishop Suffragan
Diane M. Jardine Bruce
Cathedral Center of St. Paul
840 Echo Park Avenue
Los Angeles, California 90026
213.482.2040, ext. 242
djbsuffragan@ladiocese.org
The Rt. Rev. Diane M. Jardine Bruce was elected seventh bishop suffragan of the Episcopal Diocese of Los Angeles on December 4, 2009, after having served 10 years as rector of St. Clement's by-the-Sea Church in San Clemente, California. The first woman to be elected bishop in diocesan history, she was ordained to the episcopate on May 15, 2010.
Bishop Bruce's areas of specialization include New Community Ministry, formerly multicultural ministries, stewardship, and oversight of the congregations in the southern and northern areas of the Diocese.
Bishop Bruce became rector of the San Clemente parish in 2000. She was previously associate rector of the Church of the Messiah, Santa Ana, California. Prior to ordination she served Wells Fargo Bank as vice president, compensation management and analysis. She was employed by Wells Fargo (formerly Crocker Bank) in various capacities since 1980.
Ordained a priest in 1998 in the Diocese of Los Angeles, Bishop Bruce speaks Spanish, Mandarin and Cantonese as well as English. She holds a doctoral degree from Seabury-Western Seminary (awarded in May 2011) as well as a master of divinity degree from the Claremont School of Theology and a bachelor's degree in linguistics from the University of California at Berkeley. She currently serves as president of the Standing Committee for the national Episcopal Church
A native of Pequannock, New Jersey, Bishop Bruce is married to G. Stephen (Steve) Bruce, a computer software engineer. The Bruces have two adult children — a son, Max, married to Devika Saxon, and a daughter, Jardine, soon to be married to Robert Gates.
For video of Bishop Bruce's 2018 convention address, click here.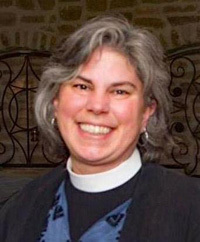 Canon to the Ordinary
Melissa McCarthy
Cathedral Center of St. Paul
840 Echo Park Avenue
Los Angeles, California 90026
213.482.2040
mmccarthy@ladiocese.org
The Rev. Canon Melissa McCarthy
began discerning her call to ministry at St. George's Church, Riverside, in 2001. She was ordained to the transitional diaconate in June 2005 and to the priesthood in January 2006. In her first 18 months of ordination she served at St. Mark's Church, in Berkeley, Calif., in a non-stipendiary position while pursuing a master's degree in homiletics at the Church Divinity School of the Pacific, from which she also received her master of divinity degree.
She was called to serve the Church of the Epiphany as the associate under the leadership of the Rev. Canon Hank Mitchel, then vicar. In 2008, when Mitchel retired from Epiphany, McCarthy became priest-in-charge and eventually was appointed vicar beginning July of 2009.
Under her leadership, Epiphany has grown in numbers as well as in programs. She has developed a range of education and formation programs for children, youth and adults, and supported the development of the Red Door Vineyard, Epiphany's community-building project of tending, growing and harvesting wine grapes.
She also has held various diocesan leadership roles, having served on the Corporation of the Diocese, the Bishop's Commission on Ministry, Diocesan Council, the Disciplinary Board, and the Standing Committee, as well as serving as dean of Deanery 1 since 2011.
McCarthy represented the Diocese of Los Angeles as a deputy to General Convention in 2015, and she looks forward to returning in 2018 as well. She has served on the boards of Canterbury USC and Camp Stevens, where she works as a chaplain each summer. In addition, McCarthy has been a facilitator and mentor for the newly ordained in this diocese for the last seven years.
Born and raised in Bakersfield, McCarthy is a 1998 graduate of the University of California, Riverside, with a bachelor of arts degree in religious studies. She has worked professionally in the performing arts, including teaching, performing, and arts administration. She credits these skills as benefits to her ministry in congregations and to new work as canon to the ordinary in the six-county Diocese of Los Angeles.
McCarthy continues to explore her love of the performing arts through her study of classical and flamenco guitar, and enjoys spending her free time hiking, paddle-boarding and traveling whenever and wherever she is able.
Chancellors of the Diocese
The Chancellor
Canon Richard Zevnik
Parishioner, St. Michael and All Angels, Corona del Mar
The Vice Chancellor
Julie Dean Larsen
Parishioner, St. Margaret of Scotland Church, San Juan Capistrano
Contacting The Bishops' Office
Diane Pound
Executive Secretary to the Bishop & the Canon to the Ordinary
213.482.2040, ext. 270
dpound@ladiocese.org