One Body & One Spirit
Annual Appeal
Contribute to the Episcopal Diocese of Los Angeles' One Body & One Spirit Annual Appeal
March 2, 2022
Ash Wednesday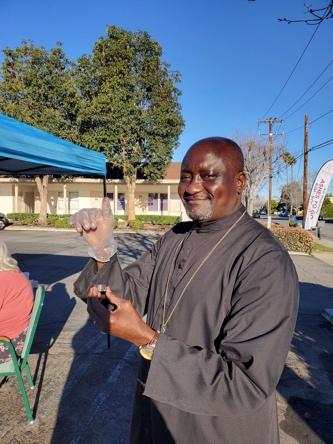 Almighty God, whose church on this day invites your people to a season of repentance, fasting, and reflection on your Word: We give you thanks for our precious freedom in Christ — to behave toward others as he would have us do, to offer up our substance and ourselves, as he did, for your glory and one another, and to set our faces for the holy city of justice, peace, and love, foretold and commanded by the prophets and gospel. In Ukraine and all over the world, people are fighting for their political freedom. This Lent especially, we give you thanks that our freedom is already won through Jesus Christ our Lord. Amen.
My siblings in Christ in the Diocese of Los Angeles: The photo shows the Rev. Canon Dr. George Okusi preparing to impose ashes this morning at St. John's Episcopal Church in Costa Mesa, a smile on his face and the sun on his shoulders — and a glove on his right hand for safety's sake in these latter days of the pandemic.
So it was today at all of our churches, as the ancient ritual accommodated changing times. Think of all the change we've experienced together. This time two years ago, no one knew our bishops, deacons, lay leaders, and priests would learn to be televangelists or that when COVID-19 finally began to loosen its grip, most of our missions and parishes would struggle to return to pre-pandemic in-person attendance.
As it is in the church, so it is in the world. This time two years ago, George Floyd hadn't died under a police officer's knee. Ukraine hadn't fallen under a tyrant's shadow. We knew we were far from achieving God's vision of a realm of justice, peace, and love on earth. With freedom under assault in eastern Europe and democracy at risk in the United States, these days God's purposes seem more elusive than ever. Red, white, and blue bleed into red vs. blue. People feel anxious, impatient, and hopeless.
Our homes, neighborhoods, workplaces, communities, and world groan with a hunger that only faith in creation's benevolence can feed. At our altars, from our pulpits, and in our Zoom services, The Episcopal Church in our diocese proclaims the saving mystery of the birth, life, teachings, death, and Resurrection of Jesus Christ as well as the plural face of our God in Christ, disqualifying none from full sacramental life on the basis of race, orientation, identification, age, or socioeconomics. These are the pillars of true Christian orthodoxy in our time.
We also look after one another, celebrate and enjoy fellowship, care for the food- and housing-insecure, and advocate for the marginalized while continuing to preach and teach the Good News of our God in Christ.
But the world's goods are unevenly apportioned. Some are better off than others. During the worse of the pandemic, 466 generous donors to our One Body & One Spirit Emergency Appeal made sure all our institutions had the means to do this gospel work, from stocking the shelves of their food pantry to buying equipment for Zoom church – a total of $366,643.91, enabling 37 grants averaging $6,273.
The pandemic isn't over. Nor is the challenge of making sure everyone has access to the resources they need for mission and ministry. The Corporation of the Diocese made each grant based on recommendations from a special committee. Those who participated said they appreciated the transparency of the process and hoped it would continue. The Corporation has accordingly decided to continue the program permanently as the One Body & One Spirit Annual Appeal, helping churches, schools, and affiliated institutions with unexpected expenses their budgets can't accommodate, from fixing a roof to putting one over the heads of homeless young people.
As with the Emergency Appeal, application materials can be accessed here. Frequently Asked Questions are answered here. As before, the Corporation will make all grants on the special committee's recommendation. You can donate now by clicking here or sending a check to this address:
The Bishop's Office
St. Paul's Commons
840 Echo Park Ave.
Los Angeles, CA. 90026
My friends in Christ, during the pandemic, our diocesan family found new unity amid our diversity. We realized that if we were all in it together, it meant no one could be left behind. Let's make sure this is a lesson we never forget we set our faces for the holy city of God once again, devoting ourselves each day, this Lent and beyond, to glorifying God and caring for God's people.
Yours in Christ's love,
The Rt. Rev. John Harvey Taylor
VII Bishop of Los Angeles
2 de marzo del 2022
Miércoles de Ceniza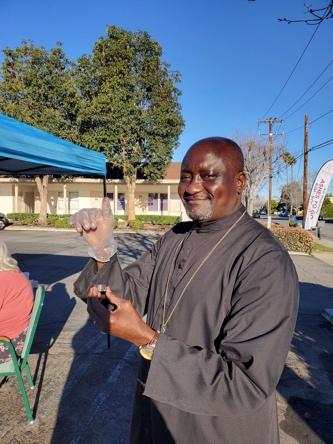 Dios Todopoderoso, cuya Iglesia este día invita a tu pueblo a la estación de arrepentimiento, ayuno, y reflexión de tu Palabra: Te damos gracias por nuestra amada libertad en Cristo — de comportarnos con nuestro prójimo de la manera que él nos llama, a ofrecer nuestra esencia y todo nuestro ser, de la misma manera que él lo hizo, para tu gloria y al cuidado de nuestro prójimo, y fijar nuestro rostro hacia la ciudad santa de justicia, paz y amor que los profetas y el evangelio nos han anunciado y nos han mandado. Tanto en Ucrania como en todo el mundo, las personas pelean por su libertad política. Te damos gracias, especialmente en esta Cuaresma, que nuestra libertad ya ha sido ganada por Jesucristo nuestro Señor. Amén. 
Mis hermanos y hermanas en Cristo en la Diócesis de Los Ángeles:
En la foto vemos al Rev. Canónigo Dr. George Okusi preparándose para la imposición de cenizas esta mañana en la Iglesia Episcopal de San Juan en Costa Mesa, con una sonrisa y con el sol en sus hombros – y con un guante en su mano derecha para tomar precauciones de seguridad en estos últimos días de la pandemia. 
Y así pasó en todas nuestras Iglesias, a medida que este ritual antiguo hizo espacio para estos tiempos cambiantes.  Piensen en todos los cambios que hemos experimentados juntos.  Hace dos años, durante este mismo tiempo, nadie se hubiese imaginado que nuestros obispos, diáconos, líderes laicos y sacerdotes aprenderían a ser tele-evangelistas o que cuando el COVID-19 finalmente empezara a perder su fuerza, la mayoría de nuestras misiones y parroquias tendrían dificultad para regresar a la asistencia en persona que tenían antes de la pandemia. 
Y como ha pasado en la Iglesia, también ha sucedido en el mundo.  Si hace dos años, durante este tiempo, George Floyd no hubiese muerto bajo la rodilla de un oficial de la policía.  Ucrania no hubiese caído bajo la sombra de un tirano. Sabíamos que estábamos lejos de alcanzar la visión de Dios de un reino de justicia, paz y amor en la tierra. Con la libertad bajo ataque en Europa del Este y la democracia corriendo riesgo en los Estados Unidos, estos días, los propósitos de Dios parecen ser más evasivos que nunca.  El rojo, blanco, y azul se destiñen y se convierten en rojo en contra de azul. Las personas se sienten ansiosas, impacientes y sin esperanza. 
Nuestros hogares, vecindarios, lugares de trabajo, comunidades y mundo se quejan de hambre que solamente la fe en la bondad de la creación puede alimentar.  En nuestros altares, desde nuestros púlpitos, y en nuestros servicios de Zoom, la Iglesia Episcopal en nuestra diócesis proclama el misterio de salvación del nacimiento, vida, enseñanzas, muerte y Resurrección de Jesucristo, así como del rostro diverso de nuestro Dios en Cristo, que no descalifica a nadie basándose en la raza, orientación, identificación, edad o estatus socioeconómico de una vida sacramental plena.  Estas son las bases de la verdadera ortodoxia cristiana en nuestros tiempos. 
También nos protegemos los unos a los otros, celebramos y disfrutamos tiempos de hermandad, nos importan aquellos que sufren de inseguridad de alimento y techo, y abogamos por los marginalizados mientras continuamos predicando y enseñando las Buenas Nuevas de nuestro Dios en Cristo.  
Pero los recursos del mundo están distribuidos de manera desigual. Algunos están en mejores situaciones que otros. Durante los peores momentos de la pandemia, 466 generosos donantes que escucharon nuestro llamado de Emergencia de Un Cuerpo & Un Espíritu, se aseguraron de que todas nuestras instituciones tuviesen los recursos para hacer la obra del evangelio, desde el asegurarse que las despensas alimenticias estuvieran llenas hasta comprar equipo para tener servicios en zoom – un total de $366,644, que permitió ofrecer 37 becas de un promedio de $6,273. 
La pandemia no ha terminado aún. Ni tampoco ha terminado el desafío de asegurarnos que todos y todas tengan acceso a los recursos que necesitan para la misión y el ministerio.  La Corporación de la Diócesis concedió cada beca basándose en las recomendaciones de un comité especial. Aquellos que participaron dijeron que estaban agradecidos por la transparencia del proceso y que esperaban que el mismo continuara. 
La Corporación por consiguiente ha decidido continuar el programa de manera permanente como el Llamado Anual de Un Cuerpo & Un Espíritu, para ayudar a las Iglesias, escuelas, e instituciones afiliadas con gastos inesperados que sus presupuestos no pueden cubrir, desde la reparación del techo como el poner techo para jóvenes sin hogar.  
De la misma manera que se hizo para el Llamado de Emergencia, los materiales para aplicar se encuentran aquí y FAQ se encuentran aquí. Y como antes, la Corporación realizará todas las becas basándose en las recomendaciones del comité especial. Puede hacer una donación en este momento, haciendo clic aquí o enviando un cheque a la siguiente dirección:
The Bishop's Office
St. Paul's Commons
840 Echo Park Ave.
Los Angeles, CA. 90026
Mis amigos y amigas en Cristo, durante la pandemia, nuestra familia diocesana encontró una renovada unidad en el medio de la diversidad. Nos dimos cuenta de que, si estábamos todos unidos, significaba que no podíamos dejar a nadie atrás. Asegurémonos que nunca olvidemos esta lección a medida que fijamos nuevamente nuestros rostros en la ciudad santa de Dios. Dedicando nuestro ser cada día, esta Cuaresma y más allá, a la gloria de Dios y el cuidado de su pueblo. 
Suyo en el amor de Cristo,
The Rt. Rev. John Harvey Taylor
VII Bishop of Los Angeles