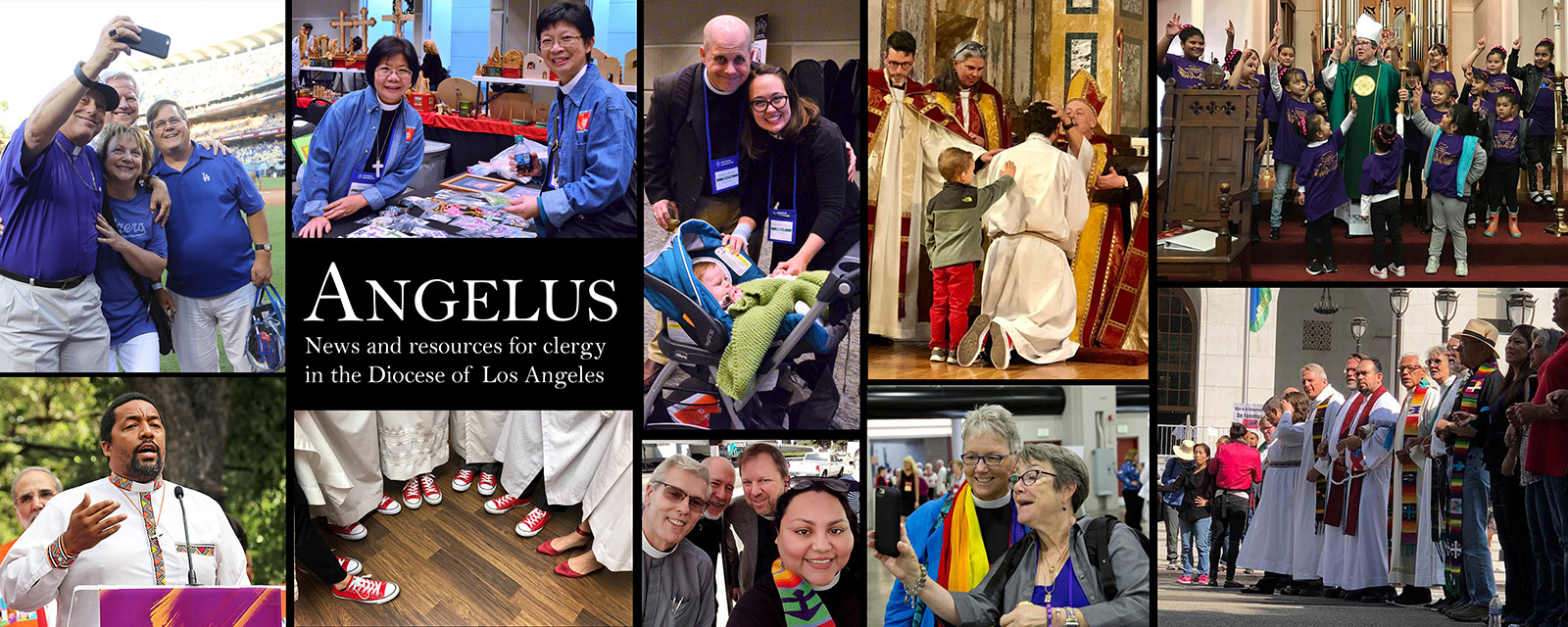 From Diocesan Archdeacon Laura Siriani
Reflections from the Archdeacon
Your vocation in life is where your greatest joy meets the world's greatest need. – Frederick Buechner
Last February, when Bishop Taylor invited me to serve as the archdeacon of our diocese, I took some time to discern whether the spirit was calling me to a new ministry and if so, what it might look like. I did not expect to fall in love again with the whole idea of vocation and its impact on the world around us.
Months later, I find that one of my greatest joys is serving alongside these remarkable vocational deacons.
First, I have had an opportunity to get to know the twenty-nine deacons who serve parishes from Santa Barbara to Rancho Santa Margarita and east to San Bernardino. Their parish and individual ministries reach and advocate for people on the margins and in the social gaps: immigrants, refugees, those who are homeless, those who are incarcerated, in hospitals and recovery homes; each ministry touching not only the lives of the people they serve, but also the congregations that minister along with them.
While engaging the community, deacons hear the stories and aspirations of the poor, the unseen, the sick, and the lonely. And though that may seem like a joyless way to live, I believe that every deacon will tell you that joy for them is in the relationship with those they serve, and in that moment when that person realizes that they are holy, loved people of God. The greatest lessons of our life, come from those very places and people.
They are people like Harlan whose picture I keep in my office. He lived and died on the street, addicted to alcohol. It was from Harlan that I learned about my own vocation, to accept him as God did, and to love him as God loves. Tangible things did not matter to him and so love was the only gift we could give him. Remembering that remains a gift for me.  In my visits with deacons, I've heard many versions of stories like Harlan's.
Our deacons are from diverse backgrounds. Many of them work full or part time as lawyers, nurses, marketing executives, teachers, administrators, and counselors. Their days are spent juggling their profession in the world with the ministry that calls them. Evenings are spent developing parish ministry, making rounds at the hospital, supervising kitchens that feed people, or advocating for those they serve. If this sounds like a lot, it is. Yet, deacons will tell you that they are energized by their specific call to that "in between place" that links the church and the world.
Finally, each Sunday, deacons can be seen proclaiming the gospel, bidding the prayers for the world, setting the table at the Eucharist, and dismissing the congregation into the world. Our place in the liturgy reflects our ministry and our preaching can ask challenging questions: Who is not at the table? How does God ask us to care for others? Where is God calling us today?
After almost a year, I now know that EDLA deacons are by nature humble, courageous, tenacious, and curious. They also like to get together to talk about their ministry, to share ideas and resources, always eager to learn more about the needs of the community.  I can think of no better vocation than serving alongside them, supporting them in their work and reaching out to those who may be experiencing a call to the diaconate.
We are eager to tell our story and some of us will be hitting the road to visit parishes throughout the diocese to do just that. If would like to have a deacon visit your parish, please contact me: laura@stpauls.org. We would love to meet you and tell you about who we are and the work we are called to do.
In peace and gratitude,
Laura Siriani
Safe Return to in-person worship FAQ page
An FAQ (Frequently Asked Questions) page concerning safe return to in-person worship has been posted here. If you have questions about how to cope with pandemic-era planning in your congregation or institution, please check there for answers.
Preguntas Frecuentes en español.
Angelus Links
The next issue of Angelus will be electronically transmitted and published in January 2022. News items should be emailed to: revpatmccaughan@aol.com
by December 21.
Angelus is a joint project of the Office of Clergy Formation and Transition Ministry and the Office of Community Relations of the Diocese of Los Angeles

213.482.2040, ext. 251
The Rev. Canon Pat McCaughan, editor
revpatmccaughan@aol.com
949.892.0525
COVID-19: Messages and resources
Messages from diocesan leaders and many other resources are available on the COVID-19 Resources page of the diocesan website. Visit often; the page is updated frequently. Please send suggestions for additional listings to editor@ladiocese.org.
In addition, please send your stories about ministry in this unprecedented time and your creative ideas to the same email address for inclusion in the Resource Roundup or the Episcopal News Update. Thank you!
URGENT CALL to  update Clergy Supply List with Office of Formation and Transition Ministry
The diocesan Office of Formation and Transition Ministry is receiving a larger than normal number of calls for supply clergy for one or more Sundays. If you are available to assist with supply, long-term supply, transition help, etc., please email Tom Quijada-Discavage at tdiscavage@ladiocese.org to make sure you are on the list. 
JULIE BEALS, KATHARINE Y. FENG, JOSHUA NATHANAEL FRANCOEUR PAGET, JOSE LUIS GARCIA-JUAREZ and GUY LEEMHUIS will be ordained to the priesthood at 10 a.m. Saturday, Jan. 8, 2022 by Bishop Diocesan John Harvey Taylor at St. John's Cathedral. The diocesan community is invited to join via livestream on the cathedral's Facebook page and YouTube channel.
JULIE BEALS is serving the mutual ministry of St. Andrew's, Torrance and Christ Church, Redondo Beach.
NATHAN BIORNSTAD will be installed as rector of St. Wilfrid of York, Huntington Beach, at 11 a.m. Saturday, Jan. 22, 2022, by Bishop Diocesan John Harvey Taylor. The service will be in person and livestreamed. (Registration to attend  in-person service requested:  Email admin@stwilfridschurch.org). An outdoor reception will follow. Masks required indoors. St. Wilfrid's is located at 18631 Chapel Lane, Huntington Beach, CA 92646.
DIANE M. JARDINE BRUCE was seated as Bishop Provisional of the Diocese of West Missouri on January 6, 2022.
MARK CHASE is serving as associate rector at All Saints, Pasadena.
ANTONIO GALLARDO will conclude his ministry as vicar of St. Luke's, La Crescenta in February, to begin a new call as  Rector Emergent of St. Luke's, Long Beach.
JENNIFER HUGHES begins serving as supply clergy at  St. Peter's, Rialto, in January.
NICOLE JANELLE began serving  as rector of St. Stephen's Anglican Church in Calgary, Alberta in December.
JOHN LIPSCOMB began serving as priest-in-charge  at Christ the Good Shepherd, Los Angeles, in January.
ANDREA MCMILLIN began serving as priest-in-charge at All Saints', Beverly Hills in January.
JOSHUA PAGET is serving as associate rector at St. Cross, Hermosa Beach. 

A memorial service for GEORGE REGAS will be held at 2 p.m. Saturday, May 7 at All Saints, Pasadena.
COURTNEY TAN is serving at St. Simon's, San Fernando.
V.R. MARIANNE ZAHN is serving as supply priest at St. Barnabas, Pasadena. 
The Rev. Harold Frank Knowles II
January 2, 1937 – November 12, 2021
The Rev. Harold Frank Knowles II, who began ordained ministry in the Diocese of Los Angeles in 1961, died November 12 at his home in South Pasadena He was 84 and requested private interment and no services.
Upon ordination by Bishop F. Eric Bloy, Fr. Knowles served as curate at St. Cross Church, Hermosa Beach, from 1961 through 1967 when he was called as associate rector of St. Mark's, Glendale. He then served St. James, South Pasadena, first as priest-in-charge in 1972-74 and as rector until 1989.
Sponsored for ordination by St. Matthias Church in Whittier, Knowles completed his theological studies at the Church Divinity School of the Pacific in Berkeley, California, having earned a bachelor's degree in English from UCLA. He maintained a lifelong interest in history, with particular focus on the life of President Abraham Lincoln.
Born in 1937 in Chicago, Fr. Knowles is survived by a sister, Linda Lu Knowles, and a brother, John, both of Point Richmond, California.
Congregational Openings
January 2022
Clergy are encouraged to request that their name be placed on an "interest list" if they would like to be considered for:
a) positions, regardless of the progress of the congregation in determining their process, or their readiness to receive names;
b) placement by the bishop in mission congregations or where an appointment is otherwise applicable.
Contact the Rev. Tom Quijada-Discavage at tdiscavage@ladiocese.org or via phone at: 213.482.2040.
Open positions:
 OPEN
Receiving names/Developing profile

Arcadia, Church of the Transfiguration Parish
Corona del Mar, St. Michael's Parish
Inglewood, Holy Faith Parish
Los Angeles, St. Mary in Palms Parish
Los Angeles, St. Mary's Parish (Mariposa)
Mar Vista, St. Bede's Parish
Palos Verdes Estates, St. Francis Parish
 ACTIVE
No Longer Receiving Names/ Now Interviewing candidates
None
NON-ACTIVE
Congregations that will at some point be searching for clergy leadership, but are now working with supply clergy, a long-term interim or priest in charge:
Downey, St. Mark's Parish
Garden Grove, St. Anselm
Lancaster, St. Paul's Parish
Los Angeles, Church of Christ  the Good Shepherd
Los Angeles (Melrose), Trinity Parish
Los Angeles, St. Philip's Parish
Monterey Park, St. Gabriel's Parish
Pasadena, St. Barnabas Parish

MISSION & OTHER POSITION APPOINTMENTS
Mission congregation positions, some of them part time, for which the Formation and Transition Ministry office is presently receiving names for the bishop's consideration.
Lake Arrowhead, St. Richard of Chichester Mission
Moreno Valley, Grace Mission
Needles, St. John's Mission
Rialto, St. Peter's Mission
Riverside, St. George's Mission
Yucca Valley, St. Joseph of Arimathea Mission
GLENDALE, BLOY HOUSE, The Episcopal Theological School of Los Angeles, Dean. For more info, click here
RANCHO SANTA MARGARITA: Early Childhood Division – Assistant Teacher (3 positions, St. John's School. One regular, two Infant/Toddler program). Full time with benefits (medical/dental, pension, employer matching 403b contribution). $17.00 per hour Starts August 23. Primary responsibilities: support the classroom teacher in providing a loving classroom environment that supports children's emotional, physical, and cognitive development; communicate effectively and maintain a positive rapport with students, parents, and colleagues; help implement the curriculum created by the classroom teacher and collaborate accordingly. Early childhood education coursework required (minimum of 12 units). Full job descriptions and application instructions here (select "Faculty").
SANTA BARBARA: Minister of Choral and Congregational Music. Trinity Episcopal Church seeks not only a talented congregational music leader and a confident and inspiring choral director, but also a committed liturgical partner to work with our rector, curate, and minister of keyboard music to fully integrate all aspects of music with the other parts of the liturgy, to bring to life the Word and love of God. Full job description here.
SANTA CLARITA: Director of Children's Education and Formation, St. Stephen's Episcopal Church and Preschool. The role of the director will be to develop and execute strategies, curriculum and related programs that create an environment for children to grow and thrive in their pursuit of early childhood education, socialization, and spiritual foundations. This position reports to the rector and is responsible for the day-to-day operations of the preschool including staff management, Summer VBS and management of the parish Sunday School program. A full job description is here.
Diocese of Southwest Florida is seeking a Bishop Coadjutor. The diocesan profile may be found at: https://episcopalswfl.org/search.html
Diocese of Arizona: St. Anthony of the Desert, Scottsdale is seeking a rector. The parish profile may be found here.
Diocese of Oregon: St. Gabriel the Archangel, Portland is seeking a full-time rector. Information is here.