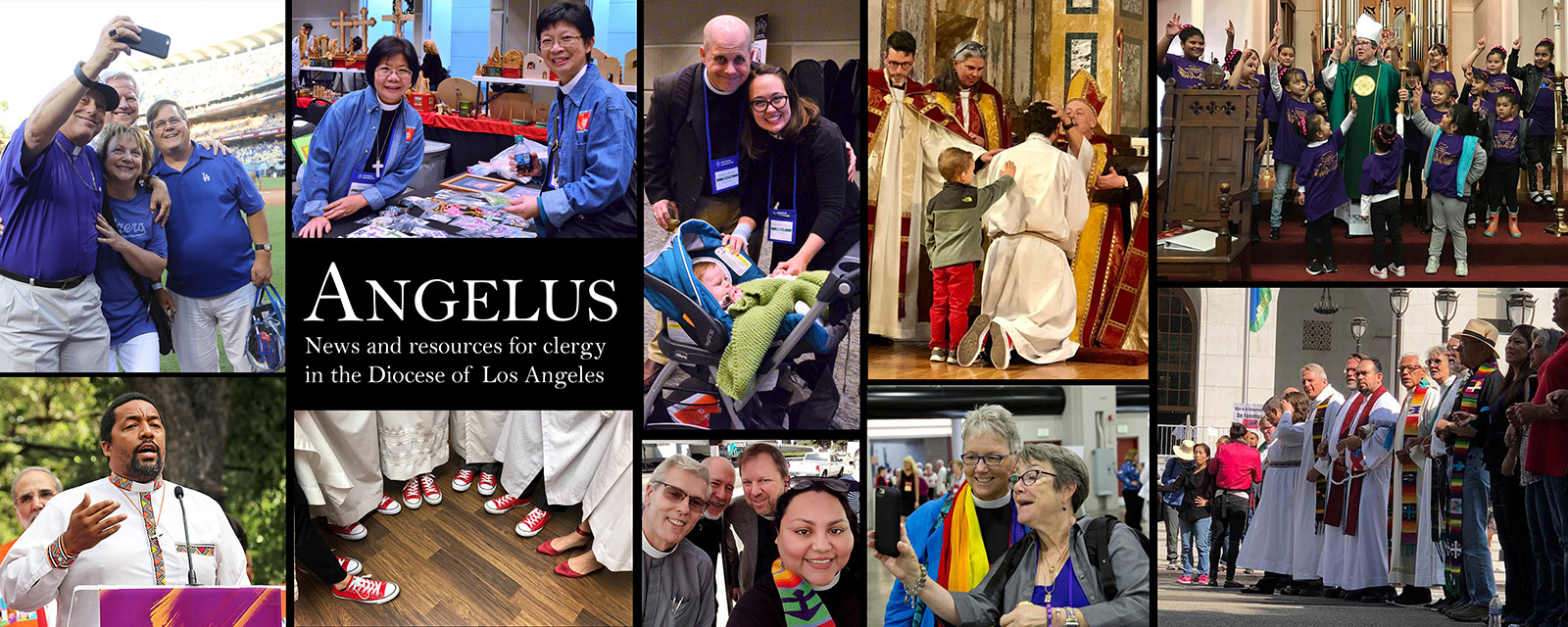 October 2019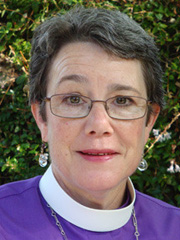 From Bishop Suffragan Diane Jardine Bruce

What's in a message?
I had the distinct pleasure of driving the former Archbishop of Canterbury, the Rt. Rev. Dr. Rowan Williams, to St. Margaret's Church and School in San Juan Capistrano a few days ago. His work was to field questions in an Upper School Hebrew Bible class and to preach at the Middle School chapel. The students in the Hebrew Bible class asked him great questions:
What role does an Archbishop serve?
What is your experience of God?
Did you have a religious childhood?
What are some of the favorite places you've traveled to?
Are you a political as well as a religious leader?
Where do you go to pray and feel close to God?
Would you say nature is a place you can feel God?
Who inspired you to become a religious leader?
He answered all their questions and then offered them a "spoiler alert" of the story of Joseph and his brothers (they are currently up to the Binding of Isaac in their studies). Afterwards one of the students commented to the teacher, who reported back to us; "Did you see how he was glowing when he spoke to us?"
The most moving moment for me was when Rowan preached to the students in the Middle School. Anyone knows that Middle Schoolers can be a rather, well, critical bunch and their attention span can be short. They were laser-focused on Rowan as he described the place he prayed in while he lived in Lambeth Palace. He prayed in the crypt, where due to bombing during WWII among other things, there is a wall where the bottom half is finished – nice and smooth and uniform.
The top half of the wall is exposed stones, held together by mortar. He asked the students to look at the people next to them – some could be friends, some could be people they aren't particularly friendly with, some could be teachers. He told them they were the stones – held together by being able to stay in relationship with each other. Listening to each other. Not agreeing or being uniform in everything like the smooth part of the wall but staying together in relationship because every person in the room is an individual linked to other individuals – every person in the world is important to God.
Rowan added that the cornerstone holding everyone together is, of course, Jesus. This is a paraphrase of a beautiful sharing with the students in which there was no fidgeting – just students hanging on his every word.
Meeting later with members of the administration and faculty who also were in the chapel service, they all commented that not only were they deeply moved by Rowan's words, they couldn't believe how the students were transfixed by him, listening intently.
As we were walking towards my car to return to Pasadena the Middle Schoolers were at lunch and playing on the field.
As we walked by, more than 50 of them came RUNNING, wanting to shake Rowan's hand and thank him for visiting them and for his message. What's in a message? Something we ALL need to hear, and one which these students will never forget.
Blessings and love to you all,
+Diane
Angelus Links
The next issue of Angelus will be electronically transmitted and published in November. News items should be emailed to: revpatmccaughan@aol.com
by October 21.
Angelus is a joint project of the Office of Clergy Formation and Deployment and the Office of Community Relations of the Diocese of Los Angeles

213.482.2040, ext. 251
The Rev. Canon Pat McCaughan, editor
revpatmccaughan@aol.com
949.892.0525
All invited to Oct. 22 celebration to launch St. Paul's Commons, mark milestones of Echo Park ministry
All in the diocesan community are invited to attend an Oct. 22 celebration set to launch the newly configured St. Paul's Commons and to mark milestones of Episcopal Church ministry in Echo Park. A festive 10:30 a.m. Eucharist followed by an open house and a rooftop luncheon will commemorate a century of Episcopal Church ministry at 840 Echo Park Avenue, the 25th anniversary of the consecration of present buildings as a center of service and hospitality, and the blessing of the center's next chapter as St. Paul's Commons.
Bishops John Harvey Taylor and Diane Jardine Bruce invite all clergy and laity in the diocese to share in the celebration and to tour the Retreat and Conference Center, Diocesan Center, and Ministry Center within the Commons complex.
Those planning to attend are asked reply by Oct. 11 via email to bishopsoffice@ladiocese.org. While the celebration is open to all and free of charge to attendees, free-will contributions are welcome to assist the ministries of St. Paul's Commons. Phone inquiries may be directed to the diocesan communications office at 213.482.2040, ext. 240.
Read more here.
Clergy Day with the Very Rev. Kelly Brown Douglas
You are invited to join us for a special opportunity: a clergy day with the Very Rev. Kelly Brown Douglas, Ph.D., dean of Episcopal Divinity School at Union Theological Seminary, canon theologian at Washington National Cathedral, and theologian in residence at Trinity Wall Street, on Friday, November 1, at St. Paul's Commons (The Cathedral Center of St. Paul), 840 Echo Park Avenue, Los Angeles.
The program will begin at 10:30 a.m. and will conclude with Eucharist and lunch.
To register, click here.
Read more about Kelly Brown Douglas here.
Note regarding postal mail to the diocese:
The post office box for the Cathedral Center (P.O. Box 512164) is being discontinued. Please address all postal mail to Cathedral Center offices at 840 Echo Park Avenue, Los Angeles, CA 90026.
TENS log-in for stewardship resources
TENS (The Episcopal Network for Stewardship) has announced that 2019 stewardship materials for congregations, with the theme "Shining Our Light," will be posted on the organization's website
here
. The Diocese of Los Angeles has a membership in TENS, which means that any congregation in the diocese may use these materials without charge. Visit the TENS website and log in with the username "Matthew" and the password "five:16."
ISRRAEL ANCHAN will begin serving as rector of Christ the King Church in Goleta in November.
JUDY BALDWIN has been called as interim priest at Church of the Holy Nativity, Westchester.
JANET BRODERICK will be instituted as rector of All Saints Church, Beverly Hills by Bishop John H. Taylor at 4 p.m., Saturday, October 12, 2019. The diocesan community is invited to attend.
 LAUREL COOTE began serving as interim priest of St. Mary's, Los Angeles (Mariposa) in September.
 RICHARD ESTRADA, founder of Jovenes, a Los Angeles-based ministry for homeless youth, and a priest at the Episcopal Church of the Epiphany, Los Angeles, has been selected as a recipient of the Alfonso García Robles 2019 Medal. This award is bestowed by the National Autonomous University of Mexico (UNAM) to recognize those who have carried out outstanding work in defense and protection of the human rights of migrant people in vulnerable situations. 
ALFREDO FEREGRINO has been called as associate rector at All Saints Church, Pasadena, beginning in November.
 PETER HUANG concluded his ministry as associate rector at St. Francis, Palos Verdes, in September and will continue in private practice and his interest in Asian American ministry in the diocese.
RON HULBERT concluded his ministry as priest-in-charge at St. Richard of Chichester, Lake Arrowhead on Sept. 29.
SHERYL KUJAWA HOLBROOK, dean of faculty and professor of practical theology and religious education at Claremont School of Theology and professor of Anglican Studies at Bloy House, is a contributor to Interfaith Worship and Prayer: We Must Pray Together, published in July by Jessica Kingsley Publishers. 
JUDITH LYONS, a transitional deacon who has been serving at St. Francis, Palos Verdes, will begin serving Oct. 1 as associate rector for Adult Christian Formation and the Arts.
LESTER V. MACKENZIE was installed as rector of St. Mary's Church in Laguna Beach Sept. 7. 
SUSAN RUSSELL will divide her time between parish responsibilities  at All Saints, Pasadena and a new appointment to the bishop's staff, to implement the newly announced "One in the Spirit" initiative. 
LISA ROTCHFORD has been called as pastor-in-charge of Church of the Redeemer, an ELCA congregation in Seal Beach.
CECELIA SCHROEDER began serving  as priest-in-charge of St. Alban's, Yucaipa in September.
JESSIE SMITH has been called as rector of St. Ambrose, Claremont.
STEPHEN SMITH has been called as associate rector for formation at St. Cross Church, Hermosa Beach.
SARAH DAMMANN THOMAS has been called as associate rector of Trinity Church, Santa Barbara.
JEFFREY THORNBERG began serving as rector of Church of Our Saviour in San Gabriel in September.
BARRETT VAN BUREN will be installed as rector of Blessed Sacrament Church in Placentia at 10:30 a.m. on Saturday, Oct. 19. The diocesan community is invited to participate.
OTTO VASQUEZ has been called as priest-in-charge under special circumstances of All Saints Church, Highland Park, Los Angeles.
Congregational Openings
October  2019
Clergy are encouraged to request that their name be placed on an "interest list" if they would like to be considered for:
a) positions, regardless of the progress of the congregation in determining their process, or their readiness to receive names;
b) placement by the bishop in mission congregations or where an appointment is otherwise applicable.
Contact the Rev. Canon Joanna Satorius at jsatorius@ladiocese.org or via phone at: 213.482.2040, ext 263.
Open positions:
ACTIVE: Receiving Names
Inglewood, Holy Faith Church
Lancaster, St. Paul's Church
Los Angeles, St. Mary's Church (Mariposa)
Los Angeles, Westchester, Church of the Holy Nativity
ACTIVE: No Longer Receiving Names
 Los Angeles, Westwood: St. Alban's Church
San Marino, St. Edmund's Church
NON-ACTIVE
Congregations that will at some point be searching for clergy leadership, but are now working with supply clergy, a long-term interim or priest in charge:
Buena Park, St. Joseph's Church
Downey, St. Mark's Church
Huntington Beach, St. Wilfrid's Church
Melrose (Los Angeles), Trinity Church
Ontario, Christ Church
San Fernando, St. Simon's Church
Santa Clarita, St. Stephen's Church

POSITIONS & MISSION APPOINTMENTS
Mission congregation positions, some of them part time, for which the Formation and Transition Ministry office is presently receiving names for the bishop's consideration.
Lake Arrowhead, St. Richard of Chichester Mission
La Verne, St. John's Mission
Yucca Valley, St. Joseph of Arimathea Mission
Other positions
LOS ANGELES: Executive Director, CLUE (Clergy & Laity United for Economic  Justice). Responsible for overseeing the administration, programs and strategic plan of the organization. Other key duties include fundraising, marketing, partner/community outreach and program development. Full job description/contact information here.
PASADENA: Associate Rector position at All Saints Church. Position A: Pastoral and liturgical responsibility for the parish's Latino-Hispanic community (Spanish fluency and Latino-Hispanic cultural competencies required). Position B: Peace & Justice; Children, Youth and Families; and Adult Formation (multicultural, anti-racist competencies required). Salary range – $60,000 – $80,000 (commensurate with experience). A full job description with contact information is here.