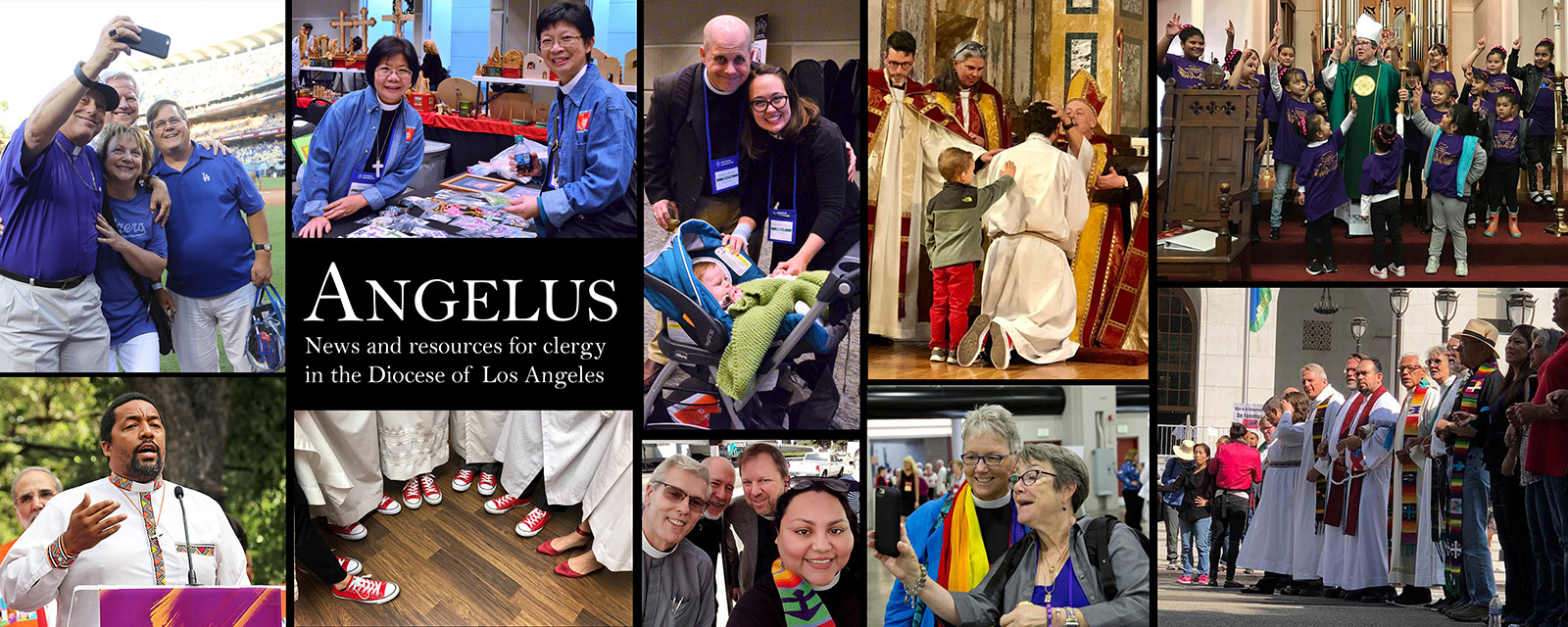 January 2020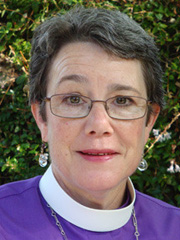 From Bishop Suffragan Diane Jardine Bruce
The Wise Ones
Dear friends in Christ,
I hope and pray you and your loved ones had a blessed Christmas!
As we begin this new decade, I can't help but think and reflect on the Three Magi – the Wise Ones – making their way to the place where Jesus was born. These sages were guided by a star.
That star kept them focused on their goal: to see and pay homage to the King of the Jews. They were overjoyed at finding Jesus, and indeed paid homage and shared the gifts they had brought with them. Then, warned in a dream, they did not return to tell Herod of the whereabouts of this baby.
These Wise Ones trusted a star and a dream. For me these Wise Ones, along with the shepherds and angels were the first to come out and be "of service" to Jesus. Indeed, the subjects of a King were known as the King's servants. They knelt down – these learned ones who brought gifts knelt in front of Jesus to pay homage to this King. They came to see and to serve. They served by offering what they had. They served by NOT going back to tell Herod that they found the King.
We are all called during this end of Christmastide and the beginning of the Epiphany to be servants of Jesus. We are called to follow the bright light that came into the world that Christmas Day. As clergy, we have all had to articulate a sense of call to our specific life in Christ.
For all of us, it began with our ordination to the diaconate – a specific ministry of service to those in need. For many of us, another layer of ministry was put upon us as we were ordained to the priesthood – a sacramental ministry (among other things). For fewer of us, an additional layer was put upon us in our ordination as a bishop – apostle, chief priest and pastor.
The foundation of all these layers is that of servant/service.
Being a servant of Jesus means speaking out against injustice in this world which go against the teachings he came to share with us. Being a servant of Jesus means looking for the signs and symbols that draw us to see and know Jesus — and each other as fellow pilgrims on this journey here and now. Being a servant of Jesus means actively making Christ known in the world by the way we live our lives and the way we live out our ministries – all our varied, Spirit-filled ministries here in the Diocese of Los Angeles where themes of Servanthood will guide our program year including the March 7 Ministry Fair dedicated to "Equipping the Saints to Serve." More information is here.
As clergy servants and followers of Jesus Christ, we are called, as were the Wise Ones, the shepherds and the angels, to be humble and pay homage to our Lord and Savior. 
"… Just as the Son of Man came not to be served but to serve, and to give his life a ransom for many" (Matthew 20:28), may we, during this holy season, have the words how may I serve you? fill our hearts and direct all our actions towards all Jesus brings to us.
Blessings and love to you all,
+Diane
Angelus Links
The next issue of Angelus will be electronically transmitted and published in February. News items should be emailed to: revpatmccaughan@aol.com
by January 21.
Angelus is a joint project of the Office of Clergy Formation and Deployment and the Office of Community Relations of the Diocese of Los Angeles

213.482.2040, ext. 251
The Rev. Canon Pat McCaughan, editor
revpatmccaughan@aol.com
949.892.0525

Save the Date: Ministry Fair on March 7 will 'equip the saints to serve'
The Ministry Fair, themed "Equipping the Saints to Serve," will return to the Diocese of Los Angeles on Saturday, March 7, 2020, hosted by Campbell Hall, the Episcopal school in North Hollywood. All are invited.
Organizers are seeking proposals for workshops in the following ministry areas:
Finance (e.g., managing church finances, narrative budgeting)
Stewardship (e.g., annual stewardship planning, preaching stewardship)
Christian Formation & Education (e.g., education opportunities available, how-to information and best practices)
Spirituality (e.g., prayer, discernment, journaling)
Communication (e.g., print communication, social media)
Worship (e.g., LEM training, multilingual worship, liturgical resources for times of need)
Church Leadership (e.g., workshops for treasurers or wardens, vestry best practices)
Mission & Ministry (e.g., outreach, serving our neighbors in need).
To submit a proposal, click here.
Watch the Update and the new Episcopal News Monthly (coming in late January) for more information about workshop offerings, registration and more. Campbell Hall is located at 4533 Laurel Canyon Blvd., Studio City 91607. Workshop topic suggestions may be sent to the Rev. Laurel Coote at laurelcoote@pacbell.net or Samantha Wylie at swylie@ladiocese.org.
Read more here.
All are Welcome: January 18, 2020
Professor Devon Carbado to return for 2020 King Day Celebration
 Professor Devon Carbado of UCLA will again keynote the diocese's annual Martin Luther King Jr. Day celebration, to be
held at 4 p.m. on Saturday, Jan. 18 at Holy Faith Church, Inglewood.
Carbado, an associate vice chancellor at UCLA and a professor at the university's school of law, addressed last year's gathering, saying on that occasion, "Law and morality are not the same thing." Furthermore, he said, "The civil rights trajectory, the pathway to social change, is not linear. It reflects what we might call a reform entrenchment; a movement forward, then a movement backward." (A report on the 2019 event is 
here
.) All are welcome at this year's service, which also will feature The Episcopal Chorale, a renowned gospel group directed by Canon Chas Cheatham. Read more 
here
.
Bishop Taylor to ordain eight to priesthood on Saturday, Jan. 11
Bishop John Harvey Taylor will ordain Brainerd Solomon Dharmaraj, Carlos Enrique Ruvalcaba, Jonathan William Feuss, Jamelia Cooper Barnett, William Ralph Knutson, Judith Forman Lyons, Kristin Claire (KC) Robertson and Sarah Dammann Thomas to the priesthood on Saturday, Jan. 11, 10 a.m. at St. John's Cathedral, 514 W. Adams Blvd., Los Angeles 90007. The prayers and presence of the diocesan community are invited.
Note regarding postal mail to the diocese:
The post office box for the Cathedral Center (P.O. Box 512164) is being discontinued. Please address all postal mail to Cathedral Center offices at 840 Echo Park Avenue, Los Angeles, CA 90026.
JAMES ALEXANDER was named an honorary canon of the diocese by Bishop John Taylor at the annual diocesan convention in Riverside.
ISRRAEL ANCHAN began serving as rector of Christ the King Church in Goleta in November.
JUDY BALDWIN has been called as interim priest at Church of the Holy Nativity, Westchester.
JULIE BRYANT began serving as priest-in-charge of St. Thomas of Canterbury Church in Temecula, in the Diocese of San Diego.
SUZANNE EDWARDS-ACTON was named an honorary canon of the diocese by Bishop John Taylor at the annual diocesan convention in Riverside.
ALFREDO FEREGRINO began serving as associate rector at All Saints Church, Pasadena, in November.
STEPHEN SMITH has been called as associate rector for formation at St. Cross Church, Hermosa Beach.
SARAH DAMMANN THOMAS has been called as associate rector of Trinity Church, Santa Barbara.
OTTO VASQUEZ has been called as priest-in-charge under special circumstances of All Saints Church, Highland Park, Los Angeles.
Congregational Openings
January 2020
Clergy are encouraged to request that their name be placed on an "interest list" if they would like to be considered for:
a) positions, regardless of the progress of the congregation in determining their process, or their readiness to receive names;
b) placement by the bishop in mission congregations or where an appointment is otherwise applicable.
Contact the Rev. Canon Joanna Satorius at jsatorius@ladiocese.org or via phone at: 213.482.2040, ext 263.
Open positions:
ACTIVE: Receiving Names
Arcadia, Church of the Transfiguration
Inglewood, Holy Faith Church
Lancaster, St. Paul's Church
Los Angeles, St. Mary's Church (Mariposa)
ACTIVE: No Longer Receiving Names
Los Angeles, Westchester, Church of the Holy Nativity
Los Angeles: Westwood: St. Alban's Church
San Marino, St. Edmund's Church
NON-ACTIVE
Congregations that will at some point be searching for clergy leadership, but are now working with supply clergy, a long-term interim or priest in charge:
Buena Park, St. Joseph's Church
Downey, St. Mark's Church
Huntington Beach, St. Wilfrid's Church
Melrose (Los Angeles), Trinity Church
Ontario, Christ Church
San Fernando, St. Simon's Church
Santa Clarita, St. Stephen's Church

POSITIONS & MISSION APPOINTMENTS
Mission congregation positions, some of them part time, for which the Formation and Transition Ministry office is presently receiving names for the bishop's consideration.
Lake Arrowhead, St. Richard of Chichester Mission
La Verne, St. John's Mission
Yucca Valley, St. Joseph of Arimathea Mission
Needles, St. John's Mission
Other positions
SAN ANTONIO, TEXAS: Director of Youth Ministries (full time), St. Luke's Episcopal Church. This individual will oversee the programs of Christian formation for students in 6th-12th grades. A self-starter who connects with youth in engaging and innovative ways would be a welcome addition to the leadership of St. Luke's. A full job description is here.