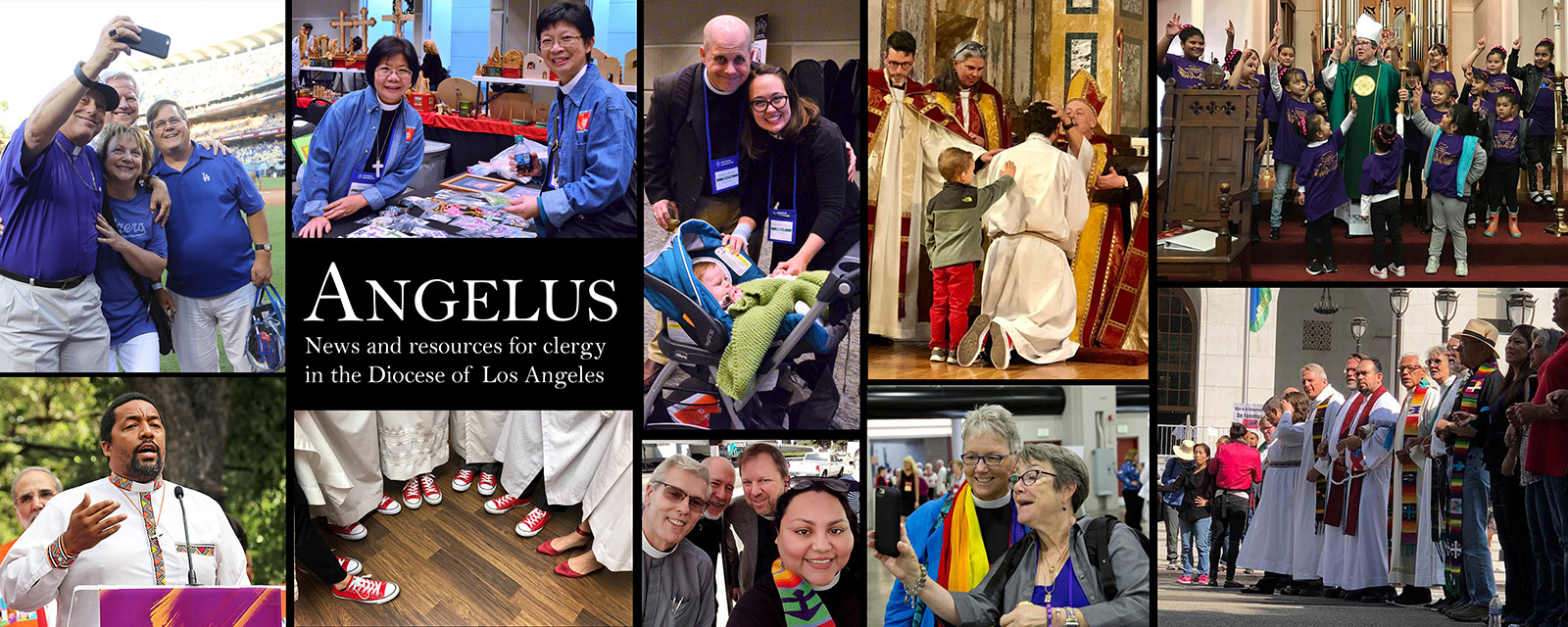 Angelus Links
The next issue of Angelus will be electronically transmitted and published in February. News items should be emailed to: revpatmccaughan@aol.com
by January 21.
Angelus is a joint project of the Office of Clergy Formation and Transition Ministry and the Office of Community Relations of the Diocese of Los Angeles

213.482.2040, ext. 251
The Rev. Canon Pat McCaughan, editor
revpatmccaughan@aol.com
949.892.0525
COVID-19: Messages and resources
Messages from diocesan leaders and many other resources are available on the COVID-19 Resources page of the diocesan website. Visit often; the page is updated frequently. Please send suggestions for additional listings to editor@ladiocese.org.
In addition, please send your stories about ministry in this unprecedented time and your creative ideas to the same email address for inclusion in the Resource Roundup or the Episcopal News Update. Thank you!
TENS log-in for 2020
The Diocese of Los Angeles is a member of TENS (The Episcopal Network for Stewardship), which means that all our clergy and congregations may access its resources. Visit the TENS website and use this login information (please note these are case-sensitive):
Username: 1PETER
Password: FOUR:10
ELIZABETH ANN PIRAINO, GRETA RONNIGEN, STEVEN PHILLIP SWARTTZELL, COURTNEY ANN URQUHART TAN and WALTER JOSEPH THORNE will be ordained to the priesthood by Bishop John Harvey Taylor at 10 a.m. Saturday, January 9, 2021, at Church of Our Saviour, San Gabriel, in a service that will be livestreamed on the diocesan Facebook page and YouTube Channel.
Due to the pandemic, only those directly involved in the rite of ordination (all of whom have been contacted individually) will be permitted to attend the service at Church of Our Saviour.  The diocesan community is invited to witness the service on Facebook or YouTube, either live or later on demand.
ANDREA THORNTON ARSENE will be ordained to the priesthood on Saturday, January 9, 2021, at St. John's Church in Lafayette, Indiana, by Bishop Jennifer Baskerville-Burrows on behalf of Bishop John Harvey Taylor. Arsene is curate at that parish. Baskerville-Burrows will also ordain REBEKAH SIMS to the diaconate during the service, which  will be livestreamed at 8 a.m. PST (11 a.m. EST) on the "IndyDio Virtual Abbey" Facebook page.
FRANK ALTON has been elected to a 4-year term as board member of the Association for Episcopal Deacons, beginning March 1, 2021. AED is the source for information about deacon formation and supervision. Learn more about AED at www.episcopaldeacons.org
MARK BRADSHAW has accepted a new position as an active-duty chaplain in the U.S. Air Force. He has served the past ten years as rector of St. Barnabas, Pasadena, and will conclude his ministry there in early 2021. 
Jane Benson Freeman, mother of NORM FREEMAN, passed away Dec. 28.
NORMA GUERRA began serving  Dec. 1 as the Associate for Formation and Transition  Ministry. In that capacity, she will serve as a liaison to the Bishop's Commission on Ministry in helping to guide processes through which candidates pursue ordination. 
GARY HALL's  term as Bloy House interim dean will be extended for an additional year, through June of 2022.
SHERYL KUJAWA HOLBROOK has been elected the sixth editor of Anglican and Episcopal History, a ministry of The Historical Society of the Episcopal Church. She has been the journal's book review editor, while serving as vice president of academic affairs and dean of faculty of Claremont School of Theology.
The Rev. Canon Dr. George Regas
October 1, 1930 – January 3, 2021
The Rev. Canon Dr. George Regas, legendary rector emeritus of All Saints Church, died January 3, 2021 at his Pasadena home, with his spouse Mary and her son Lowry at his side. He was 90.
He is also survived by his daughter, Susan Regas; his sons, Tim and Tyler; by Mary's other son, Burke Smith, and their families. A daughter, Michelle Regas Worrel, died in 2002.
He was born in Knoxville, Tennesse to Greek immigrant parents, and attended Episcopal Divinity School in Cambridge, Massachusetts. Ordained a priest in 1957, he led churches in Pulaski, Tennessee, and Nyack, New York, before being called as All Saints rector in 1967.
He retired in 1995 from All Saints, and founded the Regas Institute to continue his many well-known social justice ministries. In the wake of the September 11 terrorist attacks, he also founded Interfaith Communities United for Justice and Peace, a Los Angeles-based coalition.
A Jan. 3 online gathering was held to pray and share memories. Current plans are to offer a celebration of life in his memory once pandemic restrictions are lifted.
A full obituary is here.
Congregational Openings
January  2021
Clergy are encouraged to request that their name be placed on an "interest list" if they would like to be considered for:
a) positions, regardless of the progress of the congregation in determining their process, or their readiness to receive names;
b) placement by the bishop in mission congregations or where an appointment is otherwise applicable.
Contact the Rev. Tom Quijada-Discavage at tdiscavage@ladiocese.org or via phone at: 213.482.2040.
Open positions:
OPEN
Receiving names/Developing profile

Arcadia, Church of the Transfiguration Parish
Huntington Beach, St. Wilfrid's Parish
Inglewood, Holy Faith Parish
Lancaster, St. Paul's Parish
Los Angeles, St. Mary's Parish (Mariposa)
Palos Verdes Estates, St. Francis Parish
 ACTIVE
No Longer Receiving Names/ Now Interviewing candidates
NON-ACTIVE
Congregations that will at some point be searching for clergy leadership, but are now working with supply clergy, a long-term interim or priest in charge:
Corona del Mar, St. Michael's Parish
          Downey, St. Mark's Parish
Los Angeles (Melrose), Trinity Parish
Pasadena, St. Barnabas 

MISSION & OTHER POSITION APPOINTMENTS
Mission congregation positions, some of them part time, for which the Formation and Transition Ministry office is presently receiving names for the bishop's consideration.
Garden Grove, St. Anselm
Lake Arrowhead, St. Richard of Chichester Mission
Moreno Valley, Grace Mission
Needles, St. John's Mission
Yucca Valley, St. Joseph of Arimathea Mission
Other positions
HOLLYWOOD-LOS ANGELES: Seeds of Hope Food Distribution Associate. Bilingual (English-Spanish). This position will be an essential part of the Seeds of Hope team getting healthy, nutritious food to more families in need in Los Angeles and surrounding counties. Job duties include picking up, sorting, organizing and delivering produce; providing great customer service; documenting quantities and submitting data for reports. Work hours are full time, but variable. Valid Class C driver's license, experience with driving 16-ft or larger truck required. Full job description is here.
CLAREMONT: Spirituality center executive director. The Center for Spirituality & Practice (CS&P), a nonprofit organization dedicated to providing resources for those seeking wisdom and spiritual practices for their daily lives, seeks a committed spiritual practitioner and high-capacity nonprofit leader to be its first executive director. A respected name in the spiritual enrichment landscape, the Center runs the multifaith/interspiritual website SpiritualityandPractice.com which offers a vast array of resources for the spiritually hungry. The new executive director will collaborate with founders Mary Ann and Frederic Brussat to advance their legacy and develop the organization into its next phase. A detailed position profile can be found here.

NEVADA:  The Episcopal Diocese of Nevada has posted its profile and is accepting nominations for the position of Xlth Bishop Diocesan. The profile is available here. Deadline for applications is January 29, 2021.
OHIO, Cincinnati: Dean, Christ Church Cathedral.  The detail for this position may be found here. Christ Church Cathedral's parish profile can also be found here.
TEXAS, Temple City: Rector, Christ Episcopal Church. Parish Profile on The Diocese of Texas website here.
MÉXICO CITY, MÉXICO: Rector, Christ Church Anglican/Episcopal. Christ Church, an Anglican/Episcopal parish in Mexico City, is seeking a rector for its open, welcoming, bilingual community. A link to our parish profile can be found on our website. We hope the information prompts you to consider becoming our rector at this exciting if challenging time. We also would consider hiring someone on an interim basis. Candidates must be ordained as a priest in a member province or extra-provincial church of the Anglican Communion as of the date of application. Candidates must demonstrate native-level English language fluency. Preference will be given to qualified candidates who are bilingual in English and Spanish. Please send cover letter, curriculum vitae, and links to videos of two recent sermons to search.committee@christchurch.mx Your cover letter should include a paragraph describing what attracts you to life in Mexico and service to our community. Please do not send photos, academic transcripts, or copies of credentials.
SAN ANTONIO, TEXAS: Director of Youth Ministries (full time), St. Luke's Episcopal Church. This individual will oversee the programs of Christian formation for students in 6th-12th grades. A self-starter who connects with youth in engaging and innovative ways would be a welcome addition to the leadership of St. Luke's. A full job description is here.