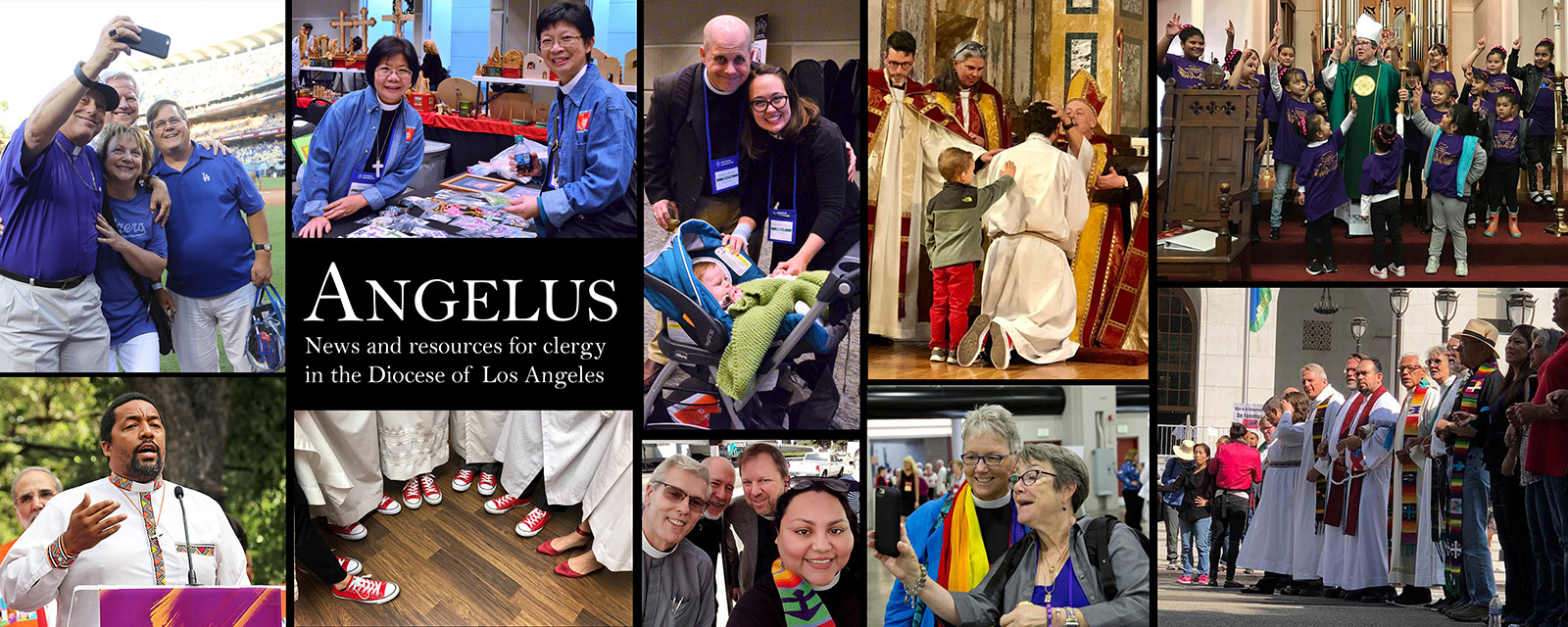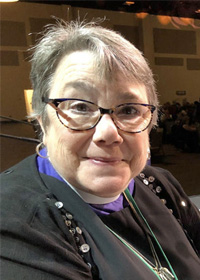 From Bishop Suffragan Diane M. Jardine Bruce 
'Hybrid Time'
Dear Friends in Christ,
Well, here we are. The pandemic bans have been lifted and many of you (but not all) are back "live" in your churches.
First, I want to thank you for your love, care, dedication and faithfulness to your people and to your churches and institution during these last 16 months. It has not been easy, and you have all navigated the Zoom/live-stream/ Facebook/YouTube waters well. (Please remember to send me any "bloopers" you may have had — I am putting together a "blooper reel" to share with you all. If we can't laugh at ourselves, well …)
Second, I don't know about you, but I find myself going to "outside of my home office" meetings or services and then racing home (or dialing in from my car) to attend a zoom meeting. We are living in HYBRID TIME – part in person, part still on ZOOM. I don't see that going away any time soon. Nor do I see all in-person-only meetings as our future as a church. We cannot leave those who found us over Facebook live or ZOOM during this pandemic – they still need the love of God in Christ which you all offer in the services you share. We also get better attendance at meetings when people don't have to drive long distances to attend them.
Third, take the time to write about or talk with friends about your COVID experience. The best people to talk with are our loved ones and the people who understand what our work has been like: this includes family, friends and colleagues. Bishop Taylor, Canon McCarthy and I are always available to you! For me, I'm continuing my "saga of the beach balls" and hope to have a short(ish) online beach ball saga article done by the end of this summer.
If you don't know what I'm talking about, it is a series of posts I posted last year and started up again this year about how I saw stories unfold featuring the great collection of beach balls I put in my pool (to ward off the ducks that wanted to take up residency there).
It was and is my COVID distraction! For example, they lined up and listened reverently to evening prayer offered by the Rev. Canon Ian Davies. They loved music by the Beach Boys. They "threw out" one beach ball from the pool – and I had to remind them that they needed to play well together. They continually try to escape from the yard, and I have to throw them back into the pool. You get the idea. And no, I haven't lost my mind. I just found a lot of levity in those silly beach balls.
As we continue to come out of this pandemic time, let us not lose the knowledge we have gained by having to pivot quickly to bring the Good News of God in Christ to the people around us. Let us also be gentle with each other, knowing that some may still be hesitant to come to in-person gatherings.
I am talking to friends who are hesitant to go ANYWHERE! The people in our congregations may be feeling as some of my friends are feeling. Perhaps you are feeling that way as well.
It all feels different – just as it did when the shutdowns initially happened. Also, I've noticed that drivers are particularly out of practice – perhaps you are noticing that as well. Please be gentle with yourselves and your friends, families and congregants. Encourage people (including yourselves and your loved ones!) to get vaccinated.
Most importantly, continue to pray!
And TAKE YOUR VACATIONS – we really didn't get vacations last year.
Stay connected with your colleagues – especially through your deanery clericus meetings. Again, know that Bishop Taylor, Canon McCarthy and I are here for you!
Blessings and love to you all,
+Diane
Safe Return to in-person worship FAQ page
An FAQ (Frequently Asked Questions) page concerning safe return to in-person worship has been posted here. If you have questions about how to cope with pandemic-era planning in your congregation or institution, please check there for answers.
Preguntas Frecuentes en español.
Angelus Links
The next issue of Angelus will be electronically transmitted and published in September. News items should be emailed to: revpatmccaughan@aol.com
by August 21.
Angelus is a joint project of the Office of Clergy Formation and Transition Ministry and the Office of Community Relations of the Diocese of Los Angeles

213.482.2040, ext. 251
The Rev. Canon Pat McCaughan, editor
revpatmccaughan@aol.com
949.892.0525
COVID-19: Messages and resources
Messages from diocesan leaders and many other resources are available on the COVID-19 Resources page of the diocesan website. Visit often; the page is updated frequently. Please send suggestions for additional listings to editor@ladiocese.org.
In addition, please send your stories about ministry in this unprecedented time and your creative ideas to the same email address for inclusion in the Resource Roundup or the Episcopal News Update. Thank you!
TENS stewardship log-in, webinars available
TENS (The Episcopal Network for Stewardship) has launched its 2021 stewardship materials under the theme "Every Perfect Gift," adapted from the letter of James: "Every generous act of giving, with every perfect gift, is from above" (James 1:17).
The Diocese of Los Angeles is a member of TENS, and therefore all its congregations have access to the organization's stewardship campaign materials for 2021.
The resources are on the TENS website here. To start the process, click on "Login to download" and enter the password, which for 2021 is James1:17 (case sensitive).
TENS' series of webinars to train church members, clergy, and stewardship volunteers on stewardship and pledge campaign best practices are available here.
URGENT CALL to  update Clergy Supply List with Office of Formation and Transition Ministry
The diocesan Office of Formation and Transition Ministry is receiving a larger than normal number of calls for supply clergy for one or more Sundays. If you are available to assist with supply, long-term supply, transition help, etc., please email Tom Quijada-Discavage at tdiscavage@ladiocese.org to make sure you are on the list. 
KATHERINE Y. FENG, JOSHUA NATHANAEL FRANCOEUR PAGET, JOSE LUIS GARCIA-JUAREZ, and JULIE ANNE LOVELOCK BEALS were ordained to the transitional diaconate on June 12, 2021, at Church of Our Saviour, San Gabriel, by Bishop Diocesan John Harvey Taylor.
KHUSHNUD AZARIAH began a sabbatical in May, leading up to her August 1, 2021 retirement.
JAMIE BARNETT has been named priest-in-charge of Epiphany Church, Oak Park. Born and raised in Mississippi and Georgia, she graduated from the University of Mississippi with a bachelor's degree in speech and theater and enjoyed a long and successful television career with the CBS Studio Center's grip department, coordinating lighting and staging for TV and motion picture. She was ordained to the priesthood Jan. 11, 2020.
SUSAN BEK began a sabbatical May 11, 2021 and returns in July.  LIZ WILLIAMS, St. Paul's (Ventura) associate, will fill in during Bek's sabbatical.
NATHAN BIORNSTAD will conclude his ministry as associate for pastoral care at St. Cross Church, Hermosa Beach, with celebratory services at 8 a.m. and 10 a.m. on Sunday, July 25, 2021. He will begin serving as rector of St. Wilfrid, Huntington Beach on Aug. 16.
FRANK BROOKHART is serving as interim rector at St. Mary-in-Palms, Los Angeles. He retired as the ninth bishop of Montana in 2018.
DENNIS GIBBS has retired from his position at Prism Restorative Justice.
DAVID GRANT-SMITH has been serving as supply priest at St. Peter's, Rialto.
PETER HUANG is serving as an assisting priest at St. Luke's, Long Beach, in addition to his work with The Gathering: A Space for Asian American  Spirituality and his psychotherapy practice.
GLENN LIBBY has announced his retirement as rector of St. Philip's, Los Angeles, effective June 30.
VIENNA MCCARTHY, who will be  serving at St. Margaret's, San Juan Capistrano, grew up in London, in the United Kingdom, and studied theology at Oxford and Cambridge universities. She was ordained a priest in 2016 and is a member of the Sodality of Mary, Mother of Priests. Most recently, she served as associate rector for a parish and school in East London, where she taught spirituality, engaged in interfaith work and community organizing around youth violence. She is married to Stephen. They moved to California in Sept. 2020. He has a UC-Irvine research scientist postdoctoral position.
ADAM MCCOY, OHC, has begun serving as consulting priest at St. Joseph of Arimathea Church, Yucca Valley.
CHRISTOPHER MONTELLA was installed as rector of St. Stephen's, Santa Clarita, June 26, 2021 by Bishop Suffragan Diane M. Jardine Bruce.
SUSAN PINKERTON is serving as interim priest-in-charge of St. Michael's and All Angels, Corona del Mar.
TOM QUIJADA-DISCAVAGE has been named priest-in-charge of St. Philip's, Los Angeles.
KAY SYLVESTER began taking sabbatical time beginning June 7, 2021 and plans to return by the end of August.
BOB WILLIAMS, diocesan canon for common life, is on sabbatical leave until September 7.
Congregational Openings
July  2021
Clergy are encouraged to request that their name be placed on an "interest list" if they would like to be considered for:
a) positions, regardless of the progress of the congregation in determining their process, or their readiness to receive names;
b) placement by the bishop in mission congregations or where an appointment is otherwise applicable.
Contact the Rev. Tom Quijada-Discavage at tdiscavage@ladiocese.org or via phone at: 213.482.2040.
Open positions:
 OPEN
Receiving names/Developing profile

Arcadia, Church of the Transfiguration Parish
Corona del Mar, St. Michael's Parish
Inglewood, Holy Faith Parish
Lancaster, St. Paul's Parish
Los Angeles, St. Mary in Palms Parish
Los Angeles, St. Mary's Parish (Mariposa)
Palos Verdes Estates, St. Francis Parish
 ACTIVE
No Longer Receiving Names/ Now Interviewing candidates
            Huntington Beach, St. Wilfrid's Parish
NON-ACTIVE
Congregations that will at some point be searching for clergy leadership, but are now working with supply clergy, a long-term interim or priest in charge:
Downey, St. Mark's Parish
Los Angeles, Church of Christ  the Good Shepherd
Los Angeles (Melrose), Trinity Parish
Los Angeles, St. Philip's Parish
Monterey Park, St. Gabriel's Parish
Pasadena, St. Barnabas Parish
Rialto, St. Peter's Parish
Riverside, St. George's Mission

MISSION & OTHER POSITION APPOINTMENTS
Mission congregation positions, some of them part time, for which the Formation and Transition Ministry office is presently receiving names for the bishop's consideration.
Garden Grove, St. Anselm's
Lake Arrowhead, St. Richard of Chichester Mission
Moreno Valley, Grace Mission
Needles, St. John's Mission
Yucca Valley, St. Joseph of Arimathea Mission
Other positions
DIOCESE OF LOS ANGELES: CONTROLLER. The Controller, a Finance Department staff member, will be responsible for all diocesan accounting operations. This is a hands-on accounting lead position requiring a high level of integrity and a desire to work in a mission driven environment. A full job description is below, and is also available as a PDF here. To apply, send a cover letter, resume and references to Canon Anilin Collado, missioner for human resources, at acollado@ladiocese.org.
HOLLYWOOD-LOS ANGELES: Seeds of Hope Food Distribution Associate. Bilingual (English-Spanish). This position will be an essential part of the Seeds of Hope team getting healthy, nutritious food to more families in need in Los Angeles and surrounding counties. Job duties include picking up, sorting, organizing and delivering produce; providing great customer service; documenting quantities and submitting data for reports. Work hours are full time, but variable. Valid Class C driver's license, experience with driving 16-ft or larger truck required. Full job description is here.
CLAREMONT: Spirituality center executive director. The Center for Spirituality & Practice (CS&P), a nonprofit organization dedicated to providing resources for those seeking wisdom and spiritual practices for their daily lives, seeks a committed spiritual practitioner and high-capacity nonprofit leader to be its first executive director. A respected name in the spiritual enrichment landscape, the Center runs the multifaith/interspiritual website SpiritualityandPractice.com which offers a vast array of resources for the spiritually hungry. The new executive director will collaborate with founders Mary Ann and Frederic Brussat to advance their legacy and develop the organization into its next phase. A detailed position profile can be found here.
TEXAS, Temple City: Rector, Christ Episcopal Church. Parish Profile on The Diocese of Texas website here.
SAN ANTONIO, TEXAS: Director of Youth Ministries (full time), St. Luke's Episcopal Church. This individual will oversee the programs of Christian formation for students in 6th-12th grades. A self-starter who connects with youth in engaging and innovative ways would be a welcome addition to the leadership of St. Luke's. A full job description is here.