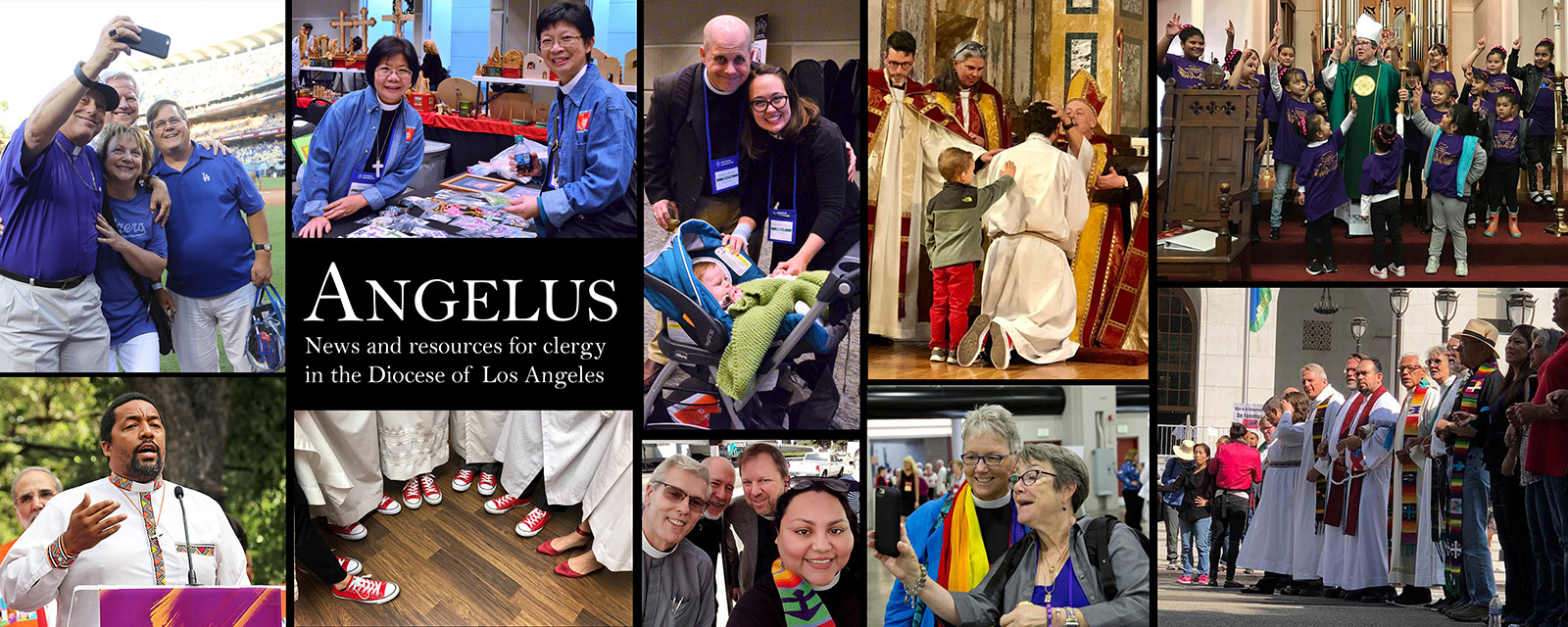 Policing in America: Parishes, precincts invited to share local conversations Oct. 9-12
By Bob Williams, Canon for Common Life
A protégé of the late Coretta Scott King, Pastor Markel Hutchins of Atlanta is leading a strategic initiative that is sparking nationwide participation from various Episcopal dioceses among other mainline judicatories, evangelical churches, mosques, synagogues, and temples, together with police and sheriff's federations across the country.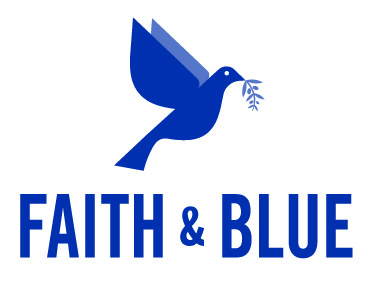 Helpful for bolstering the national will to end systemic racism and its manifestations in policing and other societal systems, the National Faith & Blue Weekend, Oct. 9-12, offers congregations practical, uncomplicated ways to share in dialogue and relationship-building in what has been called "the most consolidated police-community engagement project in recent history." A video is here.
To use the weekend as a catalyst for initiating and strengthening local alliances, congregations are encouraged to host – ideally with other nearby houses of worship – a Zoom forum, coffee hour, or similar gathering to which the neighborhood's senior lead police officer, local precinct captains, or area sheriff's officers are invited to share in conversation with neighborhood clergy and parishioners.
As parish and mission clergy will attest, knowing and interacting regularly with a neighborhood's senior lead officer is typically of ongoing benefit to the congregation, and especially helpful at times of emergency and crisis. Also key to Faith & Blue Weekend forums and wider conversations is the input of law enforcement professionals who are among parishioners of local congregations.
Suggested discussion topics and formats for weekend forums are clearly outlined – together with easily shareable graphics, flyers, and posters – on the National Faith & Blue website. Episcopal congregations and dioceses from California and Arizona to Atlanta and Missouri and beyond are using these materials to engage participation.
The initiative resonates with L.A. Bishop John Harvey Taylor's call for diocesan work to "assess, articulate and advocate a Gospel-based approach to policing and community safety" by engaging a variety of voices and viewpoints in fair and balanced consultation. The Episcopal News will report on next steps in that effort as the process unfolds.
Meanwhile, within the diocese, interfaith efforts are underway to organize virtual Faith & Blue Weekend forums engaging houses of worship along the Wilshire Corridor, in Central L.A., Hollywood, and Orange County, with invitations pending in the Inland Empire and Santa Barbara and Ventura counties. Specific details will follow in The News.
Congregations are encouraged to arrange their own local forums and register them directly through the National Faith & Blue website, thereby engaging more of the 113 law enforcement agencies– local police and sheriff's departments together with the California Highway Patrol – that serve neighborhoods in which the diocese's 135 church sites are found.
Kevin Smith, director of the Federal Emergency Management Agency (FEMA) Center for Faith and Opportunity Initiatives, says the National Faith & Blue Weekend has the potential to "power a movement where law enforcement professionals and residents build connections that break down divides, decrease biases, increase familiarity and spur ongoing collaboration."
Additional background resources for this work include:
Two view-on-demand virtual forums, "Policing and a Just Society," convened in August by Washington National Cathedral;
Ongoing programs, including "Our Work to Do" and the diocesan "Trauma and (Un)Truths" series, details of which are here.
And, upcoming on October 4 is "Reimagine Justice," a virtual fundraiser of PRISM, the diocesan restorative justice ministry led by clergy colleagues Dennis Gibbs and Greta Ronningen, featuring as keynoter the Rev. Dr. Kelly Brown Douglas, dean of the Episcopal Divinity School at Union Theological Seminary.
Thank you for considering these opportunities, and for all the ways in which your ministries strengthen civic engagement and common life.
Questionnaire re clergy and lay compensation:
Please complete survey
If you have not yet submitted your completed diocesan clergy and lay compensation surveys, available at the link below, please do so, or forward the information to the person in your church, school or organization who can provide the necessary statistics. Please note that you need to complete the surveys for all clergy and lay employees, including yourself.
We need your help with this important project. Please complete and return your surveys by Sept. 24. Don't make me call you!
If you already completed and submitted your surveys, thanks for your assistance.
Bishop Suffragan Diane M. Jardine Bruce
for the Compensation Committee
_____________________________________

Cuestionario para compensación diocesana para el clero y laicos
Si aún no ha enviado sus encuestas de compensación diocesana para el clero y laicos, disponibles en el enlace a continuación, hágalo, o envíe la información a la persona de su iglesia, escuela u organización que pueda proporcionar las estadísticas necesarias. Tenga en cuenta que debe completar las encuestas para todos los clérigos y empleados laicos, incluido usted mismo.
Necesitamos su ayuda con este proyecto importante. Por favor complete y envíe sus encuestas antes del 24 de septiembre. ¡No me haga llamarlo/a!
Si ya completó y envió sus encuestas, acepte nuestras disculpas por este recordatorio y nuestro agradecimiento por su ayuda.
Obispa Sufragánea Diane M. Jardine Bruce
Para el Comité de Compensación
Angelus Links
The next issue of Angelus will be electronically transmitted and published in October. News items should be emailed to: revpatmccaughan@aol.com
by Sept. 21.
Angelus is a joint project of the Office of Clergy Formation and Transition Ministry and the Office of Community Relations of the Diocese of Los Angeles

213.482.2040, ext. 251
The Rev. Canon Pat McCaughan, editor
revpatmccaughan@aol.com
949.892.0525
COVID-19: Messages and resources
Messages from diocesan leaders and many other resources are available on the COVID-19 Resources page of the diocesan website. Visit often; the page is updated frequently. Please send suggestions for additional listings to editor@ladiocese.org.
In addition, please send your stories about ministry in this unprecedented time and your creative ideas to the same email address for inclusion in the Resource Roundup and the Episcopal News website. Thank you!
TENS log-in for 2020
The Diocese of Los Angeles is a member of TENS (The Episcopal Network for Stewardship), which means that all our clergy and congregations may access its resources. Visit the TENS website and use this login information (please note these are case-sensitive):
Username: 1PETER
Password: FOUR:10
Two to be ordained as deacons in livestreamed service Sept. 19
Bishop John Harvey Taylor will ordain Christie Ann Mossman and Dominique Nicolette Piper to the Sacred Order of Deacons on Saturday, Sept. 19 at 10 a.m. The service will take place at St. Paul's Commons, and will be livestreamed here. The prayers and spiritual presence of the diocesan community are invited. Physical presence at the service is limited to specific people who will be notified personally.
DIANA AKIYAMA was elected August 29 as the 11th Bishop of Oregon. She served as the interim rector of All Saints, Pasadena, from 1996-1998, and a member of the diocesan Commission on Ministry from 1995-1998. She was a lecturer in gender studies at USC  (1997-2002) and dean of the Office for Religious and Spiritual Life at Occidental College in Los Angeles from 2003-2008. She is the fist Japanese-American woman ordained a priest in The Episcopal Church.
CHARLEEN CREAN will retire as archdeacon and associate for Formation and Transitions Ministry for the diocese in October after 34 years of ordained ministry. She was named associate for Formation and Transitions Ministry in 2014, aiding and supporting future deacons and priests through the discernment process. In 2017, she was named  archdeacon. She was ordained a deacon December 14, 1986, in the Diocese of Hawaii. A psychiatric social worker, she  has also served at All Saints, Church and other diocesan congregations.
MICHAEL FOLEY will begin serving as rector of Holy Nativity, Westchester in November.  He most recently served as rector of the Church of the Redeemer in Pittsburgh, Pennsylvania and is active in his current diocese's social justice, community outreach and interfaith ministries, and chairs its Commission on Race and Reconciliation. Prior to ordination and his move to Pittsburgh, Foley was a school psychologist in the Montebello Unified School District. Born in 1964 in San Diego, Foley holds a master's degree from Fuller Theological Seminary in Pasadena and a bachelor's degree from the University of California at Santa Barbara. He was ordained to the priesthood in 2014 in the Diocese of Los Angeles. The Rev. JUDY BALDWIN will continue to serve Holy Nativity as interim rector until that time.
HANK GATLIN, who in 2017 was named the first-ever lay associate to the archdeacon, has moved to northern California.  
GARY HALL began serving  as the interim dean of Bloy House, in August. He has also  served as dean of the Washington National Cathedral and was dean, president and professor of Anglican Studies at Seabury-Western in Evanston, Illinois, from 2005 to 2010, and an adjunct professor at Bloy House from 1995 to 1999. He has taught at the UCLA and at Berkeley Divinity School at Yale, and has been an interim principal, director of studies and English teacher at Oakwood School in North Hollywood, in addition to other teaching assignments. He has also served at All Saints, Pasadena.
SHERYL KUJAWA-HOLBROOK, vice president of academic affairs and dean of faculty, and professor of Practical Theology and Religious Education at the Claremont School of Theology, has been awarded a 2020-2021 Conant Grant through the Executive Council of The Episcopal Church. The grant is to support her work, "Balancing Tradition & Innovation:  A Study of Episcopal Cathedral Ministries. They are given for improvement of seminary-based theological education and intended to support research, writing and course development undertaken by faculty members of the recognized Episcopal seminaries in the United States. The funds are derived from a trust fund established by William S. and Mary M. Conant in 1953. 
CHRISTIE ANN MOSSMAN and DOMINQUE NICOLETTE PIPER will be ordained to the Sacred Order of Deacons at 10 a.m., Saturday, September 19 at St. Paul's Commons by Bishop John Harvey Taylor. The service will be livestreamed here. The prayers and spiritual presence of the diocesan community are invited. Physical presence at the service is limited to specific people who will be notified personally.
TOM QUIJADA-DISCAVAGE will begin serving as interim diocesan transition missioner on September 1, 2020.
 MICHAEL SADHEV has begun serving as associate rector at All Saints, Beverly Hills. Most recently he served as associate rector at St. Philip's Church  in Coral Gables, Florida.
JOANNA SATORIUS will officially retire as diocesan Canon for Formation and Transition Ministry  November 1, 2020.
MICHAEL SEILER is retiring as rector of St. Michael and All Angels, Corona del Mar. His last Sunday is November 22, 2020.
SYLVIA SWEENEY retired Aug. 1 after 11 years as dean of Bloy House, the Episcopal Seminary in Claremont. She has served congregations in the dioceses of California, Idaho, and Montana, and has taught in Oregon, Florida and Montana. She was ordained a priest in the Diocese of Florida in June 1985. She graduated cum laude with a bachelor's degree in social work and psychology, and also earned a master's degree in counseling from Florida State University. She received a master of divinity degree in May 1985 from Seabury-Western Theology Seminary and a Ph.D. in liturgical studies from the Graduate Theological Union in 2007. A book she co-edited, In Spirit and Truth: A Vision of Episcopal Worship, is slated to be released by Church Publishing in December 2020.
Congregational Openings
September  2020
Clergy are encouraged to request that their name be placed on an "interest list" if they would like to be considered for:
a) positions, regardless of the progress of the congregation in determining their process, or their readiness to receive names;
b) placement by the bishop in mission congregations or where an appointment is otherwise applicable.
Contact the Rev. Canon Joanna Satorius at jsatorius@ladiocese.org or via phone at: 213.482.2040, ext 263.
Open positions:
OPEN
Receiving names/Developing profile

Arcadia, Church of the Transfiguration Parish
Huntington Beach, St. Wilfrid's Parish
Inglewood, Holy Faith Parish
Lancaster, St. Paul's Parish
Los Angeles, St. Mary's Parish (Mariposa)
 ACTIVE
No Longer Receiving Names/ Now Interviewing candidates
NON-ACTIVE
Congregations that will at some point be searching for clergy leadership, but are now working with supply clergy, a long-term interim or priest in charge:
Downey, St. Mark's Parish
Los Angeles (Melrose), Trinity Parish
Corona del Mar, St. Michael's Parish 

MISSION & OTHER POSITION APPOINTMENTS
Mission congregation positions, some of them part time, for which the Formation and Transition Ministry office is presently receiving names for the bishop's consideration.
Garden Grove, St. Anselm
Lake Arrowhead, St. Richard of Chichester Mission
Moreno Valley, Grace Mission
Needles, St. John's Mission
Yucca Valley, St. Joseph of Arimathea Mission
Other positions
LOS ANGELES: Canon for Formation and Transition Ministry. The Diocese of Los Angeles is seeking an experienced priest, who is creative and energized, to serve as a senior member of the bishop's staff. The person called to this position will work with both clergy and lay leaders in all the congregations and ministries of the diocese. Serve as chair of the department, currently comprised of the Associate for Formation and Transition Ministry and the Administrative Assistant for Formation and Transition Ministry. The Canon has direct oversight of all parish search processes, instructing and directing search committees and vestries throughout their time of transition. Full job description and application instructions here.
SAN ANTONIO, TEXAS: Director of Youth Ministries (full time), St. Luke's Episcopal Church. This individual will oversee the programs of Christian formation for students in 6th-12th grades. A self-starter who connects with youth in engaging and innovative ways would be a welcome addition to the leadership of St. Luke's. A full job description is here.
CODY, WYOMING: On Sacred Ground, the Wyoming Service Corps, seeks FIRST Program Director.  On Sacred Ground – the Wyoming Service Corps, is recruiting the Program Director to lead the recently established program within the National Church's Episcopal Service Corps. This Program Director will have a significant role in directing the future form of this program as well as interacting with staff from the National Church office and other program directors from around the United States. The Program Director's position will begin in early fall, 2020, to prepare for the first corps members' arrivals in August of 2021. For more info, click here. 
LINCOLN, NEBRASKA: Rector, St. Mark's on-the-Campus. Adjacent to the University of Nebraska at Lincoln's campus, St. Mark's seeks a rector who leads from a place of joy and a deep relationship with God, committed to strengthening our relationship with the UNL community, continuing to cultivate a safe environment for exploring life's questions, and serving those on the margins. For info, contact the Rev. Canon Elizabeth Easton for more information. Deadline to apply Aug 18, 2020. Parish profile available at: www.stmarks-episcopal.org Apply  directly by sending an OTM profile and resume to leaston@dioneb.org.