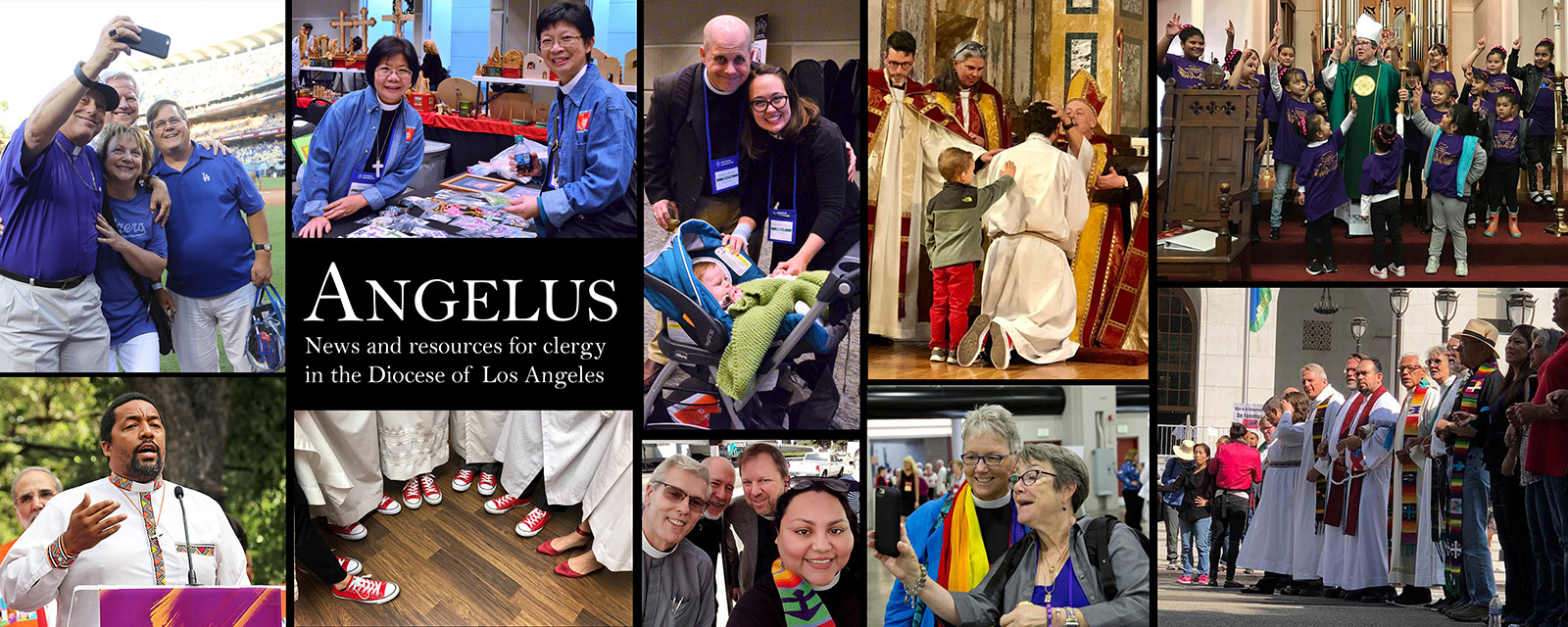 February 2020
From Canon to the Ordinary Melissa McCarthy
Dear Colleagues,
I hope you are all happy and healthy and enjoying ministry in the new year! As you prepare for Lent, I want to draw your attention to two opportunities for engagement.
The first is Ministry Fair. Bishop Bruce will likely have more to say about this event in her March Angelus article, but for now, I want to flag it for you. Ministry Fair will be held on March 7 at Campbell Hall in Studio City. If you have been around the diocese for a while, you may remember Ministry Fairs of the past. It was something I looked forward to every year! They were well attended and provided us with resources, training, and sometimes new inspirations. We hope this relaunch and revisioning of Ministry Fair will be much like the past but with new energy and vision. I encourage you to attend, to bring lay leaders and others interested in the offerings, and to let us know what you think. This is a bit of an experiment and we need your feedback. We want this to be helpful to you in your work, as well as to your people. Let us know how we can do that better. Thank you, in advance, for your support and attendance!
Now for the second opportunity for engagement. Does climate change have you down? I know it has me down. It's a huge issue, with far reaching consequences, and it is so hard to know what to do to make a difference. But thanks to the hard work of the Diocese of California we now have a way to make a positive impact on climate change and to do so as a diocesan community. Thanks also to St. Andrew's in Ojai for their work in piloting this new initiative for us so that we know it really works. It certainly does work and I hope you will join us in participating in this effort. See below for more details and links for signing up. If you have any questions, feel free to reach out to me directly at melissamccarthy@ladiocese.org or 909.725.2448.
As always, thank you for your ministries, your hard work, and for being such wonderful colleagues. It is a pleasure doing ministry with you!
_____________________________________________
Diocesan Lenten program set to engage
households in reducing carbon impact
Local, regional actions will advance churchwide initiative
All Southland Episcopalians are encouraged to join a churchwide initiative engaging households and congregations in reducing carbon impact, conserving energy, and saving money by taking sustainable actions outlined at www.sustainislandhome.org.
The goal is to have as many households as possible within the Diocese of Los Angeles participate by logging in, creating a profile, and taking recommended actions that are in turn aggregated to reflect progress at both diocesan and churchwide levels. An online table displays results comparatively by diocese.
Pioneered by the San Francisco-based Diocese of California, the Carbon Tracker program has to date documented the reduction of 198 tons of CO2e in that region, representing a savings of more than $25,000 in a joint effort of some 375 households.
Los Angeles Bishop Diocesan John Harvey Taylor and Bishop Suffragan Diane Jardine Bruce, together with Canon to the Ordinary Melissa McCarthy who regularly champions efforts addressing the current climate crisis, urge parishioners and clergy across six Southern California counties to log in and participate in this effort, especially during the coming Lenten season, beginning with Ash Wednesday, Feb. 26 and continuing through Maundy Thursday, April 9, as well as the subsequent weeks leading up to Earth Day.
The program has been field-tested by St. Andrew's Church, Ojai (see article here).
More information will follow in The Episcopal News, Angelus clergy newsletter, and in direct email messages. Inquiries may be directed to the diocesan Communications Office, 213.482.2040, ext. 240, or by email to media@ladiocese.org.
Angelus Links
The next issue of Angelus will be electronically transmitted and published in March. News items should be emailed to: revpatmccaughan@aol.com
by February 21.
Angelus is a joint project of the Office of Clergy Formation and Deployment and the Office of Community Relations of the Diocese of Los Angeles

213.482.2040, ext. 251
The Rev. Canon Pat McCaughan, editor
revpatmccaughan@aol.com
949.892.0525

Save the Date: Ministry Fair on March 7 will 'equip the saints to serve'
The Ministry Fair, themed "Equipping the Saints to Serve," will return to the Diocese of Los Angeles on Saturday, March 7, 2020, hosted by Campbell Hall, the Episcopal school in North Hollywood. All are invited.
Organizers are seeking proposals for workshops in the following ministry areas:
Finance (e.g., managing church finances, narrative budgeting)
Stewardship (e.g., annual stewardship planning, preaching stewardship)
Christian Formation & Education (e.g., education opportunities available, how-to information and best practices)
Spirituality (e.g., prayer, discernment, journaling)
Communication (e.g., print communication, social media)
Worship (e.g., LEM training, multilingual worship, liturgical resources for times of need)
Church Leadership (e.g., workshops for treasurers or wardens, vestry best practices)
Mission & Ministry (e.g., outreach, serving our neighbors in need).
To submit a proposal, click here.
Watch the Update and the new Episcopal News Monthly (coming in late January) for more information about workshop offerings, registration and more. Campbell Hall is located at 4533 Laurel Canyon Blvd., Studio City 91607. Workshop topic suggestions may be sent to the Rev. Laurel Coote at laurelcoote@pacbell.net or Samantha Wylie at swylie@ladiocese.org.
Read more here.
Note regarding postal mail to the diocese:
The post office box for the Cathedral Center (P.O. Box 512164) has been discontinued. Mail sent to this address will be returned to sender. Please address all postal mail to Cathedral Center offices at 840 Echo Park Avenue, Los Angeles, CA 90026.
JAMES ALEXANDER was named an honorary canon of the diocese by Bishop John Taylor at the annual diocesan convention in Riverside.
ISRRAEL ANCHAN began serving as rector of Christ the King Church in Goleta in November.
JUDY BALDWIN has been called as interim priest at Church of the Holy Nativity, Westchester.
JULIE BRYANT began serving as priest-in-charge of St. Thomas of Canterbury Church in Temecula, in the Diocese of San Diego, in December.
JENIFER CHATFIELD will begin serving in March as rector of St. Edmund's Church, San Marino.
BILL DOGGETT has been called as interim priest at St. Wilfrid of York, Huntington Beach, beginning in March.
SUZANNE EDWARDS-ACTON was named an honorary canon of the diocese by Bishop John Taylor at the 2019 diocesan convention in Riverside.
GUIANLUIGI GUGLIERMETTO has been called as rector of Christ Church, Ontario, as of January.
NICOLE JANELLE concluded four years of ministry as executive director of The Abundant Table, Ventura County, in December.
LIZ McQUITTY has been called as priest in charge at St. John's Church, La Verne, beginning in March.
CINDY VOIEN began her ministry in January as rector of St. Joseph's, Buena Park.
Congregational Openings
February 2020
Clergy are encouraged to request that their name be placed on an "interest list" if they would like to be considered for:
a) positions, regardless of the progress of the congregation in determining their process, or their readiness to receive names;
b) placement by the bishop in mission congregations or where an appointment is otherwise applicable.
Contact the Rev. Canon Joanna Satorius at jsatorius@ladiocese.org or via phone at: 213.482.2040, ext 263.
Open positions:
ACTIVE
Receiving names/Developing profile

Inglewood, Holy Faith Church
Lancaster, St. Paul's Church
Los Angeles, St. Mary's Church (Mariposa)
ACTIVE
No Longer Receiving Names
Los Angeles (Westchester), Church of the Holy Nativity
Los Angeles (Westwood), St. Alban's Church
NON-ACTIVE
Congregations that will at some point be searching for clergy leadership, but are now working with supply clergy, a long-term interim or priest in charge:
Arcadia, Church of the Transfiguration
Downey, St. Mark's Church
Huntington Beach, St. Wilfrid's Church
Los Angeles (Melrose), Trinity Church
San Fernando, St. Simon's Church
Santa Clarita, St. Stephen's Church

POSITIONS & MISSION APPOINTMENTS
Mission congregation positions, some of them part time, for which the Formation and Transition Ministry office is presently receiving names for the bishop's consideration.
Lake Arrowhead, St. Richard of Chichester Mission
Yucca Valley, St. Joseph of Arimathea Mission
Needles, St. John's Mission
Other positions
SAN ANTONIO, TEXAS: Director of Youth Ministries (full time), St. Luke's Episcopal Church. This individual will oversee the programs of Christian formation for students in 6th-12th grades. A self-starter who connects with youth in engaging and innovative ways would be a welcome addition to the leadership of St. Luke's. A full job description is here.