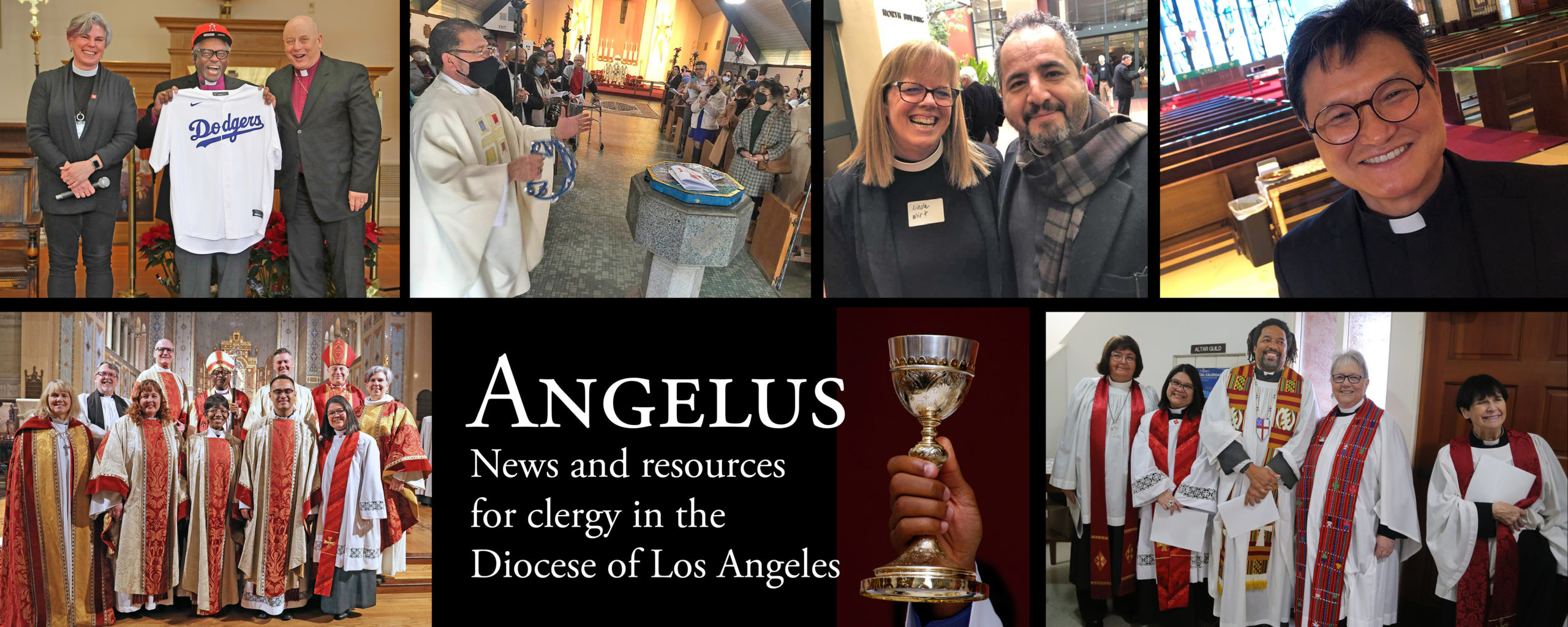 From Mike Mischler, director of formation, St. Mark's, Altadena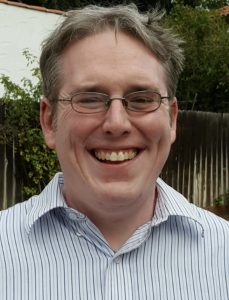 There is never a shortage of things to do in ministry; pick out prayers, visit someone in the hospital, and order new candles.
One of the most effective ways to navigate the ever-expanding to-do list is to tackle the task that is right in front of us. That way, we can be sure that everything gets handled, right? Not quite!
Most of the time this helps me do whatever comes up in the course of the day. Then there are the times when it's suddenly Lent and I haven't gotten a Lent calendar or programmed for Shrove Tuesday and it's too late to order anything or pull together a dozen volunteers. In order to deal with this problem, I started practicing Future Fridays.
With Future Fridays, I block off part of Friday each week to look ahead. Most of the time this involves looking ahead to the next liturgical season. I think through what I need for the season, so that it gets here in time even without Amazon Prime. I figure out who would be good at running a program and give them enough lead time to adequately prepare. Sometimes I need to think six months or even a year ahead.  Someday Future Fridays might be a time to start thinking about a campaign or just acknowledging the roof is 40 years old and not likely to last another 10.  Future Friday is not limited to ministry, though.
On Future Fridays, I can also look ahead to my own long-term goals. I never used to have a "five-year plan," but now I do. It might involve looking at summer camps for the kids and making sure we get registered in time. We might work out the scheduling and financial planning needed for an upcoming family trip.
Future Fridays is not limited to Friday nor the future either. Any part of our lives that feels habitually neglected can be focused on with this practice. By setting aside a day of the week to intentionally engage that part of our lives that usually gets lost in the shuffle, we restore balance and fully prepare ourselves to handle the day-to-day aspects of ministry.
Blessings,
Mike
As director of formation at St. Mark's, Altadena, Mike Mischler organizes and leads programs for all age groups, from the youngest parishioners to two youth groups and a wide range of adult education. He also preaches regularly and helps out in other ways, and is a postulant for Holy Orders.
Angelus Links
The next issue of Angelus will be electronically transmitted and published in April 2023. News items should be emailed to: revpatmccaughan@aol.com
by March  22.
Angelus is a joint project of the Office of Clergy Formation and Transition Ministry and the Office of Communication of the Diocese of Los Angeles

213.482.2040, ext. 251
The Rev. Canon Pat McCaughan, editor
revpatmccaughan@aol.com
949.892.0525
CLERGY RENEWAL OF VOWS, Tuesday, April 4. .
All clergy are invited to attend the annual Renewal of Vows, at 11AM, Tuesday, April 4 at St. John's Cathedral, 514 W. Adams, Los Angeles, followed by a community lunch. Oils for use in healing ministry and chrismation will be blessed during the service and available for pick-up afterwards. Please RSVP if you plan to stay for lunch by March 27 here.
SAVE THE DATE: Clergy Conference May 1-3.
Please save the date and stay tuned for information about registering for the annual diocesan clergy conference, to be held at the Mission Inn in Riverside.
TENS: The Episcopal Network for Stewardship
2023 log-in for the Diocese of Los Angeles' account with TENS is Jeremiah17:8. (Please note: no spaces.) The diocese's account allows all its congregations to take advantage of TENS' extensive stewardship materials. This year's theme is "Rooted in Abundance." The website is here.
CLERGY: Time to consider housing allowance
Parochial clergy of the diocese should ask their vestries to pass a resolution designating a portion of their income as a housing allowance for 2023, as required by the IRS. Human Resources Missioner Anilin Collado reminds clergy that the tax code allows for many household items and expenses to be deducted, resulting in significant tax savings. Information about potential tax savings and a sample housing allowance resolution form is here. For further information, contact Collado at acollado@ladiocese.org or 213.220.5566, ext. 250. 
URGENT CALL: Update Clergy Supply List with Office of Formation and Transition Ministry
The diocesan Office of Formation and Transition Ministry is receiving a larger-than-normal number of calls for supply clergy for one or more Sundays. If you are available to assist with supply, long-term supply, transition help, etc., please email Tom Quijada-Discavage at tdiscavage@ladiocese.org to make sure you are on the list.
GREG BROWN began serving as interim/priest-in-charge at Holy Nativity Parish in Westchester in March.
GERRY ENGNAN, assisting priest at St. Mark's Church, Van Nuys since 1986, has been elected bishop of the Philippine Independent Church (Iglesia Filipina Independiente) for the west coast of the United States and Canada. He was unanimously elected by the 39 members of the PIC's Supreme Council of Bishops at a special meeting February 13 – 17. PIC and The Episcopal Church have a full-communion concordat, and their priests may serve congregations of both denominations. He will  be consecrated at 2 p.m. on Sunday, April 30 at the National Cathedral of the Holy Child, 1500 Taft Avenue, Ermita, Manila, Philippines. The chief consecrator will be the Most Rev. Rhee Timbang, Obispo Maximo of the PIC/IFI. The preacher will be the Most Rev. Brent Alawas, prime bishop of the Episcopal Church in the Philippines (ECP). The installation and seating of the new bishop will be held this summer in the United States at a site and date to be determined
JAMES KYUNG-JIN LEE, assisting priest at Church of the Messiah, Santa Ana, and professor of Asian American Studies and affiliated faculty in English at UC Irvine's School of Humanities, and author, most  recently, of Pedagogies of Woundedness: Illness, Memoir, and the Ends of the Model Minority, is featured on Asian America: The Ken Fong Podcast in a discussion of the human problems of sickness, suffering, disability, and death, especially when seen through the filter of the Christian faith.
JEANNIE MARTZ concluded her 15-year ministry as rector of Trinity Church in Orange on Feb. 19, with a huge retirement party. She had also served as Dean of Deanery 9, encompassing congregations in North Orange County. See Bishop John's blog.
ANNE SAWYER will begin serving as interim dean and priest-in-charge of St. John's Cathedral on March 15. She is a former rector of St. Mark's in-the-Bowery, New York, and co-founder of Imago Dei Middle School in Tucson, Arizona, where she served as head of school from 2005 to 2017.
JASON SHELBY began his ministry as rector of St. Francis, Palos Verdes Estates, in Feb. 2023.
KAY SYLVESTER has begun serving as Dean of Deanery 9, which encompasses congregations in North Orange County.
JENNIFER WAGNER PAVIA began serving as the fourth rector of St. Bede's Church, Los Angeles (Mar Vista), Feb. 19.
JIM WHITE was honored recently upon his retirement after 25 years' service on the Commission on Ministry.
REQUIESCAT: The Rev. Paul Robert Elder
A memorial service for the Rev. Paul Elder, deacon at St. Aidan's Church, Malibu, was held on March 2 at Agoura Hills Recreation & Events Center. Elder, a campus minister and passionate advocate for the poor and homeless, died Feb. 16. He was 86 and had been suffering from cancer. He had been active at St. Aidan's until mid-December 2022. Survivors include his wife, Barbara Ann Elder, to whom he was married on Feb. 24, 1958; their sons David and Mark; and many grandchildren. Another son, John, died several years ago from leukemia.
Elder was instrumental in forming the ecumenical and community-supported Malibu Task Force on Homelessness, which raised more than $500,000 to hire social workers, providing housing and support services. Elder and others at St. Aidan's also launched Project Homeward Bound, which identifies homeless people who are willing to rejoin their families, but need financial and logistical assistance. He had also served as campus minister at UCLA through St. Alban's, Westood.
Congregational Openings
March 2023
Clergy are encouraged to request that their name be placed on an "interest list" if they would like to be considered for:
a) positions, regardless of the progress of the congregation in determining their process, or their readiness to receive names;
b) placement by the bishop in mission congregations or where an appointment is otherwise applicable.
Contact the Rev. Canon Tom Quijada-Discavage at tdiscavage@ladiocese.org or via phone at: 213.482.2040.
ACTIVE
Receiving names/Profile posted

Los Angeles (Mariposa): St. Mary's Parish, Rector
(Bilingual: English and Spanish)
St. Mary's Church\seeks a full-time, bilingual, Rector with a deep personal faith, a spiritual leader who will preside enthusiastically and who is not afraid to speak prophetically from the pulpit. Hoped-for gifts and skills would include Outreach to Youth, Multicultural Awareness, Community Building, Effective/Transparent Communication, and Effective Preaching.
Parish profile
OPEN
Receiving names/developing profile
Camarillo, St. Columba's Parish / Rector
Lompoc, St. Mary's / Rector
Redondo Beach, Christ Church Parish – St. Andrew's, Torrance /Rector
Santa Barbara, All Saints by the Sea Parish / Rector
South Pasadena, St. James' / Rector
Whittier, St. Matthias / Rector
OPEN
No longer receiving names/Interviewing candidates
Westwood, St. Alban's / Rector
NON-ACTIVE
Congregations that will at some point be searching for clergy leadership, but are now working with supply clergy, a long-term interim or priest in charge:
Arcadia, Church of the Transfiguration
Beverly Hills, All Saints Parish
Downey, St. Mark's Parish
Garden Grove, St. Anselm's
Inglewood, Holy Faith Parish
Lancaster, St. Paul's Parish
(currently engaged with a PICUSC)
Los Angeles, Church of Christ  the Good Shepherd
Los Angeles, St. John's Cathedral
Los Angeles, St. Philip's Parish
Los Angeles (Melrose), Trinity Parish
Monterey Park, St. Gabriel's Parish
Ojai, St. Andrew's Parish
Pasadena, St. Barnabas' Parish
Pomona, St. Paul's Parish
Redlands, Trinity Parish
Westchester, Holy Nativity Parish

MISSION & OTHER POSITION APPOINTMENTS
Mission congregation positions, some of them part time, for which the Formation and Transition Ministry office is presently receiving names for the bishop's consideration.
Gardena, Holy Communion Mission
La Crescenta, St. Luke of the Mountains Mission
Lake Arrowhead, St. Richard of Chichester Mission
Los Angeles, Epiphany Mission
Los Angeles, St. Athanasius Mission
Moreno Valley, Grace Mission
Needles, St. John's Mission
Rialto, St. Peter's Mission
Riverside, St. George's Mission
Wilmington, St. John's / Holy Child (PIC) Mission
Yucca Valley, St. Joseph of Arimathea Mission
OXNARD: Associate for Children's and Youth Ministry, All Saints / Todos los Santos. Part-time.
This person should be ordained or about to be ordained as a priest, conversant in Spanish and English and ready to learn and support our children's, youth and family ministries. Flexible scheduling is available. Full job description here. Contact: the Rev. Melissa Campbell-Langdell, rector, at revmelissalangdell@gmail.com
 SAN CLEMENTE: Assistant priest, part-time, St. Clement's by-the-Sea. Ministry to include preaching (once per month), help with pastoral care, and faith formation. Ideal for a shared ministry with another congregation or a retired clergy person. Contact the Rev. Patrick Crerar with any questions and paperwork if interested: FrPatrick@scbythesea.org or 949-492-3401.
ALEXANDRIA, VIRGINIA: Virginia Theological Seminary is looking for Thriving Clergy Mentors Coaches. Coaches receiving training, compensation and ongoing support. For more info, contact thrive@vts.edu
PHOENIX, ARIZONA: Diocesan Canon for Black Ministry, part-time. Click HERE for the full job description. Interested parties should send a resume and cover letter for lay applicants; or resume, cover letter, and OTM profile for clergy applicants, to bishopreddall@azdiocese.org by February 10, 2023
SEWANNE, TENNESSEE: University of the South School of Theology, Executive Director, Education for Ministry (EfM). Oversees all aspects of the Education for Ministry program. These include strategic planning and development, promotion, and management of this popular four-year distance-learning program in lay theological education and ministry formation. Lay or ordained. For more info, click here.
INDIANAPOLIS, INDIANA; Diocesan Youth Minister, seeking candidate to equip and encourage parish-level leaders through community, connection, and trainings; visioning and leading meaningful initiatives and events with youth alongside a leadership team, and managing the administrative aspects of the diocesan youth ministry.  Deadline to register is March 15, 2023. For more info, click here.
DURHAM, NORTH CAROLINA: Duke University Director of the Anglican Episcopal House of Studies. Position to begin July 1, 2023. AEHS Director will nurture the community of students representing a range of Episcopal and other Anglican traditions, ministerial formation for M.Div  students, and serve as a regular-rank member of the Divinity School faculty and hold the Jack and Barbara Bovender Chair of Anglican Episcopal Studies, teaching approximately half-time in both Anglican Episcopal studies courses and at least one other area. Full job description here. Applications should be submitted here.