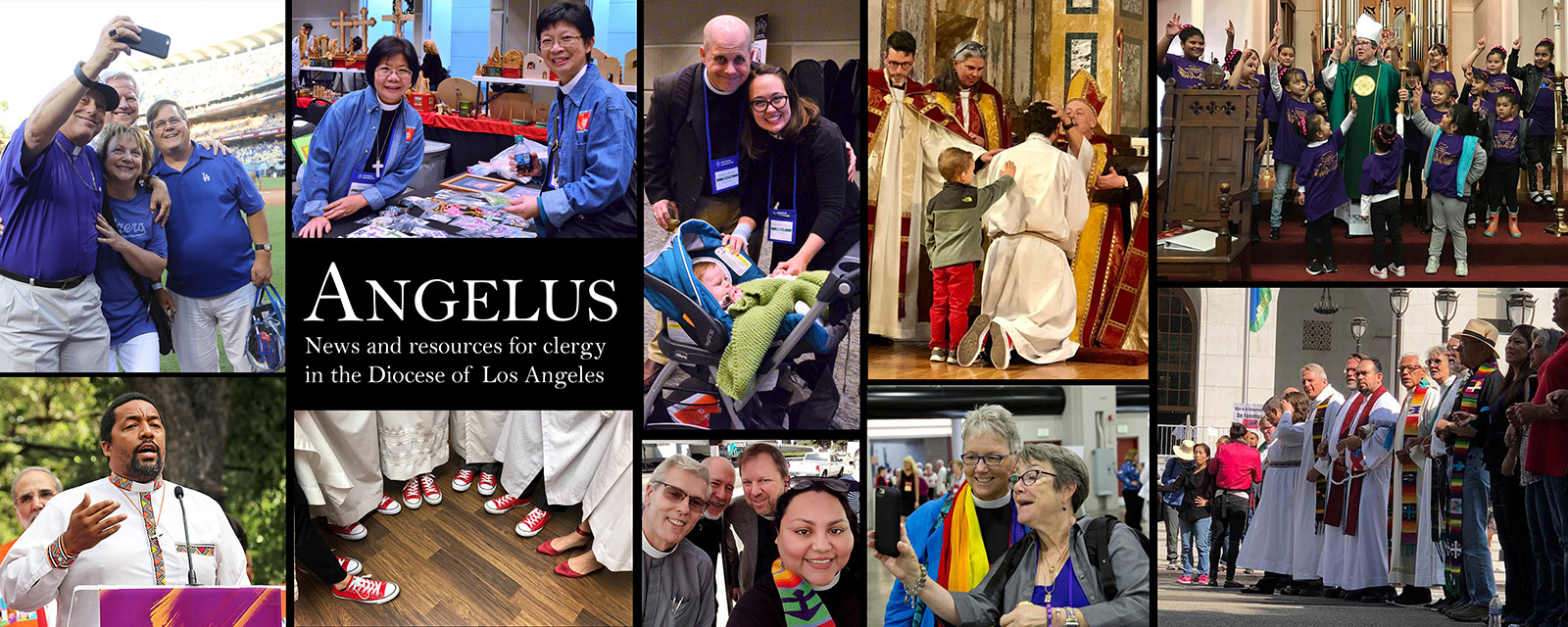 'Pray and do something' resources offer help to respond to systemic racism
by Bishop Suffragan Diane M. Jardine Bruce
God,
Grant me justice, so that I may treat others as they deserve.
Grant me mercy, so that I don't treat others as they deserve.
Grant me a humble walk with you, so that I may understand the difference.
— The Rev. Dr. Patricia McCaughan and the Very Rev. Keith Yamamoto
This prayer, written by two priests of this diocese, can be found on page 166 of the book Race and Prayer: Collected Voices Many Dreams, Malcolm Boyd and Chester Talton, editors.
I used this book a number of times when I was a parish priest, but hadn't looked at it in the last few years. The violence and murder perpetrated at the hands of law enforcement and vigilantes on our black community, especially the "caught on tape" murder of George Floyd, moved me to pull this book off my shelf, dust it off, and pray.
Maybe you are in that same place as well. I need to pray, but I also know I need to DO something. The first thing I want to do is to apologize to you, my siblings in Christ right here in the Diocese of Los Angeles who have been living under and with the systems of injustice and white supremacy for centuries, and who feel the weight of that oppression every day of your lives.
On June 7 the national Union of Black Episcopalians (UBE) hosted Talk2Talk: Congregational and UBE Activism in the Face of Social Unrest. The panelists (bios at the end of this note) were the Rev. Dr. Gayle Fisher-Stewart, the Very Rev. Canon Martini Shaw and the Rev. Melanie Mullens. They said what I needed to hear: we cannot let this minute in our history fade away like dust in the wind. We are being called to voice our disdain for the actions taken against God's people – especially those who have been marginalized and discriminated against for centuries. The YouTube video of the event can be found here.
On June 21 UBE hosted a follow-up to the June 7 event: "Talk2Talk: Moving from Protest to Marathon Systemic Response." The same panelists offered their wisdom as to how we can — no, we MUST — move past protest to effecting the kind of radical changes to dismantle systems of injustice and inequality that have existed in this country for centuries.
If we have had any part in building or sustaining any system that has oppressed another, we need to acknowledge that sin, and repent. We need to work to transform systems of oppression into systems of love and care – ensuring equal access to all at every level and area of our society.
If you, like me, have felt hopeless in wondering "what can I do," when the video of this event becomes available that will be a great place to start. We will post a link to it on our diocesan website when it is available.
Building on the work of the UBE's Talk2Talks, Canon Suzanne Edwards-Acton and I are excited to announce that the Rev. Dr. Gayle Fisher-Stewart has agreed to be our preacher at our annual celebration of the Rev. Dr. Martin Luther King, Jr. holiday in 2021. Working with a team from the diocese, we hope to put together an interactive program for that event. Given the uncertainty of the pandemic, we will be planning for both a digital and an in-person event.
In terms of resources locally and throughout the Episcopal Church to use sooner than the MLK weekend, the diocesan website has a section with resources for you and your congregation to begin this work. More will be added over time. That webpage can be found here. If you have found other resources we can add to this page, please send them to Canon Janet Kawamoto (jkawamoto@ladiocese.org).
My siblings in Christ: Please pray. Please study. Please teach. Please act. We cannot let this "blow over" and not address the underlying causes – including white supremacy – that keep us repeating the same acts of injustice on our siblings in Christ.
WWJD? We all know the answer to that.
God of all peoples of the earth: we pray for an end to racism in all forms, and for an end to the denial that perpetuates white privilege, and for your support for all of those who bear the struggle of internalized racism, and for wisdom to recognize and eradicate the institutional racism in the church, and for the strength to stand against the bigotry and suffering that inhabits the world; for these and all your blessings we pray, O God, Christ Jesus, Holy Spirit. Amen.
 — The Rev. Dr. Sheryl Kujawa-Holbrook, Race and Prayer: Collected Voices, Many Dreams, pg. 50
Los recursos para "orar y hacer algo" ofrecen ayuda para responder al racismo sistémico
Dios,
Concédeme justicia, para que pueda tratar a los demás como se merecen.
Concédeme misericordia, para que no trate a los demás como se merecen.
Concédeme un humilde paseo contigo, para que pueda entender la diferencia.
— La Rev. Dra. Patricia McCaughan y el Rev. Keith Yamamoto
Esta oración, que fué escrita por dos sacerdotes de esta diócesis, y se encuentra en la página 166 del libro, Race and Prayer: Collected Voices Many Dreams, Malcolm Boyd y Chester Talton, editores.
Utilicé este libro varias veces cuando estaba como sacerdote en una parroquia, pero no lo había vuelto a ver en los últimos años. La violencia y los asesinatos perpetrados por las fuerzas del orden y los vigilantes hacia nuestra comunidad Negra, especialmente el asesinato de George Floyd "grabado en un video", me motivó a sacar este libro de mi librero, quitarle el polvo y rezar. Tal vez ustedes estén en este mismo lugar también.
Necesito rezar, pero también sé que tengo que HACER algo. Lo primero que quiero hacer es disculparme con ustedes, mis hermanos y hermanas en Cristo aquí en la Diócesis de Los Ángeles que han estado viviendo con y bajo los sistemas de injusticia y supremacía blanca durante siglos, y que sienten el peso de esa opresión cada día de sus vidas.
El 7 de junio la Unión de Episcopales Negros (UBE por sus siglas en Inglés) organizó Talk2Talk: Activismo Congregacional y de UBE ante el malestar social. Los panelistas (biografías al final de esta nota) fueron la Rev. Dra. Gayle Fisher-Stewart, el Muy Rev. Canónigo Martini Shaw y la Rev. Melanie Mullens. Ellos dijeron lo que yo necesitaba oír: no podemos dejar que este minuto de nuestra historia se desvanezca como el polvo en el viento. Estamos llamados a expresar nuestro desdén por las acciones tomadas contra el pueblo de Dios – especialmente aquellos que han sido marginados y discriminados durante siglos. El video del evento puede ser encontrado aquí.
El 21 de Junio, UBE organizó un seguimiento del evento del 7 de Junio, Talk2Talk: Pasando de la protesta a la respuesta sistémica maratónica. Los mismos panelistas ofrecieron su sabiduría sobre cómo podemos — no, DEBEMOS — pasar de la protesta a efectuar el tipo de cambios radicales necesarios para desmantelar los sistemas de injusticia y desigualdad que han existido en este país durante siglos. Si hemos tenido alguna participación en la construcción o el mantenimiento de cualquier sistema que ha oprimido a otro, tenemos que reconocer ese pecado, y arrepentirnos.
Necesitamos trabajar para transformar los sistemas de opresión en sistemas de amor y cuidado – asegurando el acceso igualitario a todos en los diferentes niveles y áreas de nuestra sociedad. Si ustedes, como yo, se ha sentido desesperanzados al preguntarse "qué puedo hacer yo", el video de este evento será un gran lugar para comenzar. Pondremos un enlace en nuestro sitio web de la diócesis cuando esté disponible.
Basándonos en el trabajo de Talk2Talks de la UBE, la canóniga Suzanne Edwards-Acton y yo estamos encantadas de anunciar que la reverenda Dra. Gayle Fisher-Stewart ha aceptado ser nuestra predicadora en la celebración anual del Reverendo Dr. Martin Luther King, Jr. durante el fin de semana de MLK en 2021. Trabajando con un equipo de la diócesis, esperamos crear un programa interactivo para ese evento. Dada la incertidumbre causada por la pandemia, planearemos un evento en formatos digital y en persona.
En términos de recursos locales y en toda la Iglesia Episcopal para usar antes del fin de semana de MLK, el sitio web diocesano tiene una sección con recursos para que usted y su congregación puedan comenzar con este trabajo. Se irán añadiendo más recursos eventualmente. Este sitio web se puede encontrar aquí. Si ustedes han encontrado otros recursos que pudiéramos añadir a esta página, por favor envíelos a la canóniga Janet Kawamoto (jkawamoto@ladiocese.org).
Mis hermanos y hermanas en Cristo: Por favor oren. Por favor estudien. Por favor enseñen. Por favor actúen. No podemos dejar que esto "se desvanezca" y no abordar las causas subyacentes -incluyendo la supremacía blanca- que nos mantienen repitiendo los mismos actos de injusticia en nuestros hermanos y hermanas en Cristo. WWJD? (Siglas en Inglés para: Qué Haría Jesús?) Todos sabemos la respuesta a eso.
Dios de todos los pueblos de la tierra: oramos por el fin del racismo en todas sus formas, y por el fin de la abnegación que perpetúa el privilegio blanco, y por tu apoyo a todos aquellos que sufren del racismo internalizado, y por la sabiduría para reconocer y erradicar el racismo institucional en la iglesia, y por fuerza para oponernos a la intolerancia y al sufrimiento que habitan en el mundo; por estas y todas tus bendiciones oramos, oh Dios, Cristo Jesús, Espíritu Santo. Amén.
— La Rev. Dra. Sheryl Kujawa-Holbrook, Race and Prayer: Collected Voices Many Dreams, pg. 50
Panelistas invitados para Talk2Talk
La Rev. Dra. Gayle Fisher-Stewart es la Rectora Interina de la Iglesia Episcopal de San Lucas en Washington, DC, y es la presidenta del capítulo Crummell-Cooper DC de la Unión de Episcopales Negros. Llega al ministerio ordenado después de retirarse del Departamento de Policía Metropolitana, en Washington, con el rango de capitán. Es la autora del libro que saldrá próximamente a la venta (17 de julio de 2020), "Preaching Black Lives (Matter)," (Church Publishing).
El Muy Reverendo Canónigo Martini Shaw quien es el Rector de la histórica Iglesia Episcopal Africana de Santo Tomás, en Filadelfia, Pensilvania, donde ha dirigido a esta comunidad en la audaz proclamación del Evangelio reconciliador de Jesucristo durante 17 años. El Padre Shaw, ex vicepresidente nacional de la UBE, también forma parte de la Junta Asesora de la Oficina de Ministerios de los Negros de la Iglesia Episcopal y es el presidente del Comité del Consejo Ejecutivo de la Iglesia Episcopal para los HBCU (Siglas en Inglés para: Colegios y Universidades Históricamente Negros).
La Rev. Melanie Mullens, es la Directora de Reconciliación, Justicia y Cuidado de la Creación de la Iglesia Episcopal, está encargada de llevar el Movimiento de Jesús a las preocupaciones del mundo. Antes de unirse al personal del Obispo Presidente, fue la misionera en la Iglesia Episcopal de San Pablo en el centro de Richmond, dirigiendo los ministerios misioneros, cívicos y de reconciliación.
+Diane
Angelus Links
The next issue of Angelus will be electronically transmitted and published in July. News items should be emailed to: revpatmccaughan@aol.com
by June 21.
Angelus is a joint project of the Office of Clergy Formation and Deployment and the Office of Community Relations of the Diocese of Los Angeles

213.482.2040, ext. 251
The Rev. Canon Pat McCaughan, editor
revpatmccaughan@aol.com
949.892.0525
ANDREA LEE THORNTON ARSENE, ordained to the transitional diaconate on June 13, 2020, will be serving as deacon associate at St. John's, Lafayette in the Diocese of Indianapolis.
MICHAEL BELL has been named director of spiritual care services for PIH Health Services. He previously served as director of spiritual care for Good Samaritan Hospital in Los Angeles, which in 2018 merged with PIH Health and is now known as PIH Health-Good Samaritan Hospital.

TOM DISCAVAGE-QUIJADA will begin serving as interim diocesan transition missioner on September 1.
MICHAEL FOLEY has been  called as rector of Holy Nativity, Westchester.  He most recently served as rector of the Church of the Redeemer in Pittsburgh, Pennsylvania and is active in his current diocese's social justice, community outreach and interfaith ministries, and chairs its Commission on Race and Reconciliation. Prior to ordination and his move to Pittsburgh, Foley was a school psychologist in the Montebello Unified School District. He was born in 1964 in San Diego, Foley holds a master's degree from Fuller Theological Seminary in Pasadena and a bachelor's degree from the University of California at Santa Barbara. He was ordained to the priesthood in 2014 in the Diocese of Los Angeles. Foley and his husband Chad, with their dog Buster, will move to Los Angeles in early November. The Rev. JUDY BALDWIN will continue to serve Holy Nativity as interim rector until that time.
GARY HALL has been called as the interim dean of Bloy House, Aug. 1. He has also  served as dean of the Washington National Cathedral and was dean, president and professor of Anglican Studies at Seabury-Western in Evanston, Illinois, from 2005 to 2010, and an adjunct professor at Bloy House from 1995 to 1999. He has taught at the University of California at Los Angeles and at Berkeley Divinity School at Yale, and has been an interim principal, director of studies and English teacher at Oakwood School in North Hollywood, in addition to other teaching assignments.. He has also served at All Saints, Pasadena.
YEIN KIM  began serving as rector of St. Alban's, Westwood, in June 2020.
ELIZABETH ANN PIRAINO, ordained June 13, 2020, to the transitional diaconate, will be serving as deacon associate at Trinity Church in Redlands.
TOM QUIJADA-DISCAVAGE will begin serving as interim diocesan transition missioner on September 1, 2020.
GRETA RONNINGEN, ordained to the transitional diaconate June 13, 2020, will continue to serve at the Community of Divine Love and with the Prism Ministry.
JOANNA SATORIUS will officially retire as diocesan Canon for Formation and Transition Ministry  November 1, 2020.
STEVE SWARTZELL, ordained to the transitional diaconate June 13, 2020, will be serving as deacon associate at St. Wilfrid of York, Huntington Beach.
SYLVIA SWEENEY will retire Aug. 1 after 11 years as dean of Bloy House, the Episcopal Seminary in Claremont. She has served congregations in the dioceses of California, Idaho, and Montana, and has taught in Oregon, Florida and Montana. She was ordained a priest in the Diocese of Florida in June 1985. She graduated cum laude with a bachelor's degree in social work and psychology, and also earned a master's degree in counseling from Florida State University. She received a master of divinity degree in May 1985 from Seabury-Western Theology Seminary and a Ph.D. in liturgical studies from the Graduate Theological Union in 2007. A book she co-edited, In Spirit and Truth: A Vision of Episcopal Worship, is slated to be released by Church Publishing in December 2020.
COURTNEY ANN URQUHART TAN, ordained to the transitional diaconate June 13, 2020, will be serving as a deacon associate at St. Mark's Church in Los Olivos.
WALTER JOSEPH THORNE, ordained to the transitional diaconate June 13, 2020, will continue to serve at the Episcopal School of Los Angeles.
REQUIESCAT IN PACE
Bishop William Thompson
The Rt. Rev. William A. Thompson, who from 2009 to 2014 was bishop of the Anglican Church in North America (ACNA) Diocese of Western Anglicans after more than 30 years as rector of All Saints' Episcopal Church in Long Beach, died June 21. He was 73 and in recent years had suffered the effects of Alzheimer's disease.
Survivors include his wife, Claudia; their children, Matthew, Christopher, and Betsy, and their families; and Thompson's sister, Barbee, among others. Services are pending.
ACNA was formed in 2009 by clergy and laity who left the Episcopal Church citing theological differences following the 2003 election of the Rt. Rev. Gene Robinson of New Hampshire as the Episcopal Church's first openly gay bishop. In the Diocese of Los Angeles, Thompson's parish was one of four in which a majority of members voted to leave the Episcopal Church and sought to retain land and buildings, which the California courts later returned to the diocese, thereby setting statewide precedent. Thompson was among clergy deposed from Episcopal Church ministry in 2005, and an agreement was later reached with Bishop J. Jon Bruno for the All Saints' congregation to purchase the Long Beach buildings from the diocese.
Congregational Openings
July  2020
Clergy are encouraged to request that their name be placed on an "interest list" if they would like to be considered for:
a) positions, regardless of the progress of the congregation in determining their process, or their readiness to receive names;
b) placement by the bishop in mission congregations or where an appointment is otherwise applicable.
Contact the Rev. Canon Joanna Satorius at jsatorius@ladiocese.org or via phone at: 213.482.2040, ext 263.
Open positions:
ACTIVE
Receiving names/Developing profile

Arcadia, Church of the Transfiguration Parish
Huntington Beach, St. Wilfrid's Parish
Inglewood, Holy Faith Parish
Lancaster, St. Paul's Parish
Los Angeles, St. Mary's Parish (Mariposa)
ACTIVE
No Longer Receiving Names/ Now Interviewing candidates

NON-ACTIVE
Congregations that will at some point be searching for clergy leadership, but are now working with supply clergy, a long-term interim or priest in charge:
Downey, St. Mark's Parish
Los Angeles (Melrose), Trinity Parish
Monterey Park, St. Gabriel's Parish

MISSION & OTHER POSITION APPOINTMENTS
Mission congregation positions, some of them part time, for which the Formation and Transition Ministry office is presently receiving names for the bishop's consideration.
Lake Arrowhead, St. Richard of Chichester Mission
Moreno Valley, Grace Mission
Needles, St. John's Mission
Yucca Valley, St. Joseph of Arimathea Mission
Other positions
LOS ANGELES: Canon for Formation and Transition Ministry. The Diocese of Los Angeles is seeking an experienced priest, who is creative and energized, to serve as a senior member of the bishop's staff. The person called to this position will work with both clergy and lay leaders in all the congregations and ministries of the diocese. Serve as chair of the department, currently comprised of the Associate for Formation and Transition Ministry and the Administrative Assistant for Formation and Transition Ministry. The Canon has direct oversight of all parish search processes, instructing and directing search committees and vestries throughout their time of transition. Full job description and application instructions here.
SAN ANTONIO, TEXAS: Director of Youth Ministries (full time), St. Luke's Episcopal Church. This individual will oversee the programs of Christian formation for students in 6th-12th grades. A self-starter who connects with youth in engaging and innovative ways would be a welcome addition to the leadership of St. Luke's. A full job description is here.