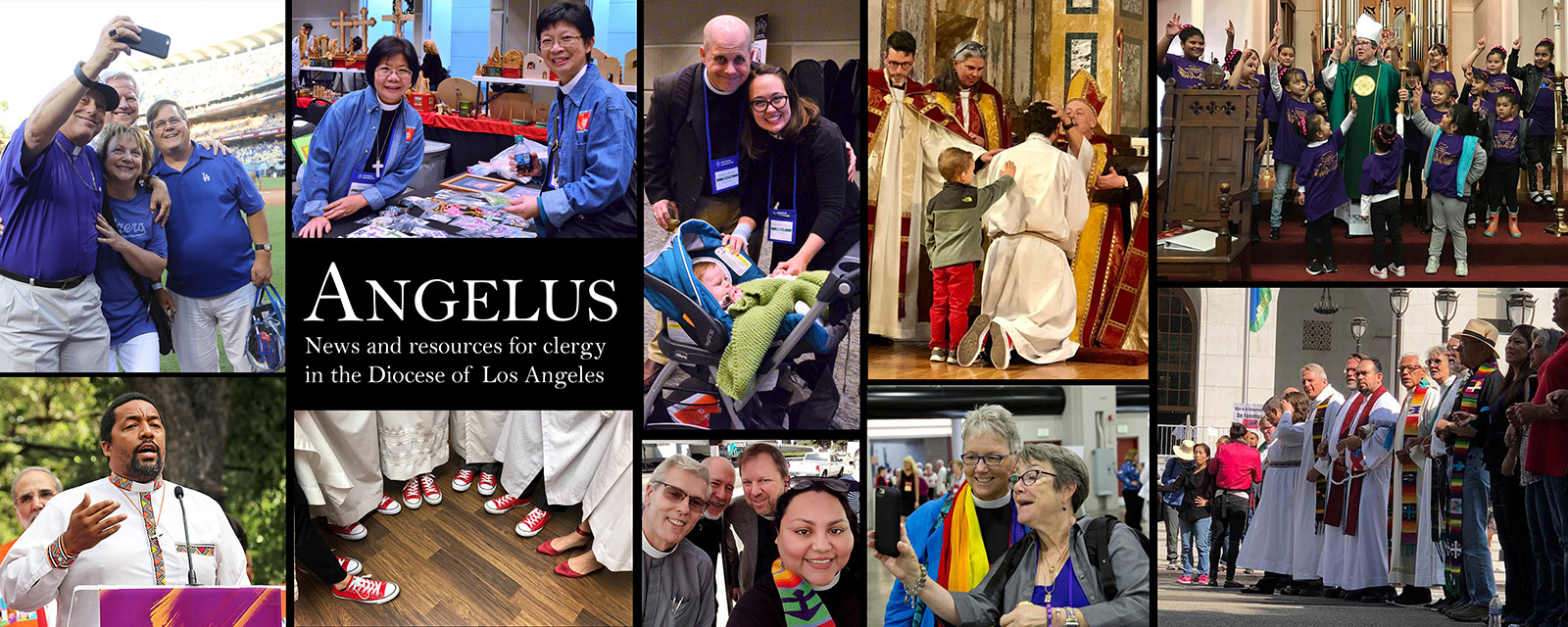 From the Rev. Carlos Ruvalcaba

Fellowship, teaching and healing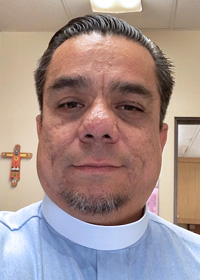 When I think about that radical guy who came to Galilee proclaiming the good news of God and utilizing a crazy but wonderful kind of love, I can't stop thinking of three actions that captivate me and may enable millions of other people to follow and mirror him: fellowship, teaching, and healing.
When I first came to the Program Group on Hispanic Ministries back in 2011, I realized that most of our activities were focused on the Latinx community itself, which is okay; but the problem was that this very fact was isolating and repressing this community even more than it already was. In 2022, the Program Group continues to be the "meeting place" for members of the 30 congregations serving Spanish-speaking people. However, we have added the element of promoting unity among ourselves and other ethnic groups present in the Diocese of Los Angeles, one of the most ethnically and religiously diverse cities in the United States.
Can you imagine the value of our cultural, religious, spiritual, and linguistical diversity? "No one after lighting a lamp puts it under the bushel basket, but on the lampstand, and it gives light to all in the house"(Mt 5). Or as Ellen Elmes, a Harvard Divinity School lecturer, would say in not-so-biblical language, "I think it makes God angry if you walk by the color purple in a field somewhere and don't notice it." The diversity present in this diocese is what makes it beautifully unique.
The elements of our diversity are the wonderful lamps needed to illuminate all the darkness in the world. This light emerges, unites, and is maintained through various factors, but mainly in our vast and creative relationships, in honest conversations, and in the firm desire to know more about the "other." When we appreciate the gravity of our personal relationships and cultivate connections with those who share different backgrounds, we then can bridge cultural and religious divides.
A better understanding of what it means to be Hispanic/Latinx and what we can bring to the Episcopal Church requires us to be aware that the term Latinx includes people from Argentina, Bolivia, Brazil, Chile, Colombia, Costa Rica, Cuba, Ecuador, El Salvador, Guatemala, Honduras, Mexico, Nicaragua, Panama, Paraguay, Puerto Rico, Peru, Dominican Republic, Uruguay and Venezuela.
Some funny but real facts to exemplify this: not all Latinos live in impoverished communities, not all Latinos venerate the Virgin of Guadalupe, and not all Latinos speak Spanish. This larger picture conveys that all life is differently sacred regardless of any social construct and expands our networks to make meaningful changes in a constant changing world by nurturing, understanding, respecting, and caring for others.
Our world is not stationary, and it is constantly evolving as we all witnessed with this Covid pandemic, which changed our lives and livelihoods in ways both small and profound, affecting the familial realm, the societal realm, labor realm, and of course our churches. This has resulted, I believe, in an almost involuntary desire to think that everything must change, and that leaving everything behind and starting all over is the answer, even at the risk of losing our own identities, including our Christian-Anglican identity.
But the call could be to adapt to our current circumstances through a model of fellowship, teaching, and healing rooted in Jesus' radical, crazy and beautiful kind of love, yet informed by contemporary times, economies, cultural norms, and technologies.
We adapt through fellowship, because when we give due importance and value to everyone and everything, friendships can cross lines. Recognizing our interdependency and puting our stories together we can give form to a community in which harmony and collaboration could be achieved. This is the main purpose of our program "El Gran Convivio" (The Great Banquet). Aiming at rediscovering harmony and collaboration between the elements of creation, especially among us humans, the program consists of experiential and formative events of cultural immersion.
Previous events were about the Virgin Mary of Guadalupe; grief within the Latinx community; and best practices for living during and beyond crisis in a foreign country. Upcoming events will be about celebrating the life and legacy of Cesar Chávez; living, working and worshiping in allyship with our neighbors; grieving loss and facing the future; and more.
We adapt through teaching, because now more than ever it is necessary to recognize the importance of our laity and the call to all the baptized to exercise our leadership and role in the church. The vision of our program Instituto de Liderazgo (Institute for Leadership) is to provide high-level training, deep spiritual exploration, and an appropriate academic/practical support to provide our clergy and lay leaders with the knowledge and tools to apply new and innovative approaches that are needed in today's world and in the future. Formation is vital and necessary for people to flourish in our Latinx communities. We are preparing new generations of compassionate, reflective, and adaptive leaders and ministers in a world in constant change.
Over the past two years, our digital platforms have proven exceptionally effective in connecting us. We have learned that a technological approach towards these new ways of forming, educating, and serving is crucial. Therefore, the program itself has had to adapt to this new reality by offering a virtual and in-person model of formation. We have avant-garde equipment to support our work as we face this new facet of the formation of our leaders. Instituto de Liderazgo works in collaboration with Bloy House – The Episcopal School of Theology in Los Angeles.
Finally, we adapt through healing as an important element of our common life. We try to focus our attention on how we can contribute to healing the wounds we have inherited, and those we have caused. Through the values of radical love, empathy, and interdependence we explore pathways to conditions of healing and forgiveness. We are all in this together, and in our pursuit of healing we must remain in love, connected to one another, and heal from within to ensure that our transformed societies emerge from a foundation of crazy but beautiful love. As Bishop Curry states, "Love is the antidote, love is the cure, and love is the way."
A word on masks and continuing safety
Now that public health officers in each of the six counties within the Episcopal Diocese of Los Angeles have lifted mask mandates for fully vaccinated persons in indoor public spaces, diocesan congregations may adjust protocols accordingly while still requiring that unvaccinated persons continue to wear masks indoors.
Concurrently, congregations are strongly encouraged to keep in place safety protocols that assure maximum protection for all, especially safeguarding parishioners and clergy age 65 and older. These steps may include continuing to require, on church sites, proof of vaccination, to encourage mask-wearing widely among all who wish to do so, and to maintain careful cleaning and sanitizing procedures.
Current diocesan policy is updated regularly with guidance from Bishop Diocesan John Harvey Taylor together with the Rev. Canon Melissa McCarthy, diocesan canon to the ordinary, and the bishop's council of advice comprising deans active in ministry across the diocese.
Please note the following links to public health information in the counties across the diocese, and to California state safety measures here.

Safe Return to in-person worship FAQ page
The FAQ (Frequently Asked Questions) page concerning safe return to in-person worship was updated recently and may be found here. If you have questions about how to cope with pandemic-era planning in your congregation or institution, please check there for answers.
Preguntas Frecuentes en español.
Angelus Links
The next issue of Angelus will be electronically transmitted and published in June 2022. News items should be emailed to: revpatmccaughan@aol.com
by June 21.
Angelus is a joint project of the Office of Clergy Formation and Transition Ministry and the Office of Communication of the Diocese of Los Angeles

213.482.2040, ext. 251
The Rev. Canon Pat McCaughan, editor
revpatmccaughan@aol.com
949.892.0525
COVID-19: Messages and resources
Messages from diocesan leaders and other resources are available on the COVID-19 Resources page of the diocesan website. Please send suggestions for additional listings to editor@ladiocese.org.
In addition, please send your stories about ministry in this unprecedented time and your creative ideas to the same email address for possible inclusion in the Resource Roundup or the Episcopal News Update. Thank you!
Reminder: Next clergy check-in call will be Thursday, September 1 at 2 p.m via Zoom.
Log-in is in the email sent to all clergy, or contact Diane Pound at dpound@ladiocese.org for link.
URGENT CALL: Update Clergy Supply List with Office of Formation and Transition Ministry
The diocesan Office of Formation and Transition Ministry is receiving a larger-than-normal number of calls for supply clergy for one or more Sundays. If you are available to assist with supply, long-term supply, transition help, etc., please email Tom Quijada-Discavage at tdiscavage@ladiocese.org to make sure you are on the list.
STACEY FORTE DUPRE, TIMOTHY PAUL HARTLEY, RYAN MICHAEL MACIAS, BRIAN JOSEPH TUCKER and C. SUSANNE WRIGHT were ordained transitional deacons on June 11 by Bishop John Harvey Taylor at St. John's Cathedral.
DAN ADE and MARK KOWALEWSKI have announced plans to retire at the end of 2022 after 16 years as co-deans of St. John's Cathedral, Los Angeles.
FRANK ALTON retired May 1 after more than eight years as provost/pastor serving St. Paul's Commons and St. Athanasius, Echo Park.
ISRAEL ANCHAN was installed as rector of Christ the King, Goleta, on May 15 by Bishop Taylor.
JULIE BOLEYN has been called to serve as director of Kaleidoscope Institute. She is an ELCA pastor and has been an associate and Upper-Midwst regional director with KI. She has served at Unity Lutheran Church in Berwyn, Illinois from 2011 to 2021. During her ministry she accompanied the development of Unidad, a Spanish language ministry with a special focus on serving the LGBTQ community.
TOM CAREY retired as vicar of the Church of the Epiphany, Los Angeles, at the end of June.
MICHAEL CUNNINGHAM has announced plan to retire August 31 after serving as rector of St. Mary's, Lompoc, for 15 years.
AIMEE EYER-DELEVETT concluded her ministry April 24 at All Saints by-the-Sea, Santa Barbara, where she has served as rector for seven years. She has been called to serve as head chaplain at St. Stephen's Episcopal School in Austin, Texas, a co-ed boarding school serving 690 students from grades 6-12.
DINA FERGUSON has retired after more than 8 years of faithful service at St. Michael and All Angels Parish, El Segundo.
MICHAEL FOLEY was installed as rector of the Church of the Holy Nativity, Westchester, on May 21 by Bishop Taylor.
BILL GARRISON retired in May after serving as rector of St. Matthias, Whittier, since 2011.
MARK HALLAHAN has announced his intention to retire September 1 from St. Paul's Parish in Pomona after 16 years of ministry.
GREG KIMURA began serving June 1 as vice-dean of Grace Cathedral, San Francisco, in the Diocese of California, beginning June 1. He has served as rector of St. Andrew's, Ojai, and had also served as president and CEO of the Japanese American National Museum in Los Angeles. Previously he was president and CEO of the Alaska Humanities Forum, and taught at Alaska Pacific University and at the University of Alaska, Anchorage.
GREG LARKIN retired July 1 after 22 years as rector of St. Columba's, Camarillo and 40 years of ordained ministry.
JEANNIE MARTZ has announced plans to retire at the end of 2022 from Trinity Parish in Orange after 21 years of ministry.
ARTHUR TORO will retire as vicar of Holy Communion Church, Gardena, on October 9.
ANNE TUMILTY retired on May 31 after serving 20 years as rector of St. James, South Pasadena.
Congregational Openings
June 2022
Clergy are encouraged to request that their name be placed on an "interest list" if they would like to be considered for:
a) positions, regardless of the progress of the congregation in determining their process, or their readiness to receive names;
b) placement by the bishop in mission congregations or where an appointment is otherwise applicable.
Contact the Rev. Tom Quijada-Discavage at tdiscavage@ladiocese.org or via phone at: 213.482.2040.
Open positions:
OPEN
Receiving names/developing profile
Mar Vista, St. Bede's Parish, rector
Redondo Beach, Christ Church Parish, rector
Westwood, St. Alban's Parish, rector
OPEN
No longer receiving names/Interviewing candidates
None
NON-ACTIVE
Congregations that will at some point be searching for clergy leadership, but are now working with supply clergy, a long-term interim or priest in charge:
Arcadia, Church of the Transfiguration
Beverly Hills, All Saints Parish
            Camarillo, St. Columba's Parish
Downey, St. Mark's Parish
Garden Grove, St. Anselm
Inglewood, Holy Faith Parish
Lancaster, St. Paul's Parish (has a PICUSC)
Lompoc, St. Mary's Parish
Los Angeles, Church of Christ  the Good Shepherd
Los Angeles, St. John's Cathedral
Los Angeles, St. Philip's Parish
Los Angeles (Melrose), Trinity Parish
Monterey Park, St. Gabriel's Parish
Ojai, St. Andrew's Parish
Pasadena, St. Barnabas' Parish
Pomona, St. Paul's Parish
Santa Barbara, All Saints by the Sea Parish
South Pasadena, St. James' Parish
Whittier, St. Matthias Parish

MISSION & OTHER POSITION APPOINTMENTS
Mission congregation positions, some of them part time, for which the Formation and Transition Ministry office is presently receiving names for the bishop's consideration.
La Crescenta, St. Luke of the Mountains Mission
Lake Arrowhead, St. Richard of Chichester Mission
Los Angeles, Epiphany Mission
Los Angeles, St. Athanasius Mission
Moreno Valley, Grace Mission
Needles, St. John's Mission
Rialto, St. Peter's Mission
Riverside, St. George's Mission
Yucca Valley, St. Joseph of Arimathea Mission
ALISO VIEJO: Chaplain, The Covington (Episcopal Communities and Services) . Full time. Contact: Stacie Ocampo, vice president of Human Resources, at socampo@ecsforseniors.org. Position description here. Chaplain description here.
FILLMORE/VENTURA: Community Engagement and Development Coordinator, The Abundant Table, a non-profit, organic certified farm and BIPOC- and women-led worker collective in Ventura County, California that seeks to transform our food system towards justice, liberation, and increased health for all people, while caring for the land and all who tend the land. Community Engagement and Development Coordinator will be responsible to oversee and coordinate the TAT community engagement and development processes, including management; fundraising; community engagement, coordination and development. 30 hours/week; salary and benefits $32,864. Full job description here.
LOS ANGELES: Executive Director, Commission on Schools. The Diocese of Los Angeles and the Commission on Schools are seeking a lay or ordained person with school, preschool, and/or parish leadership experience to be a part of the diocesan staff beginning Summer 2022. Being an Episcopalian is not required but is preferable, and a non-Episcopalian must be willing to fully understand, articulate, and support the ministries of Episcopal schools and preschools. The position is 1000 hours per year, benefits eligible, with the work schedule to be determined by the needs of the position with respect to the school year and diocesan considerations. Please send a cover letter, resume, and a reference list to Canon Anilin Collado via email at anilincollado@ladiocese.org or by postal mail at 840 Echo Park Ave., Los Angeles, CA 90026. A job description is here.
OXNARD: Associate for Children's and Youth Ministry, All Saint's / Todos Santos. Part-time. Candidate should be ordained or about to be ordained as a priest, conversant in Spanish and English and ready to learn and support our children's, youth and family ministries. Flexible scheduling is available. Contact: the Rev. Melissa Campbell-Langdell, rector, at revmelissalangdell@gmail.com A job description is here.
PACIFIC PALISADES: Assistant/Associate Priest, St. Matthew's Church. Contact: the Rev. Bruce A. Freeman, rector, at bafreeman@stmatthews.com. Send letter of interest, CV/resume and OTM. Job description is here.
SAN GABRIEL: Church of Our Saviour. Associate for Recovery Ministries and Pastoral Care. Job description here.  To apply, contact the Rev. Jeff Thornberg, rector, with questions and paperwork here: jefft@cosepiscopal.org
SAN GABRIEL: Church of Our Saviour. Associate for Our Saviour Center and Contemplative Life. Job description here.  To apply, contact the Rev. Jeff Thornberg, rector, with questions and paperwork here: jefft@cosepiscopal.org
SAN MARINO: Curate/Associate Priest, St. Edmund's Church. Contact: the Rev. Jenifer Chatfield, rector, at rector@saintedmunds.org. Send letter of interest, CV/resume and OTM. Job description is here.
 SANTA CLARITA: St. Stephen's Youth Ministry Coordinator, part-time. To develop, coordinate and lead all youth activities at St. Stephen's Church. 10-15 hours weekly.   The roles involves guiding young people in their faith journey by creating a welcoming environment, providing faith direction and encouraging discussion, education and programming. For more info, contact St. Stephen's at: 661.259.7307.