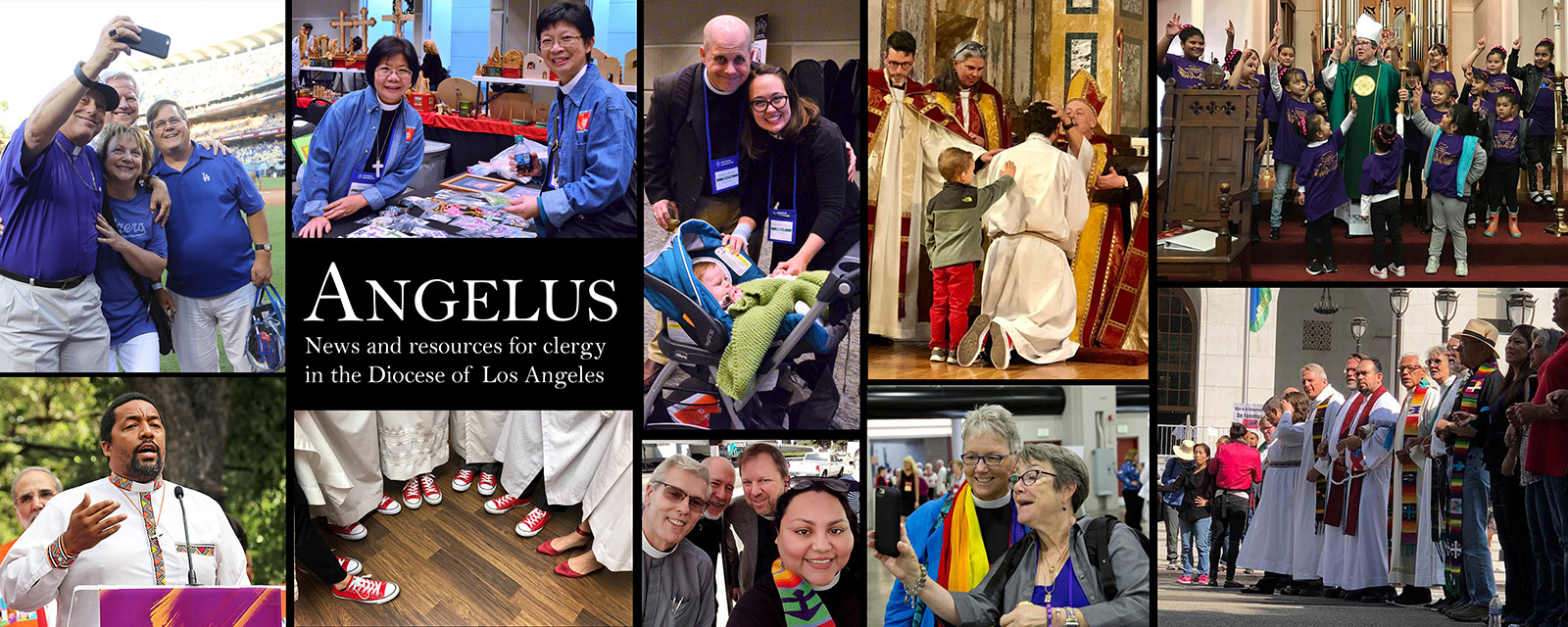 March 2020
From Bishop John Harvey Taylor
My colleagues in Christ:
More than a year ago, Bishop Bruce invited Presiding Bishop Michael Curry to speak at our annual Bishop's Dinner this November. As you know, it's a fundraiser, with proceeds set aside for our missions and ministry centers. As in 2019, we'll use the money this year to enable as many missions as possible to participate in Jaime Edwards-Acton and Betsy Densmore's Social Enterprise Academy, learning how to leverage their resources for the sake of God's people and the sustainability of the church.
Just think about it. The greatest preacher of our time, in Los Angeles, just a few days after the presidential election, offering the inspiration of Christ's way of love.
Then Canon McCarthy had an idea. Why don't we ask Bishop Curry to offer his sure-to-be-stirring address twice, at each end of the diocese? I pitched it to him in a few weeks ago in Detroit, at Bishop Bonnie Perry's ordination and consecration, and he graciously assented.
So my colleagues, this is a "save the date" notice to keep in mind as you plan your own 2020-21 schedules. The Bishop's Dinner del norte will be on Friday, November 6, 2020 at California Lutheran University. La cena del sur will be on Saturday, November 7, 2020 in the White House East Room replica of the Nixon library in Yorba Linda.
Please mark your calendars, and spread the word. More details to come, including about additional special guests. My spouse Canon Kathy O'Connor, again serving as volunteer dinner coordinator, is looking for dinner sponsors as well as volunteers for organizing committees for both dinners. Please write her at koconnor@ladiocese.org. We promise to keep the tickets as affordable as possible. Thank you for understanding the vital importance of raising these funds for our institutions on the front lines of mission and ministry.
Yours in Christ's love,
+John
Angelus Links
The next issue of Angelus will be electronically transmitted and published in April. News items should be emailed to: revpatmccaughan@aol.com
by April 21.
Angelus is a joint project of the Office of Clergy Formation and Deployment and the Office of Community Relations of the Diocese of Los Angeles

213.482.2040, ext. 251
The Rev. Canon Pat McCaughan, editor
revpatmccaughan@aol.com
949.892.0525
COVID-19: Messages and resources
Messages from diocesan leaders and many other resources are available on the
COVID-19 Resources
page of the diocesan website. Visit often; the page is updated frequently. Please send suggestions for additional listings to
editor@ladiocese.org
.
In addition, please send your stories about ministry in this unprecedented time and your creative ideas to the same email address for inclusion in the Resource Roundup and the Episcopal News website. Thank you!
Renewal of Vows cancelled; Clergy Conference may go virtual
[From Bishop Taylor's March 19 Letter to the Clergy] Regarding schedules moving forward, and in light of Bishop Taylor's letter to the diocese March 17, our annual Chrism Mass and Renewal of Ordination Vows will be canceled as well as Clergy Conference. For Clergy Conference we ask that you please save the dates Monday, May 4 from 4 p.m. to Wednesday, May 6 at 12 p.m. for the possibility of a virtual conference that will include worship, plenary sessions, time with the bishops, and small-group time. We will have more information about that in the coming weeks. For Renewal of Vows, we are likely looking at a postponement until a time we can gather safely. There will be more information about this as well as things become clearer to us.
As Lent begins, check your carbon footprint; save money, energy
A churchwide initiative engaging households and congregations in reducing carbon impact, conserving energy, and saving money by taking sustainable actions outlined at www.sustainislandhome.org is also a specific Lenten project in the Diocese of Los Angeles. The goal is to have as many households as possible within the Diocese of Los Angeles participate by logging in, creating a profile, and taking recommended actions.
By the end of February, the website showed that 1268 households (churchwide) were participating, and that their efforts had reduced CO2e (carbon) by 459 tons and saved $112.874. The website gives specific information on progress churchwide and by diocese.
The program was pioneered in the Diocese of California, and tested at St. Andrew's Church, Ojai, in the Diocese of Los Angeles.
Anyone may log in and participate in this effort, which will continue through Easter (April 9) and leading up to Earth Day on April 22. For additional information, see the website (as shown above) or contact the diocesan Communications Office, 213.482.2040, ext. 240, or media@ladiocese.org.
JENIFER CHATFIELD will begin serving in March as rector of St. Edmund's Church, San Marino.
BILL DOGGETT has been called as interim priest at St. Wilfrid of York, Huntington Beach, beginning in March.
SHAWN EVELYN will begin serving as priest in charge of St. Edmund's Church, Chicago, in April.
GUIANLUIGI GUGLIERMETTO has been called as rector of Christ Church, Ontario, as of January.
NICOLE JANELLE concluded four years of ministry as executive director of The Abundant Table, Ventura County, in December.
WALTER LAU has been called as priest-in-charge under special circumstances at St. Gabriel's Parish, Monterey Park, beginning in March.
LIZ McQUITTY has been called as priest in charge at St. John's Church, La Verne, beginning in March.
CINDY VOIEN began her ministry in January as rector of St. Joseph's, Buena Park.
Congregational Openings
February 2020
Clergy are encouraged to request that their name be placed on an "interest list" if they would like to be considered for:
a) positions, regardless of the progress of the congregation in determining their process, or their readiness to receive names;
b) placement by the bishop in mission congregations or where an appointment is otherwise applicable.
Contact the Rev. Canon Joanna Satorius at jsatorius@ladiocese.org or via phone at: 213.482.2040, ext 263.
Open positions:
ACTIVE
Receiving names/Developing profile

Huntington Beach, St. Wilfrid's Parish
Inglewood, Holy Faith Parish
Lancaster, St. Paul's Parish
Los Angeles, St. Mary's Parish (Mariposa)
ACTIVE
No Longer Receiving Names/ Now Interviewing candidates

Los Angeles (Westchester), Church of the Holy Nativity (parish)
Los Angeles (Westwood), St. Alban's Parish
NON-ACTIVE
Congregations that will at some point be searching for clergy leadership, but are now working with supply clergy, a long-term interim or priest in charge:
Arcadia, Church of the Transfiguration (parish)
Downey, St. Mark's Parish
Los Angeles (Melrose), Trinity Parish
Santa Clarita, St. Stephen's Church

MISSION & OTHER POSITION APPOINTMENTS
Mission congregation positions, some of them part time, for which the Formation and Transition Ministry office is presently receiving names for the bishop's consideration.
Lake Arrowhead, St. Richard of Chichester Mission
Monterey Park, St. Gabriel's Parish
Needles, St. John's Mission
Yucca Valley, St. Joseph of Arimathea Mission
Other positions
LOS ANGELES: Canon for Formation and Transition Ministry. The Diocese of Los Angeles is seeking an experienced priest, who is creative and energized, to serve as a senior member of the bishop's staff. The person called to this position will work with both clergy and lay leaders in all the congregations and ministries of the diocese. Serve as chair of the department, currently comprised of the Associate for Formation and Transition Ministry and the Administrative Assistant for Formation and Transition Ministry. The Canon has direct oversight of all parish search processes, instructing and directing search committees and vestries throughout their time of transition. Full job description and application instructions here.

PASADENA: Associate rector, All Saints Church. Responsibilities: Leading and implementing adult formation ministry; convening a collaborative staff team in Peace & Justice, and Children, Youth & Family ministries; collaborating with congregation and staff to help All Saints become a more fully inclusive community, courageously and actively combating human oppression and injustice in all itsforms; sharing in the wider pastoral care of the community and growing All Saints as a community of healing, health and spiritual growth; participating in the regular, full life of a priest at All Saints Church. Salary range; $60,000 -$80,000 (commensurate with experience). Full job description here.  Submission deadline: March 31, or until position is filled.
SAN ANTONIO, TEXAS: Director of Youth Ministries (full time), St. Luke's Episcopal Church. This individual will oversee the programs of Christian formation for students in 6th-12th grades. A self-starter who connects with youth in engaging and innovative ways would be a welcome addition to the leadership of St. Luke's. A full job description is here.