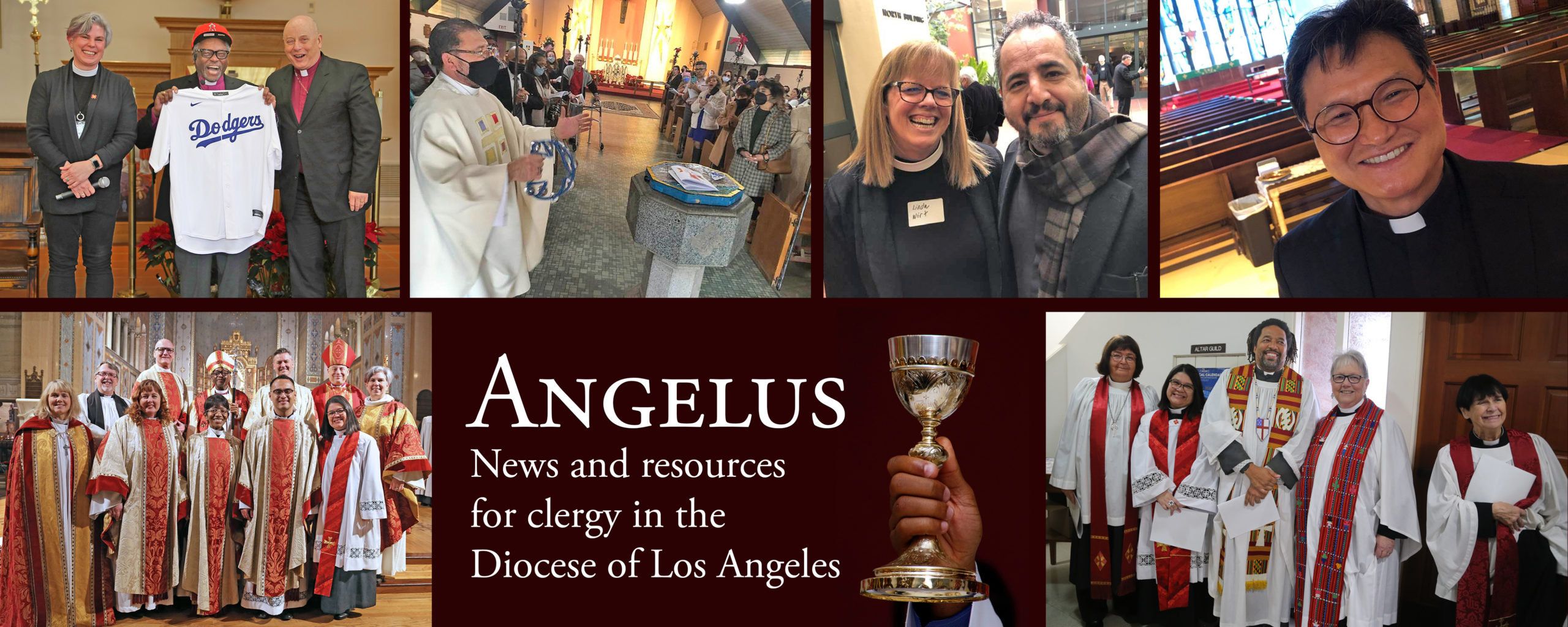 Congregations are invited to join Climate Change Summit Sept. 16 at St. Paul's Commons
By Payton Hoegh
In the Margaret Parker Lecture at our 2021 diocesan convention, Dr. Mary Nichols offered a clear and compelling outline of the threat the world faces in climate change. Alongside sharp, sober warnings, she urged our Episcopal community to "act out of hope and from a place of love, not fear."
As The Episcopal Church's Season of Creation begins after a summer of record-setting heat, devastating wildfires, and the first tropical storm to strike California in 26 years, more than ever our wounded world needs the church to act.
The Diocese of Los Angeles is responding to that call.
Since Dr. Nichols' convention address, our diocesan leadership has made creation care and climate consciousness a key priority in our communal ministry and witness. The Rev. Canon Melissa McCarthy recently represented our diocese as part of Presiding Bishop Michael Curry's delegation to the United Nations Climate Change conference, COP 26. Now, at Bishop Taylor's direction, she leads a Climate Change Commission made up of passionate lay and clergy leaders working diligently to envision, vet, and implement practical and impactful local responses to this issue the UN has deemed "the greatest threat the world has ever faced."
On September 16 at St. Paul's Commons the 2023 Climate Change Summit offers our broad and diverse community the opportunity to continue that important work, embodying hope and love in this fearful time.
As someone whose ministry is centered on creation care and engagement, who has been active in environmental advocacy and climate justice, and who – despite better judgment – reads the comments under articles and op-eds, I know these are issues that still can divide us. There will be some who scoff at this ministry and decry it as partisan or political. In fact, we should see care for God's creation as parochial, tied fast to our baptismal vows and to the faithful practice of each Episcopalian and every faith community. We are facing more than an ecological crisis. Climate chaos is a spiritual crisis.
This understanding was affirmed by our denominational leaders at the close of the Episcopal Church's 80th General Convention in July 2022. In a resounding statement, they established the care of creation as our very first Christian vocation. Offering faith-rooted focus to warnings of the scientific community and governmental bodies, they proclaimed: "Climate change and environmental degradation are manifestations of our turning away from God. The effects of this willful separation from God resonate across our collective lives: All areas of justice are either worsened or made better depending on the health of the planet."
The Episcopal Church's forthcoming creation care curriculum puts it more simply: We are called to Love God, Love God's World.
Such prophetic pronouncements are not limited to denominational resources and decrees from our House of Bishops. They are embodied in efforts across our own diocese. Congregations in every corner of the five and a third counties of this expansive community are supporting emergency preparedness and disaster resilience efforts, leading beach clean-ups and garden-based ministries. They are implementing sustainable energy solutions and water conscious updates to church infrastructure. Small groups are being formed to reconnect with a sense of rootedness and to the rich Christian tradition of nature-centered spiritual formation. Parishes are appointing Creation Care committees and Green Teams to share information and engage advocacy to preserve local ecosystems and contribute to a cleaner, healthier environment for us all.
This is hope and love in action. It is a humble step back towards God who, with artistry and intent, formed each creature and every crevice of this Earth and called us to care for it with the same passion and creativity that marked its making.
Still, there is work to be done.
The 2023 Climate Change Summit will draw our community together for more purposeful and productive action. Virtually and in-person, we will engage the facts of this global issue and explore ways we can move collectively and individually to love and care for God's creation. Focusing on disaster resiliency, reducing carbon footprints, limiting the use of fossil fuels, adopting green technologies and strategies to partner with communities most affected by the consequences of climate change, this summit will equip and inspire our diocese to enact meaningful change to faithfully respond to the dire ecological crisis we face.
Register and learn more about how you can get involved here.
Blessings,
Payton Hoegh, M.Div
—  Payton Hoegh is a postulant for Holy Orders in the Diocese of Los Angeles. He will serve as chaplain of the upcoming Climate Change Summit. Since discerning a call to ordination in 2017, Payton's ministry has centered on creation care, contemplative practice, and the creation of alternative spaces for spiritual engagement and community weaving–particularly in and with the natural world. He is the program director of the Center for Spirituality in Nature, founder and guide of All Wanderers, a contemplative spiritual community, and author of two sessions of the Episcopal Church's forthcoming Creation Care curriculum, Love God, Love God's World. Payton holds a master of divinity degree from the Claremont School of Theology.
Past Angelus columns may be found  here. 
Angelus Links
Clergy: Office of Formation and Transitions Ministry
The next issue of Angelus will be electronically transmitted and published in October 2023.
Please email news and connections items to Angelus editor, the Rev. Canon Pat McCaughan, at: revpatmccaughan@aol.com by September 22.
Angelus is a joint project of the Office of Clergy Formation and Transition Ministry and the Office of Communication of the Diocese of Los Angeles

213.482.2040, ext. 251
The Rev. Canon Pat McCaughan, editor
revpatmccaughan@aol.com
949.892.0525
MICHAEL BELL began his ministry as director of housing and business development for Episcopal Communities and Services on August 1.
RANDALL DAY has announced plans to retire as rector of St. Mark's, Los Olivos, on Oct. 1, 2023, the 15th anniversary of his ministry at the parish.
ANTONIO GALLARDO will be installed as rector of St. Luke's/San Lucas, Long Beach, at 11 a.m. Saturday, Sept. 30, followed by an open house, reception and entertainment. The diocesan community is invited to participate. The church is located at 525 East 7th Street, Long Beach.
ROBIN KASSABIAN  will conclude her ministry at St. Mark's, Van Nuys on Sunday, Aug. 20.
JOY MAGALA  was called as priest-in-charge under special circumstances of St. Mary's, Mariposa effective July 1. She had served St. Mary's as interim rector. She has concluded her supply clergy ministry at St. Francis, Norwalk.
JUSTIN SHELBY will be installed as rector of St. Francis, Rancho Palos Verdes on Sept. 30, 2023.
Congregational Openings
September 2023
Clergy are encouraged to request that their name be placed on an "interest list" if they would like to be considered for:
a) positions, regardless of the progress of the congregation in determining their process, or their readiness to receive names;
b) placement by the bishop in mission congregations or where an appointment is otherwise applicable.
Contact the Rev. Canon Tom Quijada-Discavage at tdiscavage@ladiocese.org or via phone at: 213.482.2040.
ACTIVE (Rectors)
Receiving names/Soon to Post
El Segundo, St. Michael and All Angels / Rector
Whittier, St. Matthias / Rector
ACTIVE (Associate/Curate/Other Positions)
GLENDALE, St. Mark's / Seeking Full Time Associate Priest and School Chaplain.
Qualified cnadidates should submit cover letter and current resume/CV to St. Mark's Church rector, the Rev. Carri Patterson Grindon at church@saintmarksaltadena.org.
We are seeking an energetic and innovative Associate Priest and School Chaplain who brings a nurturing and collaborative spirit to their work. The ideal candidate will serve as the spiritual leader and main pastoral presence of the school community, leading chapel services for both the preschool and elementary divisions and providing spiritual support to St. Mark's students and faculty embodying the school's Episcopal identity. While not a classroom teacher, the Chaplain's duties are diverse and include supporting service-learning projects and working collaboratively with the faculty and administrationto support students' development, social-emotional learning, sense of belonging and overal physical and mental wellness.  Regular preaching and presiding in worship.
This is a full-time exempt position that reports directly to the Rector and Head of School.
A more complete description may be found here. 
LONG BEACH, St. Luke's/San Lucas Parish. Full-time Associate Rector. 
St. Luke's is a multicultural, multi-language, vibrant urban church located in downtown Long Beach, seeking a priest or transitional deacon to share in leadership of a resourced, vital urban parish of over 250 households. We look forward to welcoming a creative collaborator, team player who is passionate for God's justice, to join our team, with areas of oversight that match their strengths and passions.
The Associate will also be a generalist, engaging in preaching, teaching, worshipping, new member incorporation and especially pastoral care. The Associate will report to the Rector, work collaborativelly with staff, lay volunteers, and Wardens. The successful candidate will work independently, anticipate needs, deal with unexpected challenges, be open to grow into the position, handle confidential information, and allow the Spirit of God to do its work in the community.
St. Luke's is an equal opportunity employer. Those interested in applying for this position should submit a cover letter stating why they would like to be part of the St. Luke's community, along with a resume, link to recent sermons delivered in a context of a faith community, and Office of Transition Ministry (OTM) profile to: agallardo@stlukeslb.org.
Inquiries could also be emailed to the same address.
SAN CLEMENTE, St. Clement by-the-Sea. Assistant Priest, part-time.
Ministry to include preaching once per month, help with pastoral care, and faith formation. Ideal for a shared ministry with another congregation or a retired clergyperson.
Please be in contact with the Rev. Patrick Crerar with any questions and paperwork if interested at: FrPatrick@scbythesea.org or 949-492-3401.
OPEN
Receiving names/developing profile
El Segundo, St. Michael and All Angels / Rector
Lompoc, St. Mary's / Rector
Redondo Beach, Christ Church Parish–St. Andrew's, Torrance / Rector
Whittier, St. Matthias / Rector
OPEN
No longer receiving names/Interviewing candidate
* Camarillo, St. Columba's/Rector.
* Santa Barbara, All Saints by the Sea/ Rector.
* South Pasadena, St. James'/Rector
* Westwood (Los Angeles), St. Alban's/Rector

MISSION & OTHER POSITION APPOINTMENTS
Mission congregation positions, some of them part time, for which the Formation and Transition Ministry office is presently receiving names for the bishop's consideration.
Big Bear, St. Columba / Spirit of Peace Mission
Gardena, Holy Communion Mission
Isla Vista, St. Michael's University Church Mission
Lake Arrowhead, St. Richard of Chichester Mission
Los Angeles, St. Athanasius Mission
Los Angeles, Epiphany Mission
Moreno Valley, Grace Mission
Needles, St. John's Mission
Rancho Santa Margarita, St. John's Mission
Rialto, St. Peter's Mission
Wilmington, St. John's / Holy Child (PIC) Mission
Yucca Valley, St. Joseph of Arimathea Mission
NON-ACTIVE
Parish congregations that will at some point be searching for clergy leadership, but are now working with supply clergy, a long-term interim or priest in charge:
Arcadia, Church of the Transfiguration
Beverly Hills, All Saints Parish
Downey, St. Mark's Parish
Garden Grove, St. Anselm's
Inglewood, Holy Faith Parish
Lancaster, St. Paul's Parish
Los Angeles, Church of Christ  the Good Shepherd
Los Angeles, St. John's Cathedral
Los Angeles, St. Philip's Parish
Los Angeles (Melrose), Trinity Parish
Los Olivos, St. Mark's Parish
Monterey Park, St. Gabriel's Parish
Ojai, St. Andrew's Parish
Pasadena, St. Barnabas' Parish
Pomona, St. Paul's Parish
Redlands, Trinity Parish
Van Nuys, St. Mark's Parish
Westchester, Holy Nativity Parish
DIOCESE OF SAN JOAQUIN, FRESNO, CALIFORNIA: St. James' Cathedral, Dean. Cathedral congregation seeks a dean to "Work collaboratively and consultatively with the laity, cathedral clergy, and diocesan staff … Help us navigate the blessings and challenges of our campus and accompanying financial responsibilities … Foster discipleship, stewardship and encourage us to take appropriate risks … Help us continue to learn and live into what it means to be a cathedral congregation … Foster cross-cultural awareness and sensitivity … Help us navigate our growing edges around youth and family ministry, connecting to our community, and serve as a welcoming and prophetic worshipping congregation … Walk with us as we continue to discern who God is calling us to be…" Check out St James Cathedral profile at: https://www.diosanjoaquin.org/employment
Submit a resume, OTM profile and video link of a sermon to The Rev. Canon Anna Carmichael by October 1, 2023.
HAMPTONS BAY, NEW YORK: St. Mary's Church seeks a Priest-in-Charge. Please visit church website at stmaryshb.org for details.  St. Mary's wardens welcome your response to marycastronyc@gmail.com
WILMINGTON, DELAWARE: St. David's Episcopal Church & Day School seeks a full time Chaplain for Families to minister to and better integrate families in both the school and congregation. The Chaplain will take an active role in Sunday programming as well as weekday School activities as we seek to expand the sense of community and belonging. St David's is a safe, inclusive, and welcoming multi-generational community in a suburban neighborhood. It is a pastoral sized parish, and is programmatically diverse, with a talented, agile, and dedicated staff. This ministry position includes a generous benefits package that includes off-campus housing, health/dental insurance, and a pension contribution. Please contact The Rev. Brad Hinton, for more information brad.stdavids@verizon.net.