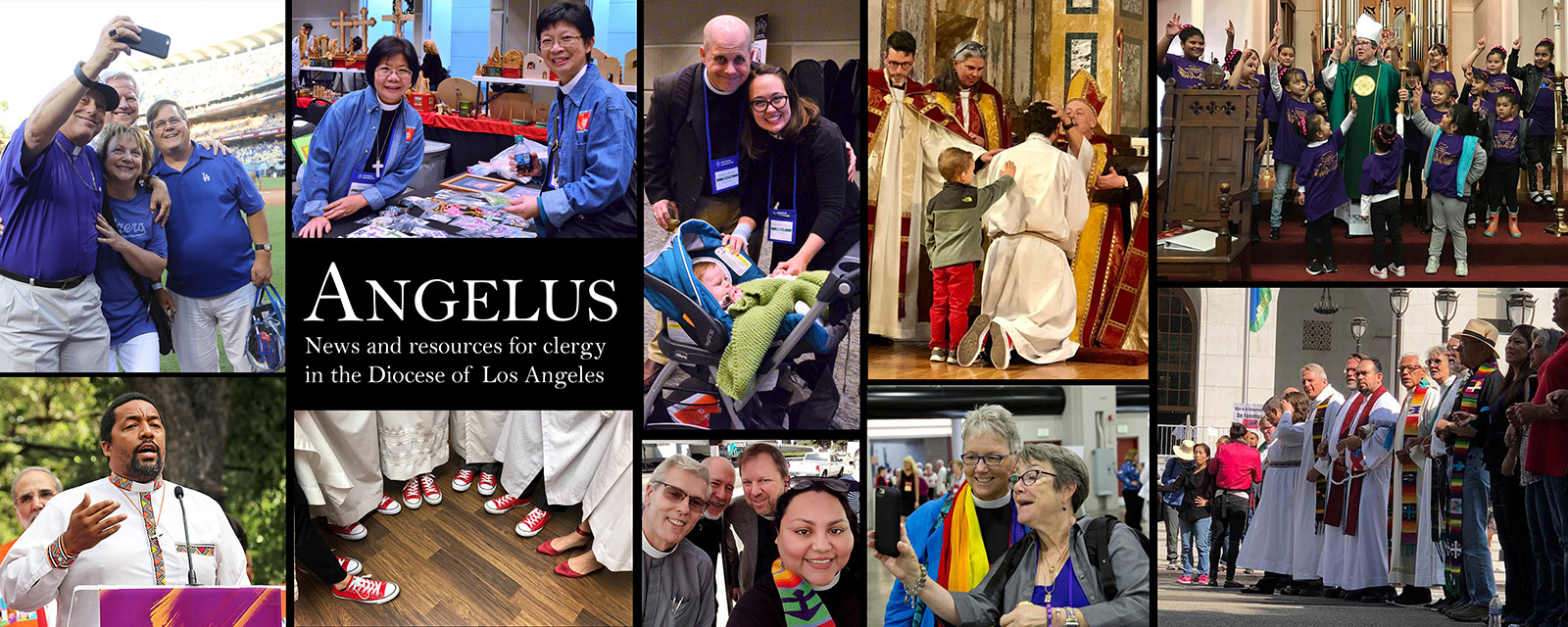 –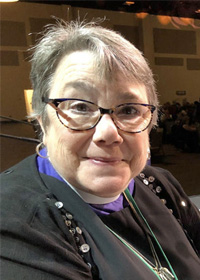 From Bishop Suffragan Diane M. Jardine Bruce
'Welcome, happy morning!' age to age shall say
Dear Colleagues,
This hymn, number 179 in the Hymnal 1982, is a favorite of the Altar Guild Directress at St. Clement's in San Clemente. Katrina introduced me to this hymn when I was rector there many years ago. I was very hesitant to have this hymn played on Easter Day. In fact, I told her "no way." I had never heard it before, hence my hesitancy to have it sung on Easter Day. Not a familiar tune. Words were – well, there were better hymns, I thought, for Easter. On those Easter Days when I DID have this hymn in the bulletin, I'd always see Katrina smiling and singing along. Katrina, growing up in the Episcopal Church, always remembered that hymn being sung on Easter morning and shared that with me.
Why am I sharing this story of Katrina and this hymn? I've found myself humming this hymn a lot in the last few weeks. Katrina would be VERY surprised! In fact, I AM VERY SURPRISED THAT I'VE BEEN HUMMING IT! Katrina loved this hymn because it was the culmination of all the church had worked for all through Lent. Perhaps this is why this hymn has been weighing on my heart.
Perhaps it is because I am craving the promise of the resurrection – new life – a happier morning. Maybe you're feeling that way as well. While I am now able (thanks to 2 doses of the Pfizer vaccine!) to go on visitations in person, not on Zoom, I will admit that I do so with a bit of trepidation. Double-masked, hands washed or "Purelled," socially distanced – I find that while it is a happy morning that I can be out among you all, I still feel a bit nervous about being around people. Perhaps this is because I haven't been around people in over a year!
I went to the hymnal the other day and started looking at the different verses in Katrina's favorite Easter hymn:
"Welcome, happy morning!" age to age shall say:
Hell today is vanquished, heaven is won today!
Lo! The dead is living, God for evermore!
Him their true Creator, all his works adore!
"Welcome, happy morning!" age to age shall say.
Earth her joy confesses, clothing her for spring,
all fresh gifts returned with her returning King:
bloom in every meadow, leaves on every bough,
speak his sorry ended, hail his triumph now.
"Welcome, happy morning!" age to age shall say.
Months in due succession, days of lengthening light,
hours and passing moments praise thee in their flight.
Brightness of the morning, sky and fields and sea,
Vanquisher of darkness, bring their praise to thee.
"Welcome, happy morning!" age to age shall say.
Loose the souls long prisoned, bound with Satan's chain;
all that now is fallen raise to life again;
show thy face in brightness, bid the nations see;
bring again our daylight: day returns with thee!
"Welcome, happy morning!" age to age shall say.
I love Katrina and I have grown to love this hymn. I'll be singing this on Easter Day. It has taken on new meaning for me – "bring again our daylight: day returns with thee!"
Friends in Christ, we are starting to come out of a pandemic darkness and are beginning to wake to a happier morning. As we celebrate the resurrection of Jesus this Easter, may we continue to be diligent in caring for each other and those God brings to us – both in person and virtually.
May we emerge from the year-long Lent we have gone through, welcoming brighter days ahead but taking with us the lessons we have learned and the relationships we have strengthened from this long Lent. May we mourn the lost but thank those who worked and work on the front lines to care for those we love. May we hug our loved ones a bit harder, grateful for being able to spend time with each other. May we give thanks for researchers and receive and encourage others to receive vaccines. May we give thanks to God and technology for holding us all together during this past year.
+Diane
P.S. Two important news items came out in the last few weeks that I want to call your attention to and remember:
Safe Return to in-person worship FAQ page
A new FAQ (Frequently Asked Questions) page concerning safe return to in-person worship has been posted here. If you have questions about how to cope with pandemic-era planning in your congregation or institution, please check there for answers.
Preguntas Frecuentes en español.
Angelus Links
The next issue of Angelus will be electronically transmitted and published in May. News items should be emailed to: revpatmccaughan@aol.com
by April 21.
Angelus is a joint project of the Office of Clergy Formation and Transition Ministry and the Office of Community Relations of the Diocese of Los Angeles

213.482.2040, ext. 251
The Rev. Canon Pat McCaughan, editor
revpatmccaughan@aol.com
949.892.0525
COVID-19: Messages and resources
Messages from diocesan leaders and many other resources are available on the COVID-19 Resources page of the diocesan website. Visit often; the page is updated frequently. Please send suggestions for additional listings to editor@ladiocese.org.
In addition, please send your stories about ministry in this unprecedented time and your creative ideas to the same email address for inclusion in the Resource Roundup or the Episcopal News Update. Thank you!
TENS stewardship log-in, new webinars announced
TENS (The Episcopal Network for Stewardship) has launched its 2021 stewardship materials under the theme "Every Perfect Gift," adapted from the letter of James: "Every generous act of giving, with every perfect gift, is from above" (James 1:17).
The Diocese of Los Angeles is a member of TENS, and therefore all its congregations have access to the organization's stewardship campaign materials for 2021.
The resources are on the TENS website here. To start the process, click on "Login to download" and enter the password, which for 2021 is James1:17 (case sensitive).
TENS also has planned a series of webinars to train church members, clergy, and stewardship volunteers on stewardship and pledge campaign best practices. The next two webinars are:
SATURDAY, APRIL 24, 9 – 10:30 a.m.
Year-Round Stewardship Best Practices
Register here
Learn best practices for theological formation, adult education, and preaching to keep the conversation on generosity going year-round
SATURDAY, MAY 1, 10 – 11:30 a.m.
Virtual Pledge Campaigns 201
Register here
Last year, TENS offered Virtual Stewardship 101. This webinar picks up where that left off, and helps us learn how to take traditional paper campaigns and in-person fundraising to new virtual heights. (Watch Virtual Stewardship 101 here.)
Recordings of previous webinars and events and information about upcoming events are here.
KHUSHNUD AZARIAH begins a sabbatical in May, leading up to her retirement on August 1, 2021.
SAMUEL AZARIAH concluded his ministry at St. Peter's, Rialto ni February and is currently in Pakistan.
SUSAN BEK begins a sabbatical May 11, 2021 and returns in July. LIZ WILLIAMS, St. Paul's (Ventura) associate, will fill in during Bek's sabbatical.
FRANK BROOKHART is serving as interim rector at St. Mary-in-Palms, Los Angeles. He retired as the ninth bishop of Montana in 2018.
DAVID GRANT-SMITH has been serving as supply priest at St. Peter's, Rialto.
JOY MAGALA, in addition to her work at St. Francis, Norwalk, has begun serving as interim pastor at St. Mary's, Mariposa.
ADAM MCCOY, OHC, has begun serving as consulting priest at St. Joseph of Arimathea, Yucca Valley.
 CHRISTIE MOSSMAN has been called as deacon at the Mutual Ministry of St. Andrew's (Torrance) and Christ Episcopal Church (Redondo Beach), where she will offer pastoral support and program development.
SUSAN PINKERTON is serving as interim priest-in-charge of St. Michael's and All Angels, Corona del Mar.
JEANETTE REPP has been appointed dean of Deanery 8, which includes  16 congregations in the Long Beach and South Bay areas. She is the rector of St. Peter's, San Pedro. She succeeds Paula Vukmanic.
LAURA SIRIANI has been named archdeacon of the Diocese of Los Angeles by Bishop Diocesan John Harvey Taylor. She will continue serving as Welcome and Communications Coordinator for St. Paul's, Tustin. 
The Rev. H. Douglas Judson
The Rev. Horace Douglas Judson, priest of the Diocese of Los Angeles and member of the family that owns one of the United States' most renowned stained glass studios, died Feb. 22 of congestive heart failure. He was 85, and had been suffering the effects of Alzheimer's for about three years.
Survivors include his wife, Kathern L. Macklin Judson; their three children, Earl of South Carolina, Joel (Midori) of Los Angeles, and Pamela (Jud) of Georgia; and eight grandchildren, ages 8 – 18. Joel Judson is about to be released from the hospital after a bout with COVID-19, and will be recovering at home.
Services will be held at a future time at St. Gregory's Church, Long Beach, where the Judsons have been members in recent years. He will be interred in St. Gregory's columbarium.
Doug Judson served at St. Michael the Archangel Church, El Segundo (1993-94); St. Timothy's Church, Compton, 1981-1989; St. Francis' Church, Palos Verdes Estates, 1978-1981; and at several congregations in the Diocese of San Joaquin.

October 7, 1933 – March 16, 2021
The Rev. Thomas Haines Schultz, OHC
The Rev. Thomas Haines Schultz, monk of the Order of the Holy Cross, died March 16 at a nursing home in Santa Barbara, where he was a resident of OHC's St. Mary's Retreat House since 2008. He was 87 and canonically resident in the San Francisco-based Diocese of California. Service arrangements are pending.
A native of Pittsburgh, Schultz earned a bachelor's degree at its eponymous university, then a master of divinity degree at Nashota House in 1959. He was ordained to the diaconate in June 1959 and to the priesthood the following December. He made his life profession in OHC in 1961. He later earned a doctor of divinity degree at Church Divinity School of the Pacific. He was a member of the American Counseling Association and the South Carolina Counseling Association, as well as MENSA.
Read more here.
Congregational Openings
April  2021
Clergy are encouraged to request that their name be placed on an "interest list" if they would like to be considered for:
a) positions, regardless of the progress of the congregation in determining their process, or their readiness to receive names;
b) placement by the bishop in mission congregations or where an appointment is otherwise applicable.
Contact the Rev. Tom Quijada-Discavage at tdiscavage@ladiocese.org or via phone at: 213.482.2040.
Open positions:
 OPEN
Receiving names/Developing profile

Arcadia, Church of the Transfiguration Parish
Corona del Mar, St. Michael's Parish
Huntington Beach, St. Wilfrid's Parish
(Please visit www.otmportfolio.org for full details.)
Inglewood, Holy Faith Parish
Lancaster, St. Paul's Parish
Los Angeles, St. Mary in Palms Parish
Los Angeles, St. Mary's Parish (Mariposa)
Palos Verdes Estates, St. Francis Parish
 ACTIVE
No Longer Receiving Names/ Now Interviewing candidates
NON-ACTIVE
Congregations that will at some point be searching for clergy leadership, but are now working with supply clergy, a long-term interim or priest in charge:
Downey, St. Mark's Parish
Los Angeles, Church of the Good Shepherd
Los Angeles (Melrose), Trinity Parish
Pasadena, St. Barnabas
Rialto, St. Peter's
Riverside, St. George's Mission

MISSION & OTHER POSITION APPOINTMENTS
Mission congregation positions, some of them part time, for which the Formation and Transition Ministry office is presently receiving names for the bishop's consideration.
Garden Grove, St. Anselm
Lake Arrowhead, St. Richard of Chichester Mission
Moreno Valley, Grace Mission
Needles, St. John's Mission
Yucca Valley, St. Joseph of Arimathea Mission
Other positions
HOLLYWOOD-LOS ANGELES: Seeds of Hope Food Distribution Associate. Bilingual (English-Spanish). This position will be an essential part of the Seeds of Hope team getting healthy, nutritious food to more families in need in Los Angeles and surrounding counties. Job duties include picking up, sorting, organizing and delivering produce; providing great customer service; documenting quantities and submitting data for reports. Work hours are full time, but variable. Valid Class C driver's license, experience with driving 16-ft or larger truck required. Full job description is here.
CLAREMONT: Spirituality center executive director. The Center for Spirituality & Practice (CS&P), a nonprofit organization dedicated to providing resources for those seeking wisdom and spiritual practices for their daily lives, seeks a committed spiritual practitioner and high-capacity nonprofit leader to be its first executive director. A respected name in the spiritual enrichment landscape, the Center runs the multifaith/interspiritual website SpiritualityandPractice.com which offers a vast array of resources for the spiritually hungry. The new executive director will collaborate with founders Mary Ann and Frederic Brussat to advance their legacy and develop the organization into its next phase. A detailed position profile can be found here.

PASADENA: Associate Rector, All Saints Church. Full-time, beginning July 1. The position description and application information are available in English and Spanish.
OHIO, Cincinnati: Dean, Christ Church Cathedral.  The detail for this position may be found here. Christ Church Cathedral's parish profile can also be found here.
TEXAS, Temple City: Rector, Christ Episcopal Church. Parish Profile on The Diocese of Texas website here.
MÉXICO CITY, MÉXICO: Rector, Christ Church Anglican/Episcopal. Christ Church, an Anglican/Episcopal parish in Mexico City, is seeking a rector for its open, welcoming, bilingual community. A link to our parish profile can be found on our website. We hope the information prompts you to consider becoming our rector at this exciting if challenging time. We also would consider hiring someone on an interim basis. Candidates must be ordained as a priest in a member province or extra-provincial church of the Anglican Communion as of the date of application. Candidates must demonstrate native-level English language fluency. Preference will be given to qualified candidates who are bilingual in English and Spanish. Please send cover letter, curriculum vitae, and links to videos of two recent sermons to search.committee@christchurch.mx Your cover letter should include a paragraph describing what attracts you to life in Mexico and service to our community. Please do not send photos, academic transcripts, or copies of credentials.
SAN ANTONIO, TEXAS: Director of Youth Ministries (full time), St. Luke's Episcopal Church. This individual will oversee the programs of Christian formation for students in 6th-12th grades. A self-starter who connects with youth in engaging and innovative ways would be a welcome addition to the leadership of St. Luke's. A full job description is here.