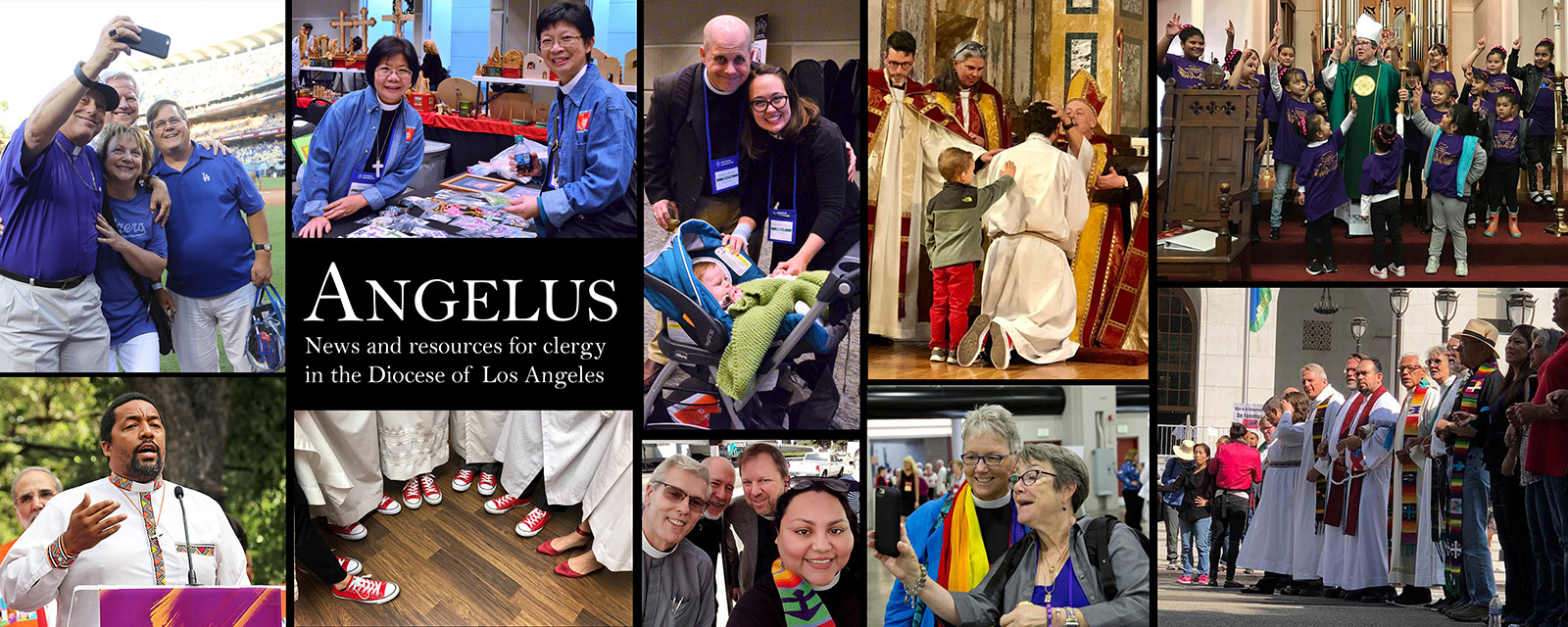 January 2019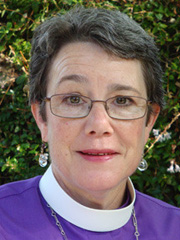 From Bishop Suffragan Diane Jardine Bruce

Preparing for leader retreats
Dear Friends in Christ,
Happy New Year! I hope and pray you and your loved ones had a most blessed Christmas.
As we start this New Year I thought about all the planning that entails — the completion of the parochial report, the planning of the Annual Meeting and seating of a new vestry/bishop's committee.
The first vestry/bishop's committee retreat is crucial in helping to form a productive team of congregation members for the work they will do this year. To that end, I was recently asked to write an article for the Episcopal Church Foundation (ECF) January/February Vestry Papers on team building in a vestry/bishop's committee that I thought I would share with all of you. I hope this is helpful to you as you begin to think about the election of members of your vestry or bishop's committee.
There is no "I" in TEAM.
I haven't always been fond of this saying, but as a parish rector and now as bishop suffragan I have come to relish it. As leaders, some of the most important questions we can ask of our vestries/bishop's committees are:
"What should we do?"
"What are the group's feelings on XYZ issue?"
"What do you all think about XYZ proposal?"
"What are we missing?"
"What voices are we missing in this conversation/decision?"
The Goal
Working through a tough budget or an issue requires a team approach, which means people should be able to express their individual opinions but come to consensus on what is best for the congregation. This may either seem to you like a no-brainer or it may seem like an impossible task. It takes work to get there, and early team-building is essential to equip any group with the tools they need to work well together.
The Process
Everything we do must begin with prayer. This is the first and great commandment, in my mind. Every meeting. Always. If we are not praying together, we will never be able to make tough decisions together. As a vestry or bishop's committee starts its year, prayer and retreat are essential.
In a retreat setting, here are a few things I have found to help form an effective team:
1. Teach Respectful Communication Guidelines and Mutual Invitation as used by the Kaleidoscope Institute (both available in various languages)
2. Pray together and ask each member of the committee to lead prayer at the retreat. Ask members of the committee to lead prayers at each upcoming meeting as well, making sure everyone has a turn. Do bible study together. You can tie the questions regarding the bible study to the mission statement of the congregation.
3. Using respectful communication guidelines and mutual invitation, take time to learn something about each member, from the familiar to how they can work together:
a. "What is something that people don't know about you that might surprise them?
b. "What is your favorite genre of book/movie/tv show?"
c. "What is your favorite food?"
d. "What is on your bucket list?"
e. "If you had a chance to work at another profession what would it be and why?"
f. "When I am in conflict, I tend to . . . "
g. "I know I am being respected when . . . "
h. "I know I am being heard when . . . "
i. "When I read our mission statement, I think about . . . "
4. Assign each member an area of responsibility or focus: stewardship, finance, Christian Education, worship, etc., with an eye to match people's skills/interests with various areas of focus within the congregation, keeping in mind that this is not always easy nor clear-cut.
5. Educate all the members on the finances of the congregation:
a. Using your mission statement as the guiding principle of your work, walk through your balance sheet and profit and loss statement. Using an annotated or narrative budget is always good to acclimate members to an area of some of the hardest decisions a vestry or bishop's committee have to make. You cannot separate out mission and ministry from budgeting – nor from your finances. They are inextricably linked together.
b. Understand that all we have been given is a gift from God, and it is a gift that is meant to be shared. Talk about abundance – not scarcity.
c. Understand that money is always the hardest thing for a vestry/bishop's committee to talk about because the old adage is true: money is closer to people's hearts than God ever is. Trust me, I was a banker for 17 years. Now reread the part on the need to always start with prayer.
When we understand each other, it is easier to listen to each other. When we can talk about money from a sense of abundance and not scarcity, we can have fruitful conversations about how we are using the resources we have been given to the glory of God.
Through all this, we can understand each other's perspectives better, and learn to work with each other. It does not mean we will always agree. It does not mean we will always like what we will hear. It does mean that being formed as a team, we will learn to work together in a healthy way, with mutual respect even when we work through hard decisions and issues.
Diversity/Cultural Considerations
As in any group, having a mixture of voices in a team is always key to ensuring you are making the best collective decision possible. If you are in a group where there are multiple cultures represented – including gender, race, ethnicity, sexual orientation, age, etc. — it is important to understand cultural norms and nuances and to be sensitive to the people in the group.
In some cultures, for example, people will not feel comfortable sharing openly their thoughts or feelings. In other cultures, looking at someone straight in the eye is considered rude.
Creating norms such as respectful communication guidelines and mutual invitation as a means of engaging people's thoughts and opinions is a great option to ensure everyone is invited to speak and are being heard.
Not dismissing a person's idea out of hand, even and especially if it is challenging, is essential to ensure people feel not only safe in sharing their thoughts, but that their thoughts and opinions are taken seriously and respected. Write down what people say – invest in butcher paper when making tough decisions—write it down and display it so that all can feel – and see – that they are being heard.
Pitfall to avoid at all costs: Never load a vestry/bishop's committee with "YES" people.
It can be difficult to hear a dissenting voice on any issue, but it is important that all voices are heard, acknowledged and appreciated. How many times have you been excited about an idea or an opportunity and run into someone who, when you share it, gives you reasons it may not work or thinks it's a bad idea?
These moments for me are "Holy Spirit" moments. Every preacher can tell you stories about what they thought they were saying and what people heard – and how those two things did and didn't match up. No one person can hold all the answers, so being able to listen deeply and not dismiss someone's thoughts or opinions because they don't support ours is important in seeing all the possible facets of an issue or idea.
It is never a good idea to form a group with "yes" people, meaning people with similar backgrounds and thought processes – who agree with everything you think or say. And before you ask, yes, some groups are formed this way. Every group needs diversity – not only as a reflection of the wider congregation, but as a way to give voice to all sides of an issue before a final decision is made. This slows the process of decision making as voices share thoughts, and thoughts are carefully weighed before the final decision is made.
If everyone on your committee is of one opinion on a matter, you haven't gotten a broad enough group together. Hearing all sides of an issue helps the group come to a better, well-formed decision. You can also anticipate as a group potential questions or issues from the wider community because you have included a variety of voices in the decision making process. One rule of thumb for me has always been that if there is a something that is controversial coming down the pipeline, and if the group I am working with is of one mind on the matter, I would seek out other voices in the community to bounce the thought or idea off of. It may be that there are other opinions in the wider community that the diverse group you've put together didn't think of – or it may be that indeed, your entire community is of one mind on an issue: creating a food pantry, for example.
Who is impacted by the decision being made?
If the group/ministry/people being impacted by a decision that the vestry/bishop's committee is making, why aren't they there? Why aren't their voices being heard? Even if the decision is to change or sunset a ministry, those involved in that ministry should be heard. Always make sure those impacted by a decision have had their opinion/voice heard.
Bottom line
Taking the time to prayerfully listen to all voices may seem like a waste of time – but it is not. In the long run the team building process and the use of respectful communication guidelines and mutual invitation not only saves time and energy, it ensures that the best possible decisions are made by a team of people who love the congregation and love Jesus.
Blessings and love to you all,
+Diane
Angelus Links
The next issue of Angelus will be electronically transmitted and published in February. News items should be emailed to: revpatmccaughan@aol.com by January 21.
Angelus is a joint project of the Office of Clergy Formation and Deployment and the Office of Community Relations of the Diocese of Los Angeles

213.482.2040, ext. 251
The Rev. Canon Pat McCaughan, editor
revpatmccaughan@aol.com
949.892.0525
Seven to be ordained Jan. 12 to the priesthood
Bishop Suffragan Diane Jardine Bruce will ordain ANTONIO JOSE GALLARDO, JOSEPH BRADLEY COURTNEY, ANIL VIRENDRA SHAH, LAUREL EILEEN COOTE, CAROLE LEE HORTON-HOWE, JENNIFER LYNN WAGNER and SARAH ANNE REYNOLDS to the Sacred Order of Priests on Saturday, January 12, 10 a.m. at St. John's Cathedral, 514 W Adams Blvd, Los Angeles 90007.
Bishop Jennifer Baskerville-Burrows will ordain LAUREN DANIELLE HELEN GRUBAUGH to the priesthood at 7:30 p.m. on Thursday, February 28 at Christ Church Cathedral in Indianapolis, acting on behalf of Bishop John Harvey Taylor.
Your prayers and presence are invited.
_______________________________________________________
Bishop Taylor installed the Rev. GREG BROWN as vicar of Church of the Epiphany, Oak Park, on Jan. 6. He previously served at St. Cross Church, Hermosa Beach.
KATE CRESS will be installed as the 10th rector of St. James in-the-City Church, Los Angeles, at 11 a.m. on Saturday, Feb. 2. A luncheon will follow the service. All are invited. Clergy: white stoles. St. James' Church is located at 3903 Wilshire Blvd., Los Angeles. Cress formerly was rector of Church of Our Savior in Somerset, Massachusetts, where she had served since her ordination in 2009. Prior to ordination, she was a social scientist and teacher. She holds a doctorate in educational leadership from Harvard University, a master of arts in education from Brown University, and a master of divinity degree from Boston University. She has spent a considerable amount of time abroad, living in Botswana for two years, three years in South Africa and Uganda, and two years in Korea. She began her ministry at St. James' in August 2018.
BRAD KARELIUS was named rector emeritus of Church of the Messiah, Santa Ana at a special Nov. 25 service. He previously served for 30 years as rector of Messiah, a position currently held by the Rev. Abel Lopez. Karelius blogs at Desert Spirit Press. He is the author of two books: The Spirit in the Desert: Pilgrimages to Sacred Sites in the Owens Valley and Encounters with the World's Religions: The Numinous on Highway 395.
GREG KIMURA, JOANNE LESLIE and ABEL LOPEZ were named by Bishop John Taylor as diocesan representatives to the newly formed Episcopal Public Policy Network of California, or EPPN-CA. The network was launched in the fall by bishops of the six California dioceses, to facilitate joint statements about formal public policy issues where Christian engagement might be effective and to urge individuals and congregations to get involved. For example, in June the committee helped to draft the bishops' statements against conversion therapy (supporting AB 2943) as well as a statement against the separation of families as part of immigration policy For more info, contact: Leslie at pjoleslie@gmail.com; Kimura at gwkimura@gmail.com; or Lopez at anglicano@sbcglobal.net.
JULIE MORRIS was named an honorary Canon of the Cathedral of St. Paul by Bishop Diocesan John Taylor during the Nov. 30 diocesan convention dinner. She is director of The Abundant Table, a farm ministry she founded in 2004 as part of her campus ministry at Cal State Channel Islands. The program, focuses on food and the production of food as ministry. Taylor described The Abundant Table as a unique program that "combines service and worship, advocacy and justice. It is totally next-level, 21st-century ministry. There's a lot in our diocese that looks like the future, but Julie and her colleagues have brought something special and unique to the northern part of our diocese."
PATRICIA O'REILLY was named an honorary Canon of the Anglican Diocese of Guinea and Guinea Bissau in West Africa on Nov. 28, by Bishop Jacques Boston. She chairs the diocesan Program Group on Global Partnership, which has developed a strong relationship with the Guinea diocese. "My receiving this honor is their way of thanking the Diocese of Los Angeles for our friendship and assistance over the past couple of years," according to O'Reilly. Among other projects, the group helped raise funds for the Diocese of Guinea to buy a car. "Most significant," O'Reilly said, "is that a member of one of our diocesan congregations has donated $100,000 to help them build a high school onto their existing cathedral school. They have been so gracious and friendly. I hold them in very high esteem for all they do with such meager resources, and for their strong sense of commitment and community." She will be formally invested as a canon during her next visit to Guinea. She is vicar of St. George's, Hawthorne.
LINDA and DENNIS PEDERSON were named honorary Canons of the Cathedral of St. Paul, by Bishop Diocesan John Taylor, during the Nov. 30 diocesan convention dinner. She is vicar of St. John's, San Bernardino and founder of the St. John's Success Center, where volunteers provide people of all ages a place for lifelong learning with educational support. It includes a homework center, as well as "Safe Space," where children are invited to come in a try new ideas. Dennis Pederson, a retired Cal State San Bernardino professor, has long been a principal volunteer at The Vicar's Pantry at St. John's, which distributes food each Wednesday.
MICHAEL SEILER has been called as rector of St. Michael and All Angels Church in Corona Del Mar, where he has been serving as priest-in-charge.
ANDREW TOMAT was named an honorary Canon of the Cathedral of St. Paul during the Nov. 30 diocesan convention dinner. He has served as diocesan treasurer for the past year and has also served three congregations of the diocese as treasurer. A "financial wizard" Tomat had "distinguished himself years ago as someone who cheerfully and readily was willing to help churches grapple with their own financial challenges," said Taylor, in honoring him. Tomat is also a member of the Corp Sole committee that has studied the corporation's history and advised the bishop as to its future. In addition and assisted Bishop Suffragan Diane Bruce and the Rev. Michele Racusin, diocesan chief financial officer, with creating the diocesan budget presented at convention.
REQUIESCANT
A celebration of life for Canon PETER BERGSTROM, director/executive director of Camp Stevens for 40 years, will be held in the spring. He was born Sept. 2, 1946 and died Dec. 24, 2018. Survivors include his wife, Vicki, and their daughter, Jenne, and son, Erik. Messages to his family may be sent to 1038 Orchard Lane, Julian, CA 92036. In lieu of flowers, donations to any of the following organizations would support work that was close to Peter's heart:
An obituary written by Jenne Bergstrom is here.
CORINNE DAUM, widow of the Rev. J. William Daum, rector emeritus of the Church of the Transfiguration, Arcadia, died Dec. 9 of pneumonia. She was 83. Survivors include her sons, Bryn Daum (Meleen) and Garrett Daum (Lisette); her four grandchildren, Kalyn, Serena, Aubrey and Raylund; her sister Ginger Leatherman Goldman and her brother Jeff Leatherman. Her eldest son, Kevin, died in 2005. Daum, born Dec. 24, 1934, was a longtime elementary school teacher; she also taught special education classes. No services are planned at this time. Condolences may be sent to the family care of Bryn Daum, 25399 Gold Hills Drive, Castro Valley, CA 94552.
A memorial service was held Dec. 8 for ELIZABETH ANN DUMOLT, 63, who died of a brain tumor Nov. 25. A deacon and retired California Department of Social Services licensed social worker, earned her master of divinity degree from the Claremont School of Theology, specializing in spiritual care, and was ordained a vocational deacon in May 2010. She served at her sponsoring congregation of Grace Church, Glendora, and most recently served as deacon at St. Luke's Church, Monrovia.
Services were held on Jan. 5 at St. James in-the-City Church, Los Angeles, for the Rev. DAVID CHARLES WALKER — priest, chaplain, organist and composer — who died Dec. 3. He served as chaplain and director of pastoral care at Good Samaritan Hospital 1991 – 2003; previously he served a congregations in San Diego, Beverly Hills, and Brooklyn New York. He composed two hymn tunes included in Hymnal 1982: "General Seminary," with the text "King of Glory, King of Peace" by George Herbert (Hymn 382), and "Point Loma," with the text "Baptized in water" (Hymn 294). Survivors include Walker's husband, Nam Nguyen; a sister, a niece, and other family members. Read more here.
VALERIE JACKSON WARD, 69, former deacon at St. Peter's Church, Santa Maria, died Nov. 17 at her home in Lamar, South Carolina, where she served at St. Catherine's Episcopal Church. Born in 1949, she was a former training and curriculum specialist at the U.S. Department of Defense (DoD). She studied at various times at the University of Tübingen, the University of Texas at Austin, the University of South Carolina, and Cameron University. She received a bachelor's degree in elementary education at Francis Marion University in South Carolina. She earned a certificate of diaconal studies at Bloy House, The Episcopal Theological School at Claremont. Bishop J. Jon Bruno ordained her to the vocational diaconate in 2014. Survivors include her son, Adam, and his family.
Congregational Openings
November 2018
Clergy are encouraged to request that their name be placed on an "interest list" if they would like to be considered for:
a) positions, regardless of the progress of the congregation in determining their process, or their readiness to receive names;
b) placement by the bishop in mission congregations or where an appointment is otherwise applicable.
Contact the Rev. Canon Joanna Satorius at jsatorius@ladiocese.org or via phone at: 213.482.2040, ext 263.
Open positions:
ACTIVE: Receiving Names
Claremont, St. Ambrose Church
Goleta, Christ the King Church
Los Angeles, Westwood, St. Alban's
San Gabriel, Church of Our Saviour Church
San Marino, St. Edmund's Church
Santa Clarita, St. Stephen's Church

ACTIVE: No Longer Receiving Names
Beverly Hills, All Saints Church
Fullerton, Emmanuel Church
Placentia, Church of the Blessed Sacrament
Riverside, All Saints' Church
NON-ACTIVE
Congregations that will at some point be searching for clergy leadership, but are now working with supply clergy, a long-term interim or priest in charge:
Buena Park, St. Joseph's Church
Downey, St. Mark's Church
Huntington Beach, St. Wilfrid's Church
Ontario, Christ Church
Santa Maria, St. Peter's Church
San Fernando, St. Simon's Church
Van Nuys, St. Mark's Church