The Episcopal News
The Episcopal News has served the diocesan community for more than 70 years with stories about the ministry of the Episcopal Church in the Diocese of Los Angeles.
Each edition of The News may be read online as a PDF file or downloaded as a high-resolution color PDF to be printed.
To read or print any issue, click on the cover image below and select the appropriate size for online reading or printing. Online text versions of selected stories are also available.
Comments, questions, story suggestions and corrections may be sent to Janet Kawamoto, editor, at editor@ladiocese.org.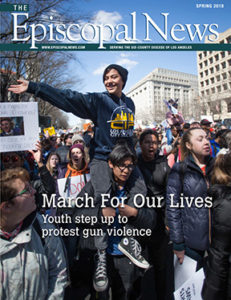 Spring 2018