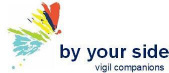 [The Episcopal News] Since 2011, the mission of By Your Side Vigil Companions, a program of Episcopal Communities and Services, has been to support people in times of change and difficulty, particularly in health crisis, and to be at their bedside at the end of their lives as needed.
"We have trained almost 500 people," says Susan Brown, executive director of By Your Side. "The pandemic brought all of us to an acute awareness of life's fragility; what is most important is connection. It also gave us a renewed commitment to companion one another in even wider and more creative ways."
By Your Side has formed three new programs: an institutional partnership with Keck Medical Center of USC; a collaboration with the diocese's Instituto Liderazgo and its director, the Rev. Carlos Ruvalcaba to create A Su Lado, a Spanish-language By Your Side training; and an in-person By Your Side training – the first one since March 2020 – to be held at St. Luke the Physician Episcopal Church in Monrovia.
"At Keck we will be offering training directed at hospital volunteers who've expressed a specific interest in being a compassionate presence in palliative care and/or end-of-life companioning," said Brown. "By Your Side volunteers will serve at both Keck and Norris Hospitals. Space is extremely limited in this pilot program. Dates will be June 14, 21, 28, July 5 and July 12 from 6:45 to 9 p.m. For information, contact Susan Brown at sbrown@ecsbyyourside.org or Chaplain Symeon Yee at symeon.yee@med.usc.edu.
A Su Lado will offer Instituto Liderazgo students a bilingual and bicultural training on three Saturdays in May, June and July, in hopes of making Spanish-speaking volunteers available to patients and families in acute and long-term care settings and in the parishes of the diocese. (This training will be available to those not already enrolled in the Instituto Liderazgo only through special permission.) For information, contact Ruvalcaba at carlos.ruvalcaba@cst.edu or Brown at sbrown@ecsbyyourside.org.
The BYS training at St. Luke the Physician Episcopal Church, 122 California Avenue, Monrovia 91016, will take place at 10 a.m. – 12 p.m. on Saturday mornings; May 27, June 3, June 17, June 24, and July 1. Along with developing teams of people to serve in healthcare or congregate living settings, By Your Side also trains church and community group members to be even more present with one another. Pastoral care volunteers learn to better companion their neighbors having difficulty with changes in their lives, with challenging diagnoses or increasing frailty. Community members gain tools for taking care of themselves while being there for others. There is no obligation to volunteer after training.
For further information contact the Rev. Neil Tadken at revntadken@saintlukesmonrovia.org or 626.357.7071, ext. 102, or Susan Brown at sbrown@ecsbyyourside.org or 818.822.6044. Enrollment is limited to 16 people. A fee of $70 (which includes all materials) is due by the second class. Scholarships are available. Continuing education credit (12 hours) for nurses is available for an added $30 under California Board of Registered Nursing Provider CEP 16239.