[The Episcopal News] La Rvdma. Diane M. Jardine Bruce, obispa sufragánea de la Diócesis de Los Ángeles desde el 2010, ha aceptado la nominación de la Junta Diocesana de la Diócesis Episcopal de Missouri Occidental para ser su obispa provisional, empezando el 1 de diciembre del 2021, ambas diócesis lo anuncian el día de hoy.
Bruce – quien ha fortalecido los ministerios multiculturales de la nueva comunidad en la región del sur y ha guiado a congregaciones para tener una mejor mayordomía y alcance comunitario – ha sido seleccionada para servir en la diócesis en la Ciudad de Kansas – que cuenta con 9,000 episcopales en 47 congregaciones, tras la renuncia del actual Obispo Diocesano Martin Scott Field.
Se espera que la convención diocesana de Missouri Occidental del 6 de noviembre ratifique la nominación de la Obispa Bruce. Mientras tanto ella combinará sus vacaciones con su sabático, haciendo espacio para participar en la convención diocesana de L.A. el 13 – 14 de noviembre y participar también el 28 de octubre en la celebración de regreso a casa después de la pandemia a llevarse a cabo en St. Paul's Commons en Echo Park, y también continuará con su papel a nivel nacional de secretaria de la Cámara de Obispos y fideicomisaria del Church Pension Group.
"En nombre de la toda la diócesis, ofrezco mis felicitaciones y bendiciones a la Obispa Bruce a medida que se prepara para esta nueva etapa de su ministerio, sirviendo y amando a la gente de nuestra diócesis hermana en Missouri Occidental," dijo el Obispo Diocesano de Los Ángeles John Harvey Taylor. "Habiendo sido llamada al diaconado y sacerdocio en nuestra diócesis, y siendo la primer mujer electa obispa en Los Ángeles, Diane será por siempre una de nosotros. Sus contribuciones a nuestra vida en común han sido innumerables, especialmente en los ministerios de la Nueva Comunidad y mayordomía. No podemos negar que la extrañaremos enormemente, especialmente su espíritu cariñoso y alegre. Y, sin embargo, confiamos en la sabiduría del Espíritu Santo. Y nos sentimos muy orgullosos de que sus dones y experiencias avivarán la misión y el ministerio de Missouri Occidental."
"Ha sido un gran honor y privilegio servir como la séptima obispa sufragánea aquí en la Diócesis de Los Ángeles durante estos casi once años," dijo Bruce, quien se unió a Taylor y a la Canóniga para lo Ordinario Melissa McCarthy en un liderazgo en triada después del retiro en el 2017 del difunto Obispo J. Jon Bruno.
"El trabajar inicialmente con el Obispo Bruno, y ahora trabajar con el Obispo Taylor y la Canóniga McCarthy me ha permitido – nos ha permitido – compartir nuestros dones y conocimientos con todos ustedes en la diócesis. Nos hemos complementado uno a otro, y el resultado ha sido un incremento en todos los niveles y tipos de misión y ministerio que se llevan a cabo a lo largo de la diócesis, lo cual es una gran bendición para todos y todas.
"Quizás se pregunten porque me voy ahora," agregó Bruce, de 65 años. "La respuesta es simple: se me presentó la oportunidad para ejercitar mis dones y conocimientos en un lugar nuevo en los pocos años que me quedan antes de mi retiro completo. Estoy muy emocionada de empezar un nuevo papel como obispa provisional, quien es un obispo/a diocesano sin un término de tiempo. A través de discernimiento y oración, se me hizo muy claro, que Missouri Occidental es el lugar al que el Espíritu me está llamando. ¡Y entonces yo he respondido con un "sí!'
"Yo sé que el futuro de la Diócesis de Los Ángeles está en buenas manos," nos dice Bruce. "Favor de mantenerme a mí y a la Diócesis de Missouri Occidental en sus oraciones, de la misma manera que yo estaré orando por todos ustedes."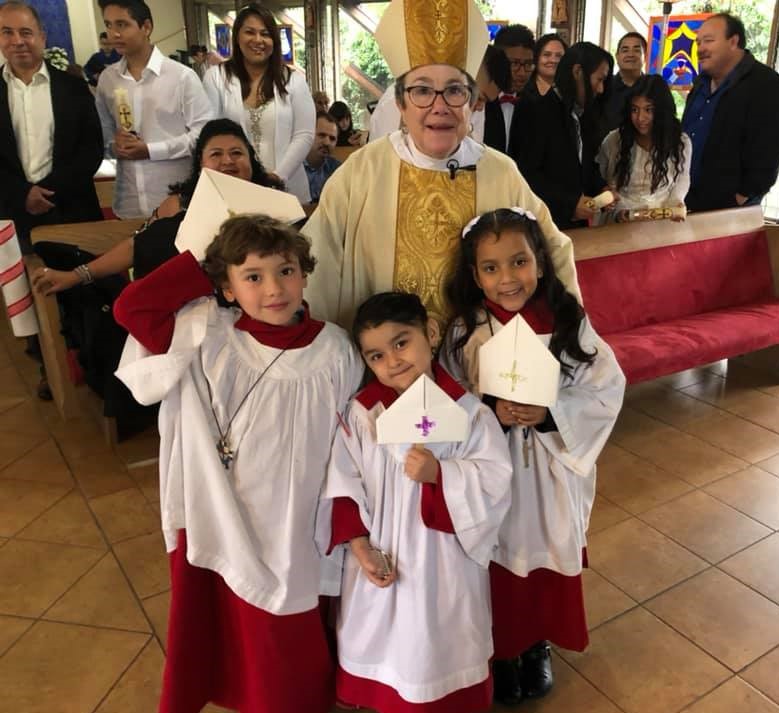 "En las próximas semanas," agregٕó Taylor, "trabajando de manera cercana con la Canóniga McCarthy y el Tesorero Andy Tomat y el Comité Conjunto de Presupuesto, estaremos intercambiando ideas de cómo expandiremos el legado de la Obispa Bruce y asegurarnos de no perder el ímpetu en esos ministerios donde ella ha jugado un papel vital de liderazgo."
McCarthy se unió al expresar su apreciación por Bruce y sus ministerios. "Estoy tanto triste de que la Obispa Bruce se vaya como muy emocionada por esta nueva etapa en su ministerio," dijo McCarthy. "La Obispa Bruce ha sido por tantos años una pastora amable y compasiva, cariñosa y gentil para la Diócesis Episcopal de Los Ángeles. Tiene una forma increíble de reconocer donde está la necesidad y de ocuparse de esa necesidad de una manera hermosa. Esto le servirá de gran manera tanto a ella como a la Diócesis de Missouri Occidental a medida que empiezan su ministerio en común. Extrañaremos el maravilloso sentido de humor de la Obispa Bruce, su gozo y su entusiasmo, y la sabiduría que trae a todo lo que ella hace. ¡Y me alegra mucho saber que algún día estará de regreso con nosotros!"
Una declaración hecha por la Junta Diocesana de Missouri Occidental y publicada por su presidente, el Rev. Jonathan E. Frazier, afirma que el talento de Bruce es justo lo que necesitan de acuerdo con las prioridades diocesanas. "Creemos que la Obispa Bruce es la que mejor representa las necesidades expresadas en la convención diocesana del año pasado cuando se acordó que la Diócesis de Missouri Occidental necesitaba un obispo/a provisional que tuviera el conocimiento, la energía y la habilidad de ayudar al liderazgo de la diócesis, tanto de los laicos como del clero. Se hizo claro que era importante su capacidad de observar de buena y acertada manera de dónde venimos y donde estamos como la Iglesia Episcopal de Missouri Occidental. Identificamos la importancia de estar abiertos a llamar a una mujer y/o un miembro de la minoría con la habilidad en las áreas de facilitar sanación, edificar confianza y crecimiento; sostener conversaciones acerca de la factibilidad de la diócesis; y de la forma como trabaja el sistema. También se nombraron como características recomendables para obispo/a provisional el cuidado pastoral, la calidez, y la accesibilidad."
Antes de su elección en el 2009 como la séptima obispa sufragánea de L.A., Bruce fue rectora desde el 2000, de la parroquia bilingüe en el Sur del Condado de Orange, San Clemente del Mar en San Clemente. Y con anterioridad a ello fue rectora asociada de la Iglesia del Mesías en Santa Ana.
Antes de su ordenación al presbiterado por el Obispo Frederick H. Borsch de L.A. en 1998, Bruce sirvió como vicepresidenta del Banco Wells Fargo especializada en la administración y análisis de compensación, habiéndose unido a Wells Fargo (anteriormente el Banco Crocker) en 1980.
Bruce habla español, mandarín y algo de cantonés e inglés. Cuenta con un título de licenciatura en lingüística de la Universidad de California en Berkeley y un postgrado en Divinidad de la Escuela de Teología Claremont. Tiene un título de doctorado en ministerio otorgado por el Seminario Seabury-Western en el 2011 y recibió un doctorado honorífico del Church Divinity School of the Pacific en el 2021.
Originaria de Pequannock, N.J., Bruce está casada con G. Stephen (Steve) Bruce, un ingeniero de programas de computación. Tienen un hijo y una hija — Max y Jardine, ambos casados – y tienen un nieto.
La Diócesis de Missouri Occidental, fundada en 1889, sirve a una diversidad de comunidades que oscilan desde áreas urbanas de la ciudad de Kansas y Springfield a suburbios, ciudades pequeñas y áreas rurales. Missouri Occidental es una de las cuatro diócesis patrocinadoras del Bishop Kemper School for Ministry fundado en el 2013 para apoyar la formación de liderazgo y fortalecer los lazos de comunidad y misión mutua. Sus programas también sirven a los miembros del Sínodo de Estados Centrales de la Iglesia Evangélica Luterana de América.
Traducción de la Rev. Norma Guerra.