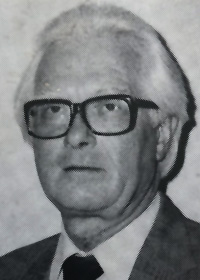 June 29, 1930 – August 20, 2020
The Rev. A. LeRoy "Roy" Young, rector-emeritus of St. Luke's Church in Long Beach, died Aug. 20 after contracting West Nile Virus, said his daughter, Jill Young, who noted that her father had previously "lived a full and vigorous 90 years in perfect health."
Young first came to St. Luke's in 1967 as an assisting priest and was elected rector in 1974, serving through his retirement in 1990. Previously, starting in 1961, he was parish assistant at St. Matthias, Whittier, and from 1955 to 1960 assisted at Congregational churches in Los Angeles and Poway, Calif.
At St. Luke's, Young helped establish parish outreach to address hunger and housing, as well as longstanding support of the arts, including the hands-on London Brass Rubbing Centre.
Born in Torrance, Calif., Young earned a bachelor's degree from the University of Redlands and later attended the USC Graduate School of Religion, Claremont School of Theology, and Church Divinity School of the Pacific, Berkeley, Calif.
Young and his wife, Janice, had recently resided in Los Osos, Calif. Their family includes a son, Donald, in addition to their daughter, Jill.
No services have been announced. Letters of condolence may be sent to the family in care of St. Luke's Church, 525 E. Atlantic Ave., Long Beach, CA 90813.