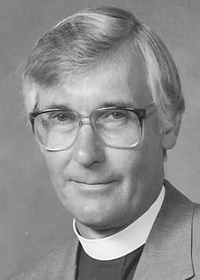 March 28, 1927 – October 20, 2018
The Rev. Arnold Fenton, former rector of St. Matthew's Church, Pacific Palisades, died Oct. 20, 2018, in Sandpoint, Idaho. He was 91.
Survivors include his wife Barbara Burrows Fenton; his children Arnold A. Fenton, Christopher Fenton and Kimberly Fenton Hesse; stepchildren Deborah Connolly Eggleston and William F. Connolly; numerous grandchildren and great-grandchildren; and a brother, Noel Fenton. A memorial service was held at All Souls' Church, San Diego.
Fenton was called to St. Matthew's as its second rector in 1979, eight months after the parish church building was destroyed by fire. He presided over the building of a new, much larger church that captured national architectural attention for its soaring spaces, wood accents and naturally lit interior.
Fenton also chaired the diocesan Venture in Mission cabinet over the years of the campaign that raised $5 million for diocesan and world mission. The cabinet also disbursed that money in various large and small grants. Fenton also served as president of the diocesan Standing Committee.
He retired as second rector of St. Matthew's, Pacific Palisades, on June 30, 1990, and he and his wife Barbara moved to El Cajon. He continued to serve as priest-in-charge at several congregations in the dioceses of Los Angeles and San Diego, where he was canonically resident at the time of his death.
Fenton came to St. Matthew's from San Diego, where he was rector of All Souls Church from 1973 to 1979. Prior to that he was rector of Christ Church in Grosse Point, Michigan, for four years and earlier had served other congregations in Massachusetts and the Diocese of Olympia, Washington. He was a Navy Reserve chaplain from 1953 to 1955.
During his tenure in the Diocese of Olympia (1955 – 1969), he wrote, he "served on about every imaginable diocesan committee or group," including two terms as a deputy to General Convention, president of the Standing Committee, Diocesan Council, chaplain and board ember for youth and military organizations, and ecumenical groups. He also was a conference leader and trainer for the wider Episcopal Church's SALT program (Supervisor & Leadership Training). He served on a similar range of boards and committees in the dioceses of Michigan (1969 – 1973) and San Diego (1973 – 1979).
Arnold Fenton was born March 28, 1927 in Westfield, New Jersey, the son and grandson of Episcopal priests, He earned a degree in English literature at Lafayette College in 1948, followed by a master of divinity degree at General Theological Seminary in New York. He was ordained to the diaconate in June of 1951, and to the priesthood in December of that year. He and Barbara Burrows were married in 1974.