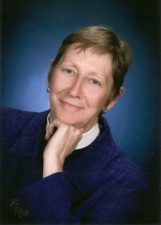 August 10, 1951 – April 19, 2017
The Rev. Canon Deborah Dunn, rector of St. Peter's, Santa Maria, and a former deployment officer for the Diocese of Los Angeles, died April 19 at Cottage Hospital, Santa Barbara, after suffering heart failure and complications of a stroke. She was 65 and had served as rector in Santa Maria since 2007.
Survivors include her husband, the Rev. Michael Cunningham, rector of St. Mary's, Lompoc; their daughter and son, Sarah and Simon, and daughter-in-law, Christine, and grandchildren; her brother, the Very Rev. William Dunn, vicar of St. Stephen's, Beaumont; her mother, Ella Lee "DeDe" Dunn; and many friends.
Requiem Eucharist is scheduled for 11 a.m. on Friday, May 5, at St. Mary's Church, 2800 Harris Grade Road, Lompoc.
Dunn and Cunningham recently celebrated their 40th wedding anniversary. Early in their common life both were active in music and theater, also serving in professional management roles. Dunn also is well remembered for her singing voice, which she regularly used to enhance liturgies and homilies.
Dunn previously served as vicar of St. Thomas Church, Hacienda Heights (1999-2007), as an associate at St. Matthew's, Pacific Palisades (1995-1999), as an assistant at St. Cross, Hermosa Beach (1992-1993), and as an assistant at St. Francis, Palos Verdes Estates (1991-1992).
She was ordained a priest by Bishop Frederick Borsch in 1992. She was a graduate of the General Theological Seminary and in 1976 earned a bachelor of fine arts degree from the University of Texas. She was born in Angleton, Texas, in August 1951.
Greatly loved by her parishioners, Dunn was a remarkable pastor and parish leader. A feature article offering her perspective on ministries shared between the Santa Maria and Lompoc parishes was published in the Spring 2017 issue of The Episcopal News magazine, released two days before her death.
Dunn and her family and parishioners had enjoyed a festive Easter celebration, after which she posted on her Facebook page: "Easter Day was glorious and there were plentiful people and music and food and flowers. And God was praised and the people were fed and now it's time to rest awhile. Thanks to all. Alleluia!"