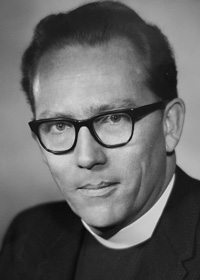 August 27, 1930 – June 10, 2021
The Rev. Gary Jay Adams, former rector of St. Edmund's Church, San Marino, and Church of the Messiah, Santa Ana, died June 10 in Carson City, Nevada. He was 90.
Survivors include his wife of 72 years, Marguerite (Peggy) Goff Adams, and four of their children – Philip C. Adams and his wife Tucker of Ojai; Daniel J. Adams and his wife, Kathleen Juarez, of Reno; Marguerite E. Paul of Carson City, Nevada; and Richard B. (Ben) Adams and his wife, Kimberly, of Phoenix, Arizona; and daughter-in-law Kimberly Turbeville Adams, widow of their son Charles F. Adams of Corona; 17 grandchildren and 18 great-grandchildren. Adams is also survived by his brother, Kenneth B. Adams and his wife, Claudia, of Reno.
Most recently Adams was rector of St. Mark's Church in Santa Clara, retiring in 1993 to Carson City. He also served at St. John's Church, Marysville, California (1980-1987).
Adams was rector of Messiah from 1973 to 1980; rural dean of the Diocese of Los Angeles from 1969 to 1973; and rector of St. Edmund's from 1966 to 1969.
Previously he was founding vicar of St. Patrick's Church, Incline Village, and vicar of St. John's, Glenbrook, both in Nevada, and of Holy Innocents' Church, San Francisco.
Adams was born August 27, 1930 in Tonopah, Nevada. He graduated from Reno High School in 1947 and earned a bachelor's degree at the University of Nevada in 1951. In 1953 he was the youngest person to that time elected to the Nevada State Assembly, serving until 1955. He also was general manager of Gray Reids' Department Storie in Reno. In 1961 he entered Church Divinity School of the Pacific (CDSP), graduating in 1964 as co-valedictorian. He was ordained to the diaconate in June 1964 and to the priesthood a year later. In 1980 he earned a doctorate of ministry at Claremont School of Theology.
In retirement he continued his studies, read for the blind, and spent time at the family home at Lake Tahoe, according to an obituary supplied by his family. He enjoyed reading physics and contemplating the interconnection of religion and science.