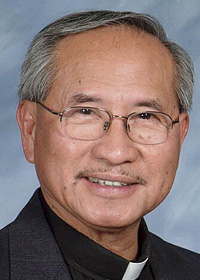 February 15, 1936 – October 31, 2021
[The Episcopal News] The Rev. Gregorio (Greg) Bayaca, longtime vicar of St. John's Episcopal Church/Philippine Independent Church of the Holy Child in Wilmington (Los Angeles), died Oct. 31. He was 85 and died from complications of leukemia, diagnosed in March, and a stroke he suffered on Oct. 19.
Survivors include his second wife, Anita Saturno; his son and daughter-in-law, Francis and Christine Bayaca; grandchildren Caleb and Caitlin; his sisters, Elisa Pahed and Nester Bayaca; as well as several stepchildren and nieces and nephews. His first wife, Josefina Bayaca, died in 2015.
Services will be held at Forest Lawn Cemetery, 21300 Via Verde Drive, Covina 91724 as follows: Viewing on Friday, Dec. 10, 2 – 6 p.m.; funeral service on Saturday, Dec. 11, 9:30 a.m.; cremation on Friday, Dec. 17, 8 a.m.; graveside service on Saturday, Dec. 18, 9 a.m.
Bayaca was a priest of the Philippine Independent Church (PIC), a full-communion partner with The Episcopal Church, before transferring his orders to TEC in the Diocese of Los Angeles in 2003. He served as vicar of St. John's/Holy Child from 1983 to 2008, and continued as priest of the congregation after his official retirement.
Greg Bayaca was born in Caba La Union Philippines on Feb. 15, 1936 to the Rt. Rev. Gerardo M. Bayaca, obispo maximo, or presiding bishop, of the Philippine Independent Church, and his wife, Isabel G. Bayaca, a public school teacher. The younger Bayaca graduated with a bachelor of theology degree from St. Andrew's Episcopal Theological School, Quezon, Philippines, and was ordained in the PIC.
From 1961 to 1965 he served as rector of three parishes in the Philippines, then as co-director of Christian Stewardship for the Joint Council of the PIC and PEC (Philippine Episcopal Church), which was "an attempt to make visible the Concordat of Full Communion signed in 1961 between the two churches by having both PIC (IFI) and ECP (PEC) clergy leaders do joint work in leadership training, stewardship and Christian Education, liturgy and establishing joint council schools," according to the Rev. Canon Winfred Vergara, now The Episcopal Church's missioner for Asiamerica Ministries, to whom Bayaca was at that time a friend and mentor – a connection they reestablished many years later in the U.S.
In September of 1968 Bayaca emigrated first to California, then to Florida, where he worked odd jobs and assisted part time at an Episcopal parish at Jupiter-Tequesta. On Aug. 23, 1969 he married Josefina, a physician who trained in the Philippines and later earned certification to practice medicine in the United States. The couple had one son, Francis, who also became a doctor. The family moved to California in 1969, where Bayaca worked full time for TransUnion Credit Corporation in Los Angeles.
Bayaca began to do missionary work among Filipinos living in the Los Angeles area. Then-Bishop Robert C. Rusack of the Diocese of Los Angeles encouraged his work and that of three other PIC priests, offering them the use of the Galilee Navy Family Chapel (closed in 1986), where through outreach to the Filipino community they formed the congregation of the Holy Child.
In 1983, Rusack appointed Bayaca priest-in-charge of the century-old St. John's Church in Wilmington (Los Angeles) after the death of its vicar. Many members of Holy Child followed him to his new cure, and eventually the two congregations joined together in shared ministry as St. John's and Holy Child.
With the help of Episcopal Asiamerica Ministries (EAM), Bayaca and the other Filipino priests continued outreach in their community and established another congregation, which met at All Saints Church in Highland Park (Los Angeles), according to an Episcopal Church news story published on Dec. 1, 1977.
Bayaca became official vicar of St. John's/Holy Child and remained there until he officially retired in 2008 at the canonically mandated age of 72. However, he asked to be allowed to continue his ministry at the Wilmington church, an unusual arrangement sanctioned by then-Bishop Diocesan J. Jon Bruno. According to Francis Bayaca, ministry was his father's passion, and continuing it kept him alert and active until his health finally failed in recent months.
After the death of his first wife, Bayaca married Anita Saturno in 2019.
In addition to his work at St. John's/Holy Child, Bayaca was active as a senior adviser and leader in the Filipino Convocation of Episcopal Asiamerica Ministries (and its predecessor, LAD/EAST) and continued to help form the now-thriving Filipino ministry of the diocese. He also served on a number of diocesan boards and committees, including an ecumenical commission and the 2009 bishop suffragan search committee whose work resulted in the elections of Diane M. Jardine Bruce and Mary D. Glasspool.
Bayaca's son recalls his father's other interests: his love for movies, especially westerns and action films; for big-band music, especially Frank Sinatra; and his cherished family. He took pride in being one of the oldest still-active priests of the diocese. Throughout his ministry, he was a mentor and role model to young Asian seminarians and new priests, including Vergara, a self-described Manila "street kid" who was going to school and working as a janitor at the PIC-PEC's Joint Council in the mid-60s when Bayaca took an interest in him and encouraged him to achieve his goal of ordination.