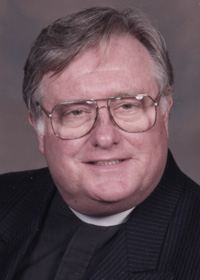 May 30, 1947 – February 24, 2019
The Rev. James Furman, rector of St. Nicholas's Church in Encino from 1995 to 2007, died in hospice care on Sunday, February 24, after a long illness.
Furman had no surviving family, but many friends. Funeral services will be held on March 23, 11 a.m., at St. Mark's Church, Glendale. Bishop John Harvey Taylor will preside.
Before his tenure at St. Nicholas', Furman was rector of St. Peter's Church in Honolulu, Hawaii (1986 – 1995). He also served several churches in the Diocese of San Diego, including St. Andrew's, La Mesa (1985 – 1986), St. Peter and St. Paul Church, El Centro (1980 – 1985); and Christ Church, Coronado (1979 – 1980).
Furman was born May 30, 1947, in Long Beach. He earned a B.A. at Claremont Men's College in 1969, an M.A. at Stanford in 1970, and a master of divinity at CDSP in 1973 before being ordained a deacon in 1973 by Bishop Chauncie Kilmer Myers, and a priest in 1974 by Bishop Robert C. Rusack. He assisted at St. Mark's in Glendale (1973-1977) and St. Mary's (Mariposa) in Los Angeles (1977-1979) before moving to the Diocese of San Diego.
An accomplished writer, Furman was the author of Sand & Stars: A Possibility Book of Christian Education, and a contributor to The Living Church, Coptic Church Reviews, and The Episcopal News. He also served as chaplain of the Canadian Society of Southern California and president of the Inter-Anglican Study Program, and was a member of the Confraternity of the Blessed Sacrament.