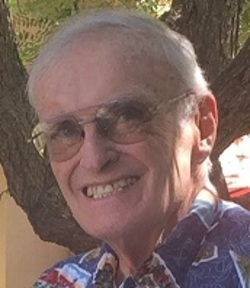 The Rev. Jared "Jerry" Horton Tucker, deacon at Holy Trinity, Covina, died March 21 after a brief illness. He was 86.
A service will be held at 10:30 a.m. on Saturday, April 22, at Holy Trinity Church, 100 N Third Avenue, Covina, 91723. Survivors include his wife, Marilyn, to whom he was married in 1956, and his daughter Cheryl (Dennis). He also has two granddaughters and one great granddaughter. His younger daughter, Kathryn (Tom) predeceased him. Please keep the family in your prayers.
Tucker also served as deacon at St. Barnabas' Church, Pasadena, and at St. John's Church, La Verne. He was ordained in 1995 after a 30-year career as an anesthesiologist.
Jared Tucker was born August 18, 1930 in San Francisco. He completed his pre-medical education at Whittier College in California and received his medical training at UC San Francisco. He met his future wife, Marilyn Bim, a registered nurse, while working on his residency at Murphy Memorial Hospital, also in Whittier, California. They married on January 28, 1956 and shortly thereafter moved back to San Francisco where they started their family, became active members of an Episcopal church and Jerry completed his medical training in anesthesia.
In the early 1960s the Tuckers moved back to Southern California, where Jerry accepted his first position as an anesthesiologist. He and his colleagues became founding staff of the newly opened Queen of the Valley Hospital in West Covina, California, where he was proud to serve his entire medical career. He retired in 1989 to spend more time with family, travel and dedicate himself to the church.
Jerry and Marilyn Tucker were always very active members of Holy Trinity in Covina. Jerry served as a lay reader, was a member of the vestry and in 1993 he was ordained as a deacon. He ministered at many churches in the San Gabriel Valley to include Holy Trinity. As a retired physician and an active Deacon he was a perfect fit to serve as a hospital chapalin, predominately at Foothill Presbyterian in Glendora.
His other interest and hobbies included, but were not limited to, world travel, RVing, boating, gardening, classical music and baseball. He was truly a Renaissance man but also extremely down-to-earth and a one-of-a-kind character that everyone loved.
–Obituary from Holy Trinity Church, Covina