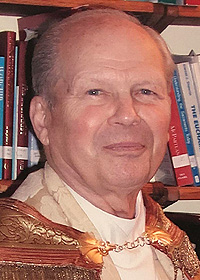 August 30, 1924 – December 29, 2018
A service will be held at 11 a.m. on Saturday, Jan. 12 at St Mark's Church, Glendale, for the Rev. Otto Harold Anderson, Jr., who died on or near Dec. 29. He was 94.
Survivors include several nieces and nephews, and many friends.
Anderson served on the staff of St. Thomas' Church, Hollywood, from 1994 to 2001. According to current rector the Rev. Canon Ian Davies, "Fr. Anderson's gentle humor, profound sense of pastoral care and firm Anglo-Catholicism ensured that the clergy team was able to offer a coherent, lasting and effective ministry during one of the most challenging periods in the late 20th century, the HIV/AIDS pandemic." Davies notes that Anderson led many retreats at the Holy Cross monastery at Mt. Calvary in Santa Barbara. He also was a supporter of the arts and cultural events in the community, and a life-long patron of the Los Angeles Philharmonic.
After his retirement from St. Thomas' Church, Anderson served at St. Mark's Church, Glendale (2003 – 2011) and St. Mary's Church in Palms, Los Angeles (2011 – 2016). Before his tenure at St. Thomas' Church, he assisted at St. Matthew's Church, Pacific Palisades (1984 – 1994). Before his move to Southern California, he served as several congregations in Oklahoma and was a university chaplain. He served the Diocese of Oklahoma as a deputy to General Convention and as a member of its Diocesan Council.
Anderson earned a bachelor's degree at Phillips University in 1948, and a bachelor of divinity degree at Brite Divinity School in Fort Worth, Texas, and was a fellow of the College of Preachers in 1969. He was ordained to the diaconate in 1954 and the priesthood the following year in the Diocese of Oklahoma, where he was canonically resident until his death.