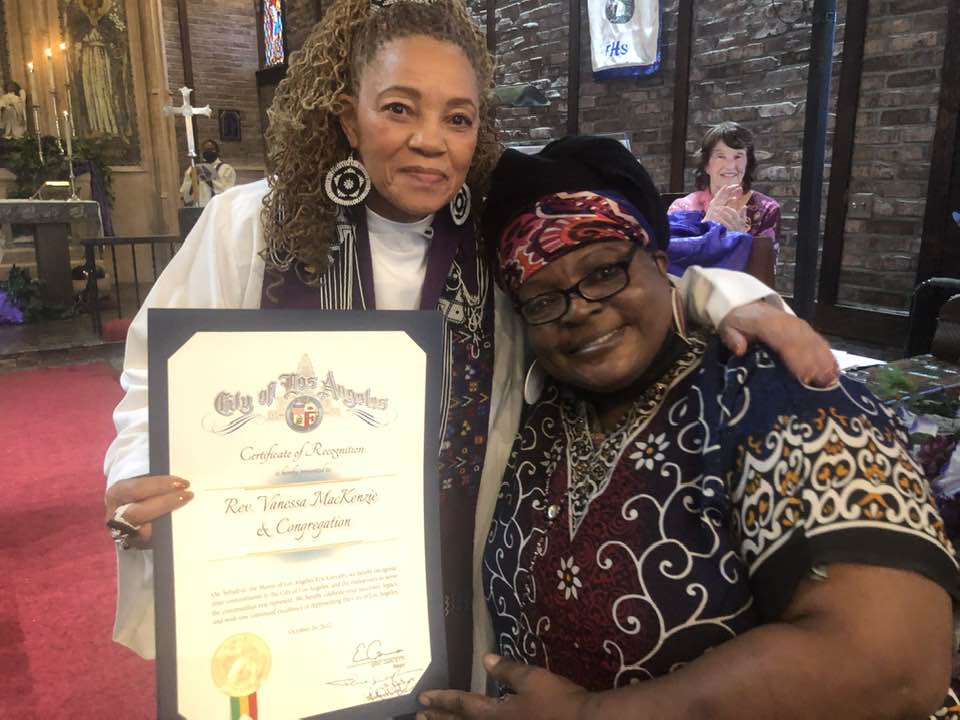 Some church people will tell you that our God in Christ can do amazing things by means of mere schedules and lectionaries, which are compilations of appointed scripture readings. Months ago, we decided I'd visit historic Church of The Advent in south Los Angeles on Nov. 27 — not quite realizing, probably, that it would be the first Sunday of Advent already, nor the 101st anniversary, down to the day and hour, of the church's organization in a real estate office at the corner of W. Adams and Longwood Ave.
The germ delayed a proper 100th. So for 101, we had a full church and a quite a party. Advent's rector of 22 years, the Rev. Vanessa Mackenzie, besides collecting a tribute on behalf of Mayor Eric Garcetti, honored a dozen longtime members and other parish friends who collectively represented pretty close to a millennium of faithful service to God and God's people. Four more saints were to have been baptized, but three got sick, leaving little Faith, whose parents Vanessa had married, not much larger than a mustard seed and sweet as she could be through a two-hour service.
Along to preach and celebrate, I invoked the spirit of Advent by exploring both sides of the question "What are you waiting for?" — a goad, usually, but also an invitation to discernment. Serving as my chaplain was the devoted junior warden, Joanne Punch. After church the big news was the first in-person coffee hour in, well, years, enabling wonderful conversations, including with longtime member Dr. Cynthia Hudley, sister of my fellow Holy Land pilgrim the Rev. Margaret Hudley McCauley and professor emeritus of education at UC Santa Barbara, whose non-profit interests include support of those recently emancipated from the foster care system.
For most of its life, Advent has served congregations largely comprising people of African descent, living and working in a part of the city scarred by racism, segregation, and official neglect. One of its most famous members, singer and pianist Nat King Cole, sang in the Advent choir and shattered a racist real estate covenant by buying a house in Hancock Park. Historical accounts also mention Advent's association with FDR's youngest son, James Roosevelt; perhaps his widow and my friend Mary Roosevelt has some insights.
In a beautiful 101st anniversary booklet, Vanessa included the African proverb that when an old person dies, a library burns to the ground. Again insensible about the full resonance of the gathering day, I had prepared to preach that while her abundant heart made her an open book, she was also a history book. Daughter of a bishop and mentored by Archbishop Desmond Tutu, in the early nineties, as the evil of apartheid ended, Vanessa was the first black woman to be named a rector in Johannesburg. Quite something to think that we move daily among such libraries, with light streaming from every window. Better look quick! What are we waiting for?