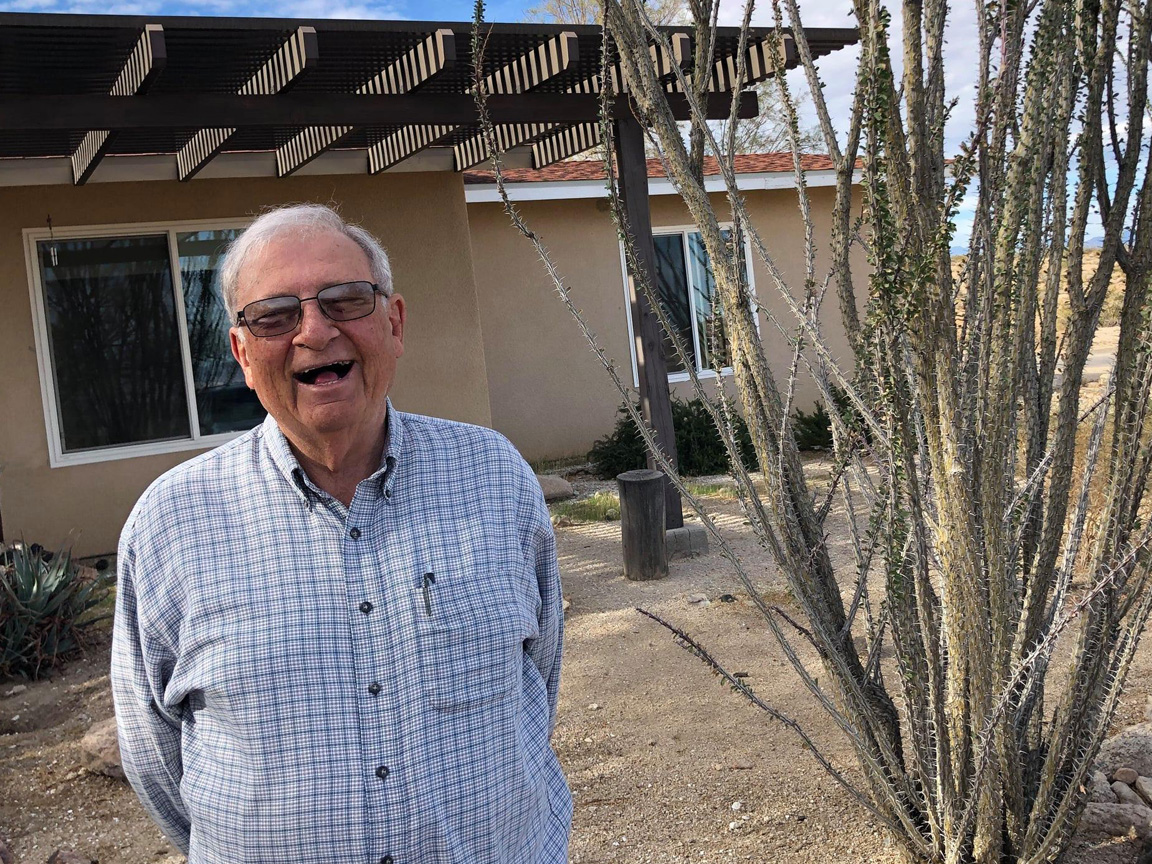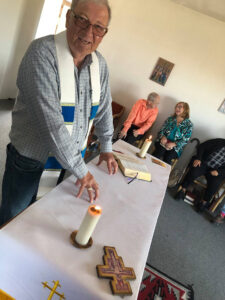 Born in Tucson, raised in New York, the Rev. Canon David Caffrey has had a heart for the desert for as long as he can remember. He's served churches in the Episcopal Diocese of Los Angeles (including as rector of Trinity Episcopal Church in Redlands) and The Episcopal Diocese of San Diego (until recently as interim priest at St. Paul in the Desert). He's a specialist at helped prepare deacons and priests for ordination and is especially beloved as a learned and generous Christian educator. When I visited St Joseph of Arimathea in Yucca Valley for dinner with lay leaders just before the lockdown, David's handwriting was still on the white board, from a recent class on the history of the early church.
He's owned and operated the Desert Journeys Joshua Tree Guest House since 1985. A five-minute dirt road drive off 29 Palms Highway, it gives you a wilderness view on all directions. That, and morning and evening prayer with David in the chapel, are worth the trip. Each fall and spring, he offers a half-dozen programs, including an All Saints Day Holy Eucharist and BBQ. You want to get on that mailing list.
Fifteen of us were along today, a All Saints Day congregation from both dioceses, including LA's the Rev. David Burgdorf, ostensibly retired and yet assisting at St. Margaret's Episcopal Church in Palm Desert, ministering to San Diego's retired deacons and priests, and preparing to resume his annual chaplaincy in Italy. It was a pleasure to get all the St. Joseph's news from Joanne Sayer, devoted bishop's warden. Paul Thompson, who attends Trinity Redlands, gave me his thoughts on sustaining and building up our churches, including through ministry to our increasingly isolated teenagers.
John and Lena Granet reminded me that we'd met several years ago at St John Chrysostom Church. Blind since birth, John is a composer with a doctorate from USC who was along today to play organ. Canon David called out the names of our four hymns, which John played from memory, including #286, "Who are these like stars appearing," which isn't sung much, though it should be.
After presiding at the holy meal in the chapel, David fired up the grill. Other guests brought potluck items. We sat on the patio on the edge of the desert, and my goodness, Monday has rarely felt so much like Sunday morning. And as people flock to the communities of Yucca Valley, Joshua Tree, and Twentynine Palms, Canon Caffrey's ministry will go on and on. He recently arranged to leave Desert Journeys to our diocese, where it will anchor our high desert ministry for many years to come according to his example and legacy of generous, open-hearted Bienvenido. For all the saints, from a saint.