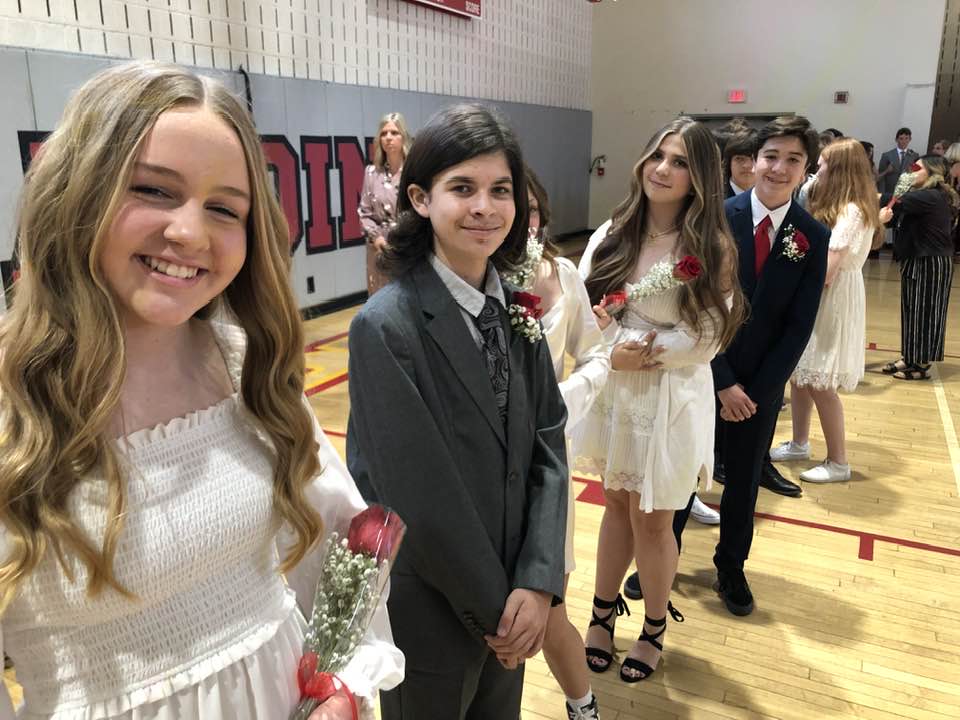 My scrapbook from commencement ceremonies Wednesday evening at St. John's Episcopal School in Rancho Santa Margarita, where Canon Kathy Hannigan O'Connor and I served for 12 years, when I was vicar of St John Chrysostom Church. This time, we sent 44 eighth graders off to high school, bringing to 2143 the grand total of graduates since the school's founding in 1988, according to interim head of school Michael Pratt's eloquent commencement address, built around this born-again Episcopalian's deft quotation of John Donne.
Michael visited the St. John's campus for the first time in April 2013, when he interviewed for his first interim headship. A headship, period, plus another interim year followed — which, I told him last night as we paid tribute, must be some kind of a record. Michael brought with him STEAM learning, full-steam fundraising and attendance growth, and too many other transformative gifts to mention.
My role at commencement was to present the John Harvey Taylor Prize, given annually to that student who, unlike its namesake, excels at written and spoken communications. This year's winner was Sophie Herbert, whose senior reflection brimmed with wisdom. Student Council veep Ethan Cone gave a brilliant leadership address. Our friend of nearly a quarter century, middle division principal Sheryll Tello Grogan, presided. Lisa Naulls brought the house down with a sung Lord's Prayer. Gary Toops was at the mighty St. John's organ, school chaplain and our bud Patti Peebles gave the invocation as usual, and the interim priest in charge, the Rev. Jerry Sather, wrapped everything up with an eloquent benediction.
A joy as well to have a chance to thank Bishop's Warden Paul Hinson and School Committee Chair Erica Bogardus for their skilled leadership during interesting times.