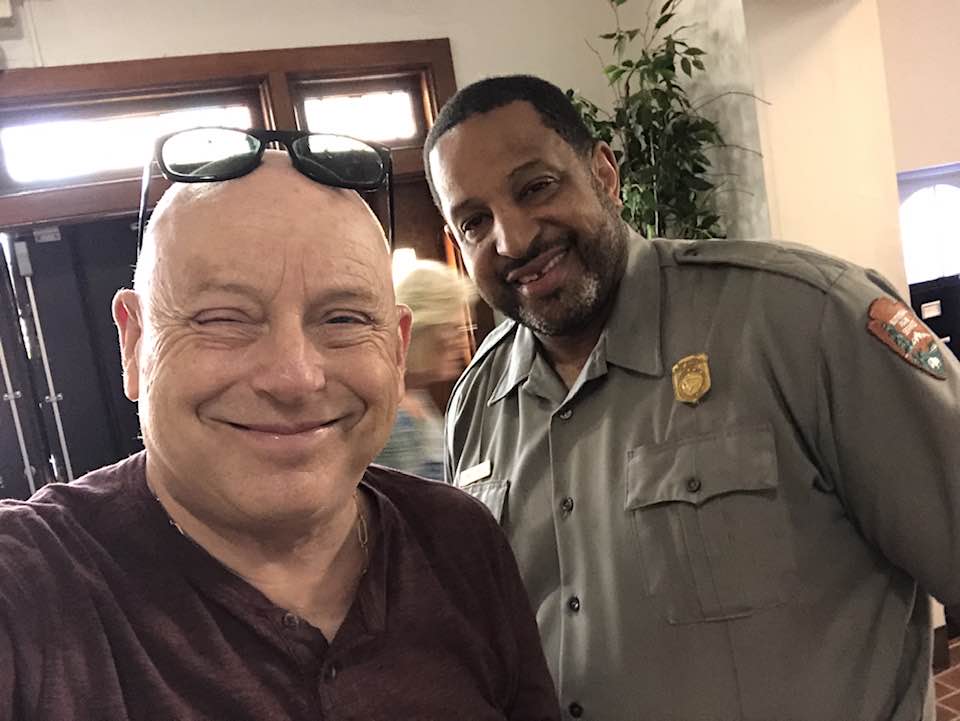 Thinking about the Rev. Dr. Martin Luther King, Jr., I've always wondered what it was like being in church with him on Sunday. Seeing him on the steps on the way to services or maybe when he dropped by a Sunday school class. This would've been when he was a co-pastor of Ebenezer Baptist Church in Atlanta from 1960-68, serving with his father, the senior pastor. His world-changing work obviously kept him away a lot. But he said the church had always been his rock.
When I visited the historic church today, Marty, a Park Service officer, said we'd find it just as it was for Dr. King's funeral on April 9, 1968. The numbers of the four hymns they sang. The flowers. I sat in a pew and listened to his voice on a continuous loop. I'd bought a book of his sermons and read the first, "A Tough Mind and a Tender Heart," as I sat. God evinces both qualities, Dr. King said, and so we need them, too. He imputed racism in part to "softmindedness," which can make people gullible, and included this stunning quotation from Hitler's book: "By means of shrewd lies, unremittingly repeated, it is possible to make people believe that heaven is hell – and hell, heaven … The greater the lie, the more readily will it be believed."
Ebenezer is a megachurch these days, with 6,000 members worshiping in a new building across the street, also part of the Martin Luther King, Jr. National Historical Park. Marty told me that when it opened in 1999, the congregation started its worship in the old church and then processed over to the new one.
So I did the same, though it isn't open daily for tours. The Kings' pulpit is now the Rev. Dr. Sen. Raphael Warnock's, just the fifth senior pastor in its 137 years. Shawnalea Garvin, a longtime church member who owns and operates the first church's beautiful gift store, says the senator is there almost every Sunday, supported by an executive pastor and several associates. I asked if he preaches from a text. Perhaps, she said, but he often steps from behind the podium when the Holy Spirit anoints him. The Rev. Mike Kinman, the Rev. Canon Susan Russell, and All Saints Episcopal Church Pasadena will be pleased that Shawnalea has the Rev. Dr. Wil Gafney's "Women's Lectionary for the Whole Church" displayed prominently.
I visited this hallowed ground en route the week-long spring meeting of the House of Bishops at Camp McDowell, north of Birmingham, Alabama. We'll spend Thursday on pilgrimage to civil rights sites in Montgomery. As I drove from Atlanta on I-20 this afternoon, a big green official sign reading "Sweet Home Alabama" welcomed me to the state. So I asked Siri for the song but then for Neil Young's "After The Gold Rush," so I could hear "Southern Man." His savage guitar solo is still ringing in my aging ears as I type. Are you with me so far, music fans? If so, for extra credit, why did I also ask to hear "Eastbound and Down" by Jerry Reed?