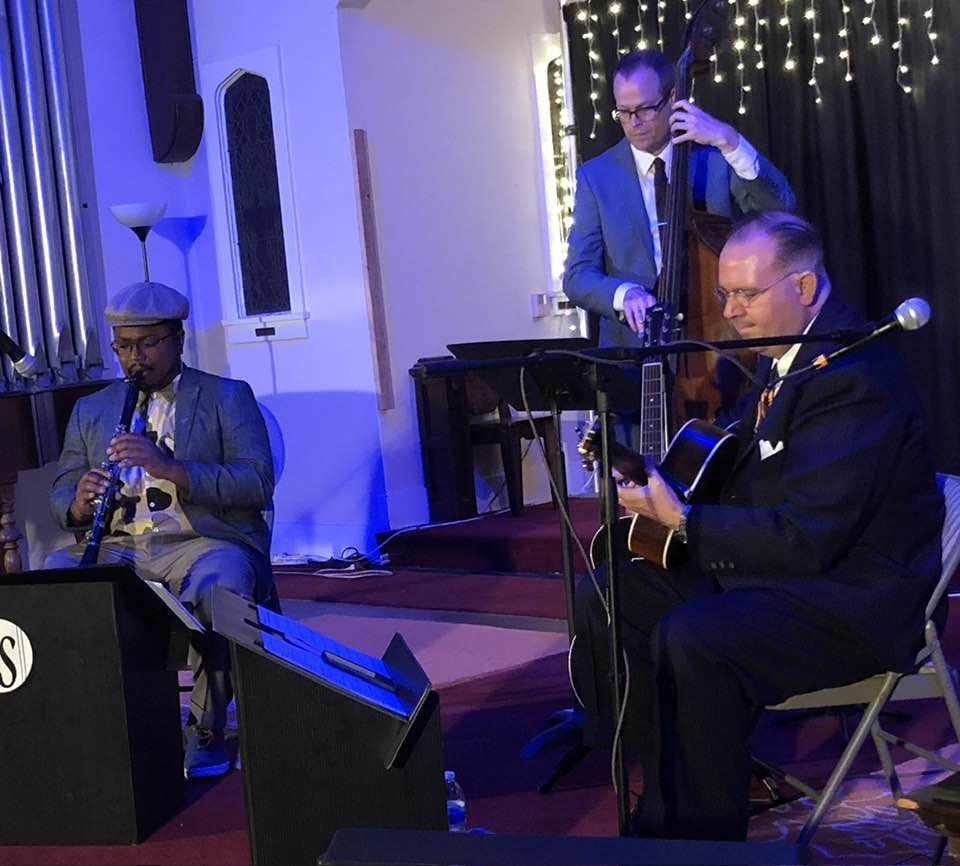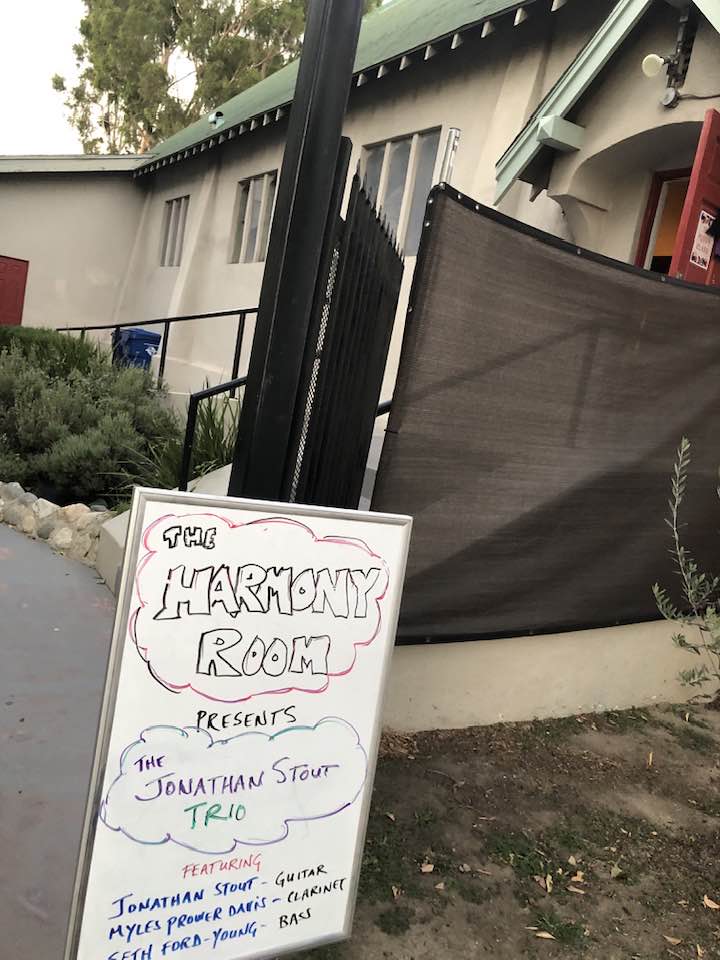 On a perfect early autumn Saturday evening, the coolest place in town was St Barnabas' Episcopal Church of Eagle Rock, or so testified a delighted crowd of 30 gathered in the nave. Because famed swing guitarist Jonathan Stout, Swing Guitar had brought his trio to the St. Be's Harmony Room, an insurgent music venue for over two years now, offering something for every genre lover.
Thanks to the easy swinging trio, the air on Chickasaw Avenue never sounded sweeter. While offering 90 minutes of classics and originals, Charlie (who's also a champion jitterbug dancer as well as a member of a band formed by X's drummer, D.J. Bonebrake), along with out-of-this-world clarinetist Myles Prower Davis and loping bassist Seth Ford-Young, swung us through the whole history of pre-bebop jazz. We learned all about his most important influences, including guitarists Charlie Christian and Freddie Green. And I finally learned the name of the tune from the bar scene in "Moonstruck" that ends with the same note played against six chords ("Moonglow").
In other words, just another moonstruck evening at St. Be's. Check out what you've missed and what's coming up here. Beginning in October, there's a show every Saturday night. It's just one facet of the Rev. Canon Jaime Edwards-Acton's vision of neighborhood-based ministry that both gathers in and sends out for Jesus Christ, welcoming God's people for worship, fellowship, and fun and then taking care of their neighbors, in an endless loop of gospel love.
Last night St. Be's mixed sweet jazz with equally tasty sour treats. Selling tickets at the door was Máté Major, a Jubilee Consortium urban intern last year who's stayed on as the St. Be's and St. Stephen's Hollywood food justice coordinator. Canon Jaime pastors both churches. They gives their neighbors four tons of food a week. Using industrial dehydrators acquired after the churches won a UCLA prize for entrepreneurship, Máté turns leftover fruit into snack-sized packages of chewy delight.
Jaime had some available for concertgoers to try last night. Just enough citric acid gives you that irresistible Smarties tang. They're working on a marketing plan that benefits the food insecure as well as consumers (remember that loop of gospel love). Tentative name: Jesus Crisp.