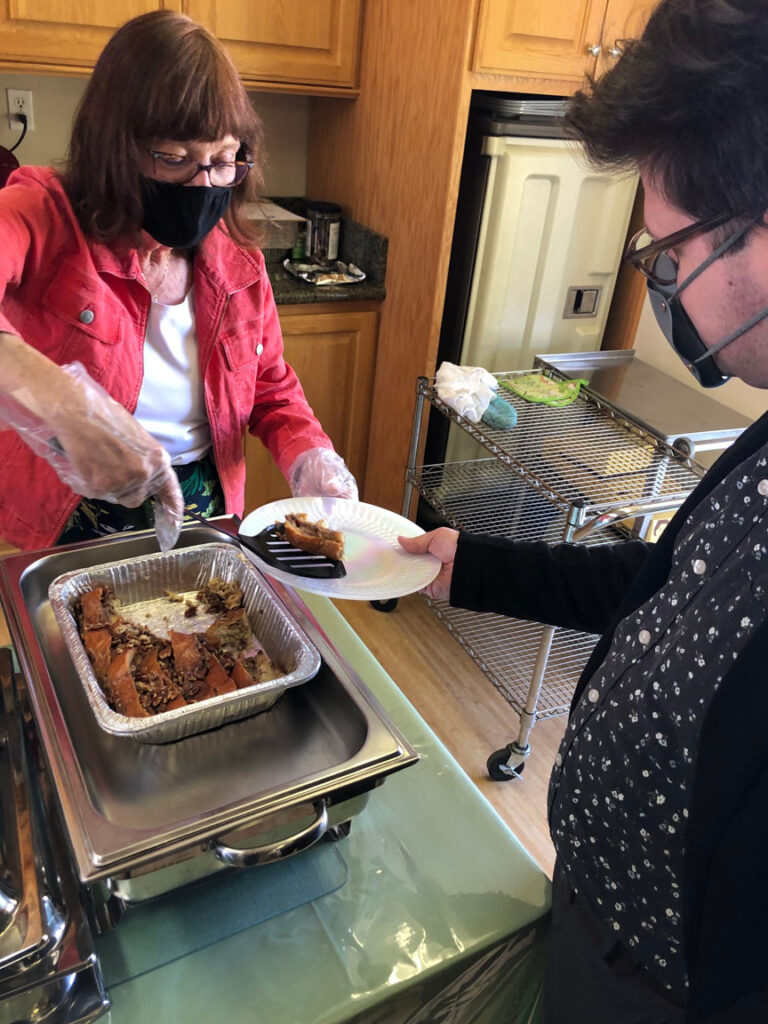 On the brink of Ash Wednesday and Lent, churches in the Episcopal Diocese of Los Angeles and all over the world hear the story of Jesus's friends seeing him transfigured in heavenly light on the mountaintop and offering to build shelters for him, Moses, and Elijah.
At St. Joseph's Episcopal Church, Buena Park, they're building shelters for their neighbors in Jesus's name — the 66-unit Orchard View Gardens apartments, affordable housing for older folks. On the last Sunday of Epiphany, I was aboard to preach, celebrate Holy Eucharist, and celebrate the faith and resourcefulness of this small, diverse, hearty congregation.
Church leadership often has advice about what people should be doing differently. We're right sometimes, no doubt. Other times, we're just hoping to add value. At a place like St. Joseph's, it's a joy to be able to say that it looks like they're doing exactly what Jesus Christ has in mind.
Their brilliant, beloved priest, the Rev. Cindy Voien, a former lecturer in philosophy at Whittier College, lives in the Whittier house she grew up in. At blessed St. Joseph's, she follows another amazing priest, now retired in Arizona, the Rev. Mary P. Trainor. Members still also tell joyful stories of the ministry here of future bishop Ed Little.
Music director Kathleen Najarian began our service with a briefing on the hymns and service music. She promised a lot of alleluias, which Christians generally skip during Lent, and she delivered. Cindy assigned the veteran senior warden, Sandy Herron, to be my chaplain, assisted by vestry member and my fellow Grateful Dead fan, Tom Brown.
While we were at it, we confirmed JD Neal of St. Matthias Episcopal Church in Whittier, who's in discernment for ordained ministry. In offering God and God's people his gift of curiosity, JD is on the right track. As we went through the buffet line together after church, where there were four kinds of quiche and two of French toast, JD asked each cook questions about their recipes and praised them amply.
After brunch, church leaders and I met informally to talk about the intricacies of financing Orchard View Gardens. The view will be of St. Joseph's' own orchard, which, though drought-stressed, is still bearing fruit for food insecure neighbors. The church generously supports Food Finders, another hunger ministry, and Build Futures, which helps housing insecure teenagers and young adults.
St. Joseph's member Beth Brown, Tom's spouse, is the Build Futures executive director. I interrupted her meal to ask for a briefing. She and Tom met working together in areospace. She began at the organization as a case worker, caring for those thrown out of their homes at 18, emancipated (we need a better word for it) from foster care, or otherwise homeless. About 30% are LGBTQ+.
Beth calls them the invisible homeless. She gets them into sober living apartments (once she's vetted the managers) and supplies groceries and toiletries, official ID, and referrals to employment agencies.
These are kids who just need a little help. Most are launched in three or four weeks, Beth said. Last year, she helped 65; 45 are safely on their way. Others take a little longer, and she walks with them, too. Because that's what an angel does.
You should have seen the angel smile when I asked if she would talk to other missions and parishes interested in this ministry to some of our most vulnerable siblings. Meanwhile, back at St. Joseph's, they're building shelters 24/7 for the children of God, young and old.