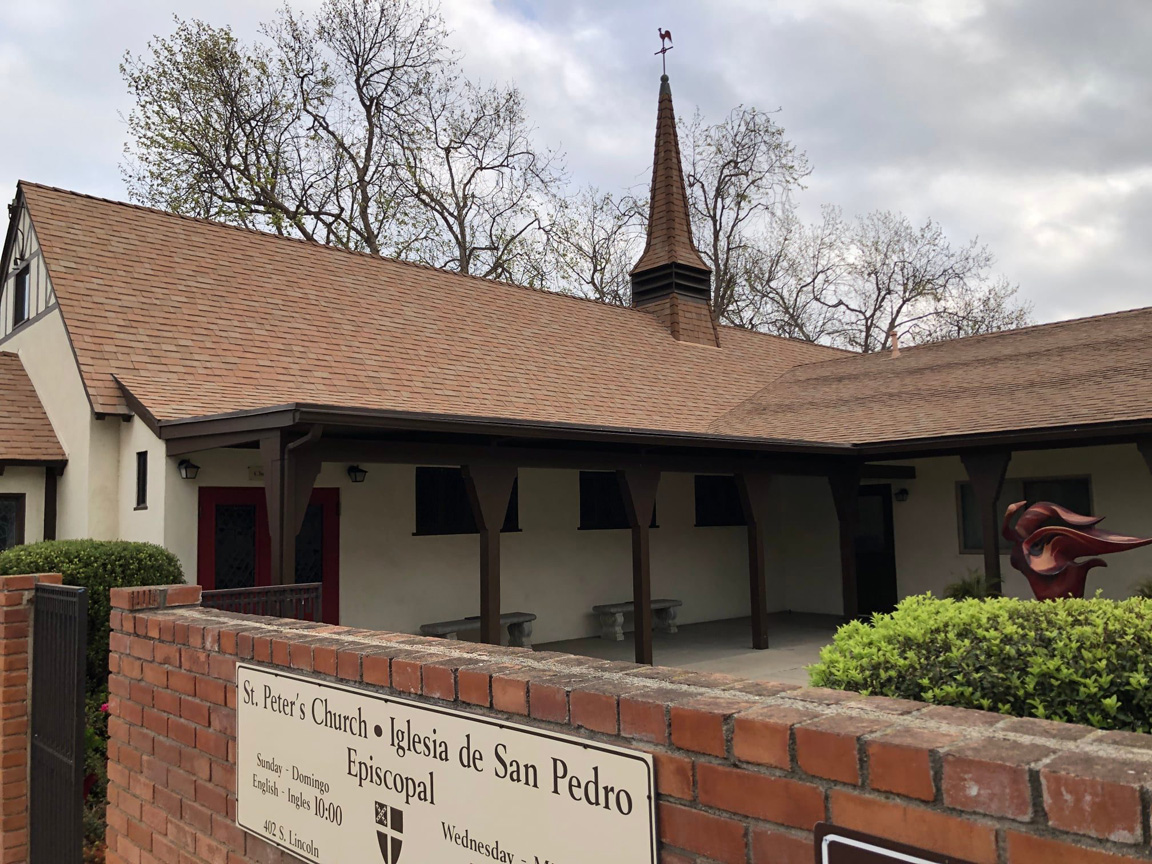 With over 100,000 souls, Santa Maria is the biggest city in Santa Barbara county, a jewel of the Central Coast, well known in the oil and wine industries and as (get this) the birthplace of Santa Maria BBQ and tri tip. It's also home to the northernmost church in the Episcopal Diocese of Los Angeles, St. Peter's Episcopal Church, Santa Maria, CA. After a wonderful conversation with parish leaders over dinner on Saturday, I was along Sunday to preach and celebrate as well as join the great congregation in calling down the Holy Spirit on four candidates for confirmation and reception — now fully fledged members of a lively parish that has has made bienvenido the heart of its ministry.
Most who live within a mile of St. Peter's are Hispanic, many of them agricultural workers. Old paradigm: Offer Spanish services and hope people will come to church. The St. Peter's paradigm: Love your neighbors — including by throwing a kid-friendly party for El Dia de Los Muertos (450 attended), co-sponsoring a Farmworker Rights Resource Fair, offering ESL classes, and teaching conversational Spanish to church members. Our faith is that our God in Christ will build up churches that glorify God and care for God's people — especially if, in our polity, the diocese does everything it can to relieve budget worries so abundant missions and parishes can devote their energy to mission and ministry for their own sake.
Stressing hospitality and multicultural competence is St. Peter's' Virginia-born, Baptist-bred rector, the Rev. Dr. Peter Kang, whom Christ led to The Episcopal Church, as well as to prison ministry, after a long retreat at a Benedictine monastery. He spent two years as a hospice chaplain in Louisiana, which has no parole system, mediating God's unconditional love for those society abhors but our Lord commands us to visit. He came to St. Peter's in 2018 with his spouse, Samantha, a Ph.D candidate at UC Santa Barbara. Their two and a half-year-old son, Simon, is a delight. When he came in at the offertory, he gave me the once-over, no doubt wondering who the bald guy was wearing his dad's vestments. During my Q&A with the congregation after a delicious lunch, he asked why I wasn't sitting on the stool that had thoughtfully been provided.
Before church I got to sit in as Fr. Peter wrapped up his five-week confirmation class for candidates David, Dennis and Mary Ellen, and Andrea (whose father was a Lutheran pastor). The father of my gracious chaplain, Anne Lathouwers, was an Episcopal priest. The Rev. Judy Mackey, minister of music, peerless at the piano even as she battles Parkinson's, is the widow of a former St. Peter's rector, the Rev. George R. Mackey. During our time together, we all gave thanks for the ministry of the late Rev. Deborah Dunn, another pioneer in multicultural ministry, rector from 2007-2017 (once my spiritual director), as well as for the superb interim ministry of the Rev. James Sprague.
As I told the confirmation candidates, it's a progression, a long, painstaking learning, this apostolic succession of ours. Faithful folks with loving hearts in imperfect systems, epoch on epoch, have all seen our flashes of light from the empty tomb as they and we have made our way toward the heavenly city of perfect love, justice, and freedom. The light is shining for sure at St. Peter's. Read more here.