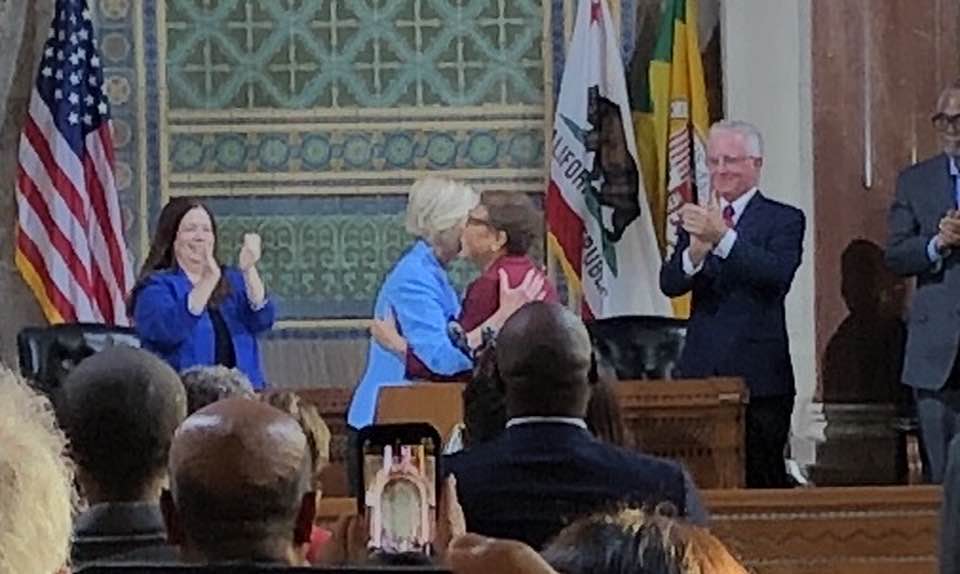 At Los Angeles Mayor Karen Bass's state-of-the-city address this evening, my seat mates were community organizing powerhouses. Dr. Jerry P. Abraham of St. John's Cathedral is the nationally known advocate for COVID vaccine equity. From his perch at Kedren Community Health Center, he's stressing the need for neighborhood clinics. Vanessa Serrano is interim general manager of the city's network of 99 neighborhood councils.
To highlight their partnership, Bass invited Board of Supervisors chair Janice Hahn to introduce her. The mayor said the budget she will unveil tomorrow will include $250 million more for her Inside Safe initiative, which has gotten 1,000 Angelenos off the street so far, and over $1 billion for additional housing initiatives such as buying hotels and motels, repurposing city properties for the unhoused, building 8,000 new units of housing, and improving care for those battling addiction and mental illness. She said the city has 2,000 unused vouchers for apartment berths and called on landlords to overcome their reluctance to rent to voucher holders. "Just one or two per complex," she said coaxingly.
Next week we members of the LA Council of Religious Leaders will meet with the mayor, when I'll reminder her of our goal of building affordable housing on 25% of our mission and parish campuses.