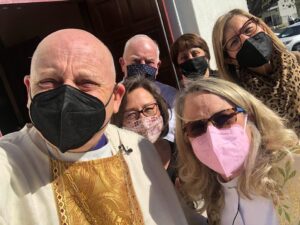 When visiting The Church of the Epiphany in Oak Park, as I did Sunday to preach and celebrate Holy Eucharist, I ritualistically issue a formal apology for inviting their beloved longtime vicar, the Rev. Canon Melissa McCarthy, to serve as canon to the ordinary in the Episcopal Diocese of Los Angeles. I reminded them that their gift of Melissa was a gift to the whole Episcopal Church.
Which is not to say that this abundantly friendly and welcoming church isn't thriving all the same. One reason is that they give thanks abundantly, including for their former priests. Prior vicars such as Melissa, the Rev. Greg Brown, and the Rev. Canon Hank Mitchel are all honored with portraits in oil.
Another former vicar, the Rev. Very Canon Gary Hall, has them all one better, with two generations of Halls depicted. Whoever designed a beautiful poster showing each COTE member's face was having a little fun when they borrowed mugs from the cover of "Sgt. Pepper's Lonely Hearts Club Band," little realizing, perhaps, that Gary's actor father Huntz Hall, one of the legendary Bowery Boys, was among those the Beatles chose to depict.
Now serving as priest in charge is the amazing Rev. Jamie Barnett, whose pastoral, preaching, and teaching gifts are matched with 30 years' experience running the grip department at a Hollywood studio and dealing with large, impatient egos (none of which troubles the church, he wrote, not expecting to be agreed with even for a second). Following the death of her daughter Ashley, 24, on a Carnival cruise in 2005, Jamie became one of the nation's leading advocates for cruise line safety and accountability. So add prophet to her kit bag.
Along with colleagues Jay Wilcox, music director; seminarian and postulant Karen James (who served brilliantly and patiently as my chaplain); children's formation minister Laurie Burns; and operations manager Jean Dillingham, Jamie and COTE put on a beautiful service, COVID protocols notwithstanding. The Holy Spirit baptized Reiko and Kiera, mother and daughter, and confirmed Tammy, Joseph, Phillip, and Declan, all 17. (Candidate Kate, 21, had to stay home because of COVID, though she's fine.) We were reminded of COTE's continuing outreach ministries, Harbor House, Laundry Love, and the Manna Conejo Valley Food Bank, and learned a new one to help our siblings in Episcopal Church in Navajoland (ECN) get through the winter, called Operation Firewood.
Learn more about Church of the Epiphany here.