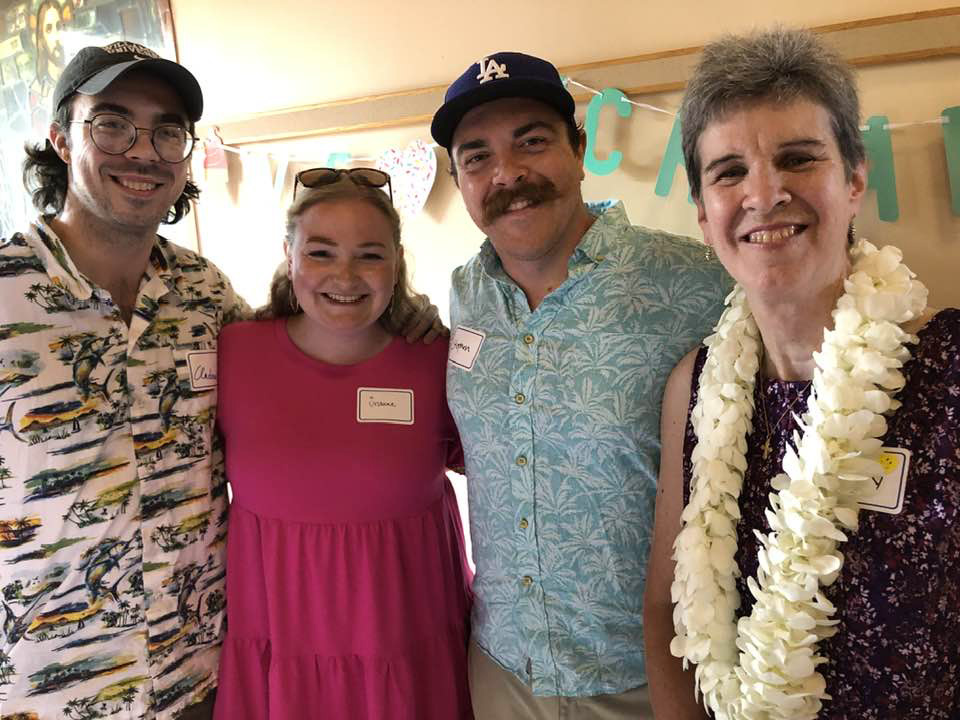 One day a kindergartner at St. Mark's Episcopal School in Altadena stopped the church's rector during these last 14 years, the Rev. Carri Grindon, in the schoolyard and asked, "Are you part of Mother Betsy?" After a moment's consideration, Carri answered, "Yes."
Of course we are all one in Christ. But Carri's answer was rooted in her deep appreciation of the collaborative leadership she has shared with the Very Rev. Betsy Hooper-Rosebrook, the St. Mark's associate rector and the school's chaplain since June 1999. And now Betsy has retired. As the vesper light glowed and a gentle breeze blew, nearly 250 of her family members and friends were aboard Saturday for a dinner and program in her honor. I hasten to add that she'll continue as the Episcopal Diocese of Los Angeles' first dean of chaplains.
Born in Canoga Park, educated at Pitzer College and General Theological Seminary in New York, Betsy has spent her entire ordained life in our diocese. Her parents were Mainelanders. Her mother, Flo, is now a Californian, but their other daughter, Suzanne, returned to sweet New England. An immigration attorney, she lives outside Boston. Our conversation left me feeling more optimistic about the prospects for common sense immigration reform.
For the program, Maria Horner, longtime St. Mark's member and Betsy's friend of many years, was a peerless minister of ceremonies. Carri's moving tribute to her friend and colleague was a standout moment. Betsy's love of ice cream was a leitmotif. She and her spouse of 31 years, Tom Rosebrook-Hooper, raised their delightful sons, Stephen and Andrew, at St. Mark's. Both had flown in from out of town for the show, which Stephen's daughter, Eleanor, joyfully stole, dancing in the aisle and hugging Betsy at every opportunity. Visits to Bowling Green, Kentucky for time with firefighter Stephen, Eleanor, and Stephen's college counselor girlfriend, Suzanne, number among the incentives for Betsy's retirement. Hailed as a wonderful pastor in his own right, Tom struggled with his brimming heart as he said how much he'd miss St. Mark's.
Choristers serenaded Betsy ("All she wants is her weekends free/Nowhere special she needs to be"). Her staff colleague, director of Christian education Michael Mischler, teased her about her fastidiousness when it comes to font sizes and the Oxford comma, presenting boxes purporting to contain bulletins through 2027 which he hoped she'd proofread before her retirement became official in 24 hours. Not likely, since Betsy was scheduled to preach and celebrate at all three regular St. Mark's services on Sunday morning. It was great to see Canon Bruce Linsenmayer, who joined in the tributes, Marianne Wright and Matt Wright, and the California Endowment's Bob Ross; all St. Mark's stalwarts.
In my remarks I lifted up Betsy's clarity about her vocation, her always apt questions and suggestions, and her thoroughly 21st century understanding of chaplaincy as one of the church's evangelical gifts in a secularizing time. What a joy to have sat among her loving extended family as they bade her au revoir. What a blessing for us all that the next season of her vocation is just getting started.