Pessimism about Episcopal future meets more than its match at St. Stephen's Episcopal Church Santa Clarita, Ca, where I visited Sunday. The friendly, diverse congregation numbered about 140. In-person and remote attendance often exceeds pre-pandemic numbers. Since the Very Rev. Christopher Montella — energetic, visionary, well-organized, and bursting with community-nurturing love — arrived as rector in the spring of 2019, pledges have nearly doubled.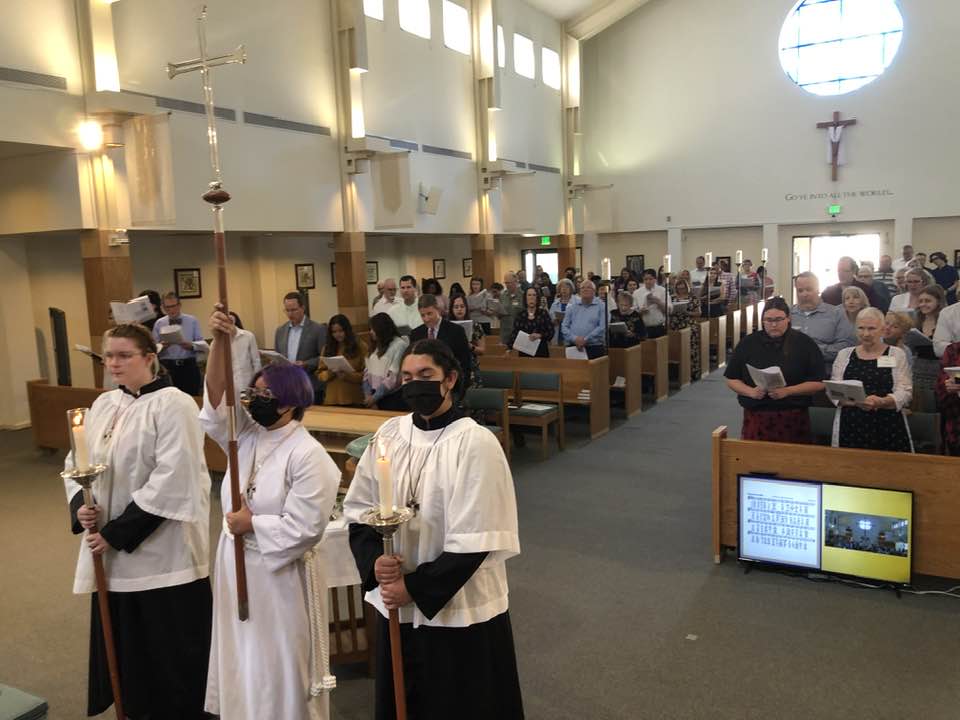 On Sunday morning, a dozen stood up to be confirmed or received or to reaffirm their baptismal vows. In a beautifully designed and executed liturgy, youth acolytes and choir displayed Washington National Cathedral chops — and there's blended music, too, with a folk trio taking the "Gloria," all under the direction of veteran music minister Judith Baity.
A St. Stephen's member for over 35 years, altar guild director Mary Mercogliano served graciously as my chaplain. It was a joy to see longtime Diocesan Council member Ken Higginbotham and his spouse, Mary Jo, who co-chairs the parish's anti-racism coalition. Book study and continuing education opportunities abound. The church has a breakfast club for kids to enable their parents to attend Sunday morning classes. Over 20 come every third Thursday for The Welcome Table, worship and fellowship time for LGBTQ+ folk and their advocates.
A healthy congregation twins in-reach with outreach. Christopher and other church leaders are in relationship with every organization in Santa Clarita that serves vulnerable people, from the food- and housing-insecure to immigrants and those recently emancipated from the foster care system. With nearly 120 students, the St. Stephen's preschool has been named the best Christian preschool in town for five years running. During our worship Sunday, teacher Julie Davenport's colleagues gathered around as we honored her for 30 years' service.
Christopher, who also serves as dean of the missions and parishes in St. Stephen's' part of the Episcopal Diocese of Los Angeles, and his co-leaders can sense that the parish is moving from survival to striving, from maintenance to mission. They plan a diamond jubilee gala in October, to mark their 60th anniversary, an ideal opportunity for strategic thinking.
If one shadow fell over our late-Eastertide Sunday, it was vestry members (we gathered after church in the Rev. Canon Lynn Jaye Chapel, named for the church's last vicar and first rector) telling me that St. Stephen's people sometimes feel isolated in the local community of the faithful when they proclaim Episcopal values of the dignity of every human being, especially when it comes to the full diversity of people's orientation and identification.
Feeling like outliers in Christendom probably contributes to the pessimism abounding in our church. As with almost all things, it's nothing new. I Peter, which we heard read out in church on Sunday, predicted it would happen to anyone who proclaimed the true name of Christ. "Beloved, do not be surprised at the fiery ordeal that is taking place among you to test you, as though something strange were happening to you," writes its author. Worried church leaders sometimes feel the fiery ordeal in their stomaches at budget-balancing time. Our young people experience it if their friends tease them, as they do, for going to the "gay church."
Yet 1 Peter continues: "But rejoice insofar as you are sharing Christ's sufferings, so that you may be glad and shout for joy when his glory is revealed." Besides, if we keep our hands on the arc of justice, pushing as hard as we can, we will find the Risen One at our side, pushing too. I felt his real presence Sunday as we sang "Crown Him With Many Crowns," and an acolyte named Ace used their strong hands to hold the cross of Christ as high as they possibly could, just as young Episcopalians do at Washington National Cathedral for the president and all the world to see.