Event also will feature The Episcopal Chorale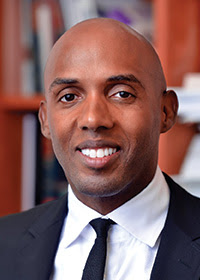 The Diocese of Los Angeles will hold its annual Martin Luther King Jr., Day celebration, featuring a keynote address by Devon Carbado (pictured), associate vice chancellor at UCLA and a professor at the university's school of law, at 3 p.m. on Sunday, Jan. 20 at All Saints Church, Pasadena. The program will feature a series of readings followed by musical responses from the congregation, led by The Episcopal Chorale, a renowned gospel choir under the direction of Canon Chas Cheatham. A reception will follow the service.
Carbado's expertise includes constitutional criminal procedure, constitutional law, and critical race theory. His scholarship appears in law reviews at UCLA, Berkeley, Harvard, Michigan, Texas, Cornell, and Yale, among other places. Carbado has won many teaching awards, including being elected professor of the year by the UCLA School of Law classes of 2000 and 2006. In 2005 Carbado was named an inaugural recipient of the Fletcher Foundation Fellowship. Modeled on the Guggenheim fellowships, it is awarded to scholars whose work furthers the goals of Brown v. Board of Education. In 2016 he was named an Atlantic Philanthropies Fellow, and in 2017 he was awarded the American Bar Foundation's Neukom Fellows Research Chair in Diversity and Law. Carbado has also taught at UC Berkeley Law School, University of Virginia Law School, and Harvard Law School. Professor Carbado earned his bachelor's degree in history from UCLA and his law degree from Harvard Law School. He is connected with UCLA's Critical Race Studies Program, which focuses on racial justice advocacy, racial justice teaching, and racial justice law.