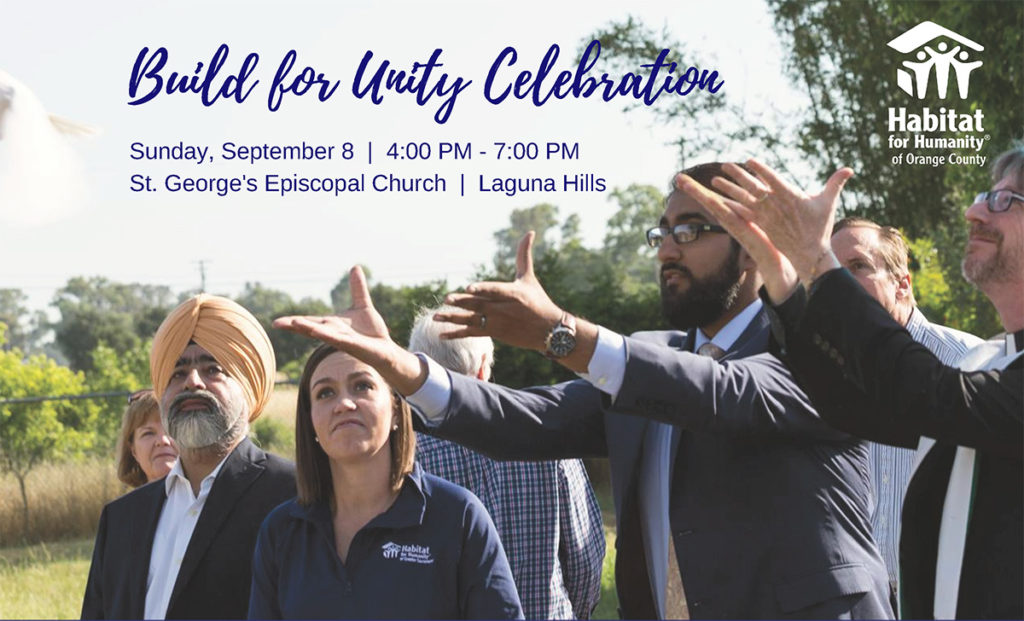 HABITAT FOR HUMANITY ORANGE COUNTY will host an interfaith "Build for Unity Celebration" on Sunday, Sept. 8, 4 – 7 p.m. at St. George's Church, Laguna Hills.
This special event will bring together hearts and voices from across Orange County to experience diversity and celebrate unity. Enjoy dinner and dynamic performances by Men of Harmony, a Chapman University a capella group; Korean traditional dance performed by the KTD Institute; and Israeli dancers from University Synagogue. Bishop John Harvey Taylor and Canon Kathy O'Connor will attend the event, which will also commemorate the 10th anniversary of Gordon's House, a Habitat house that was begun during the 2009 General Convention in Anaheim in honor of the Rev. Canon Gordon Yeaton.
Tickets are $25; members of the Episcopal Church have been offered discounted tickets at $15 (enter the coupon code FAITHPARTNER). To reserve tickets (by Friday, Aug. 30), register here. St. George's Church is located at 23802 Avenida de la Carlota, Laguna Hills.