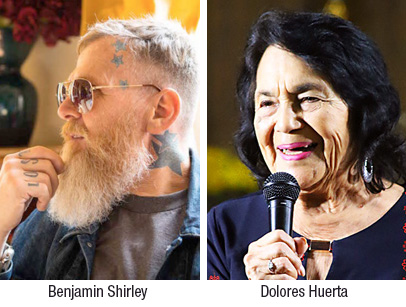 DELEGATES AND VISITORS to this year's Diocesan Convention, Nov. 15 – 16 at the Riverside Convention Center, will find plenty to enlighten and inspire, including a lecture delivered by civil rights legend Dolores Huerta and a presentation by Benjamin Shirley, a celebrated composer who once was homeless on the streets of Los Angeles and now works with Street Symphony to bring music to the underprivileged poor of the city.
Visitors are welcome at the two-day meeting, which is themed "The Lifelong Way of Love," focusing on Christian formation and education for all ages and keyed to Presiding Bishop Michael Curry's Way of Love initiative that invites Episcopalians to enter into a more Jesus-centered life through reflection, discernment and commitment around the practices of Turn – Learn –Pray – Worship – Bless – Rest – Go. (More about the Way of Love is here.) Worship throughout the convention will reflect the theme.
"Diocesan Convention is open to all interested in the primary legislative body of the diocese," says Canon Steven Nishibayashi, now serving his second term as secretary of convention. "Only delegates are allowed on the convention floor but there is ample seating for visitors and observers. This year, we have configured the room to make it easier for visitors to feel included and to be able to read the screens."
Visitors are also invited to attend one or more of 12 workshops that will be held in three sessions; two on Friday morning and one at the close of convention business on Friday. A full list of workshop topics and presenters begins on page 6.
All convention-goers are also welcome to explore and shop among the many ministries and vendors represented in the Exhibit Hall, and to attend the reception at the end of the Friday session. They also may purchase tickets for the convention dinner, which will feature the Street Symphony presentation. Dinner tickets may be purchased on the convention website.
Benjamin Shirley was once a resident of the Midnight Mission homeless shelter on Los Angeles' Skid Row, a victim of alcohol and drug addiction. Now in recovery, he has reinvented himself as a composer, orchestrator, and arranger "who brings a distinctive perspective, and relentless work ethic to film composition and concert music," according to his biography at benjaminjshirleymusic.com. He will share the story of Street Symphony, which "creates opportunities for musical engagement and dialogue between world-class musicians and people disenfranchised by homelessness, incarceration, and poverty in Los Angeles County." Founded by violinist Vijay Gupta, Street Symphony features performers from the L.A. Philharmonic and the Los Angeles Master Chorale.
The business of convention
In general convention business, clergy and lay delegates will hear reports of work from several diocesan ministries and addresses from Bishop Diocesan John Harvey Taylor, Bishop Suffragan Diane Jardine Bruce, and Canon to the Ordinary Melissa McCarthy. They will discuss and vote on the proposed 2020 diocesan budget; and vote on one resolution submitted in advance, and any others that may arise during the convention.
They also will elect diocesan officers, including four clergy and four lay deputies to the 2021 meeting of General Convention, as well as four alternates in each order. Candidates for all offices, with photos, brief biographies and statements and video messages, are posted on the convention website.
In a new and special order of business, delegates will be asked to vote for Social Enterprise awards, deciding among several ministries developed during this year's inaugural Social Enterprise Academy, presented by Episcopal Enterprises and led by the Rev. Canon Jaime Edwards-Acton.
"The aim of the Academy is to help churches imagine and identify social enterprise possibilities and earned income strategies in their own context and prepare and equip churches with the knowledge and tools to implement their idea and ensure its success," says Edwards-Acton. "At the end of the Academy, each cohort presented its social enterprise idea to be judged by a panel of social enterprise experts. The top three cohorts will present their ideas from the convention stage where delegates will vote for their favorite, competing for more than $6,000 in prize money."
At about 10 a.m. on Saturday, Nov. 16, Dolores Huerta will deliver the biennial Margaret Parker Memorial Lecture.
Huerta, 89, embodies the lecture series theme of "Peace and Justice through the Empowerment of Women." The daughter of a labor activist father and a community-minded entrepreneur mother, Huerta's path to economic justice activism and labor organizing began when as an elementary school teacher she saw some of her students come to school with bare feet and empty stomachs, according to her biography on the website of the Dolores Huerta Foundation. She and fellow activist César E. Chávez launched the National Farm Workers Association in 1962. Her lifetime of nonviolent activism continues today; she was arrested in Fresno in August protesting low wages for in-home caregivers. Among her many honors is the Presidential Medal of Freedom, presented by President Barack Obama in 2012.