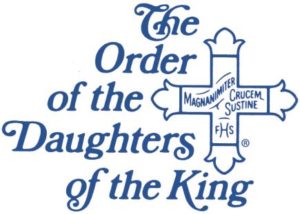 The Sancta Sophia chapter of the Order of the Daughters of the King is pleased to invite all members and their guests to St. Mark's Church in Upland for the 2018 Fall Assembly on Saturday, Nov. 3.
The gathering will begin with registration and fellowship at 8 a.m. and will include a special All Saints' Day celebration of the Holy Eucharist, a business meeting at which key diocesan DOK board members will be elected, a choice of several break-out workshops, and a buffet luncheon at 12:30 p.m. All members in good standing have voice and vote at the business meeting and election of officers. Daughters in discernment and other guests are also welcome to attend. 
Workshop space will be limited, so early registration is encouraged. Cost is $15 if paid by Oct. 29; $20 thereafter and at the door. For more information and to register, click here.