He's canonically resident in the Episcopal Diocese of Los Angeles, but the Very Rev. Frank Hegedus has spent the past four years serving at St. Margaret's Anglican Church in Budapest, Hungary, and recently reached out to offer aid as thousands of refugees flocked to the country.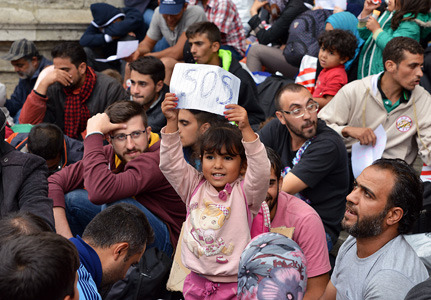 "It seemed to come upon us suddenly, although in retrospect it probably should not have," recalled Hegedus of the mass migration from the Middle East and Croatia, enroute to Germany, Austria and other European countries.
And although the government prohibits assisting refugees because of human trafficking laws, the congregation "early on organized a kind of brigade of helpers — parishioners and friends — who assembled care packets of food and hygiene items and distributed them" at the main Budapest train station, Hegedus told the Episcopal News via email.
"There was a significant police presence at the train station, but the police kept a respectful distance," he said. "I believe there were very few, if any, altercations among the refugees or between them and the authorities," he added.
The refugees were "everyday people caught up in a horrible situation" and seemed exhausted from their ordeal, Hegedus said. "Our St. Margaret's group tried to chat with some of the refugees, but it was difficult due to the language barrier," he said.
"Some also showed us their neck-chain with the cross, indicating that they were Christian, though again it was impossible to discuss their circumstances. Most of the refuses were Syrian. Some readily identified themselves as Afghans. They seemed to have plenty to eat. They took shelter from the summer heat in the modern underpass in front of the station. Somewhat later in September tents were also provided."
With a Hungarian father, Hegedus said he has a natural love for the country and arrived as chaplain of St. Margaret's in 2011. The congregation of about 70 is a ministry of the Church of England's Diocese in Europe and includes British, Hungarian, North American, African and European worshippers.
A history of worship and service in Hungary
"Anglicans have been a part of Hungary's spiritual and religious life for well over a century," Hegedus said. "Our current Register of Services, for instance, documents Anglican Evensong in Budapest on the very Sunday following the Hungarian Revolution in October 1956. And the records of the Church of England's Foreign Mission Society in London further document Anglican services as long ago as the 1890s. Our current congregation, however, dates its founding to the early 1990s after the fall of the Communist regime."
Services are in English and the congregation typically worships in space made available by both the Lutheran Church and the Reformed Church of Hungary, he added.
Recently, Hegedus has been named as an area dean in the Eastern Archdeaconry of the Diocese in Europe. He is also a priest delegate to Diocesan Synod from the Archdeaconry.
He was received from the Roman Catholic Church in 1987 by then-Bishop Assistant Robert M. Anderson and has served several diocesan congregations, including Trinity, Orange; St. Francis, Norwalk; Trinity, Redlands; and St. Wilfrid of York, Huntington Beach. He will celebrate the 41st anniversary of his ordination in November, he said.
"Since interim ministry was my primary calling or mission in the United States, I also served a number of parishes in other dioceses, including Minnesota, Michigan, San Diego and El Camino Real," he told the News.
Hungary borders to the south Serbia and Croatia, and "the Hungarian government … promptly closed our southern border, and the flow of refugees through Budapest slowed to a trickle — although there are still numbers of refugees in camps to the south and transiting Hungary to the west," Hegedus said.
However, St. Margaret's has set up a refugee fund and has collected about $9,000. The church also "has distributed nearly as much to appropriate aid agencies in the area for transport of goods from Budapest to the refugee camps and for medicines and other supplies. We are also hoping to fund, or assist in funding, a shelter in Budapest which plans to take in a number of refugees," he said.
Additionally, members of the congregation, Arthur Reynolds and Lora Bernabei, who grow apples in western Hungary, donated a portion of their autumn harvest to refugee relief, as reported in a recent Episcopal News Service account.
In a follow-up email Nov. 3, Hegedus reported, "The refugee crisis in Budapest and Hungary in general has pretty much passed following the closing — or close monitoring — of our southern borders. If there are currently refugees in the Budapest area, they are few in number. St. Margaret's has recently funded shipments of goods to refugee encampments along the border and across the border in Austria and will continue to do so as we can.
"While the refugee crisis may have been building for months, it really hit Budapest in early September like an unexpected storm — if that is even the right metaphor for such a human catastrophe," Hegedus added.
"Our St. Margaret's community did what it could at the time; and continues to do what it can now, but mostly by funding others at work on the ground and nearer the refugee crossing points in Austria."
The worldwide refugee crisis continues, as reported by Matthew Davies and other Episcopal News Service writers in a recent series of articles and videos. For more on how the Episcopal Church is assisting refugees, visit Episcopal Relief & Development, Episcopal Migration Ministries, or IRIS (Interfaith Refugee & Immigration Service in Los Angeles), 323.667.0489, ext. 128.