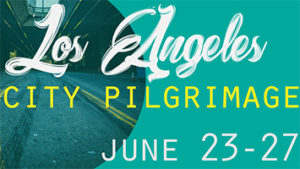 Registration is open for two 2019 City Pilgrimages, week-long urban immersion programs for high school students within the Diocese of Los Angeles, sponsored by the Program Group on Youth and Young Adult Ministries.
The Los Angeles City Pilgrimage is scheduled for June 23 – 27. It is a week of service in and around Los Angeles, but it is also a week of "looking for God where God can be found." Teens in the program are housed at the Cathedral Center of St. Paul's retreat center, and spend their time with the poor and marginalized of the city. (For information and registration, click here.)
A second pilgrimage will take nine teens to San Francisco July 15 – 19 for a similar immersion program, based at St. Mary the Virgin Episcopal Church (information and registration here).
According to PGYM, the pilgrimages will encourage students "to question who their neighbor is and how to make their neighbor the subject of engagement and community rather than the object of pity. Through listening those on the margins of society and witnessing first-hand the consequences of economic injustice, students grapple with how to love their neighbor and evaluate their Christian faith through the lens of Christ's ministry and work."
Cost for the Los Angeles trip is $450 per person; San Francisco is $500. Some scholarships are available. For further information contact Gabe Vazquez-Reyes, missioner for youth and young adult ministries, at gvazquez-reyes@ladiocese.org.