Typhoon Haiyan made landfall in the central Philippines on the morning of Nov. 8, causing widespread damage, killing and displacing thousands of people and knocking out power and communications lines.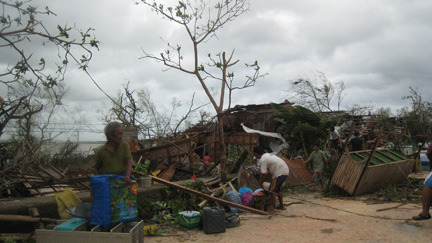 Roads are clogged with debris, and the airport in the devastated area was destroyed; as a result, getting aid to people who need it is proving even more difficult than usual after such natural disasters because of the nation's archipelago of more than 7,000 islands.
Episcopal Relief & Development, an agency of the Episcopal Church, is working with its local partner, the Episcopal Church in the Philippines, to assess needs and determine how best to respond to this disaster. They also are working with the National Council of Churches so that aid efforts will be coordinated as efficiently and effectively as possible.
According to Episcopal Relief & Development, the National Disaster Risk Reduction and Management Council of the Philippines reported on the evening of Nov. 10 that an estimated 9.5 million people across 41 provinces were affected by the storm, with 630,000 displaced people who have been served at 1,645 active evacuation centers. The report also estimates the number of damaged houses at just under 20,000.
High winds approaching tornado-like speeds caused significant damage as the storm swept across the center of the country, producing ocean surges up to 20 feet high in coastal areas and sending waves of water more than half a mile inland.
The typhoon weakened as it crossed the South China Sea to make landfall in Vietnam on the morning of Nov. 11, and was downgraded to a tropical storm as it entered southern China later in the day.
One of the hardest hit areas is the city of Tacloban, on the east central coast of the central Philippines. The New York Times reported: "The typhoon left Tacloban in ruins, as a storm surge as high as 13 feet overwhelmed its streets, with reports from the scene saying that most of the houses had been damaged or destroyed in the city of 220,000.
In addition to prayers for the survivors and rescue workers, Episcopal Relief & Development asks Episcopalians to consider donating to its Philippines Fund. Already active in the country with agricultural and water development programs, the agency and its partners in the Episcopal Church in the Philippines are well placed to deliver immediate aid and long-term recovery assistance.
Episcopal Relief & Development's website at www.episcopalrelief has more information about what church members can do to help, as well as an article about what not to send; many popular relief donations, such as canned goods, blankets and teddy bears, though appealing, are unhelpful. Cash donations are usually most effective, and make it possible for relief organizations to buy useful goods in bulk at lower cost. Often they are able to help stimulate the economy in stricken areas and avoid shipping costs by purchasing supplies locally whenever possible.
To contribute to Episcopal Relief & Development's Philippines Fund, visit the Episcopal Relief & Development website at www.episcopalrelief.org OR call 800.334.7626 OR mail contributions to P.O. Box 7058, Merrifield, VA 22116 (write "Philippines Fund" in the memo line).
Additional information from Episcopal News Service is here.