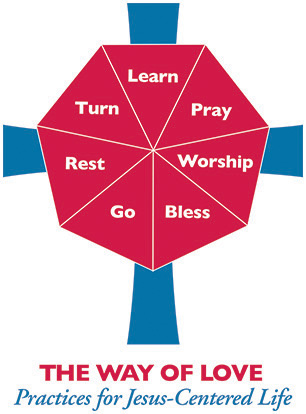 The Program Group on Stewardship and Development invites the diocesan community to participate in its annual Stewardship Conference on Saturday, June 1, 9:30 a.m. to 2 p.m. at the Cathedral Center — and also available via livestream video.
Keyed to Presiding Bishop Michael Curry's "Way of Love" initiative, the conference will feature a keynote address by Bishop John Harvey Taylor, and workshops led by stewardship experts from around the diocese. Each congregation is invited to send a stewardship team to the meeting, or participate through livestream video.
The program will begin at 9:30 a.m. with registration, followed by Taylor's keynote address at 10 a.m., workshop sessions, lunch, and a second set of workshops, concluding at about 2 p.m. Congregation teams should bring a picnic lunch and sit as a group during the lunch break to talk about what they are learning. Individuals attending without a team are asked to bring a lunch and join a similar discussion with Bishop Suffragan Diane Jardine Bruce.
To register, contact Esmeralda Masias,
emasias@ladiocese.org
. Livestream will be available through the Stewardship Conference Facebook group, found
here
.  Participants are encouraged to join the group before the event to ensure notification of the live broadcast on their Facebook feed.
Workshops and presenters will include:
TENS (The Episcopal Network for Stewardship), led by Richard Felton, executive director (morning and afternoon sessions);
Narrative Budgeting, led by Bishop Suffragan Diane Jardine Bruce (morning);
Faithful Budgeting, led by Bishop Bruce and the Rev. Susan Scranton, rector of Grace Church, Glendora (afternoon);
Choosing a Stewardship Campaign, led by the Rev. Rachel Nyback, rector of St. Cross Church, Hermosa Beach (morning);
Capital Campaigns and Stewardship – Oh My!, led by Nyback (afternoon);
Treasurer and Bookkeeper How-Tos, led by the Rev. Michele Racusin, chief financial officer of the Diocese of Los Angeles (morning and afternoon sessions);
Drawing on Holy Currencies: A weekly discipline to be awesome stewards of God's Abundance, led by the Rev. Canon Eric Law, KI executive director of The Kaleidoscope Institute (morning and afternoon sessions).
The Cathedral Center is located at 840 Echo Park Avenue, Los Angeles 90026.
Updated and reposted May 1, 2019 with additional information.