Bishop Jon Bruno joined County Supervisors Hilda Solis and Mark Ridley-Thomas and City Councilmember Curran Price in dedicating a new community clinic located near L.A. Trade-Tech College and named in honor of the Rev. Canon Warner Traynham, the retired longtime rector of St. John's Church.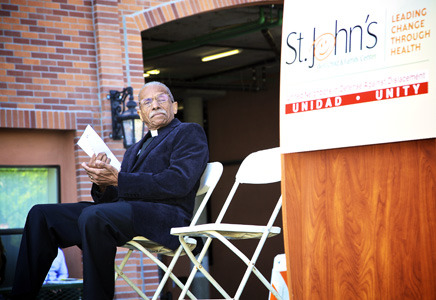 The clinic's March 5 opening in the Lorenzo housing complex at 326 W. 23rd Street was the culmination of a seven-year effort, aided by the UNIDAD coalition, to establish the clinic as a branch of St. John's Well Child & Family Center. Founded through the church and located on its site for many years, the center is today an independent, non-sectarian, non-profit agency.
"This state-of-the-art clinic continues a longstanding tradition of serving the people and families of this neighborhood," Bruno said. "That commitment was first expressed by the people of St. John's, and then championed by Canon Traynham, and now carried forward in wonderful ways by St. John's Well Child & Family Center."
Center executive director Joe Mangia thanked Bruno, Traynham and the parish community for their longstanding support and partnership in bringing no- and low-cost medical care and other support services to area children and families. Thanks to the advocacy of UNIDAD and St. John's, the clinic will operate rent-free for 20 years under a contract negotiated with Palmer and Associates, developer of numerous similar Mediterranean-themed residential developments in the downtown area.
Canon Karen Uhler, a former senior warden and veteran member of St. John's, commented on the parish's long history of social service, including development and dedication of the Carter House serving homeless mentally ill. That tradition of outreach, she said, has continued since Bruno in 2007 named St. John's the diocese's procathedral. Dean Mark Kowalewski, also present at the dedication, said the clinic reflected "the best of strategic partners coming together in common cause."
In a similar effort, the Well Child & Family Center was in recent years able to locate its main offices on a Watts-area parcel once home to the former St. Martin's Episcopal Church.
Today the Well Child & Family Center serves patients at 14 health centers and school-based clinics in Central and South Los Angeles and Compton. More information is online here.