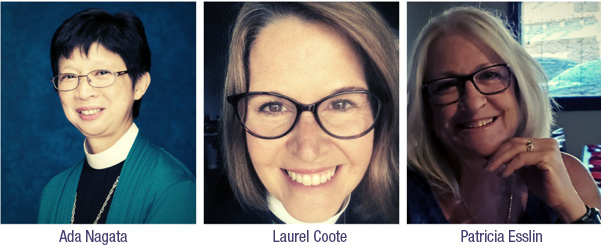 EPISCOPAL CHURCH WOMEN of Church of the Transfiguration, Arcadia, will present "WOMANKIND 2019," a time for prayer and refreshment, and care for the physical, spiritual, and mental self, on Saturday, Oct. 26, 9 a.m. – 2 p.m.
The program will feature a keynote address by the Rev. Canon Ada Wong Nagata, and presentations by the Rev. Laurel Coote, priest and certified spiritual director, and Patricia Esslin, assistant professor at Azusa Pacific University. The day will begin with Morning Prayer and end with a contemplative Taizé worship service, based on the practices of a monastic community in France.
Doors will open at 8:30 a.m. Tickets are $25, including lunch. Childcare will be available at no charge; bring a sack lunch and snack for the child. Seating is limited, and advance registration is required: click here. Tickets may be purchased online here. For more information about the event, visit the Facebook event page here.
Church of the Transfiguration is located at 1881 S. First Avenue, Arcadia 91006. For additional information, call the church office at 626.445.3340, or Suzanne Davis, event chair, at 626.679.7219.