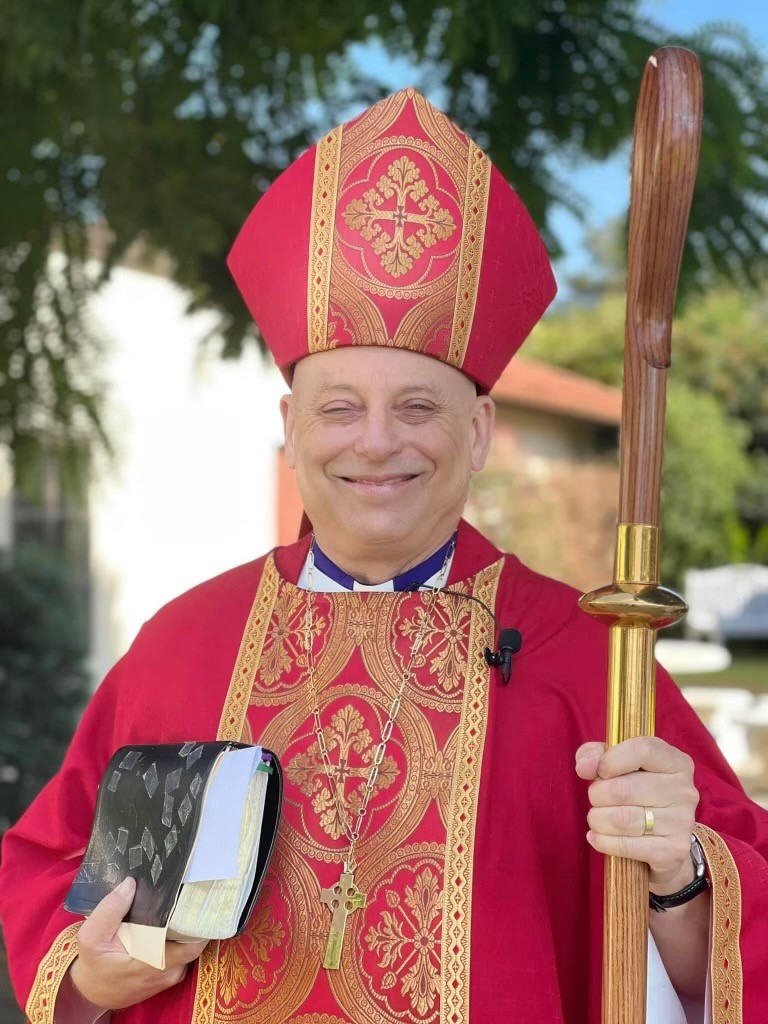 Bishop Diocesan
John Harvey Taylor
St. Paul's Commons
840 Echo Park Avenue
Los Angeles, California 90026
213.482.2040, ext. 243
jtaylor@ladiocese.org
The Rt. Rev. John Harvey Taylor was elected as seventh bishop of Los Angeles in December 2016 and took office in December 2017. Besides his duties as chief pastor and teacher to some 55,000 Episcopalians in six counties, he has devoted himself to promoting reconciliation, transparency, and a stronger financial and organizational foundation for the diocese's 200 parishes, missions, schools, and other institutions. In those called to leadership in the church, whether lay or ordained, he encourages the exercise of empathy and curiosity as tools of evangelism, to enrich relationships and build new ones across the barriers of difference and prejudice according to race, language, geography, orientation, identification, age, and socioeconomics.
Spouse of Canon Kathy O'Connor, father of four, and grandfather of two, Bishop Taylor is a former newspaper reporter, director of the Nixon library, and chief of staff to former President Richard Nixon.
A lifelong Episcopalian, Bishop Taylor was born in Detroit, Michigan in 1954, the son of journalists. He is a graduate of Phillips Academy, Andover, Massachusetts, and received a bachelor's degree in political science at the University of California, San Diego, and a master of divinity at the Claremont School of Theology and Bloy House.
Ordained a priest in 2004, he served as curate at St. Andrew's Church, Fullerton, and in 2009 was named vicar of St. John Chrysostom Church and School in Rancho Santa Margarita.
Bishop Taylor has written two novels, Patterns of Abuse and Jackson Place, in addition to numerous newspaper and magazine articles and a blog, "The Episconixonian," as well as regular posts on social media.
A profile of Bishop Taylor from the Winter 2017 issue of The Episcopal News is here.
The Episcopal Church in the Diocese of Los Angeles today encompasses 55,000 Episcopalians in some 135 congregations and ministry centers located in Los Angeles, Orange, Riverside, San Bernardino, Santa Barbara and Ventura counties. Served by some 400 clergy, the diocese also includes some 40 Episcopal schools and 10 social service and chaplaincy institutions.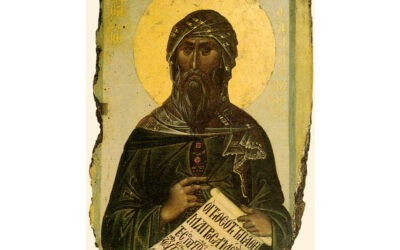 Confirm our minds, O Lord, in the mysteries of the true faith, set forth with power by your servant John of Damascus; that we, with him, confessing...
read more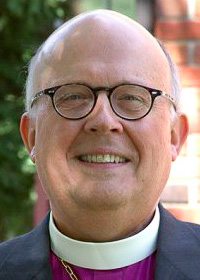 Bishop Assisting
Franklin Brookhart
The Rt. Rev. C. Franklin Brookhart, Jr. retired in 2018 after 15 years as ninth bishop of the Diocese of Montana.
Born in West Virginia and raised in West Virginia and Ohio, Brookhart graduated from Ohio's Wittenberg University and attended divinity school at Vanderbilt University. He received his master of divinity degree from Lutheran Theological Seminary; his doctorate in homiletics was conferred by United Theological Seminary.
Before his election as bishop of Montana, he was a parish priest in West Virginia, where he also was the bishop's deputy for ecumenism. He helped to prepare the "Call to Common Mission" statement that established full communion between the Episcopal Church and the Evangelical Lutheran Church in America (ELCA).
Brookhart is the author of several books, most recently Washing and Well-Fed: How the Sacraments Change Everything.
He and his wife, Susan Moyer Brookhart, a private educational consultant, now live in Los Angeles. They have two adult daughters.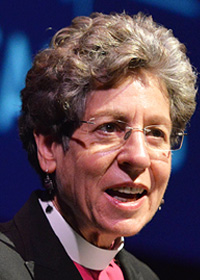 Bishop Assisting
Katharine Jefferts Schori
The Rt. Rev. Katharine Jefferts Schori was presiding bishop of The Episcopal Church from 2006 to 2015, the first woman in that role and the first to lead a province of the Anglican Communion. She championed the United Nations' Millennium Development Goals, issues of domestic poverty, climate change and care for the earth, and equal inclusion of LGTBQ Episcopalians.
Born in Pensacola, Florida, she grew up in Seattle and New Jersey. She holds a bachelor's degree in biology from Stanford University, and a master of science degree and a Ph.D, both in oceanography, from Oregon State University, and was a research scientist before she discerned a call to ordained ministry. She earned a master of divinity degree from Church Divinity School of the Pacific and was ordained in 1994.
She was a university lecturer and hospice chaplain in Oregon before she was elected bishop of Nevada in 2001. She is the author of many articles and books, including The Heartbeat of God: Finding the Sacred in the Middle of Everything (with Joan Chittister); A Wing and a Prayer: A Message of Faith and Hope, and Gathering at God's Table: The Meaning of Mission in the Feast of the Faith.
Jefferts Schori and her husband, retired mathematician Richard Miles Schori, live in Nevada. Their daughter, Katharine, was a pilot in the USAF for more than 10 years. She and her family live in Oregon.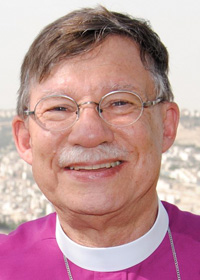 Bishop Assisting
Ed Little
The Rt. Rev. Ed Little returned recently to Los Angeles, where he earned his bachelor's degree from USC and later served as vicar and first rector of St. Joseph's Church, Buena Park. He was rector of All Saints Church, Bakersfield, when he was elected bishop of the Diocese of Northern Indiana in 1999.
A native of New York City, Little earned his master of divinity degree from Seabury-Western Theological Seminary. He was ordained to the diaconate and priesthood in 1971 in the Diocese of Chicago. During his episcopate he focused on congregational development, helping the mostly small churches of his diocese to expand their ministries by addressing needs in their communities. His efforts also resulted in a thriving Spanish-language ministry as the Latino population of the area grew.
Little was recently married to Claudia Thompson. Between them, their family includes five adult children, eight grandchildren and two happily compatible dogs. They live in Long Beach.
He is the author, most recently, of The Heart of a Leader, in which he explores Paul's second letter to Timothy as "a training manual, a book of encouragement, and an outline of how a leader guides the church," as he told his publisher, Forward Movement, in a 2020 interview.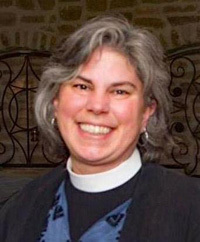 Canon to the Ordinary
Melissa McCarthy
St. Paul's Commons
840 Echo Park Avenue
Los Angeles, California 90026
213.482.2040
mmccarthy@ladiocese.org
The Rev. Canon Melissa McCarthy began discerning her call to ministry at St. George's Church, Riverside, in 2001. She was ordained to the transitional diaconate in June 2005 and to the priesthood in January 2006. In her first 18 months of ordination she served at St. Mark's Church, in Berkeley, Calif., in a non-stipendiary position while pursuing a master's degree in homiletics at the Church Divinity School of the Pacific, from which she also received her master of divinity degree.
She was called to serve the Church of the Epiphany as the associate under the leadership of the Rev. Canon Hank Mitchel, then vicar. In 2008, when Mitchel retired from Epiphany, McCarthy became priest-in-charge and eventually was appointed vicar beginning July of 2009.
Under her leadership, Epiphany has grew in numbers as well as in programs. She has developed a range of education and formation programs for children, youth and adults, and supported the development of the Red Door Vineyard, Epiphany's community-building project of tending, growing and harvesting wine grapes.
She also has held various diocesan leadership roles, having served on the Corporation of the Diocese, the Bishop's Commission on Ministry, Diocesan Council, the Disciplinary Board, and the Standing Committee, as well as serving as dean of Deanery 1 since 2011.
McCarthy represented the Diocese of Los Angeles as a deputy to General Convention in 2015 and 2018, and she looks forward to returning in 2021 as well. She has served on the boards of Canterbury USC and Camp Stevens, where she works as a chaplain each summer. In addition, McCarthy has been a facilitator and mentor for the newly ordained in this diocese for the last seven years.
Born and raised in Bakersfield, McCarthy is a 1998 graduate of the University of California, Riverside, with a bachelor of arts degree in religious studies. She has worked professionally in the performing arts, including teaching, performing, and arts administration. She credits these skills as benefits to her ministry in congregations and to new work as canon to the ordinary in the six-county Diocese of Los Angeles.
McCarthy continues to explore her love of the performing arts through her study of classical and flamenco guitar, and enjoys spending her free time hiking, paddle-boarding and traveling whenever and wherever she is able.
Chancellors of the Diocese
The Chancellor
XX
Canon Richard Zevnik
Parishioner, St. Michael and All Angels, Corona del Mar
The Vice Chancellors
XX
Canon Julie Dean Larsen
Parishioner, St. Margaret of Scotland Church, San Juan Capistrano
Jeff Baker
Member, St. Aidan's Church, Malibu
Contacting The Bishop's Office
Canon Abigail V. Urquidi
Executive Assistant to the Bishop and The Canon to the Ordinary
213.482.2040, ext. 270
aurquidi@ladiocese.org