The Episcopal News
The Episcopal News has served the diocesan community for more than 70 years with stories about the ministry of the Episcopal Church in the Diocese of Los Angeles. Publication of the bimonthly magazine was suspended late in 2019; stories are now posted online and linked in the Episcopal News Update, the weekly newsletter (subscribe here).
Previous issues are listed below. Each edition of The News may be read online as a PDF file or downloaded as a high-resolution color PDF to be printed.
To read or print any issue, click on the cover image below and select the appropriate size for online reading or printing. Note: The Episcopal News uses Dropbox to store online copies of the magazine. It is not necessary for you to have a Dropbox account to download the files. If the program suggests that you create an account and you don't want to do so, click the "continue download" link, and the file will be transferred.
Online text versions of selected stories are also available: on the Episcopal News home page, click "News" on the navigation bar to search for a topic.
Comments, questions, story suggestions and corrections may be sent to Janet Kawamoto, editor, at editor@ladiocese.org.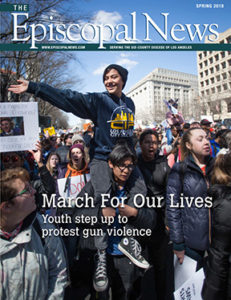 Spring 2018