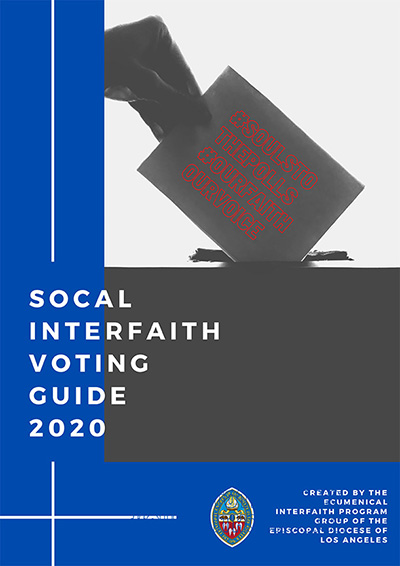 A general election of more than usual interest has prompted the Ecumenical and Interfaith Program Group of the Diocese of Los Angeles to issue a SoCal Interfaith Voting Guide, offering help for voters that reflects priorities of the church as established in diocesan convention resolutions of recent years.
Because the program group also includes members of other faith groups, their voices are also taken into account in the guide. Ravi Verma, chair of the program group, and diocesan interfaith minister Tahil Sharma led the development of the guide, which is available as a PDF in English here and Spanish here.
The guide makes no comments or recommendations on candidates for office. It includes a rundown of state rules, practices, deadlines and protocols to assist residents with the sometimes-bewildering details of casting a vote, especially in a global pandemic that has made many voters nervous about going to the polls.
But there are a lot of other ways to get one's ballot in, and the program group wants to help everyone who is eligible exercise the right to vote.
"Voting is an integral part of the democratic process and is one of the most important actions we can take as citizens of the United States," the program group says in the guide's introduction. "Constituents have the responsibility and power to make their voice heard in the halls of every elected office."
The guide also has links to some inspirational reflections from faith leaders, including several by Bishop John Harvey Taylor, and from the Muslim, Sikh and other traditions. It also has links to resources for the six counties that are part of the diocese.
California dioceses' Episcopal Public Policy Network points to ecumenical resources
The Episcopal Public Policy Network of California has also issued a call to all who are eligible:  make a plan to vote by mail, early in person, or on Election Day.
"Ballot propositions can be confusing," writes the group, which comprises clergy and lay members from the six Episcopal dioceses in California. "We offer the following ballot guides from faith organizations and coalitions. They offer their own recommendations, and perhaps more importantly, some of their reasoning, from a faith and values perspective."
EPPN-CA cites the following resources:
The Lutheran Office of Public Policy, an arm of the Episcopal Church's full communion partners in the ELCA (Evangelical Lutheran Church in America), have offered what EPPP-CA calls "an excellent guide to all the state resolutions with a faith-rooted explanation for their recommendations." The Lutheran guide is here.
Church Impact, which is part of the California Council of Churches, has analyzed all the California state propositions from a faith perspective to help voters make informed voting decisions. The Church Impact guide is here.
Glide SF Center for Social Justice in San Francisco (associated with Glide Memorial Church in the Tenderloin) offers its recommendations, particularly on criminal justice issues, which is one of their areas of focus. Their document is here.
The Episcopal Church provides election resources
The Episcopal Church's Office of Government Relations has created a comprehensive suite of resources for advocacy, the U.S. election, and 2020 Census engagement. Central to election engagement are the "Vote Faithfully" resources built up over the course of several election cycles and in coalition with ecumenical partners. These resources are designed for use year-round, emphasizing messaging that is non-partisan and informed.
As the United States gets closer to Election Day, Nov. 3, The Episcopal Church will continue to release new resources, including an ongoing educational series on the basics of the election process and transition of power, four bulletin inserts from Sermons That Work focused on voter engagement and written for the readings on the four Sundays leading up to Election Day, and A Season of Prayer: For an Election, a novena prayer series developed with Forward Movement.
Other resources include a Plan Your Vote guide, a toolkit for supporting others in your community to vote, a tool for recognizing and combating disinformation and misinformation, and more.
To read more about the Episcopal Church resources, click here.
The main emphasis of these many organizations is the same. Use your voice. Use your vote. Consider each candidate and each issue with care. Then vote your convictions and conscience.
"When you fill out a ballot from now on, remember the values and constituents that inspire you to be civically engaged," the Los Angeles program group writes. "Let us use our collective power to achieve a more abundant and sustainable world. Let our votes reflect the radical diversity, inclusion, and pluralism that make Southern California our pride and joy. And let us honor the privilege in a democratic society and the sacred responsibility fought for by generations past to create a just, accountable, and compassionate society."