[The Episcopal News – October 6, 2021] Episcopal Enterprises officially launched its Episcopal Enterprises Service Corps program at the episcopal residence in Pasadena on Thursday, Sept. 30.
The Episcopal Enterprises Service Corps seeks to connect experts in management, entrepreneurship, marketing and other areas with members from the diocese's churches who want to start initiatives to serve their communities and generate income.
Bishop John Harvey Taylor welcomed all to his home, encouraging participants to look for new opportunities and reviewing successful experiences from past participants.
The Rev. Canon Jaime Edwards-Acton, co-founder and director of Episcopal Enterprises, and co-founder Betsy Dinsmore also addressed the gathering.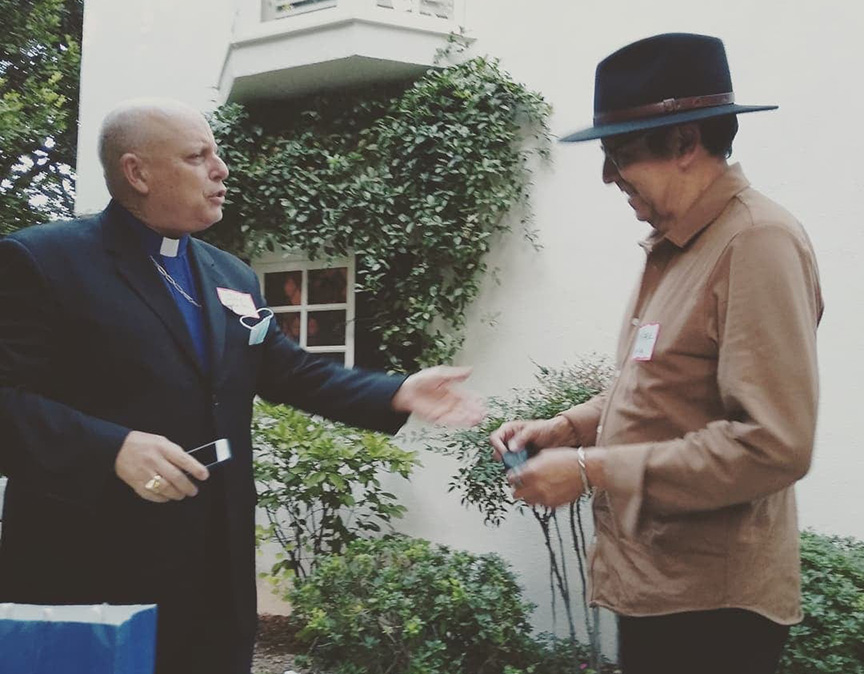 Past participants from Social Enterprise Academy workshops shared their experiences and successes. One such was the Rev. Holly Cardone, rector of Emmanuel Church in Fullerton. Cardone highlighted how useful it was to have a mentor to support her congregation as they chose and developed a business idea; in Emmanuel's case, an early childhood learning center. The Rev. Antonio Gallardo also talked about his experience at St. Luke's Church, La Crescenta, emphasizing the importance of commitment to the program.
Episcopal Enterprise organizers and some of the participants spoke about the potential in churches' unused resources, especially infrastructure and real estate.
Decorations and food at the gathering were provided by members of St. Stephen's Church, Hollywood, where Episcopal Enterprises is based, and by entrepreneurs who started their business ideas within Social Enterprise Academy, including Flor de Epifanía, a new venture at Church of the Epiphany, Los Angeles, that created the floral arrangements for the evening.
To learn more about Episcopal Enterprises, contact Edwards-Acton at hopeinhollywood@gmail.com.
— Reporting and photos by Tania Vásquez