Inspired by the iconic artistry of the late Sister Corita Kent, enriched by the legacy of one of L.A.'s finest colleges, and enlivened by the nexus of faith in action for social justice, the ecumenical Immaculate Heart Community is making a new home at St. Paul's Commons, Echo Park.
"It's a wonderful exchange of gifts," Bishop John Harvey Taylor said of the "synergies of ministry" found in the Immaculate Heart programs and those of the Episcopal Diocese of Los Angeles, from which the community began leasing office and meeting space earlier this year.
Speaking May 3 over coffee with IHC President Sherry Purcell and Vice President Christine Monroe, Taylor pointed to ways in which diocesan priorities intersect with Immaculate Heart's current initiatives of environmental care, racial reconciliation, empowerment of women and girls, and deepening spirituality. Upcoming opportunities include the diocese's Sept. 16 Climate Change Summit and IHC's monthly Friday "Lunch and Learn" series in St. Paul's Commons' Great Hall (see related article here).
"Having Sherry and her colleagues aboard these last few weeks has been energizing and inspiring to all of us on the diocesan staff," Taylor told The News. "Dickens has a line about Christians working in their little spheres, often insensible about what others are doing. I feel we've broken one of those walls. The values of the IHC and Episcopal identity are in line in so many ways when it comes to Christ's perfect heart of love and justice. I can't wait to see what the Holy Spirit has to teach us through this collaboration."
"I see our move here as being so symbolic," said Purcell, "a tangible representation of the transition we are making as a community to be more active and visible as we seek to live out our goal statement which calls for a commitment 'to building relations in society which foster access of all persons to truth, dignity, and full human development, and to strategically change practices and situations which impede such access.'
"We are very grateful for the warm welcome we have received here and for the invitation to participate in the monthly ministry Roundtable where we find ourselves immediately connected to others who share a faith-based approach to the monumental social justice issues of our times," she added.
Purcell is newly elected to a three-year term leading the 99-member  community, formed in 1970 after the Sisters of the Immaculate Heart of Mary were forced to renounce their vows when they embraced the vision of Vatican II that had been rejected by L.A.'s Cardinal Archbishop James Francis McIntyre (see "Rebel Hearts" documentary film here).
"That same progressive spirit is alive and well in the IHC today. We bring that spirit and our 'Rebel Hearts' to partner with the ministries of the Episcopal Diocese in answering the call for justice that people of faith recognize as an urgent moral imperative," said Purcell, who holds a Ph.D. in speech language pathology and began her spiritual journey in the United Methodist Church.
Purcell's colleague, newly elected vice president Monroe – a graduate of Immaculate Heart College where she was a student of art department chair Sister Corita – focuses on pastoral care of the community – which includes Episcopalians who are parishioners of All Saints, Pasadena; St. Paul's, Tustin; St. Michael's, Isla Vista; Trinity, Santa Barbara; and L.A.'s St. John's Cathedral, among other congregations.
"In addition to my pastoral role in supporting the spiritual, emotional and social needs of the members, my ministry includes 'fostering a culture that enhances a sense of being an ecumenical Christian community,'" Monroe said. "By being located here in St. Paul's Commons, many opportunities are arising for connecting with the local church ministries which we dialogue with at the Commons' monthly Echo Park Ministry Roundtable meetings."
Monroe's new office is graced with copies of Corita prints, one illustrating apt words from Nobel laureate Eli Wiesel: "Hope is the memory of the future; have a hand in it" – a mission statement of its own and a warm remembrance of Monroe's college mentor.
Immaculate Heart College and the adjoining high school – as well as La Casa de Maria Retreat Center, heavily damaged by the 2018 Montecito mud flow – were among properties retained by the Immaculate Heart Community after it changed its relationship with the Roman Catholic Church.
Founded in 1916 by the sisters on their land at the corner of Western and Franklin avenues in L.A.'s Los Feliz neighborhood, the college closed in 1981 due to financial difficulties and was succeeded by the Immaculate Heart College Center, operated until 2000. The college's former campus is now home to the American Film Institute, which purchased the site in 1983.
As Immaculate Heart High School – notable alumnae of which include Meghan Markle, Duchess of Sussex, and the late actress Mary Tyler Moore – continued to grow, the need for additional space prompted the Immaculate Heart Community to consider relocating its offices and selling the campus property to the school.
This context prompted the community's treasurer, Mary Kirchen, a parishioner of St. John's Episcopal Cathedral, to ask diocesan leaders about any buildings with available space. Her summer 2022 inquiry dovetailed exactly with the Corporation of the Diocese's initiative to help offset operational costs of St. Paul's Commons by welcoming other non-profits to co-locate on site through license agreements.
"Within 24 hours of my call, we had meetings set up with Bishop Taylor and the community's real estate consultant to consider leasing space at St. Paul's Commons," Kirchen told the News. "The Commons' former bookstore space, two available office suites, and ease of parking were ideal for our needs, and the synchronicities of shared ministry priorities are remarkable. It was literally one phone call and a God thing. The diocese and IHC look forward to sharing ministries as we share space."
Similarly, the Rev. Susan Stanton, the diocese's chief financial officer who prepared and implemented the license agreement, expresses gratitude to the Immaculate Heart Community for choosing St. Paul's Commons. "We deeply appreciate the community's presence and thank them not only for sharing their wisdom and expertise, but also for providing funding that is vital to keeping St. Paul's Commons operating smoothly. This collaboration is a win-win for everyone."
Lucrecia Montes, IHC member and the community's liaison to the Emanate Health medical system board, notes "true excitement about the move to Echo Park and the beautiful church facilities there. We've had retreats there, and we feel at home. The physical location is also close to my roots in the Hispanic community. When we were last at St. Paul's Commons, we commented how wonderful it is that there is a Jewish community meeting there.
"This place is bringing us together in new inclusivity, hospitality and radical transformation of the way we see community," Montes added. "These experiences truly will bring us to fullness of life and connection with not just the few or one denomination. In this place we do feel God is weaving us into that new community in which we grow and thrive."
IHC member Rod Stephens agrees: "The move to St. Paul's Commons for the IHC is a 'match made in heaven.' The values and work of both communities are in sync and complementary. In fact, as we both grow forward, our place together will give witness to the possibilities of union in a divisive world, communion in a fragmented society, hope in a world longing for oneness."
Celebrating 'new season,' 175th year
So joyful was the agreement – finalized by the Corporation of the Diocese and Immaculate Heart trustees in December – that a festive April 29 launch and blessing celebration found community members singing and dancing in St. Paul's Commons' Great Hall.
Sharing in the gathering – centered around a banner reading "A New Chapter, A New Season, Rooted in the Sacred" – were some 60 community members, many of whom were returning to Echo Park having attended IHC's annual assembly held in the St. Paul's Commons Retreat Center during the past two decades. Others attended via Zoom.
Participants completed the banner by affixing paper leaves and roots to the central Celtic-style tree drawing, writing on each leaf such qualities as, "listen, include, look outward, trust the call, ecumenical friendships," and on each root, "faith, openness, creativity, grow deeper" and more.
Dating from 1848 beginnings in wartime Spain, the community's early history was traced during the Saturday-morning gathering by IHC board chairman Ray Mattes. He recounted the order's founding in Olot, Catalonia, as the Daughters of the Most Holy and Immaculate Heart of Mary.
So strong was the sisters' reputation as skilled educators that California Bishop Thaddeus Amat invited them to establish an educational apostolate in Los Angeles. IHM sisters staffed the St. Vibiana Cathedral School when it opened in 1886, and in 1906 they opened the Immaculate Heart Convent and high school on Franklin Avenue. In 1924 the sisters "became independent of Spain and formed a Pontifical Institute aligned with American customs and sensibilities," according to an online history. "Innovation, creativity and hospitality were hallmarks that characterized the broad scope of their ministries and their service to communities."
The Rev. Toni Freeman Stuart, retired vicar of the Episcopal Chapel of St. Francis in L.A.'s Atwater Village district near Los Feliz, joined the Immaculate Heart Community in the 1990s after attending an open house on the Franklin Avenue campus.
Stuart, who now resides in Carpinteria and has assisted for several years at nearby St. Michael's University Church in Isla Vista, attended the April 29 Echo Park celebration, during which she recalled growing up in Los Feliz and passing the convent and high school each day as she walked west on Franklin Avenue from her family's home to Cheremoya Elementary School, not far from central Hollywood. "I was fascinated by the nuns even then," Stuart said. "Joining the community when I did was part of coming full circle on my spiritual journey. I love being a member of the community."
Preparing for membership in the community – a three-year process – "entails a time of personal and communal discernment that occurs over a period of several years," according to an IHC overview here.
Community membership includes participation in regular prayer groups, annual retreats, and workshops among other activities. Each member pursues a life of service rooted in the gospel and exemplifying the community's motto: Caritas nos alliget; "love brings us together."
Members share in a variety of educational and advocacy events including celebrations hosted this spring by Clergy and Laity United for Economic Justice (CLUE), Housing Works, and the Southern Christian Leadership Conference, whose recent gathering was keynoted by Georgia Sen. Raphael Warnock, who, as senior pastor of Atlanta's Ebenezer Baptist Church, is a successor to the late Rev. Dr. Martin Luther King Jr.
These and other events, coordinated largely by IHC development director Pam Hope, seek to open "The Door to the World," wording featured on the community's heart-shaped logo.
Upcoming film festival, concert, Corita art exhibit
IHC's amplifying of social justice themes through the arts include the July 19 opening night of the L.A. Shorts International Film Festival, an Oct. 22 "Sacred and Soulful Voices of Justice" concert, and a St. Paul's Commons art exhibit featuring works by Sister Corita Kent and her late student John August Swanson.
The film festival's IHC-sponsored opening-night event will include screening of John Mutz's 2021 film "Not Worth Killing," followed by a panel discussion focused on the death penalty.
The October concert (venue pending) is set to feature participation by Vox Femina L.A., a justice choir, gospel music, and poetry.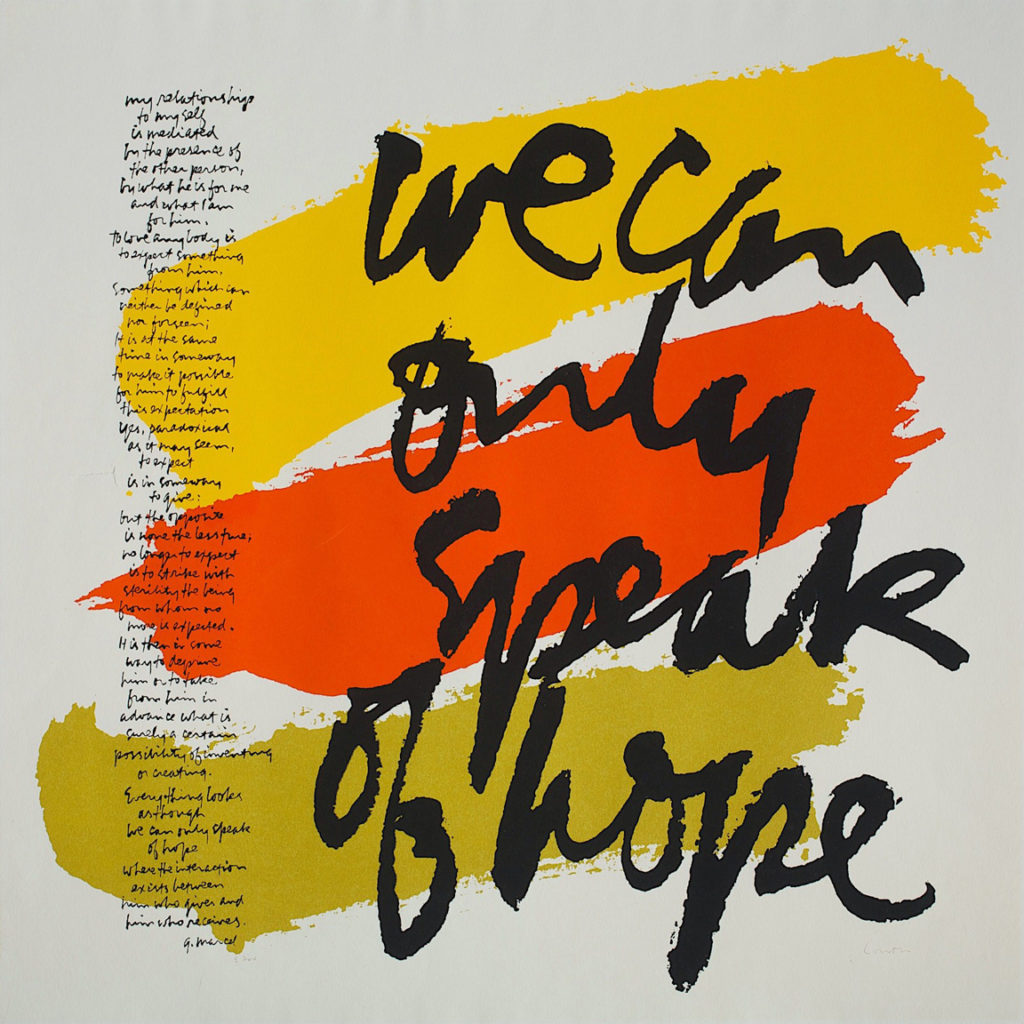 The Echo Park art exhibit, staged by the Corita Art Center, will bring copies of several of its namesake's notable serigraphs to St. Paul's Commons, along with works by Swanson, well known for his canvases centered on scriptural and social justice themes. Nellie Scott, director of the Corita Art Center, said part of her vision for the exhibit, set for installation in late July, is to highlight the interchange between teacher and student.
Kent, who moved to Boston after leaving the Immaculate Heart order in 1968, created nearly 800 serigraph editions before her death in 1986. More about her life is here.
Echo Park exhibit planners noted that one of Kent's prints is especially emblematic of common cause shared by the Immaculate Heart Community and the Episcopal Diocese; this serigraph illustrates the late French philosopher and Christian existentialist Gabriel Marcel's well known words: "We can only speak of hope."
— Bob Williams, diocesan canon for common life, convenes St. Paul's Commons' Echo Park Ministry Roundtable.