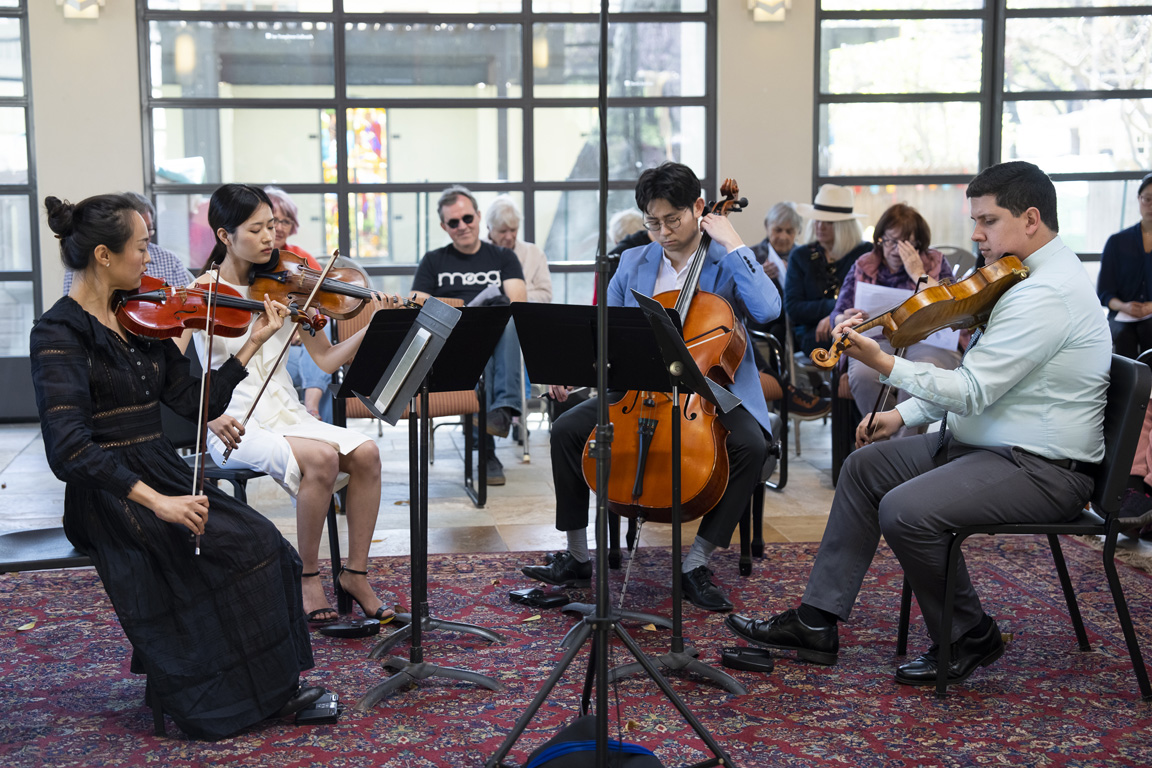 [The Episcopal News] St. Paul's Commons and Laós Chamber Music will present "Incomplete Memory: A Performance and Conversation on AAPI Identity in Classical Music" at 4 p.m. on Sunday, July 16, in concurrence with Echo Park's 42nd Annual Lotus Festival, a Los Angeles celebration of Asian cultures.
Featuring music by Juri Seo and Niall Taro Ferguson performed by cellists Dustin Seo and Jaewon Ahn, the concert and conversation will be offered free of charge in St. Athanasius Church, located at the heart of St. Paul's Commons, headquarters of the Episcopal Diocese of Los Angeles, 840 Echo Park Ave., Los Angeles. All are welcome, and free parking will be available via the Laguna Avenue entrance gate.
Concert-goers are invited to arrive early for a 3 p.m. showing of the "Crossings" art exhibit in St. Paul's Commons' Great Hall. Featuring paintings by Katherine Gould, the exhibit is benefiting IRIS, the diocesan ministry to refugees and immigrants.
A pilot project of San Gabriel's Episcopal Church of Our Saviour, Laós Chamber Music is "a collective of young Los Angeles musicians committed to sharing the convening powers of music," the ensemble's website states.
Timed during the Lotus Festival, the July 16 concert at St. Paul's Commons will "open deeper conversations about cultural and faith experiences," said Seo, artistic director of Laós Chamber Music.
The Greek word laós translates as "people assembled" and is a root for the term "liturgy" – "not a passive congregation, but rather an active community" committed to bridge-building, the website adds. More details are here.
The concert is the first in a new series launched by the emerging Music Guild of St. Paul's Commons. Monthly performances are envisioned for 4 p.m. on the third Sunday of each month in St. Athanasius Church, Echo Park.