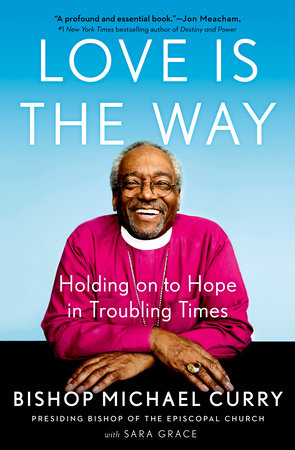 With the election behind us and the new year ahead of us, the question on so many minds and in so many hearts is "what next?" Where do we even start to make a way where there seems to be no way through the polarization and pandemic that challenge our nation and our world?
Here in the Diocese of Los Angeles we start by claiming the historic promise that there is a way when there seems to be no way – and that love is that way. And one of the ways we start to claim that promise is by launching a five-week diocese-wide exploration of Presiding Bishop Michael Curry's Love is the Way.
In this, his newest book, Bishop Curry offers an inspirational road map for living the way of love. Through the prism of his faith, ancestry, and personal journey, Love is the Way shows how America came this far and, more importantly, how it can go a whole lot farther. In the words of reviewer Jon Meacham, "Michael Curry draws on his own remarkable life to show us the way we might make our own lives, and the live of nations, warmer, better and nobler."
Beginning on Wednesday, November 18 at 7 p.m., the online "Love is the Way" program will offer participants the opportunity to engage across geographical and congregational differences that challenge us and reflect on the love that binds us together; God's love and the reflection of that love in human lives. Sessions will continue on Wednesdays, Nov. 25 and Dec. 2, 9 and 16.
Hosted by One in the Spirit – our diocesan engagement across difference ministry – each session will include a reflection on a segment of the book followed by conversation in community using a listening and learning circle model in both English and Spanish.
To take part in the book study series, click here to register in advance. After registering, participants will receive a confirmation email containing information about joining the meetings. For more information, email to srussell@ladiocese.org.
— The Rev. Canon Susan Russell is canon for Engagement Across Difference for the Diocese of Los Angeles and an assisting priest at All Saints Church, Pasadena.