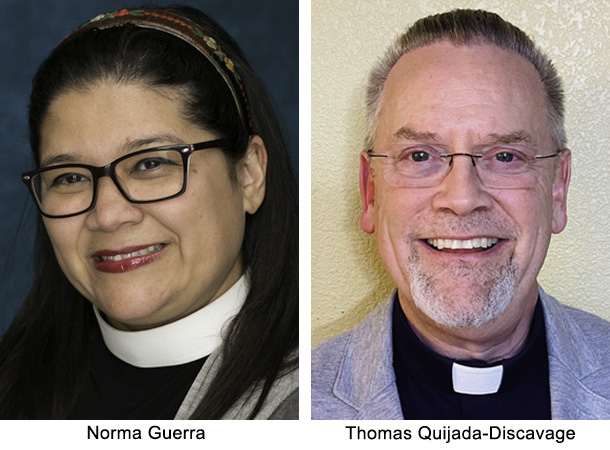 [The Episcopal News, Nov. 22, 2020] Bringing experience in Southland parishes and her native Guatemala, the Rev. Norma Guerra will join the staff of the Diocese of Los Angeles on Dec. 1 as associate for formation and transition ministry, the Rev. Canon Melissa McCarthy, diocesan chief of staff, announced today.
Guerra will play a key role as liaison to the Bishop's Commission on Ministry in helping to guide processes through which candidates pursue ordination. She and the Rev. Thomas Quijada-Discavage, continuing interim for clergy formation and transition ministry, form a departmental team working closely with McCarthy.
"Bishop Taylor, Bishop Bruce, and I are excited to welcome Norma to the staff," McCarthy said. "She brings so many gifts to the work, not least of which is her bright, cheerful spirit and a deep sense of call to this unique ministry. Norma is a wise leader with solid experience that will be of great benefit to all of us. She and Tom will make a great team united in insightful, deft work with strong pastoral presence."
"It is with great excitement that I welcome Norma to our team in the Office of Formation and Transition Ministry," Quijada-Discavage said. "I believe Norma brings unique gifts that will be of enormous benefit to our ministry, and I look forward to our collaborative efforts."
Of her new position, Guerra said, "I am deeply grateful and excited about this wonderful opportunity of working on the diocesan staff. I'm looking forward to the new experiences, the people I will meet, and the blessing of walking along the discernment journey with churches and individuals. After a long hard year both for the world and for each one of us, this brings joy and hope to my life."
Serving for the past three years as associate priest at both Santa Ana's Church of the Messiah and San Clemente's Church of St. Clement by the Sea, Guerra succeeds the Rev. Canon Charleen Crean, who recently retired from the diocesan Office of Transition and Formation Ministries. Guerra also served Messiah as the parish's communication director.
"I would like also to express my deep gratitude to both Messiah and St. Clement's for these last years of ministry life among you," Guerra added. "I love you, and I will miss you."
A life-long Episcopalian, Guerra was born in Guatemala City and came to the United States in March 2000. She became a member of All Saints Church in Pasadena, where she worked on staff for eight of her 15 years as a parishioner, assisting in several departments and with the congregation's Spanish-language liturgy. It was at All Saints, Guerra says, that she "listened to" her call to ordained ministry and started her discernment process.
Guerra has served an interpreter and translator for both local and denominational ministries, and in recent years she has participated as a presenter in the Episcopal Latino Ministry Competency Program.
Guerra is "passionate about multiculturalism, diversity, and inclusion." She points to the influence of her father, the Rt. Rev. Armando Guerra, retired bishop the Episcopal Church in Guatemala, as a guiding light whose ministry shaped her own call to ordination and continues to inform her ongoing ministry.
Guerra is the mother of Nicholas, 15. They reside in Costa Mesa and together look forward, once the global pandemic eases, to traveling to visit family and friends, and to welcoming them to Southern California.
---
La Rvda. Norma Guerra nombrada Asociada para el Ministerio de Formación y Transición
Equipo liderado por el Rev. Thomas Quijada-Discavage como interino
[The Episcopal News, 22 de noviembre del 2020] La Rvda. Canóniga Melissa McCarthy, jefe de personal diocesano, anunció el día de hoy que la Rvda. Norma Guerra se unirá al equipo del personal de la Diócesis de Los Ángeles a partir del 1 de diciembre como Asociada para el Ministerio de Formación y Transición, trayendo consigo experiencia de parroquias del Sur de California y de su tierra natal, Guatemala.
Guerra desempeñará un papel clave como enlace entre la Comisión de Ministerio del Obispo para ayudar a guiar los procesos a través de los cuales los candidatos buscan la ordenación. Ella y el Rev. Thomas Quijada-Discavage, quien continúa sirviendo como interino para el Ministerio de Formación y Transición del clero, formarán un equipo departamental que trabajará de manera cercana con McCarthy.
"El Obispo Taylor, la Obispa Bruce, y yo estamos muy emocionados de darle la bienvenida a Norma al personal," dice McCarthy. "Ella trae al trabajo muchos dones, sin mencionar su espíritu radiante y lleno de gozo y un profundo sentido de su llamado a este singular ministerio. Norma es una líder sabia con experiencia sólida que será de gran beneficio para todos nosotros. Ella y Tom formarán un gran equipo unidos en un trabajo profundo, diestro y con una fuerte presencia pastoral."
"Es con gran entusiasmo que le doy la bienvenida a Norma a nuestro equipo en la Oficina del Ministerio de Formación y Transición," nos dice Quijada-Discavage. "Yo creo que Norma trae consigo dones únicos que serán de enorme beneficio para nuestro ministerio, y espero con ansias nuestros esfuerzos de colaboración."
Guerra nos dijo sobre su nueva posición, "Estoy sumamente agradecida y emocionada por esta maravillosa oportunidad de trabajar para el personal diocesano. Espero con ansias las nuevas experiencias, el conocer nuevas personas y la bendición de caminar el proceso de discernimiento tanto con las iglesias como con los individuos.  Después de un año tan difícil tanto para el mundo como para cada uno de nosotros, esta noticia trae gozo y esperanza a mi vida."
Por los tres últimos años sirvió como sacerdote asociada tanto para la Iglesia del Mesías en Santa Ana como la Iglesia de San Clemente del Mar en San Clemente, Guerra sustituye a la Rvda. Canóniga Charleen Crean, quien recientemente se jubiló de la Oficina Diocesana del Ministerio de Transición y Formación. Guerra también sirvió como directora de comunicación de la Iglesia del Mesías.
Guerra agrega que "También quisiera expresar mi agradecimiento tanto a la Iglesia del Mesías como a la Iglesia de San Clemente por estos últimos años de ministerio con ustedes. Los amo y les extrañaré."
Guerra es episcopal de toda la vida, nació en la Ciudad de Guatemala y llegó a los Estados Unidos en marzo del 2000. Se convirtió en miembro de la Iglesia de Todos los Santos en Pasadena, donde trabajó como parte del personal por ocho de sus 15 años como miembro de la Iglesia, apoyando a varios departamentos y con la preparación de la liturgia de la congregación de habla hispana. Fue en Todos los Santos, dice Guerra, que ella "escuchó" su llamado al ministerio ordenado e inició su proceso de discernimiento.
Guerra ha servido como intérprete y traductora tanto para ministerios locales como denominacionales, y en años recientes ha participado como presentadora en el Programa del Ministerio Latino Episcopal de Competencia.
A Guerra "le apasiona el multiculturalismo, la diversidad y la inclusión." Hace la observación de la influencia que ha tenido en su vida el ministerio de su padre, el Rvdmo. Obispo Armando Guerra, obispo jubilado de la Iglesia Episcopal de Guatemala, ya que ha sido como una luz de guía cuyo ministerio ha moldeado su propio llamado a la ordenación y continúa haciéndolo en su ministerio actual.
Guerra es madre de Nicholas, quien tiene 15 años. Vive en Costa Mesa y espera con ansias que una vez que la Pandemia se controle, pueda viajar para visitar a su familia y amistades, así como recibirlos aquí en el sur de California.