[The Episcopal News] Bishop John Harvey Taylor will dedicate St. Michael's Apartments, a new affordable housing community at St. Michael's Ministry Center, Riverside, on Monday, July 24 at 10:30 a.m., concluding at about noon.
The project is the first to be developed by the Diocese of Los Angeles in collaboration with Newport Beach-based Community Development Partners and Mercy House, a non-profit housing and supportive services provider based in Orange County.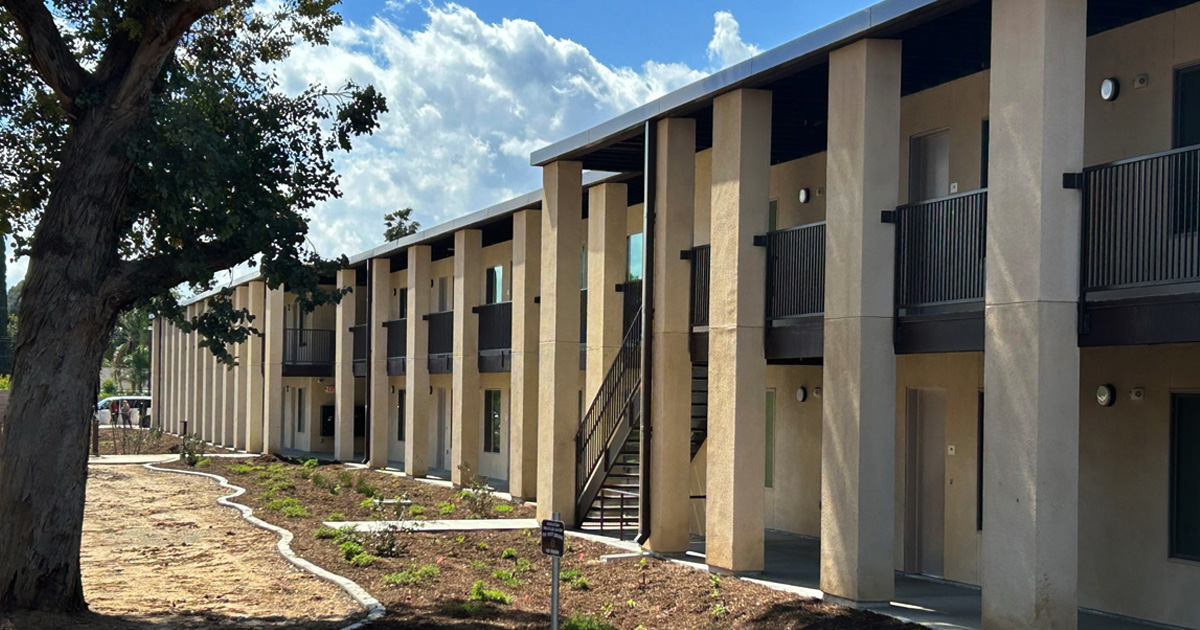 The project was designed by Frank Escher and Ravi GuneWardena, FAIA, of Escher GuneWardena Architecture, both members of Taylor's Housing Justice Task Force, with Zeke Jones as project manager. Precision General Contractors, based in Novato, CA, managed the construction.
Taylor has pledged that affordable housing will be built on 25% of the diocese's church properties. A second project, at Church of the Blessed Sacrament, Placentia, is nearing completion; others are in various stages of planning.
Conceived as a prototype for reinvigorating underused church properties, the St. Michael's project is a new community housed in a 440-foot, 50-unit building with offices for essential supportive services and a model sustainable urban garden.
"As in historic California missions, colonnades form the circulation for the housing project, while providing passive cooling from its shaded verandah," says architect GuneWardena. "Designed with photovoltaics and solar thermal mechanical elements, the project will be in keeping with sustainable living standards."
Funding is being sought for the second phase of the project, an urban farm consisting of an aquaponics greenhouse, a citrus garden, plant guilds (groups of plants and fruit trees that support and nourish each other), and a raised-bed community garden, including Native American "Three Sisters" plantings of corn, squash and beans. The farm will occupy the large yard between the housing and St. Michael's existing parish hall, weaving together the various users of the campus, according to GuneWardena. A play area will include planting beds for children. "A large bio-swale, running along the colonnade of the dwelling units has been planted to mark the changing of the seasons," he said, "with indigenous plants that thrive in winter and spring, turning drought-tolerant in summer and fall."
In addition to the historic St. Michael's church building for indoor worship, the campus includes outdoor space for Native American spirituality. Riverside County is home to several federally recognized Indigenous tribes including the Cahuilla, Luiseno, Morongo, Pechanga, and Mission groups; the historic Sherman Indian High School is three blocks away. "A large gathering circle at the center of the site will be a place to celebrate nature, the earth and the sky," says GuneWardena. It is the meeting site for a Native women's talking circle, facilitated by the Rev. Canon Mary Crist, Indigenous Theological Education coordinator for The Episcopal Church, Native ministries officer for the diocese and priest-in-charge at St. Michael's.
Many of the new community's residents – recently settled in their apartments – take part in St. Michael's Thursday morning food giveaway, breakfast and informal service of Holy Communion. St. Michael's mission, as defined by Crist, is to provide community and service to its impoverished neighbors.
After a June visit to St. Michael's, Taylor wrote: "I left St. Michael's with the feeling that the Holy Spirit had made it a laboratory for the future of The Episcopal Church in our region: affordable housing, well-educated lay leadership coming into its own alongside the ordained orders, multicultural and polylingual competency, partnerships with neighboring parishes, and advocacy for more humane care of the mentally ill and addicted, all rooted in the core Christian value of daily service to the marginalized. 'These,' Mary said, "are the people Jesus would be with.'"
All are invited to the dedication; for reservations, email events@communitydevpartners.com. St. Michael's is located at 4070 Jackson Street, Riverside 92503.
More about St. Michael's Apartments is here, or email stmichaels.cd@fpimgt.com.