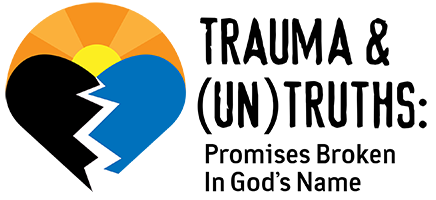 "Trauma & (Un)Truths" is a series of webinars examining systems of oppression in church and society, presented by New Community, the Diocese of Los Angeles' multicultural ministry, and Bishop Suffragan Diane M. Jardine Bruce. The first of four webinars, held on Aug. 22, introduced three topics that will be covered more extensively in the following sessions (see dates and topics below). A video of that session is here; copies of the presentations also are posted. All are invited to join the remaining webinars. There is no charge, but advance registration is required: click on the registration links in the workshop descriptions below.
Doctrine of Discovery
Saturday, Sept. 26, 10 a.m. – 12 p.m.
Presented by the Rev. Canon Mary Crist and the Rev. Fennie Chang. The Doctrine of Discovery, established by European governments and ratified by early United States policy, held that the claims of European Christians took precedence over those of Indigenous peoples throughout the world, launching five centuries of human rights violations. The Episcopal Church repudiated the doctrine in 2009, yet it lives on through the church's laws, systemic racism, and historical trauma. New Community is working to discover the untold truths in order to work together for change and to build Christ's beloved community. Register here.
Racial Identity
Saturday, October 3, 10 a.m. – 12 p.m.
Presented by Canon Suzanne Edwards-Acton, the Rev. John Limo, the Rev. Carlos Ruvalcaba and Gayle Kawahara. Although race has no scientific basis in biological or genetic reality, it is nevertheless a very real social construct intentionally designed to separate people into perpetual power hierarchies of superiority and inferiority. Whether or not individuals are aware of it, want it, or feel they have it, racial identity — especially in the deeply racialized history and culture of the United States, greatly affects all human experience. Racial identity is both externally imposed and internally constructed, and is crucial to understanding how people's identities and experiences have been shaped by race. Register here.
At What Co$t?: Asian Pacific Americans, Racial Capitalism, and the Limits of Racial Identity
Saturday, October 17, 1 – 3 p.m. (note time)
Cosponsored by The Gathering – A Space for Asian Pacific American Spirituality (Diocese of Los Angeles) and Episcopal Asian Supper Table (Diocese of New York). Led by Jonathan Tran, Ph.D., associate professor of philosophical theology and George W. Baines chair of religion at Baylor University; and Liz Lin, Ph.D., co-founder and director of Progressive Asian American Christians and a senior fellow at Newbigin House of Studies in San Francisco. Racial capitalism is a development of economic, political and social systems of oppression, formed by exploiting division between racial and cultural groups. These systems, sustained through power dynamics, are less likely to be seen as overt forms of racism and are instead demonstrated as hegemonic undercurrents. They exist in most systems of economy, including the church. More about this topic from Dr. Tran is here. Register here.
Spanish-language interpretation will be provided for all webinars, which will be conducted via Zoom. For additional information, contact Bishop Bruce at dbruce@ladiocese.org.
Updated Sept. 22 with new information about the Oct. 17 session.