The members of the Program Group on Hispanic / Latinx Ministries believe that a primary step towards unity is to know our stories and our differences, and how they intertwine with each other, and how they also intertwine with God's history.
At 6 p.m. on Saturday, Dec. 12, Bishop Diane M. Jardine Bruce and the members of the Program Group invite all to share an afternoon with the diocesan Latinx community to hear from Oscar Alcántara (All Saints, Pasadena) some religious-historical data about the Virgin Mary of Guadalupe, followed by a space for questions and answers.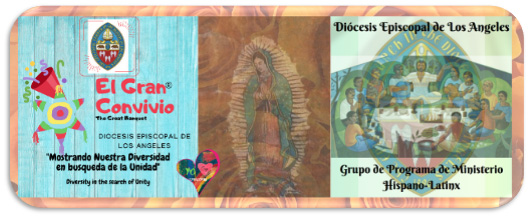 El Gran Convivio is a program (inspired by "The Gathering" for Asian Pacific American Episcopalians) with the purpose of reconciling these differences and rediscovering harmony, and collaboration between the elements of creation, especially among us humans, through sessions of cultural immersion.
Did you know that the process of Hispanization and Christianization of the 16th century is also known as the Conquest of Bodies and Souls?
The Spanish evangelizers introduced a maternal image to the indigenous people of the Americas in the 16th century. In 1810 a group of Jesuits used this image as a banner and symbol for the movement that led Mexico to its independence. It was also used in the Mexican Revolutionary movement in 1910, and in the 21st century this image is one of the greatest symbols of identity in Mexico, reflecting in a very deep way the popular religiosity of its people. This devotion now extends to several countries around the world, including the United States of America.
We will have the opportunity to see some of the cultural elements (music, dance, and rituals) that give color to these celebrations; and the event will end with a liturgical celebration (Celebración Guadalupana).
The event will be conducted in Spanish with instant interpretation to English.
Log in to Zoom at https://zoom.us/j/98833725755.
---
El Grupo de Programa sobre el Ministerio Hispano / Latinx invita a todos a celebrar la historia de la Virgen de Guadalupe
Este artículo aparece en español después del texto en inglés.
This article appears in Spanish after the English text.
En el Grupo de Programa de Ministerio Hispano/Latinx, creemos que un paso primordial hacia la unidad es darnos la oportunidad de conocer nuestras historias y nuestras diferencias, y como se entrelazan entre si, y como se entrelazan también con la historia de Dios.
A las 6 pm. el sábado 12 de diciembre, la Obispa Diane M. Jardine Bruce y los miembros del Grupo de Programa te invitamos a compartir con la comunidad Episcopal Latinx una tarde en la que escucharemos de nuestro amigo Oscar Alcántara (Iglesia de Todos Los Santos, Pasadena) datos histórico-religiosos acerca de la Virgen María de Guadalupe, con un espacio para preguntas y respuestas.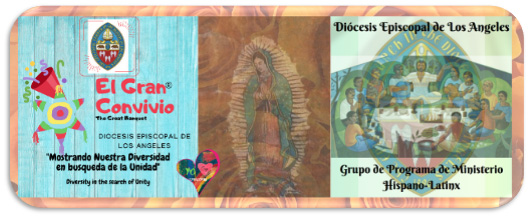 El Gran Convivio, es un programa (inspirado por "The Gathering") que tiene la finalidad de reconciliar esas diferencias y reencontrar la armonía, y colaboración entre los elementos de la creación, en especial entre nosotros los humanos, a través de sesiones de inmersión cultural.
Sabias que al proceso de Hispanización y Cristianización del siglo XVI se le conoce también como la Conquista de los Cuerpos y de las Almas?
Los evangelizadores Españoles introdujeron una imagen maternal a los indigenas de las Américas en el siglo XVI; en 1810, un grupo de Jesuitas utilizaron esta imagen como estandarte y símbolo del movimiento que llevó a México a su independencia y en 1910 fué utilizada de igual manera en el movimiento Revolucionario; en el Siglo XXI es uno de los mayores símbolos de identidad en México que refleja de manera muy profunda lo que es la religiosidad popular de su gente y que se extiende a varios países incluido los Estados Unidos de Norte-América.
Presentaremos también algunos de los elementos culturales (música, danza, y rituales) que le dan coloridoy sabor a estas celebraciones, Y para terminar tendremos una celebración Litúrgica.
Inicie sesión en Zoom en https://zoom.us/j/98833725755.