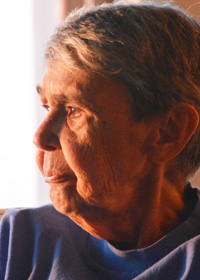 August 9, 1934 – January 2, 2020
Adel Maria "Del" Martinez, who gained regional and national recognition as executive director of Neighborhood Youth Association (NYA) from 1972 to 1998, died Jan. 2 at age 85 after many months of debilitating illness. Her life and achievements for NYA, an institution of the Diocese of Los Angeles since 1906, will be celebrated at a memorial service set for 3 p.m. on Saturday, March 21, at St. Alban's Episcopal Church, 580 Hilgard Avenue, Los Angeles 90024. All are welcome.
Activist and advocate, Martinez worked her entire adult life to improve the lives and expand opportunities for minority groups, for children, their families, and all disenfranchised people that she could help.
"We at NYA are deeply grateful for Del and her leadership, which moved NYA to new levels of excellence that laid the foundation for the agency's future," said NYA President/CEO Robert Williams. "Del's example will long endure as a role model for NYA students as they achieve the agency's mission of 100% college placement for underserved youth. I had the pleasure and honor of knowing Del for more than 30 years and remain motivated by her passion for helping NYA students achieve their 'Personal Best' as the curriculum she pioneered, titled by the same name, calls them to do."
As executive director of NYA for 25 years, Martinez served at-risk youth and their families, simultaneously co-founding Caring for Babies with Aids and Connexxus, L.A.'s first such social service for lesbians. Martinez consistently brought regional, state, and national recognition for outstanding programs and client services to each of these agencies.
Martinez was herself the recipient of many honors, including the much coveted NASW Koshland Award for Social Worker of the Year. Other awards and commendations were from the White House (Clinton); US Congress and Senate, Governor's Office (Wilson); California Legislature; Episcopal Diocese of Los Angeles; LA County Board of Supervisors, City of Los Angeles, individual legislators, La Raza; Women's Campaign; Connexxus; Southern California Women for Understanding; and UCLA Department of Social Welfare.
Born August 9, 1934, Martinez grew up in Chicago's Back of the Yards, near the slaughterhouses of the city's stock yards where her parents worked. Proudly and lovingly, Martinez told stories of growing up across the street from the Mary McDowell Settlement House. There, she and her siblings did most of their maturing and learned about life under the tutelage of caring professionals –"Those were the people who taught me that I was somebody … I respected them and they respected me," Martinez said.
First in her family to attend college, Martinez received her B.A. degree in Community Organization and group work at George Williams College in Chicago and later completed her MSW degree at UCLA School of Social Welfare. Her success proved a role model for many NYA students, who also often are first in their families to attend college.
Martinez, who resided most recently in Laguna Woods, was preceded in death by five siblings and is survived by a sister, many nieces and nephews, and countless friends.
Family and friends have designated that memorial gifts be made to Neighborhood Youth Association, 1016 Pleasant View Ave., Venice, CA 90291, www.nyayouth.org.