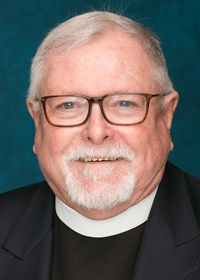 February 2, 1940 – January 8, 2020
The Rev. Edward Ronald "Ron" Hulbert, retired vicar of St. Richard's Church in Lake Arrowhead, died Jan. 8 in Fort Smith, Arkansas, to which he had recently relocated from Palm Springs. He was 79.
Received into the Episcopal priesthood by Bishop J. Jon Bruno in 2012, Hulbert worked previously as deputy executive officer of the Riverside Superior Court, dealing with adults and children in family, juvenile and probate courts. He  was ordained a priest in the Roman Catholic Church in 1968 and served as dean of students at Claretville Seminary College, Calabasas, before leaving the priesthood and beginning a career as a family therapist.
Hulbert held a Ph.D. and a master's degree in education and an STB in sacred theology from the Catholic University of America, Washington D.C. He earned a bachelor's degree in philosophy from Claretville Seminary College.
Born Feb. 2, 1940 in Dover, N.J., Hulbert is survived by his husband, Terry Cook, and a sister, Debbie Browne of Laguna Niguel. Service arrangements are pending and will be announced when finalized.
On Jan. 12, Canon Clare Zabala Bangao, coordinator for mission congregations, read the following letter from Bishop John Harvey Taylor to the congregation of St. Richard of Chichester Church, Lake Arrowhead:
January 12, 2020
To the people of God at St. Richard of Chichester:
All of us in the Diocese of Los Angeles share your deep sorrow over Fr. Ron's death last week. He was among our most admired and beloved priests.
And yet few of us can boast of the deep pastoral and personal bond that you and he formed during his ministry at St. Richard's. You know best of all about his warmth and wisdom, his joy and faith, and his lifelong devotion to Christ's one holy catholic and apostolic church.
When he completed his ministry with you last year, he told me how much he would miss you and promised that he would keep you in his daily prayers even as he and Terry set their sights for Ft. Smith. I know that you were praying for him, too, and that you will now keep Terry in your prayers in the weeks and months ahead.
Yours in Christ's love,
John